Two Solutions – How to Save Outlook Emails to Hard Drive?
Karen Chard
~ Modified: 10-03-2023 ~ How To ~ 7 Minutes Reading
Summary: In this write-up, we are going to discuss the complete solution to save Outlook emails to a Hard drive. Multiple users are having the same query and seeking an all-in-one solution to carry out the results as soon as possible.
This query is high-on-peak nowadays, and there are not only single but multiple users asking for the same solution. Even, though we had also received queries from most of the technical forums and after having a lot of solutions on the Internet, there is no such use for users.
"Hi! I am using Outlook 2016 email client application for the last few years. For some personal reasons, I am thinking to save all emails to Hard Drive. For this, I did also try manual ways to save them. But I need to backup more than 10K+ emails from Outlook to Hard Drive format. Does RecoveryTools have any solution to save Outlook 2016 emails? If yes, then please guide."
You know why hard drives have become a hot selling computer hardware component. Why are we inventing fast storage hardware like SSD or NVMe? Because users know the importance of data backup, including saving Outlook emails to a Hard Drive. Data is important and the same is for Outlook data! When it comes down to it, your data is only as secure as the backup you keep.
If we are talking about how to backup emails to Hard Drive? Then we are talking about both Outlook editions such as Desktop Application or Web App. In this guide, we will explain both procedures to save emails.
Why Do We Need to Save Outlook Emails to Hard Drive?
Quick Access Outlook Files: – One of the biggest things about saving emails to a Hard Drive is the ease at which you are able to retrieve emails and other information. You can easily save the data to documents and other desired formats in your system.
Security Against Virus Attack: – Microsoft Outlook desktop client is much more secure according to the other email client applications. But no one knows which virus can attack your Outlook email client.
Recovery If Operating System Fails: – Most computer crashes are caused by Operating System failures. There are many reasons why your systems fail such as memory allocation space, hardware failure, file corruption, application errors, etc. Another copy of Outlook emails to a Hard Drive is incredibly efficient when it comes to keeping your information in the event of an OS crash.
Easy, Fast Way to Restore Lost Emails: – There is a lot of potential to delete some important emails from human mistakes and delete the emails accidentally. With an additional backup copy, you can easily restore your deleted data without losing information.
Manually Backup Outlook Emails to Hard Drive
One powerful feature of using Outlook is that it provides a direct option to export the mailbox folder that has emails present in them. But not all free things are perfect. The point is that it also has a particular limitation, that is, it can also save emails to PST format on the Hard Drive.
Follow the below-mentioned steps:
Run Microsoft Outlook in your system.
Go to File Menu >> Open & Export. 
Then, choose Import / Export.
Select "Export to a file" and Next.
Choose the .pst file and enter the location.
Hence, the process is too simple to use, you can easily opt out of this. Apart from that, we recommend you use one of the best solutions that allow you to work according to your needs and requirements.
How to Save Outlook Emails to External Hard Drive?
RecoveryTools Outlook PST Migrator and Outlook.Com Backup Utility are the top-rated applications in 2021. Both applications give 25+ saving options to easily backup emails to Hard Drive. But before all the solutions, we need to know the reasons and the solutions mentioned above.
As we all know that Microsoft Outlook is very useful at the present time, therefore many home users and organizations are using this as their primary email client application. One can easily use Outlook on different platforms like desktop applications or cloud applications. Keeping in mind the various aspects or requirements of the users, we will discuss the email backup solution for both Outlook Desktop Email Client and Outlook Web Client. Moreover, the mentioned tool is easy to use and can be easily operated by all the existing users. Apart from that, it possesses multiple other unique features that are difficult to come by among all other solutions that exist in the market.
Moreover, it also has the ability to export the Outlook data into multiple other formats such as Outlook emails to Windows 10 Mail, Outlook emails to a Text file, Outlook emails to PDF, and multiple others. There are several ways to backup emails to Hard Drive with complete mailbox items such as contacts, calendars, tasks, etc. Any user can easily get the Outlook data file from the default profile location on your computer. Download the mentioned utility for free of cost and start saving the emails.
How to Backup Outlook 2019, 2016, 2013, 2010 Emails to Hard Drive?
Step-1: Launch and Install the mentioned tool in your existing Windows OS system. Read all the mentioned instructions.
Step-2: – The software gives separate options to automatically load Outlook mailbox data into the software. And you can also choose data files with dual selection options.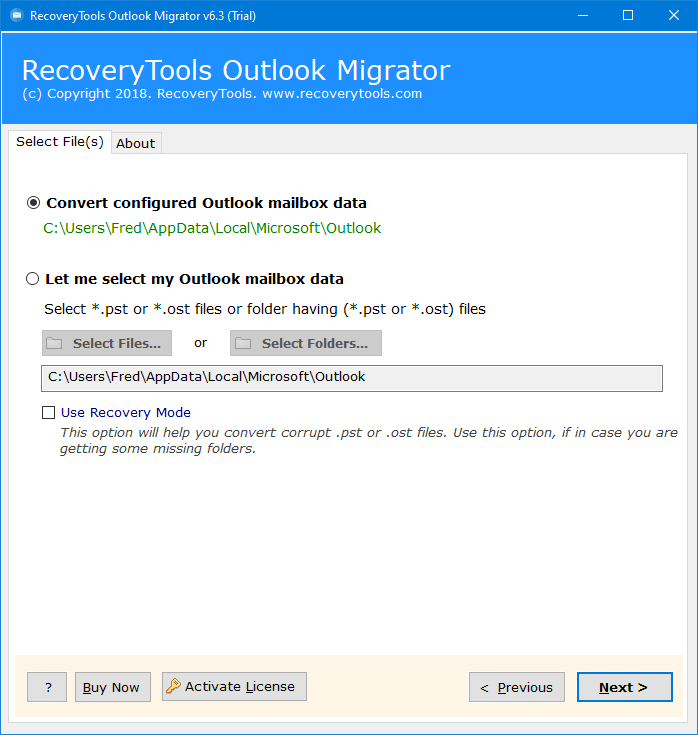 Step-3: – Thereafter, you can view PST files/folders. Now, you need to choose the required folders that you want to backup.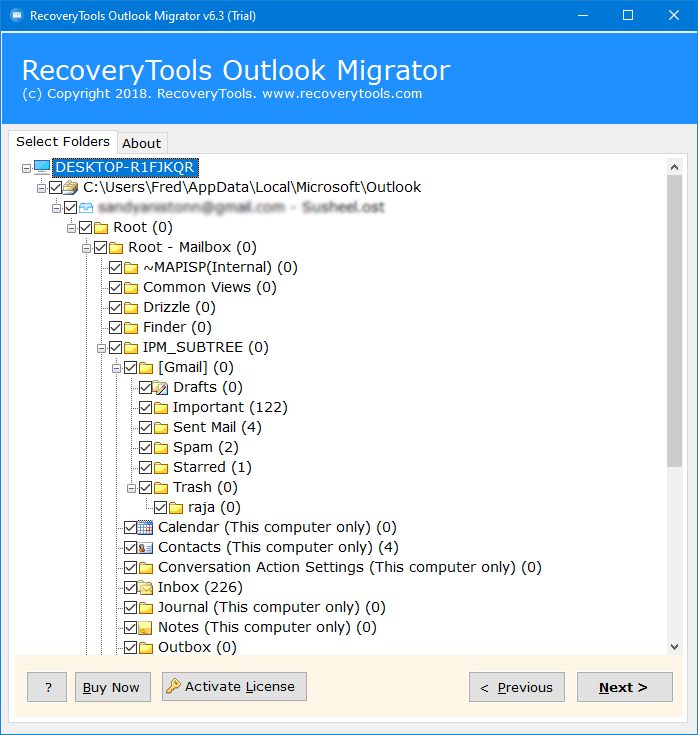 Step-4: – In the next section, you need to choose the required email saving option to backup the emails into a particular format.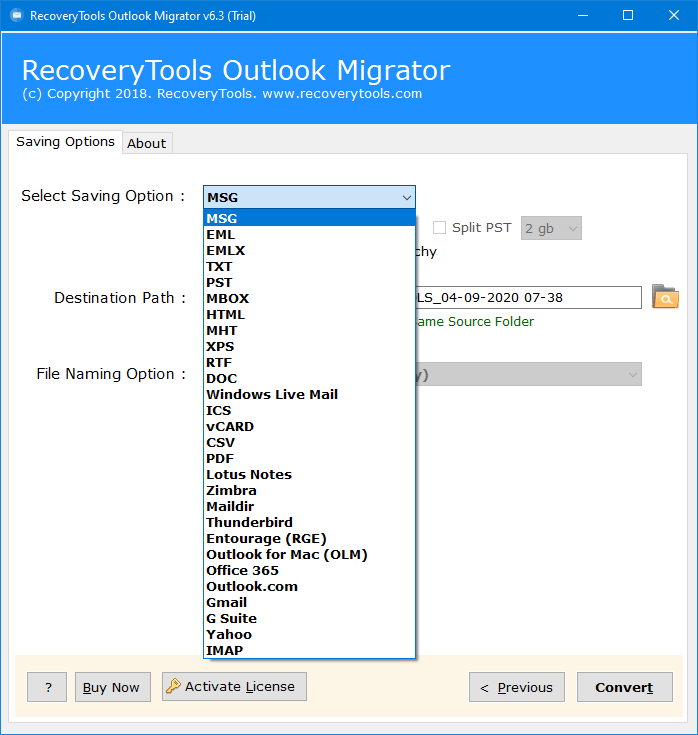 Step-5: – The software provides various additional options such as file naming options, destination location, ignoring system folders hierarchy, saving converted messages in the same source folder, etc.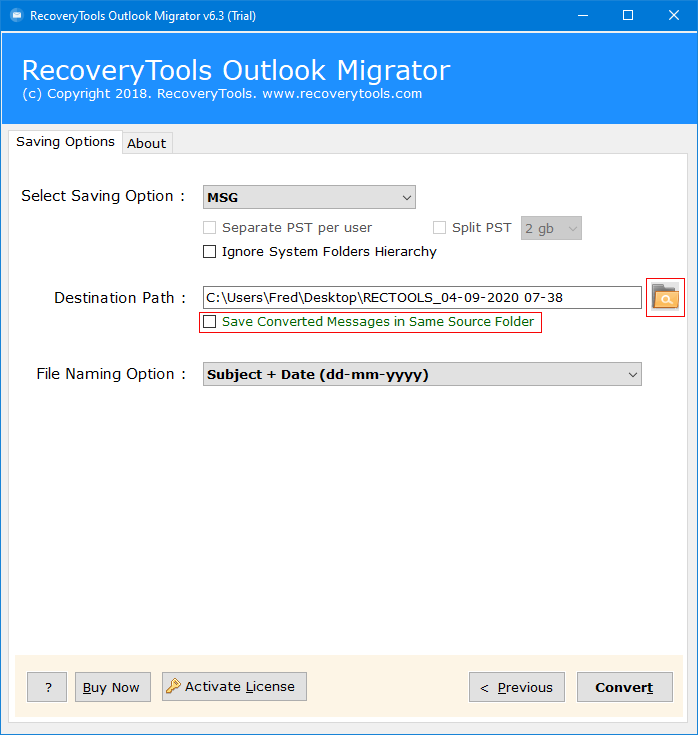 Step-7: – You can easily save emails according to the desired location whether on Hard Drive or an External Hard Drive.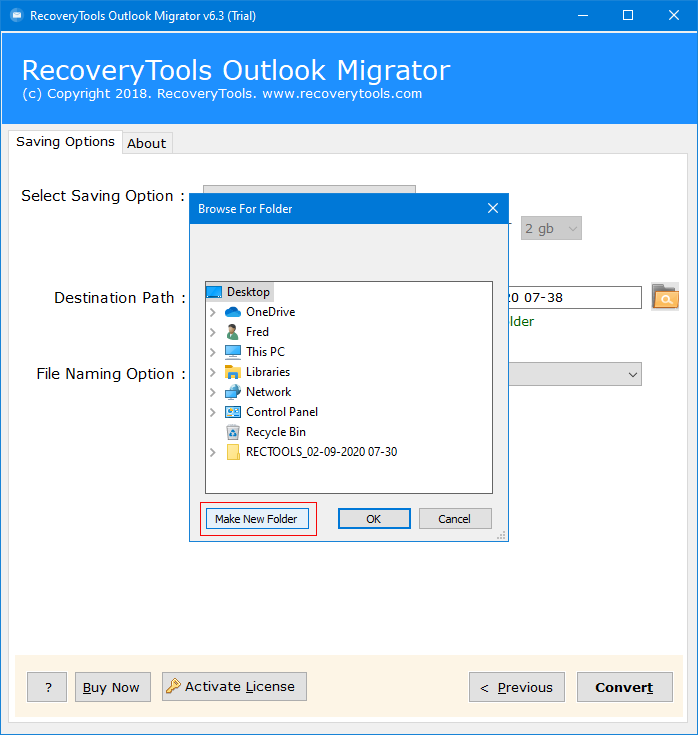 Step-8: – Once you have completed all the options, click on the next button to start the saving process.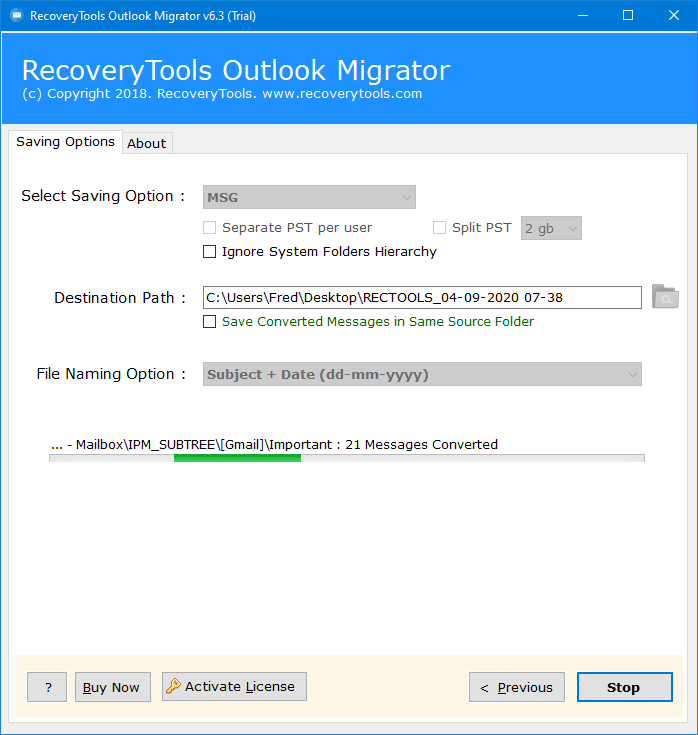 Step-9: – After the Conversion is finished successfully, it will display a confirmation message box. Click on the OK button to proceed further.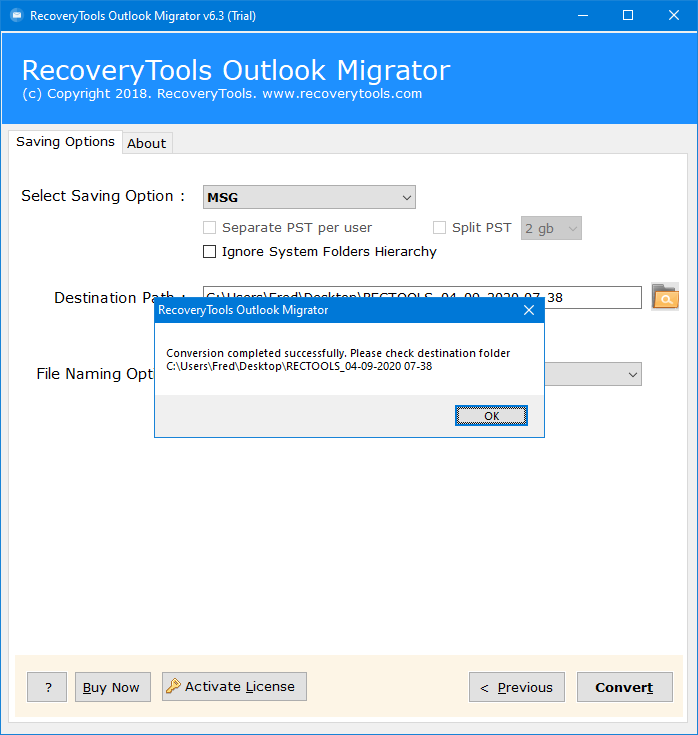 Step-10: – Check your Output files directly from the destination location.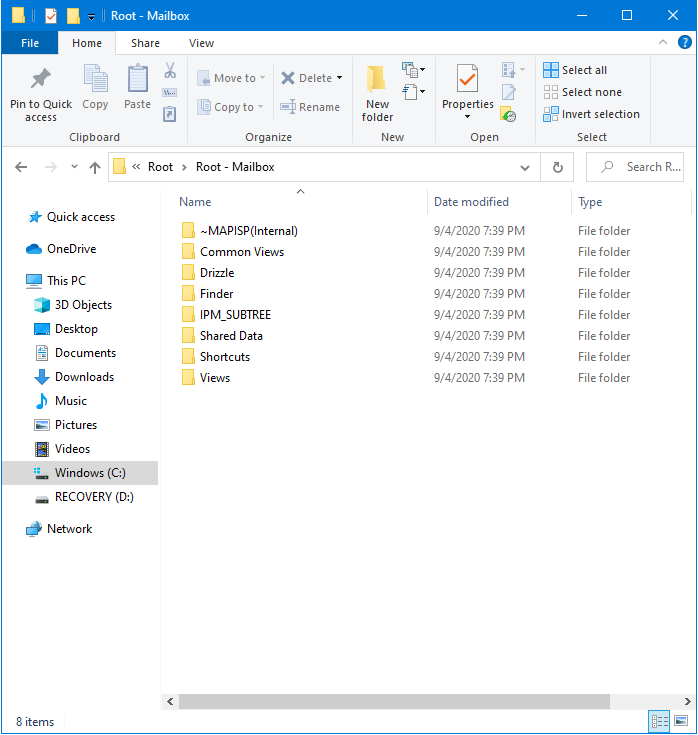 The main reason, we recommend you to use this highly professional utility is that it allows saving Outlook emails to a Hard Drive. As well as work in multiple versions such as Outlook 2007, 2010, 2013, 2016, 2019, and other versions.
Backup Emails from Outlook to Hard Drive – Features Explained
Save Emails from Configured Account: – The software builds with all solutions that are helpful for all users who have come from non-tech or technical backgrounds. This program will automatically detect the data from the configured Outlook email client. Just select the "Convert Configured Outlook Mailboxes data" option.
Independent Solution: – The software comes with an independent platform to perform saving Outlook emails to a hard drive without requiring any third-party applications. In fact, there is no need to install your Outlook email client on your computer to perform saving emails.
Supports all types of Outlook Data Files: – The software is one of the highly professional utilities that have the ability to backup emails and other data items from all kinds of files.
Maintains Original Folder Structure: – During the backing up of emails process, the software will maintain your email properties.  such as emails with attachments, email addresses (to, cc, bcc, from), subject, hyperlinks, images, text formatting, etc. Also, the software keeps your folder hierarchy structure maintained during the entire process.
100% Secure Way: – The software provides a completely secure interface that never saves your mailbox data inside the software panel or database. It is a professionally tested application to backup emails in a secure environment. No attack of Malware & viruses will be detected by the application while performing these kinds of operations.
Conclusion
In the above discussion, we have explained the complete solution to save Outlook emails to Hard Drive. Using the above-mentioned solutions, users can easily backup emails and maintains the other email properties and structure. But by using the manual solution, there may be sometimes a loss of data, and also you can also back up the emails in the PST format. So, we recommend you to use the second-mentioned solution that allows users to save emails in multiple formats on an external hard drive.