How to Remove Duplicate Emails in Gmail? Free Guide
Duplicate emails can clog up your inbox and make it difficult to stay organized. With Gmail being one of the most widely used email clients, many people are looking for ways to remove duplicate emails from their Gmail accounts. In this article, we will provide you with three solutions to help you remove duplicate emails in Gmail. It will keep your inbox clean and manageable.
Whether you're a beginner or an experienced user, you'll find these solutions easy to follow and implement. So, let's get started and find the best solution to delete duplicate copies of emails in Gmail. Here are the topics that will be addressed throughout the post.
How to Find & Delete Duplicate Emails in Gmail?
To find and eliminate duplicate emails from Gmail, you can use the following methods:
Search Function: Use the search function in Gmail to look for specific keywords in your emails. For example, if you want to find all emails with the subject line "Enquiry", you can search for "subject: Enquiry".
Label and Filter: You can create a label in Gmail and then use the filter option to automatically categorize all emails with a specific subject line or sender. You can then review the emails in the label to see if any are duplicates.
Professional Tools: There are various third-party tools available that can help you identify and remove duplicate emails in Gmail. These tools use algorithms to scan your inbox and identify duplicates, and then provide you with options to delete, archive, or keep the duplicates.
Note: Gmail does not have any function to identify and delete duplicate emails in Gmail. We found multiple queries regarding this on the internet as well as the answers of the experts to reach this conclusion.
For example, the following screenshot: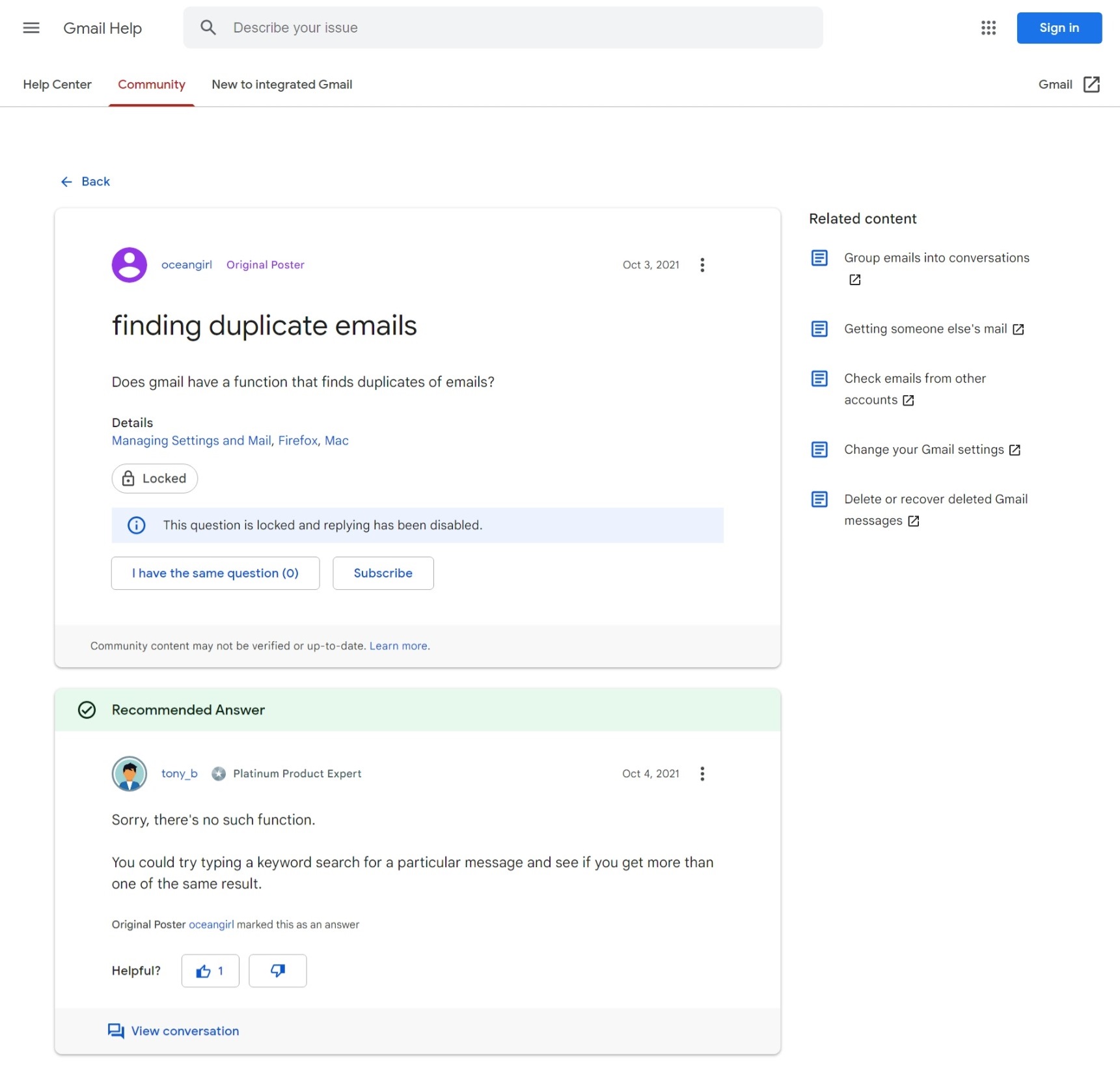 How to Remove Duplicate Emails in Gmail? – 3 Solutions
The 3 solutions are based on the ways to find and delete duplicate copies of emails in gmail. After all, the first step in de-duplication is to find the data. Here are three methods to remove duplicate emails in Gmail:
Manually delete duplicates
Use Gmail's filter
Use a professional tool
#1 Manually Delete Duplicate Copies of Emails in Gmail
To remove Gmail duplicates manually, you can sort your emails by sender, subject, or date and then go through your inbox and delete the duplicates one by one. This method is time-consuming but effective for small inboxes.
The steps are as follows:
Firstly, log in to your Gmail account.
Then, open the mailbox that has dupes.
After that, type the content that duplicate emails have, like Subject: Formal, cc: Karen, Please email back, etc.
In the search results, all the emails having the searched query will appear.
Simply, judge which ones are duplicates of each other, and delete every email except one.
That's how you can delete duplicate emails in Gmail.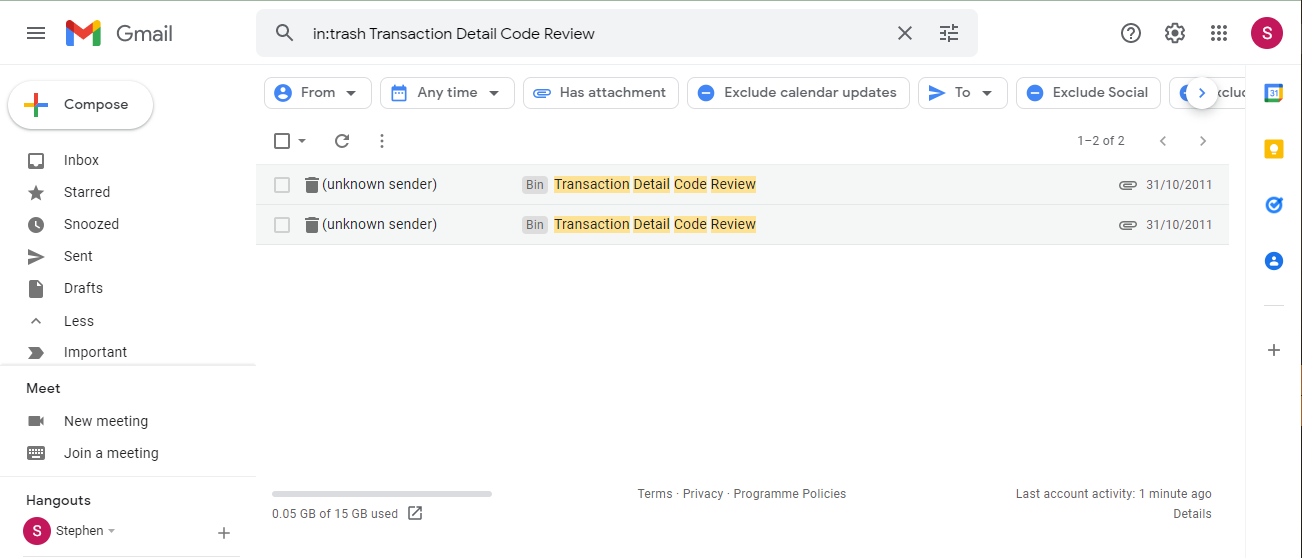 #2 Use Filters in Gmail to Eliminate Duplicate Messages
You can use Gmail's filter to automatically remove duplicate emails from Gmail as they come in. To do this, you can create a filter based on the sender or subject line, and then choose to delete all emails that match the filter criteria.
Here are the steps to use filters to delete duplicate emails in Gmail:
Log in to your Gmail account
Click the gear icon in the top right corner of the page and select "Settings"
Go to the "Filters and Blocked Addresses" tab
Click on "Create a new filter"
In the search bar, enter criteria for the duplicate emails you want to delete, such as the sender's email address or the subject line.
Click on "Create filter"
In the next screen, select "Delete it" as the action you want to take when an email matching the criteria arrives in your inbox.
Click on "Create filter" to save the changes.
From now on, any email that meets the criteria you specified in the filter will be automatically deleted, keeping your inbox free of duplicates. Keep in mind that this process is irreversible. So be sure to backup Gmail emails, especially your important emails before using filters to delete Gmail duplicates.
#3 Remove Duplicate Emails in Gmail with Professional Tool
The manual solution to delete duplicate emails from Gmail is not reliable, and it's a time-consuming process. Thus, to deduplicate your Gmail account in a secure way make use of RecoveryTools Email Duplicate Remover. It's a comprehensive solution that allows the elimination of duplicate items from all Gmail folders in bulk.
The GUI of the software is easy-to-use that any novice can easily operate it without any technical assistance. In addition, the toolkit offers you multiple advanced data filters, that allow users to sort and eliminate duplicate data on different parameters.
A demo edition of the software is available, that let users check toolkit functionality for free. In the trial edition, users can remove a limited number of duplicate emails from Gmail. So click on the download button below, and follow the steps to remove duplicate emails in Gmail.
How Do I Delete Duplicate Emails in Gmail?
Follow the steps mentioned below to eliminate duplicate emails from your Gmail account.
Run the Gmail Deduplication tool on your Windows OS.

Enter Gmail Account Credentials, using the App Password.

Note: If you have multiple Gmail accounts, and want to eliminate duplicate emails from all at once, then use the advanced settings option.

 Afterward, the wizard will analyze & all the data and list them in the software panel. You can select the required folder to remove duplicate emails in Gmail.

Next, apply the data filters for selective deduplication of Gmail data.

At last, click on the "Remove" button to delete duplicate emails in Gmail account.

Note: All the duplicate items will be moved to a new label with the name Duplicates Found. Users can analyze it. Once done remove the label from Gmail, and you will get clean mailbox free from duplicates.

Conclusion
Duplicate emails can be a major hindrance to maintaining an organized and efficient inbox. It's important to know how to remove duplicate emails in Gmail since it is a widely used email client. You can choose to manually delete Gmail duplicates by using Gmail's inbuilt filters.
For secure, and reliable results go with the automated solution, which allows batch delete duplicate emails in Gmail. In addition, the software comes out with a demo edition, that allows users to evaluate its performance without investing any amount.
Also Read: Best Way to Remove Duplicate Emails in Office 365