How to Open Large MBOX File from Various Sources ? – Complete Guide
Karen Chard
~ Modified: 18-06-2022 ~ Data Recovery ~ 6 Minutes Reading
Overview: Are you one of those who have large-sized MBOX files ? Or you want to open large sized MBOX files easily ? If your answer is YES! Then here, we will explain the process to use large MBOX files. In this blog, we will learn how to open large MBOX files in detail. So, learn with us.
MBOX files are created by many email clients and sources. Sometimes, MBOX files are of small size. There are many applications or solutions available to open MBOX files in multiple formats. But, what if the size of your MBOX size is very large ? No worries! Finally, we have found a solution to open large MBOX files very quickly with ease.
Here, in this article, we have mentioned a very simple and direct solution to open MBOX files in various formats. To open MBOX files, you can convert them to some other file format like EML, PDF, PST, etc. As per your convenience and also you can convert them into document formats.
Also, you can migrate your MBOX file to some other email services or webmail accounts such as Gmail, Yahoo Mail, Office 365, Outlook.com, etc. There are lots of users who want to know how to open large-sized MBOX files in different platfomrs.
"
Hi, I have a large MBOX file exported from my old computer. I want to open this MBOX file in my Outlook email client application. Does anyone know how to import Large MBOX files to Outlook 2016 ? Also, I want to import them into my Gmail account. So, I'm looking for a multiple option solution. Please Help Me!!!
"
A Professional Solution – Open Large MBOX Files
The RecoveryTools MBOX Migrator Wizard is a multi-featured solution that gives many file-saving options. Also, it is one of the fastest solutions to open large MBOX file such as Gmail MBOX file, Thunderbird MBOX file, or any other MBOX file in a few minutes. Before knowing more about the solution, let us know the steps to open large MBOX files quickly. You can easily download this application on your Windows as well as Mac computers.
Download from Here:
Download for Windows Download for Mac
Note: You can use this application to export few emails from MBOX files. For complete data conversion, you need to purchase the software key.
Steps to Open Large Sized MBOX Files
Launch the software on your computer.
Select MBOX files with dual selection options.
Choose the required file saving option in the list.
Set destination location path to save converted data.
Click on the next to open large MBOX easily.
How to Open Large MBOX File – Complete Steps
Follow the steps given below to browse large MBOX files:
Firstly, download and install the utility to open MBOX emails. Secondly, run the tool & add required MBOX files from the Select Files or Select Folders option.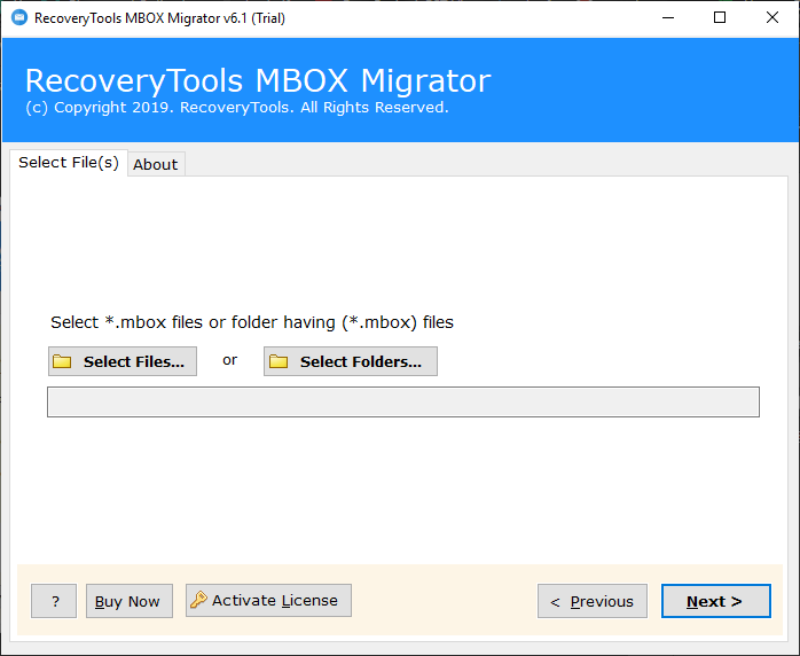 Choose required mailbox files/folders to open. Click on Next.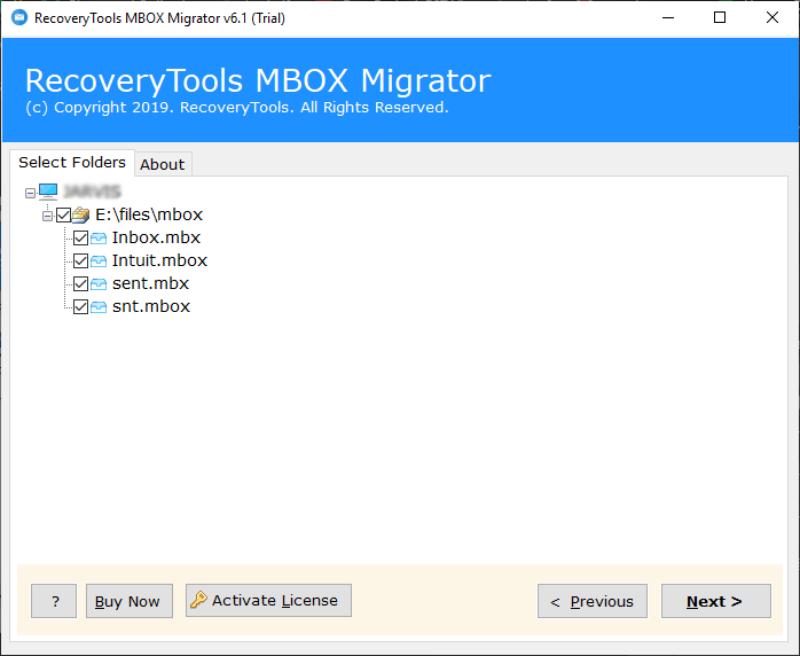 After that, Select Saving Option. Here we are choosing PDF from the given list.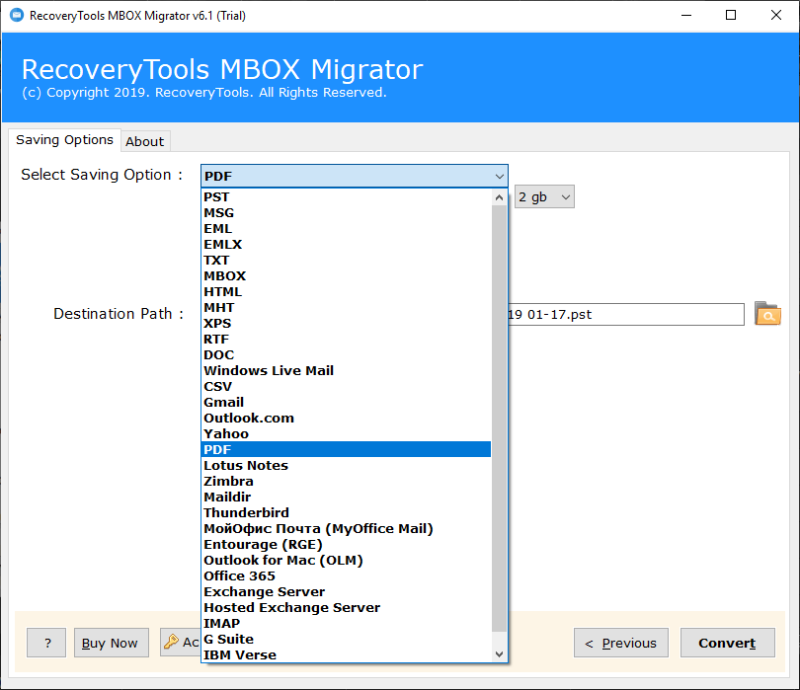 Choose Destination Path and File Naming Option. Click on Convert.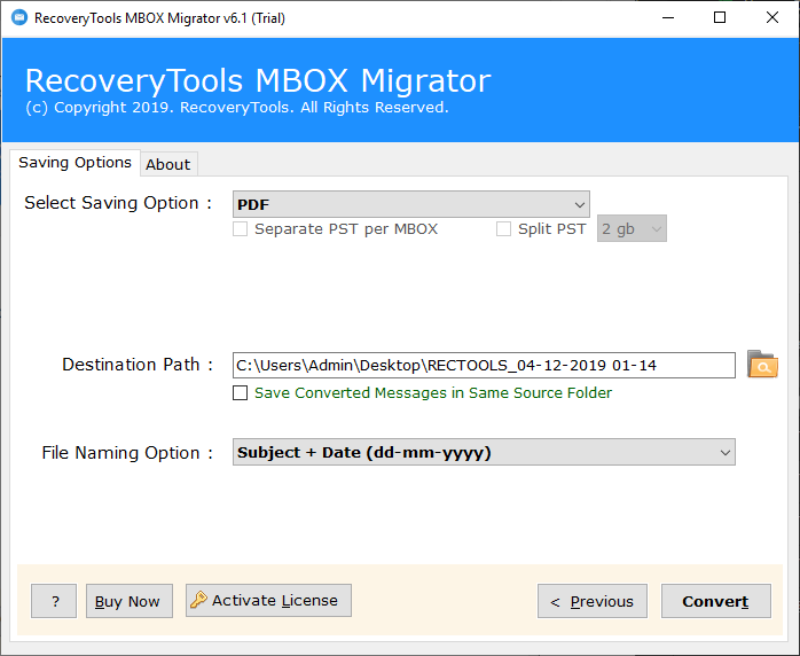 Soon, the process will get completed.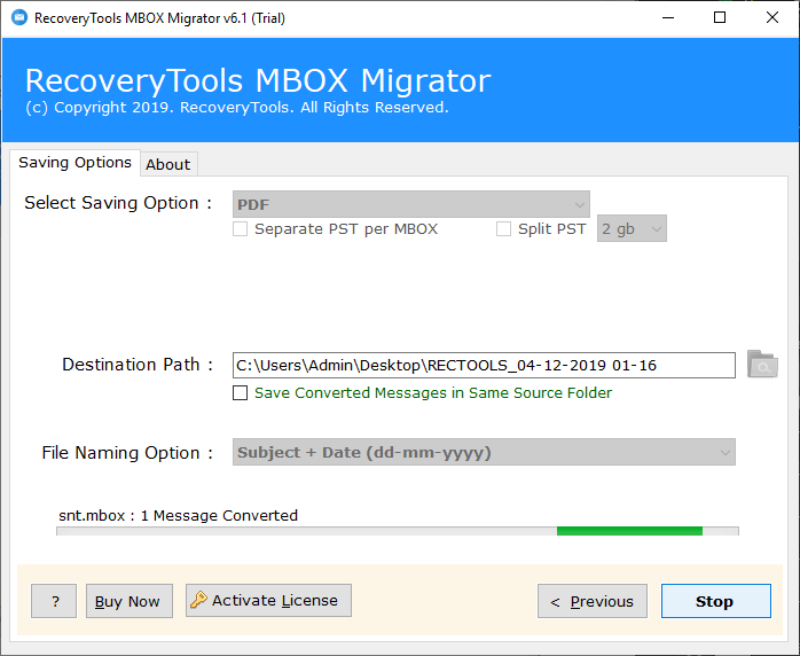 In this way, the utility will convert your MBOX file into PDF format. After the conversion, you can open large MBOX file in PDF format. You just have to open your PDF file using Adobe Reader or any other application.
Note: The software to open large MBOX file is one of the fastest solutions available in the market. It can convert up to 1 GB MBOX file in 5 to 8 minutes.
Solution to Open Large Gmail MBOX File – Quick and Best Utility
The utility mentioned in the above steps is a professional approach to open large MBOX files in multiple formats. It has an interactive and self-explanatory user interface. Also, there is an option to select multiple files for batch migration. With this software, you just need to add the MBOX file of any size, choose the file saving option and do the required conversion.
Also, the utility gives an option to save converted messages in the same source folder for many file formats. Also, the utility automatically chooses all the added files/folders. You can uncheck the folders that are not required.
Download from Here:
Download for Windows Download for Mac
Utility to Browse Large Thunderbird MBOX Files – Important Features
Support MBOX Files from Multiple Sources:
The utility support all type of MBOX files. Such as Gmail MBOX, Thunderbird MBOX, Opera Mail, Eudora Mail, Spicebird, The Bat, Entourage, etc., and all other types of MBOX files.
This software is the fastest solution to open large MBOX emails. Also, in just a few moments, it does all the required conversions. There is no limitation for the size of MBOX emails you want to open.
This product is supported by all versions of the Windows Operating System. So, it can be installed on all older and latest versions of Windows such as Windows 10, 7, Windows XP, Windows Vista, etc.
Also, there is a free demo edition available for the utility. It is the limited edition of the Migration License of the software.
Open MBOX File in Multiple Formats:
A number of File Saving Options are available in this utility. You can choose any of them and open MBOX large mailbox in the required format or email client.
Maintains Folder Hierarchy:
This solution does all the required conversions without losing any data. It maintains proper hierarchy of all MBOX folders.
Open Large MBOX with Attachments:
Moreover, all the attachments are also converted with this tool. For e.g, if you open your MBOX  in PDF format with this utility, when you will open Adobe Acrobat Reader, you will find your MBOX file attachments in the embedded form there.
Destination Path & File Naming Options:
The utility to open large MBOX file allows you to select the Destination Path for saving Output files. Also, it gives around 10 different file naming options. These options are various combinations of Subject, Date, From.
Summing Up
In the above blog, we have given a direct approach to open large MBOX file in various formats with ease. So, if you also want to read your MBOX that are having a very large size, you can go with this solution. Also, a trial version is available for the software. You can use it to understand the tool better.