Complete Guide on Microsoft Office 365 Migration Checklist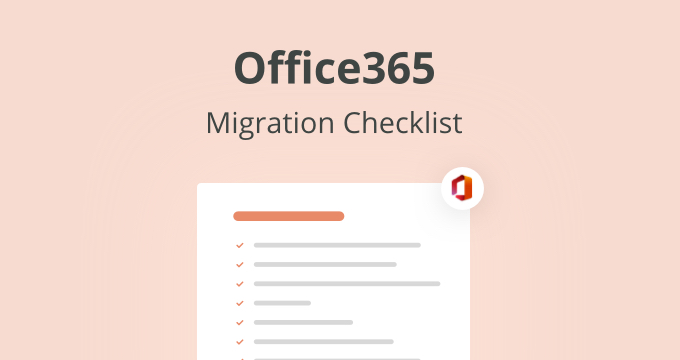 Here, in this write-up, we will discuss the complete Office 365 Migration Checklist for both pre-migration and post-migration. While doing the migration to Office 365, a lot of things arises in the user's mind such as:
What are some of the basic things that make users continue with the migration?
What are the pre-migration thoughts?
What do you expect after the post-migration?
If you are also one of those users who is worrying while migrating the data to office 365, then just stay with us till the end. We will understand the complete Office 365 Migration Checklist one by one.
Since, we all know that the data present on the server is so much crucial and organization at least needs to think much time if they are willing to migrate the data as sometimes there will be chances of data corruption, migration, and loss of data. So, to overcome all those problems, we discuss the complete Office 365 Migration Checklist to make the user's data safer and more secure.
For the proper migration you need to understand:
Office 365 Pre-Migration Checklist
This is one of the crucial steps of the entire migration process and you need to put much time and effort. Also, you need to connect with a better migration consultant expert, who will be able to clear multiple things and will help you to make better strategic decisions for server upgrades, backups, and complete downtime before migration.
Office 365 Migration Consultant will properly observe and analyze your complete account. Based on the complete mailboxes, it will suggest the best tools for better migration, whether for small amounts of data or large amounts of data.
1. Need to Prepare End-user Ahead of Time
Before you start to continue with the Office 365 migration checklist, you and your team members should have complete knowledge of Office 365 and you all have to do the communication before the migration.
Moreover, it is necessary to think about the better chances in the organization and the other implementation for better growth.
It is better to combine together and every team member should give proper feedback so that there will be a collection of different ideas from different minds. And, because of this, managers can create a better strategy that will bring out better output.
2. Prepare On-Premises Inventory
Before you continue with the Exchange to Office 365 migration, you should have complete knowledge of the on-premise Exchange Inventory which includes:
No. of user mailboxes (shared resources), mailbox sizes, as well as email addresses.
Operating System, storage location, client settings, and other permissions.
Network Services include DNS requirements, firewall, internet proxies, the impact of proxies, connectivity, bandwidth, and multiple others.
Multiple tools for virtual conferences, instant messaging, application systems, and other DNS records.
3. Inspect the Present Environment
This is another step of the Office 365 Migration checklist. Some actions must be performed on the current on-premises Exchange Environment. And, is also necessary to understand some other steps such as:
Different methods while creating or synchronizing the accounts.
License required in User accounts.
Authentication requirements in user accounts.
The total number of storage capacity and other requirements.
Upgraded requirements that include antivirus, firewall, and routers.
4. Data Preparation that needs to be migrated
Clients need to observe their complete account at first and need to look up multiple things such as:
Necessary to remove inactive accounts.
Update the Active Directory Services.
Present Server Environment is compatible.
Archiving the necessary facilities.
For the proxy addresses property, email addresses can be accepted.
5. Set up Office 365 Account properly
At the final stage of the Office 365 migration checklist, it is necessary to set up Office 365 with an understanding of multiple requirements.
Buy proper Office 365 migration account subscription and license
Validating domain names that are added
Multiple Security Permissions
Office 365 Directory Synchronization and Sign-On
Also Read: Best Method For Migration to Office 365
 Office 365 Post-Migration Checklist
Email Redirection and Caching
Once the migration is done, it is necessary to redirect the email accounts of the users to Office 365. Then, check the Outlook profile folders again and confirm whether all the Outlook folders are up to date for each of the folders.
Assign the License to Migrated Mailboxes
The mailbox that has been migrated to Office 365 must have the assigned licenses, and if the current account does not have a license, then it will be disabled after 30 days. If you want to use the account for the long term, then you must buy the license.
Create Autodiscover DNS records
Another important step in Office 365 Post-Migration checklist is that it is necessary to configure Autodiscover DNS records in Office 365. This step allows users to connect their mailboxes to Outlook email clients.
Decommission the Source Environment
At last, when finally all the mailboxes are moved to Office 365 account properly then you can easily decommission the on-premises Exchange Server. Only decommission the source when you do not have planned any kind of future requirements from the source.
Conclusion
For the migration task, it is necessary to understand the Pre-migration and Post-migration Office 365 Checklist. All because the user will be able to clear most of the things after reading this. And, just like migration tasks, these migration checklists are also important. For more information, you can anytime connect with our technical experts.