How to Migrate Email to Office 365 Using Effective Solution ?
We all know, that migration is one of the difficult task. Since organization needs to worry about all the data when migrating their data and they always worry about the safety and security of the data. And, if there will be only a single loss, then it will impact the entire organization. A lot of enterprises thinking to migrate their data, especially emails to a Cloud platform such as Office 365. If you are also one of that users who wants to know- how to migrate email to Office 365 with a complete step-by-step guide?
No need to worry, just stay with us till the end and understand the complete solution without having any kind of issues and any size restrictions. It is not possible to accomplish this task using the direct manual solution, and if we use that then we need to put more time and effort. So, let us accomplish this task with the help of an automated approach.
If we talk about Microsoft Office 365, then we can say that its email structure is professional, secure, and reliable. Even if users' mailboxes are operating well on the other email accounts, they might have considered migrating email into Office 365 at some point in time.
Especially in the corporate world, Office 365 is an important product for business productivity. New companies usually start with some other email applications as their primary email system. But with the growth of the business, it is necessary to do the migration to Office 365 after users' requirements start getting more complex.
"My company has 200 Gmail, Yahoo, and Google Workspace accounts. It is quite impossible for us to migrate emails from all of them one by one to Office 365 by using the manual process. Apart from this, this process requires a long sequence for its completion. Kindly suggest to me some effective and efficient professional solutions to fulfill this procedure without facing any issues. Any relevant help will be appreciated. Thanks in advance."
Why Do Users Prefer Office 365?
Most of the time users are looking for the features and easiness that make their work-life easier. Some reasons are:
Office 365 webmail can be accessed easily compared to other email applications.
It also offers a calendar option, which is helpful for users to create notes, manage events, tasks, and more.
Office 365 is standalone software. It doesn't require the support of any other application.
It offers some advanced features to the users which makes it different from other email applications.
Automated Guide to Migrate Email to Office 365
Just like the above user, there are many users who want a solution for this issue. Using a manual solution for accomplishing the task is not a good option for any user.
Though this process looks simple, it can be very tedious and requires the user's full attention to detail. Email Backup Tool is an amazing solution for users. There is no need to worry about any maintenance, data vulnerability, security issues, etc. This utility is fully safe and secure to perform this import process.
Download for Windows Download for Mac
This utility is a complete package to perform migration of all email mailboxes & other items directly to Office 365. Users can also use the batch mode option to migrate from multiple accounts at once by providing account login credentials. It can maintain email properties and folder structure during importing email messages like To, Cc, Bcc, From, Signature, Subject, etc. So move forward with the utility to migrate email to Office 365.
Moreover, when you choose IMAP here, you need to add the login credentials of a particular account from which you want to do
Quick Steps to Migrate Email to Office 365

First, run the mentioned migration tool.
Then, select Email Source and enter login credentials.
Select required files and folders to migrate
Choose Office 365 as destination and enter details.
Finally, click on the backup button for completion.
Features of the Mentioned Migration Tool
Maintains folder structure after the migration process
The software maintains the original folder structure of emails from any Email account during the migration process.  This amazing utility provides the best facilities for its users to easily download and migrate emails with all components and elements.
Maintains integrity of data
The original email messages including the metadata are entirely preserved during this transfer procedure. Moreover, the source emails do not get compromised in any way – it remains in the same way after the completion of migration as well.
Supported data for migration
The users can easily migrate email to Office 365 email account with all information – emails along with its attachments, calendars, archives, tasks, and contacts.
How To Migrate Email to Office 365 Step By Step – Working Procedure
First, download and run the mentioned migration tool in your existing system.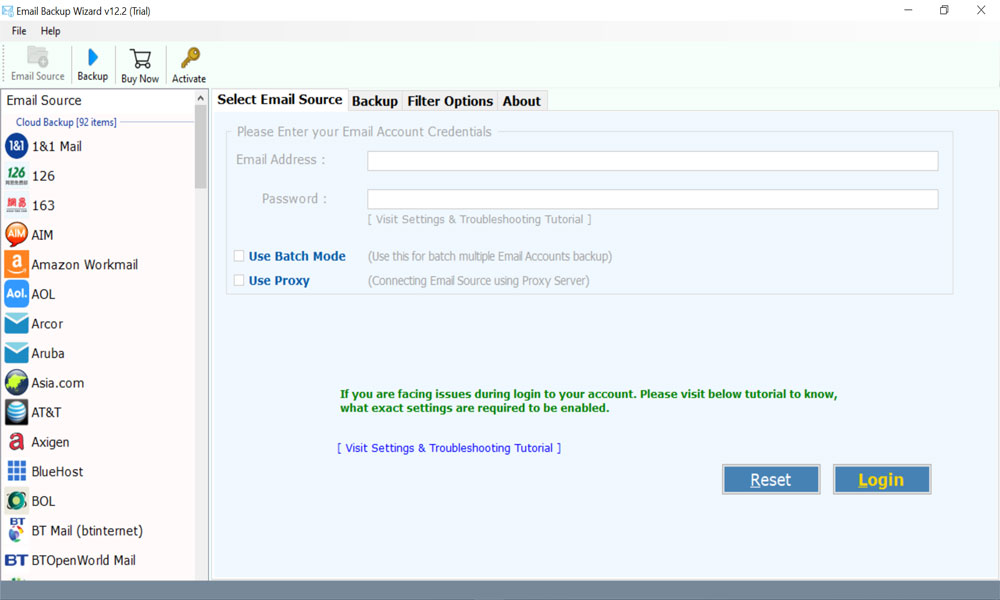 Now, users have to select the IMAP server from the email source list. (Also choose the required email source if present in the list.)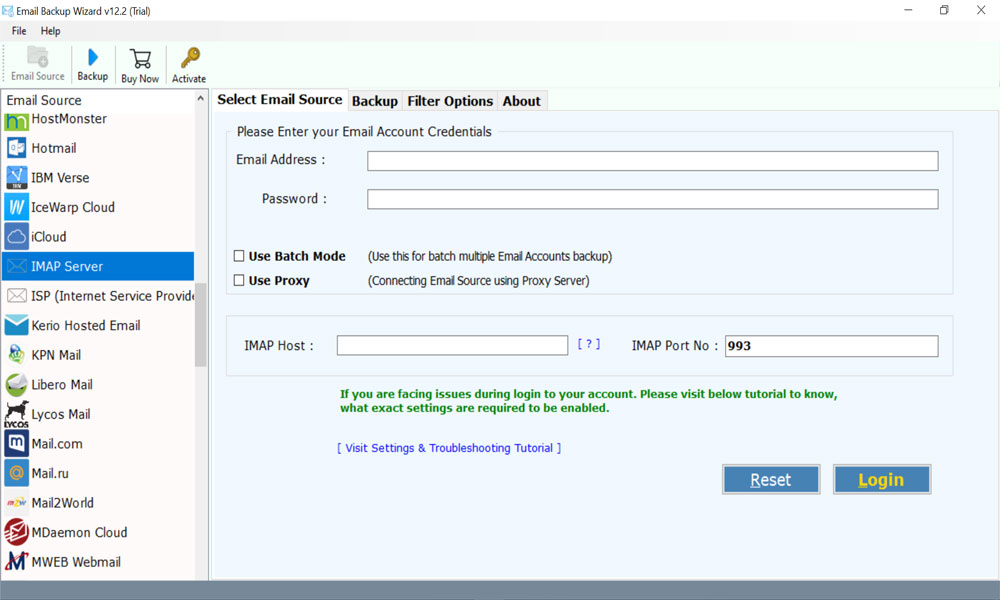 After that, enter the login credentials of your account there and choose the specific option.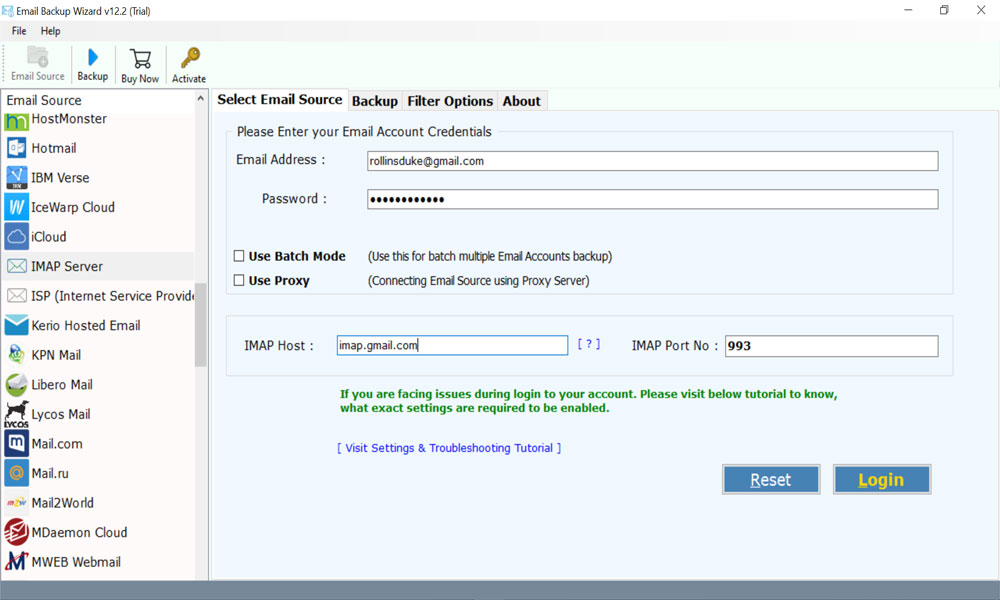 The software shows all email hierarchy structures and folder structures in the software panel. Select required Email Folders from which you want to migrate email to Office 365.
After that, the software will show a list of various saving options. Select Office 365 option from the given drop list.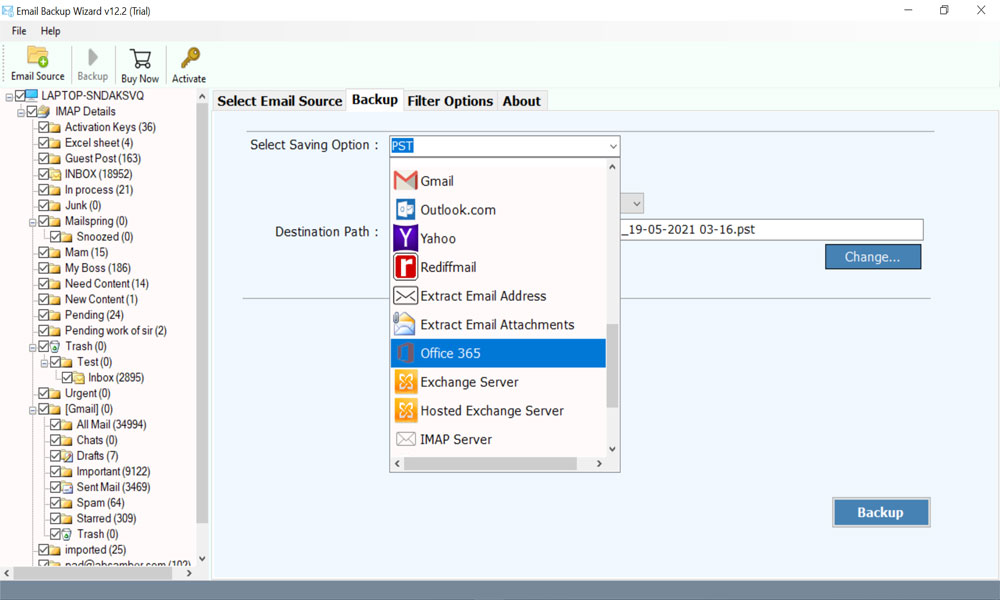 Thereafter, enter Office 365 login credentials in the interface.
After that, click on the backup button to start the process of migrating email step by step. Now Users can see the live running process on their screens.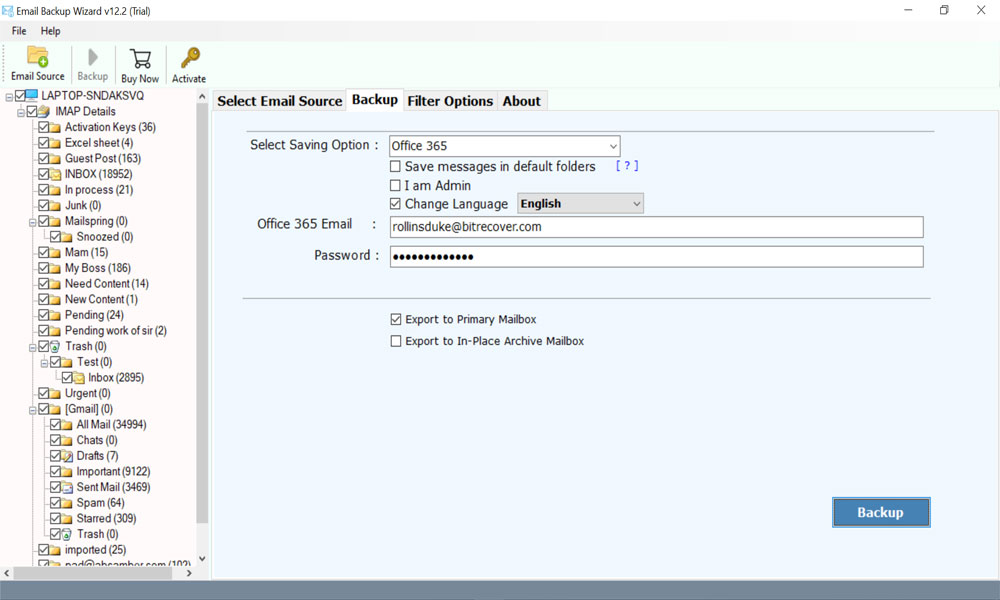 Finally, a pop–up box will appear on the screen after the completion of the task. Click on the OK button. Thereafter, log in to your Microsoft Office 365 account and preview all imported email messages.
Note: Users can also take the help of a trial version. It is free of cost for users. By using this users can migrate 25 emails. Through the demo version, users will be able to know about the application. After having satisfaction user can purchase the paid version of the tool. In this users can transfer unlimited emails and will also get more benefits.
Final Verdict
In the above blog, we have explained how to migrate email to Office 365 step by step. Multiple users were facing issues in this scenario. Here we have mentioned the best professional application to accomplish this task easily without any errors. This is an efficient and effective software for both technical and non–technical users. By following above – mentioned steps users will be able to perform this easily.