How to Export Emails from Thunderbird to Lotus Notes NSF Format ?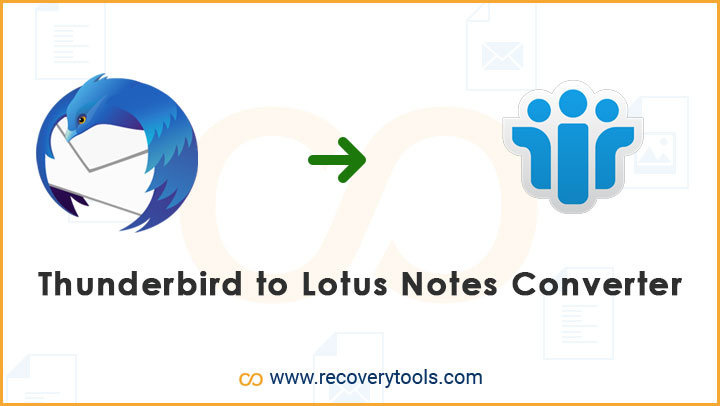 Overview: Are you looking for a solution to migrate emails from Thunderbird to Lotus Notes ? Or want to know how to export Thunderbird Emails to NSF format ? If yes, then read this article. Here, we will explain the step-by-step tutorial to know about how to import Thunderbird Mail to Lotus Notes or IBM Domino with the help of this amazing and advanced Thunderbird to Lotus Notes Migration tool and Free Download it from here.
Thunderbird is one of the best choices among users to manage their emails and account details. Although as a proposed plan a vast community is looking for a way to one of the traditional and secured IBM platforms i.e. Lotus Notes or IBM Notes. Major patches are recently done by the updating of IBM Verse in corresponding to Thunderbird Mail client. Thunderbird is a free and open-source utility that cannot be trusted much over the security portfolio.
"Hi, I was using the Thunderbird email client application to access my business email account. I was using this program for the last few years. Currently, My company move into IBM Lotus Notes that's why I need to move emails from Thunderbird to Lotus Notes. Does anyone know how to migrate emails from Thunderbird to Lotus Notes client ? Please Help Me!!!!"
Simple Method – Thunderbird to Lotus Notes Converter
If a user wants to export emails from Thunderbird to Lotus Notes mail client one of the major things required is a third-party application that can convert Thunderbird emails to NSF files. RecoveryTools Thunderbird Migrator is one such advanced solution that can export Thunderbird Folders to NSF files.
Free Download Thunderbird to Lotus Notes Migration Tool:
How to Export Emails from Thunderbird to Lotus Notes ?
The working of the software is very easy and simplified as well anyone can understand the whole working of this just by following these simple steps:
Install & Run Thunderbird to NSF Converter tool & Read all instructions.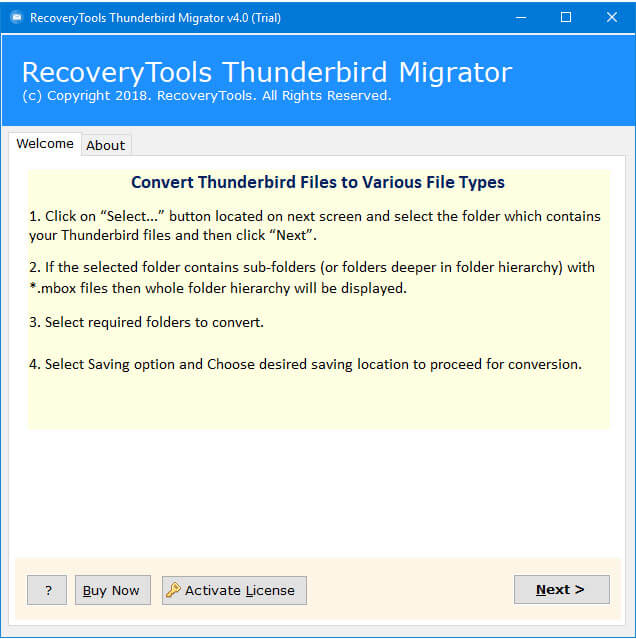 Load Mailbox items of Thunderbird in the application panel manually by selecting Files/folders or automatically from configured profile path.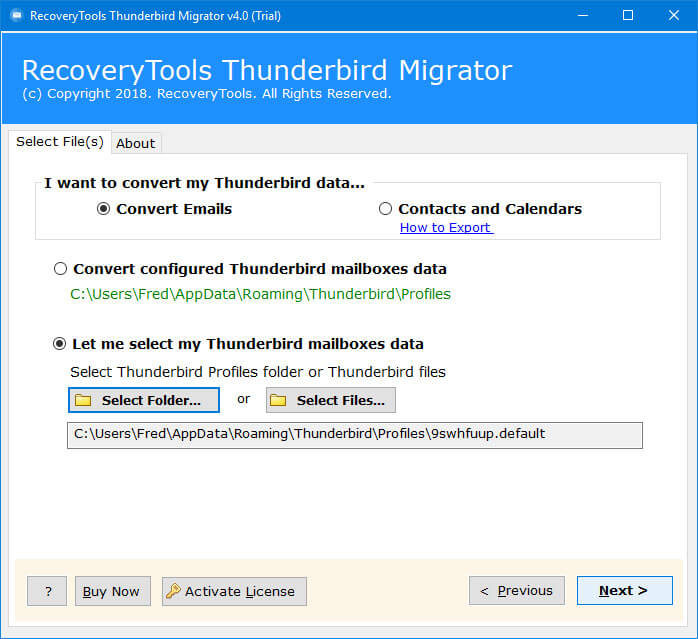 The software will instantly start fetching of all Thunderbird mailbox items and will display all folders like Inbox, Drafts, Sent, and their corresponding subfolders. Choose only the desired items to perform the selective conversion.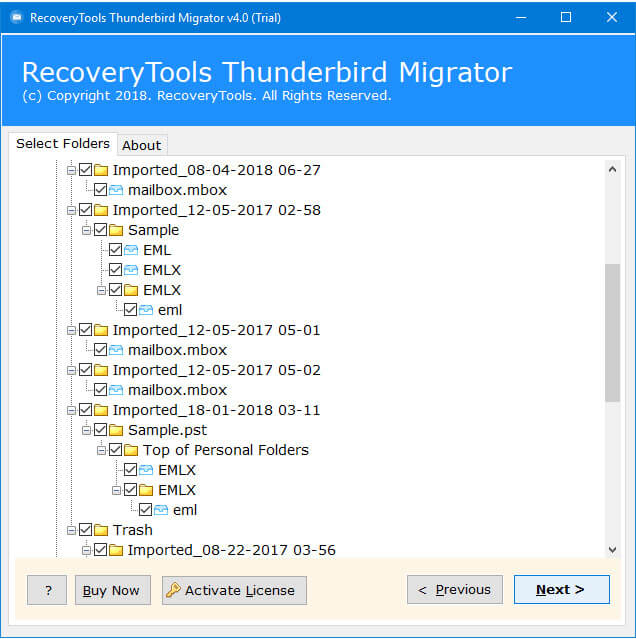 Choose the Lotus Notes option from the list of 20+ select saving options.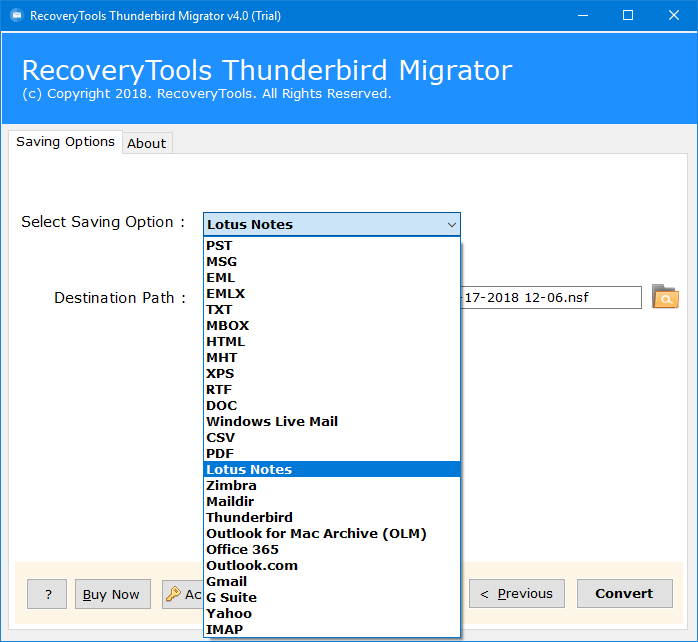 Setup Thunderbird to Lotus Notes Conversion options including destination path.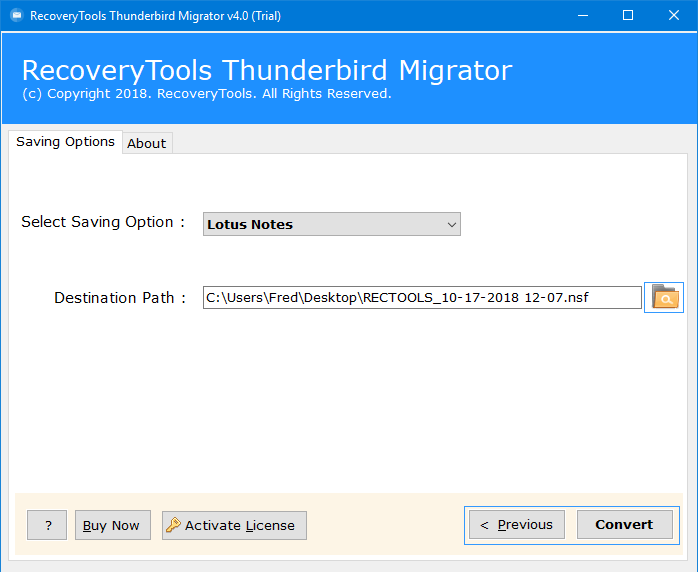 Once the user successfully setup all its requirements click on Convert Analyze the Live Conversion process in the application panel without any issue.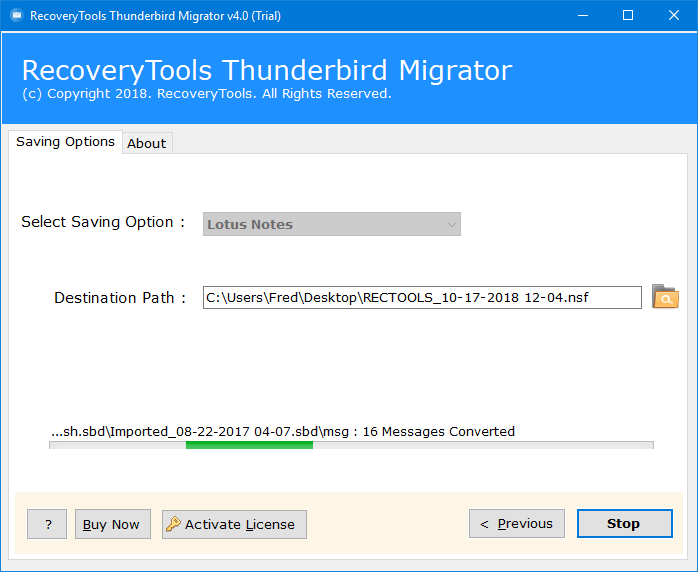 Once the process is finished completely click on the OK button.

Access the resultant Lotus Notes NSF Files from destination location or Desktop.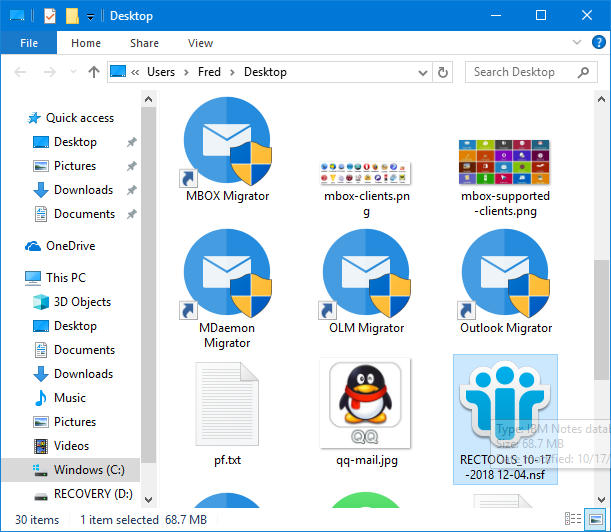 Import obtained NSF files into installed IBM Notes or Lotus Domino Mail client.
As we can easily see from above that upload of data directly from configured Thunderbird Profile to Lotus Notes Mail Client effortlessly.
Thunderbird to IBM Notes NSF Converter – Major Features & Benefits:
The utility offers a large number of advantages to the users during the conversion of Thunderbird emails to NSF files. Any non-technical user can effortlessly export emails from configured Thunderbird Profile location to Lotus Notes or IBM Domino program. The software is designed with advanced AI algorithms making it one of the best and state-of-the-art utility so far. Some major features of this software are listed below:
Supports Batch Conversion of Multiple Thunderbird Mailbox Items:
The software supports batch conversion of multiple Thunderbird mailbox items to a single Lotus Notes NSF File. Any user can load single or multiple Thunderbird mailbox items as the software provide Select Files or Select Folders
Advanced AI Technology to Load Configured Thunderbird Profile Items:
This software is designed with advanced algorithms which enable the users to automatically load mailbox items from configured Thunderbird Profile location. There is no need to first extract Thunderbird mailbox items as MBOX files for export to Lotus Notes.
No IBM Notes Account Configuration Required:
The software is completely standalone to perform its work. One does not need to have an account configured properly in IBM Notes. However, for the fastest conversion with more accurate results, the software requires the installation of Lotus Notes email client on your PC.
All Metadata Properties & Attachments Kept Preserved:
The software completely preserves all Metadata and email properties in original formatting. No loss is made in data and its fidelity as the software takes care of the integrity of Thunderbird emails and keeps them intact while converting to Lotus Notes.
Save Resultant NSF Files at Desired Path:
The software is one of the best solutions at the present time to export Thunderbird mailbox items to Lotus Notes clients. It allows the users to save resultant NSF files at the user's own desired location. By default, the software will export the emails from Thunderbird to NSF file at the Desktop of your PC.
The Verge
In this article, we discussed an advanced solution that allows the users to export emails and other internal factors to Lotus Notes email client. Anyone can free download Thunderbird to NSF Converter software from here which will allow you to convert the first 25 emails from Thunderbird folders in the trial. If you have any other issues, contact the technical support team.