How to Import Skype Contacts to Zoom Account?
Karen Chard
~ Published: 06-08-2022 ~ How To ~ 5 Minutes Reading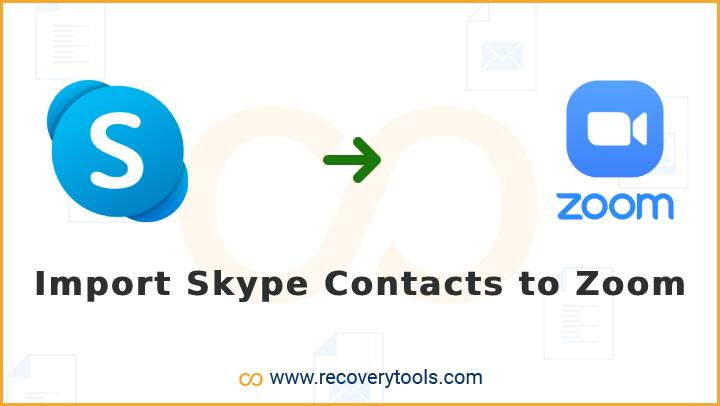 Are you one of those who want to import Skype Contacts to Zoom App? Or looking for a solution to transfer Skype for Business people list to Zoom Contacts? If so, your finding ends here. In this post, you will get the simplest way to move contacts from Skype to Zoom. Keep reading this write-up to know complete information about Skype and Zoom.
Microsoft introduced and bought an interesting program called Skype and Skype for Business in 2011. This is a web-based program that lets you call and talk to other people via the internet. It's like a video conference call. It allows you to talk to people who live in other parts of the world.
The Zoom App is an app that lets you connect with people from all over the world. You can share photos, videos, and voice messages. Zoom is an app that lets you have video calls with anyone. If you are wondering why this app is useful, there are a lot of reasons.
Reasons to Transfer Skype Contacts to Zoom
Skype and Zoom both are video calling & conference applications. Many people prefer to use video chat applications like Skype or Zoom to meet with people on a video call. This is a great application for making calls.
There are a lot of things to think about when you are deciding whether you should use Skype or Zoom. One of the main differences between Skype and Zoom is how many people are on the call. Skype can have only one person on a call free while Zoom can have several people on the same call free.
Zoom offers breakout sessions but Skype does not have any breakout sessions. Also, transcripts are unable with Skype and Skype for Business but Zoom offers to recode transcripts. There are lots of more things that are unable in Skype and presents in Zoom. That's why people want to switch from Skype to Zoom App.
More Helpful Articles:
How to Export Contacts from Skype & Skype for Business?
First of all, you need to launch the solution on your computer.
Now, choose the contacts option and select the Advance option.

Here, select the "Backup Contacts to File" option.

Now, contact export wizard open. Here, you need to choose the .VCF option from the list.

Get location path and store resultant vCard file at user desired location path.
Solution: Import Skype Contacts to Zoom Tool
After this process, you have the VCF file exported to Skype or Skype for Business app. Now, you have to upload it in the Zoom app. But Zoom supports only the CSV option. So, you need to convert this file to zoom format. For that, we need to use a professional RecoveryTools vCard Converter Tool. This application allows us to export Skype contacts to Zoom format. You can use this application on all Windows machines easily.
Download the Solution Now:
How to Import Skype Contacts to Zoom App?
Download the RecoveryTools solution on your machine. Thereafter, launch it on your machine.

It offers dual options, so you have multiple vCard or VCF files, then you can easily choose by using them.

Now, the solution generates a free preview of selected vCard file data inside the panel.

Here, you need to press the convert button and choose the CSV option in the file saving option.

Choose the required destination path and additional options if needed.

Start the process to export Skype contacts for the Zoom app.

Access the resultant data at the user's desired location path.

Open your Zoom for web app using any web browser.

Click on the Personal Contacts option from the navigation area.

Now, you need to choose the "upload from CSV file" option.

Choose the required CSV file and click on the upload button.

Features and Benefits of Skype Contacts to Zoom Transfer Tool
File Selection Options: This application has the facility to choose the required files and folders which having vCard or VCF files. The select folders option is helpful when you choose several vCard files at once.
Free Preview of Skype Contacts: One of the best things about this application is the free preview of selected file contacts. Is not about Skype Contacts, but you can easily pick and choose a VCF file created by any app and the application shows all the information inside the panel before the process.
Choose Any Destination Location: One of the best parts of this application is to allow you to choose any path where you want to save the resultant data. You can easily choose the external location path like USB drive, pen drive, etc.
Best GUI for Non-Technical Clients: In this technological world, there are a lot of applications available which have interactive UI platforms. But a lot of people are coming from non-technical backgrounds. So, we have developed a simple and best application for those users.
Windows Application: This is a complete Windows application. You can easily install this application on any edition of Microsoft Windows without any issues. The solution supports all editions of Microsoft Windows including Windows 11 versions.
Final Words
In this article, we have explained the complete method to import Skype contacts to Zoom. If you are one of them who want to know the process, then read this article to know more. You can download the required solution on your computer. You can also test this application free of cost. For more information, you can also contact us through a chat or email process.