How to Import Excel Contacts to iPhone / iCloud – Solved!
Karen Chard
~ Modified: 25-03-2023 ~ How To ~ 6 Minutes Reading
Are you finding a method to import Excel Contacts from XLS, XLSX file to iPhone 14, 13, 12, 11, X, XL, 8S, 8, 7, 5, 5S, etc? Successfully export Contacts from Excel to iCloud account quickly & instantly. One can import Excel spreadsheets to iPhone for large amounts of mailbox data. Excel to iPhone Contacts Converter enables the users to export details from Excel Contacts List to iCloud in simple & easy steps.
In recent years, there has been an increase in the use of smartphones. Because a smartphone can do anything such as emailing, texting, browsing, taking pictures, listening to music, watching videos, surfing the Internet, and playing games. That's why a huge number of users want to learn how to import Excel contacts to iPhone. You can import Excel contacts to your iPhone with the help of the iCloud account.
Excel is a great program by Microsoft to store & manage large Contacts lists. However, in case you have a large number of business & personal Contacts saved in XLS, XLSX spreadsheets. Excel is spreadsheet software that can be used to store all records in a tabular format as introduced by Microsoft. It will create XLS or XLSX for saving the Contacts file & Macro Workbook.
Reasons to Import Excel Contacts to iPhone
Since there is no direct way to import contacts from Excel Sheet to iPhone. A huge number of people want to learn the process to import contacts into their iPhones to access contacts on different platforms. It can be useful to keep in touch with all the employees and hold meetings through iPhone devices. And there are lots of other reasons which are explained below:
Personal Reasons: One reason is to use the phone to communicate with others. You can call and text friends, family, coworkers, and other contacts.
Transfer Contacts from Old Phone: You can transfer your data from one phone to another. You don't have to worry about losing anything that you have stored.
Restore Backup Copy: There are lots of users who want to use Excel to store contacts as backup copies. That's why people finding a way to restore these contacts to phones.
Solution: Excel to iPhone Contacts Transfer Tool
RecoveryTools Excel to vCard Converter Tool is one of the best and most suitable solutions for these types of issues. The software will enable the users to export the first 10 items completely free of cost. Each contact appears on a virtual card called vCard files. If the vCard contains contact information for more than one person, each contact will become a separate entry. Now when all contacts from Excel spreadsheets are transferred into VCF files, then vCard files can be easily imported into iCloud. After a successful edition of Contacts into iCloud it can be synced with iPhone smoothly.
Download the Solution Now:
Download for Windows Download for Mac
How to Import Contacts from Excel to iPhone & iCloud Accounts?
Install & Run Excel Contacts to iPhone Converter tool
Choose the required Excel Contact file from source location.
The software will provide Contacts Field Mapping between Excel file & vCard file.
Ask the users to save resultant VCF files at user desired location.
Finally, setup conversion options like Save all Contacts in One VCF file or Set vCard Encoding.
Click on Convert button & then click on OK button to confirm & exit from here.
Once the conversion process finished successfully access resultant vCard / VCF files.
How to Import vCard File in iCloud Account?
Browse to the iCloud official site i.e. https://www.icloud.com/
Sign In with Apple Id & Password to access your account in cloud.
It will provide various Menu from where you can choose Contacts
In the left-bottom corner, it will provide a Settings Gear Choose Import vCard option.
Choose the resultant vCard file & then click on Open
At last the Wizard will start importing Excel Contacts into iCloud.
Once all your Contacts will be received in iCloud, then they are also available for the iPhone Address Book. It will automatically synchronized with your iPhone devices if you have already added the same iCloud account in your devices.
Now as when the contacts get transferred from Excel to iPhone X, 8, 7 Plus, 6, 6S, 5S, 5 etc. devices. Excel to iCloud Contacts Converter is an effective to export contacts from Excel Spreadsheet to iPhone devices.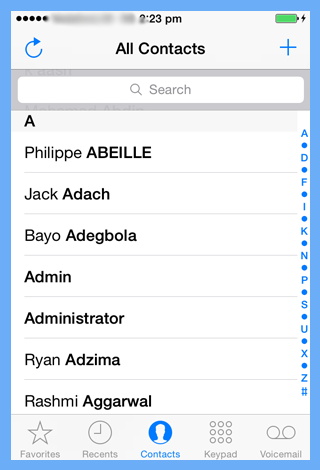 Video Tutorial – Learn How to Convert Excel Contacts to iPhone File?
Apple iPhone firmly managed to break through the criticism and become a successful line of phones. Mobiles are one the handy technologies which can be used by a vast category of users. The software covers all the needful details while detailing how to transfer Excel Contacts to iPhone mobiles. It comes up with various advanced features to perform Excel to iCloud Conversion some of them are listed below:
Some Highlighted Features of Excel to iCloud Converter
Will create ANSI vCard files which will enable the users to successfully support with iCloud or iPhone.
It will create a vCard 3.0 version allowing users to import contacts from Excel to iOS.
Excel to iPhone Converter enables the users to import Contacts from Spreadsheet to iPad.
It will allow Empty Email Addresses to get converted to those contacts who do not have email addresses.
Users can easily save exported contacts from Excel into vCard and select a destination location.
By default, the software will save the resultant VCF file in Desktop in a New folder.
The software will enable the users to automatically Map Excel Fields with vCard Fields.
The Excel to iPhone Converter utility will also ask the users to Save All Contacts in Single VCF
The XLSX to iCloud Converter tool is compatible with all the latest versions of Windows 10, Win 8.1, Win 8, Win 7, Win XP, and Win Vista, for both 32-bit & 64-bit OS editions.
It will also enable the users to set vCard encoding as ASCII, UTF-8, UTF-32, UNICODE, or Default.
The free trial version of the Excel to iPhone Converter tool will export only the first 10 items.
You can also download the Mac version of this application to export Excel for Mac Contacts to iPhone.
The Verge
As from above, we can easily conclude that it is one of the best solutions available at present time. Each contact appears on a virtual card called a vCard as one can import vCard using Contacts on iCloud.com. If vCard contains contact information for more than one person, each contact becomes a separate entry. Contacts from imported vCard are added to all Contacts groups as one can add contacts to any other group by dragging them into the desired group.