Convert OLM to MBOX in Seconds – Tried & Tested Methods
OLM and MBOX are two different formats to store mailbox data of certain email applications. While OLM is exclusive to Microsoft Outlook for Mac, MBOX is supported by multiple email applications like Mozilla Thunderbird, Apple Mail, etc. So, to access the Outlook OLM file in any of these applications, one needs to convert OLM to MBOX file format.
The fortunate thing about this conversion is that if you have Outlook for Mac application, you can easily get the job done. All you need to know is one trick that we will discuss afterward. But, without Outlook for Mac, you must opt for a professional solution. Worry not, we have one tried and tested solution available in this blog as well.
So, without further adieu, let us discuss both these methods to convert Outlook OLM to MBOX file.
Table of Contents:
Top 2 Methods to Convert OLM File to MBOX
The following are the two methods to get the job done:
Free – Here, we will use Microsoft Outlook for Mac email client.
Professional – Here, we will use RecoveryTools OLM to MBOX Converter.
Free Method to Convert OLM to MBOX
Run Outlook for Mac and click Tools > Import.
Select 'Outlook for Mac archive file (.olm)' and click 'Continue'.
Add the OLM file and click 'Done'.
Drag and drop the imported OLM mailbox to desktop.
It creates MBOX file successfully.
We can divide the steps into two different phases and carry out detailed instructions. This makes the task easier to understand and implement. The two phases are as follows:
Phase 1: Import OLM file in Email Client
1 – Firstly, open Outlook for Mac 2021/2019/2016.
2 – Click on the Tools tab from the menu.


3 – After that, choose Outlook for Mac archive file (.olm) and proceed to the next window.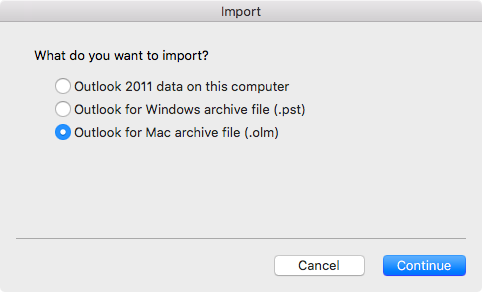 4 – Then, browse and select the OLM file from your Mac system.
5 – Finally, click the Import button.
6 – Wait for the OLM file items to appear in the "On My Computer" section of your Mac Outlook application.
Phase 2: Export MBOX file from Email Client
Verify that the OLM items are present in Mac Outlook.
Afterward, drag and drop the mailbox from Outlook to your desktop.
It will create an MBOX file on your desktop.
Finally, you can access OLM data in this MBOX file.
As you can see, the manual method to convert OLM file to MBOX is easy. However, there are a few points that makes users look for other solutions. These are:
Unavailability of Outlook for Mac application.
Unavailability of Mac system.
Batch processing of multiple OLM files is not possible.
In such cases, simply use the OLM to MBOX Converter provided below to get the job done.
OLM to MBOX Converter – A Professional Tried & Tested Method
RecoveryTools OLM Migrator is your best solution among all professional methods to export multiple OLM files into MBOX format. It provides a hassle-free approach with an easy-to-use GUI. Additionally, you can even repair corrupt OLM files and convert them afterwards without any issues.
This software is available for demo purposes without any cost. This demo version converts 25 emails per OLM file for free. Download it for your system here:
Download for Windows Download for Mac Purchase Now
Hassle-Free & Quick Steps to Convert OLM to MBOX File:
Open OLM to MBOX converter on your system.
Click Select Files and browse the OLM files.
Check all files that you want to convert to MBOX.
Select MBOX as saving option.
Click Convert to finish the conversion process.
Video to Showcase the Complete Process
Conclusion
For an efficient way to convert your email data on Mac & Windows, RecoveryTools provides individual and enterprise-level tools. In case of OLM to MBOX conversion, the professional tool allows you to avoid any and all cumbersome processes. At the same time, you have the freedom to use the solution as per your operating system i.e., Windows and Mac.
FAQs
Q. There is no option in my Outlook for Mac to import file. How do I perform the manual method?
Answer. If the import and export options are greyed out in your Outlook for Mac, then you will have to revert back to legacy Outlook using the Help menu. In the latest versions, the import/export facility is not yet functional.
Q. How to Convert OLM to CSV File?
Q. How to Import OLM toOffice 365?