How to Backup hMailServer Emails, Folders, & Mailbox Items ?
Overview: Have you read plenty number of community forums till now regarding hMailServer backup but still don't have an exact idea about how to do it? We see that taking a backup of emails is a common query that any user asks. That's why we have come up with the ultimate and powerful software to backup emails from hMailServer.
hMailServer is a free-of-cost mail server that is made for Windows users. It was produced by Martin Knafve. This email server comprises the administration services meant for management and backup purpose. Well, hMailServer facilitates all protocols like SMTP, IMAP, POP3, etc.
I see hMailServer does an amazing job dealing with email messages. But, right now my major concern is to swiftly restore or fix the situation if data loss urgency occurs. So, I need to create a hMailServer backup as soon as possible. How do I backup hMailServer mailboxes to my local hard drive without affecting the integrity of data? Is there any direct solution exist to get over this problem?
RecoveryTools IMAP Backup Software is an all-in-one application that gives a straightforward solution to backup hMailServer mailboxes. This software provides ample number of saving options like email clients, webmail, email formats, document formats, mail server, and much more.
A Hassle-free Solution: hMailServer Backup Tool
Whether you are a small-scale, medium-scale, or large-scale enterprise runner, there must be some situation where you are in need to backup hMailServer emails to some safe location. The RecoveryTools Email backup solution runs on all Windows and Mac OS. So, you can use it effortlessly to save hMailServer data to other email platforms.
Download Software from this link:
Download for Windows Download for Mac
Please Note: This is a free trial version that permits to backup of only the top 25 mail server items to supported file formats. If you are looking to backup all hMailServer mailboxes, then you need to upgrade the license keys of the product.
Steps to Backup hMailServer Mailboxes
Download & Start hMailServer Backup Tool.
Fill hMailServer account login details.
Select desired hMailServer mailbox for backup.
Choose a file saving option & destination path.
Begin to backup emails from hMailServer.
Complete Tutorial to Backup Emails from hMailServer to Local Computer
Download, install and run the hMailServer backup tool on your machine.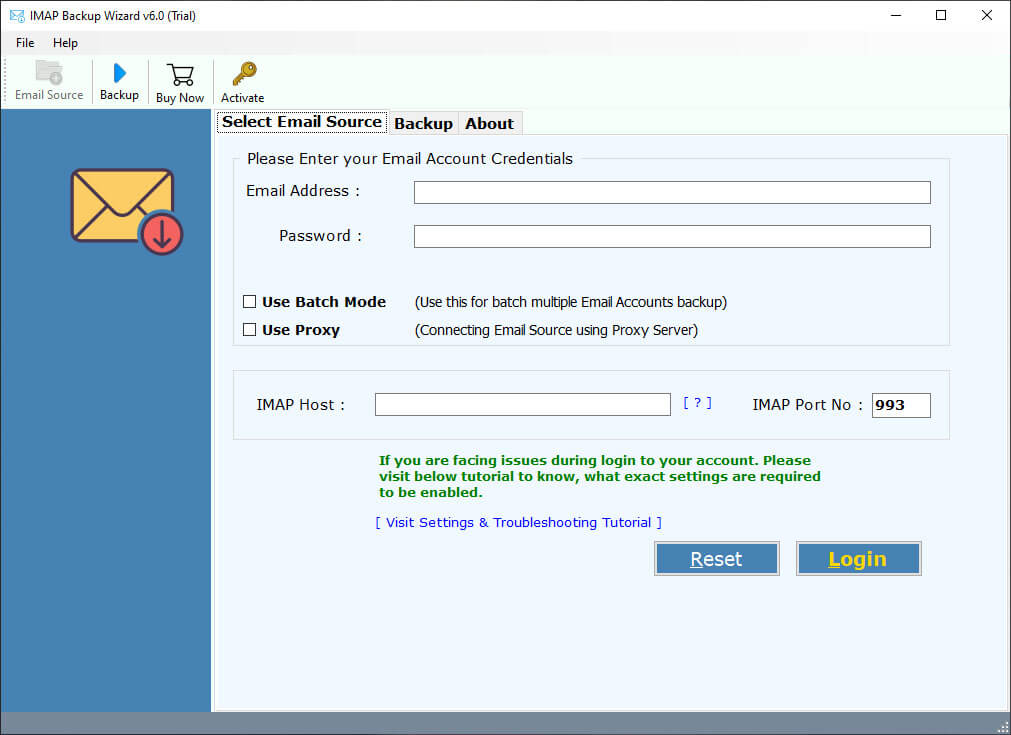 Now, enter the hMailServer account login details in the software interface.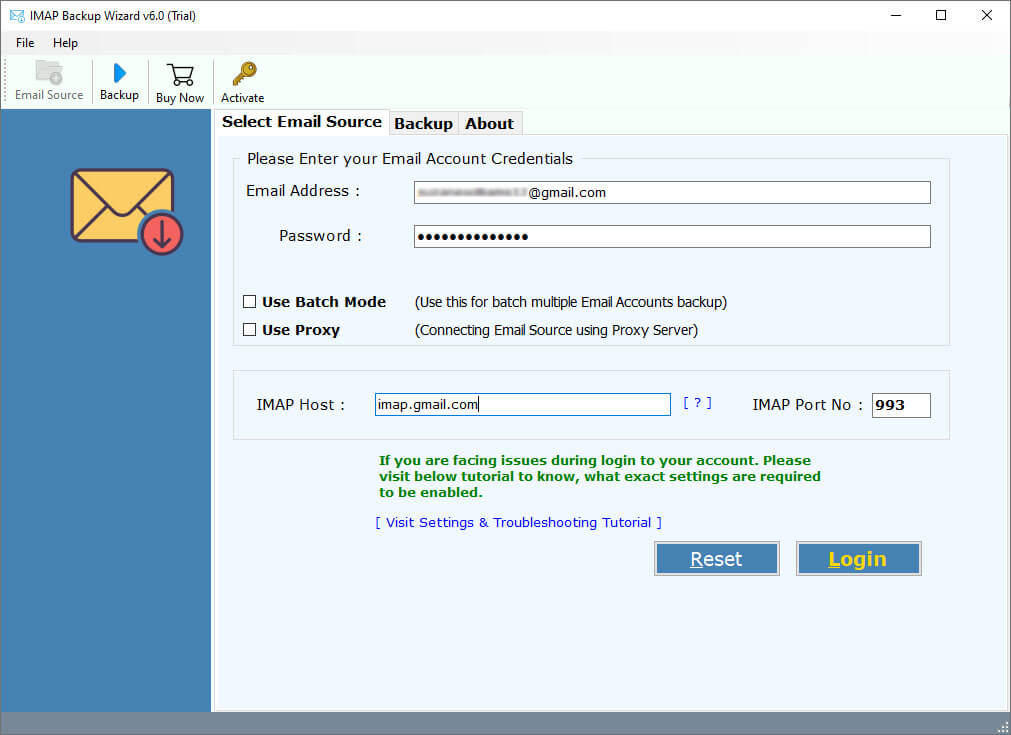 You can also backup multiple hMailServer accounts in one go. For this, enable the 'Batch Mode' option and upload the CSV file comprising the login details of all hMailServer accounts.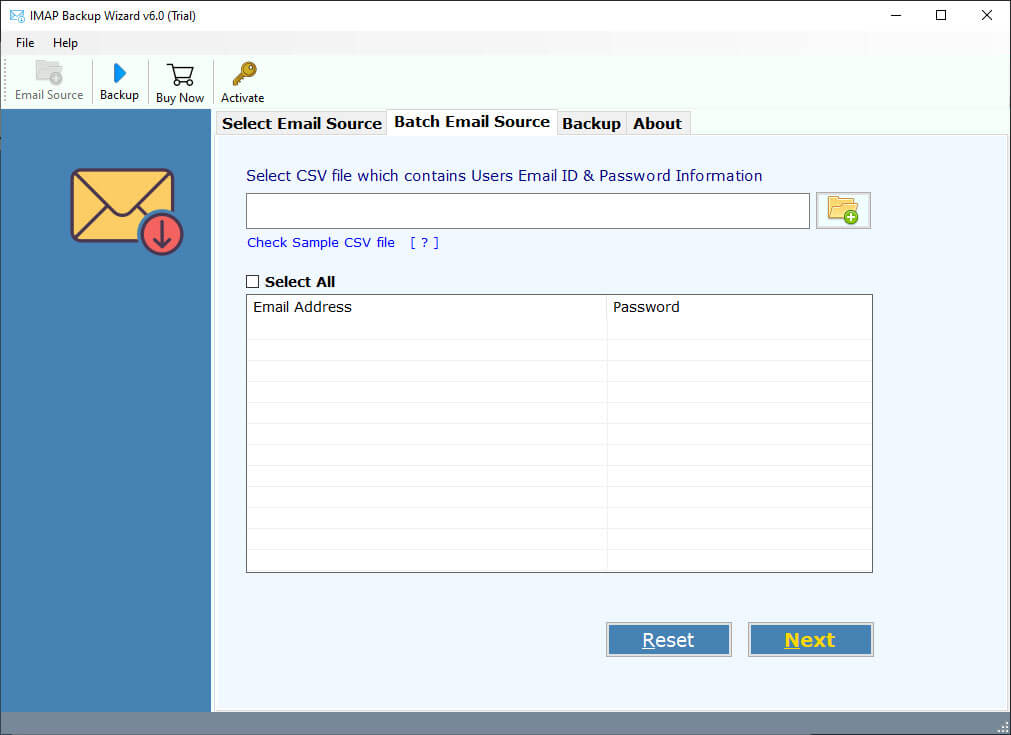 Thereafter, select the required email folders list whose backup you need to take to desired formats.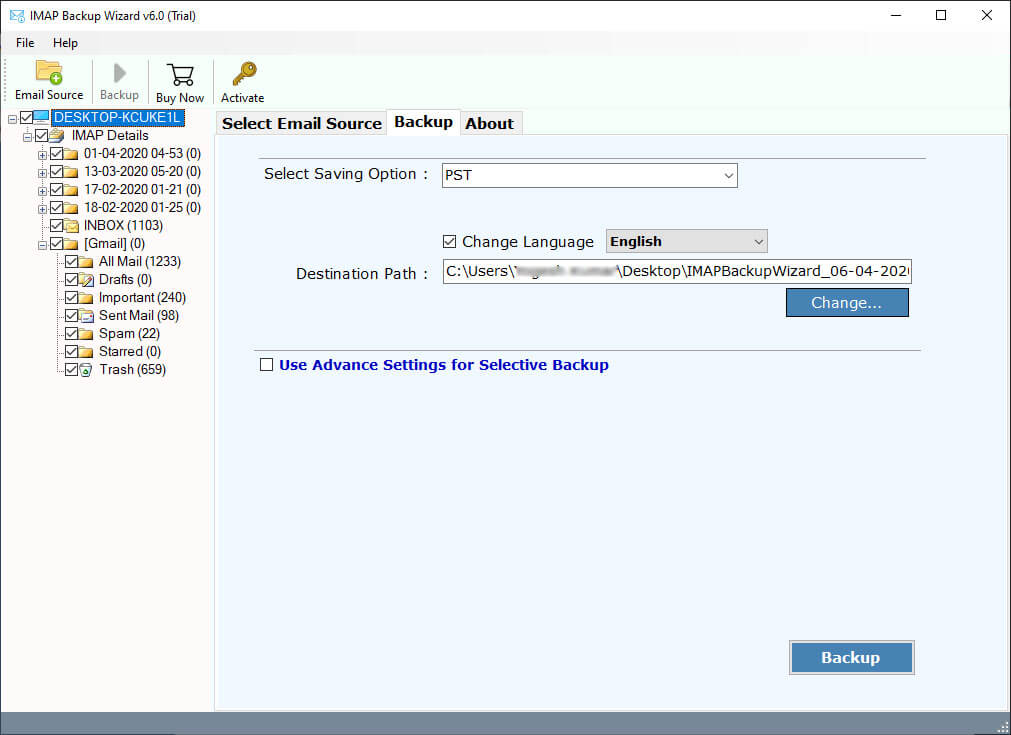 Then, from the saving options list in the hMailServer backup toolkit, just choose any file saving type.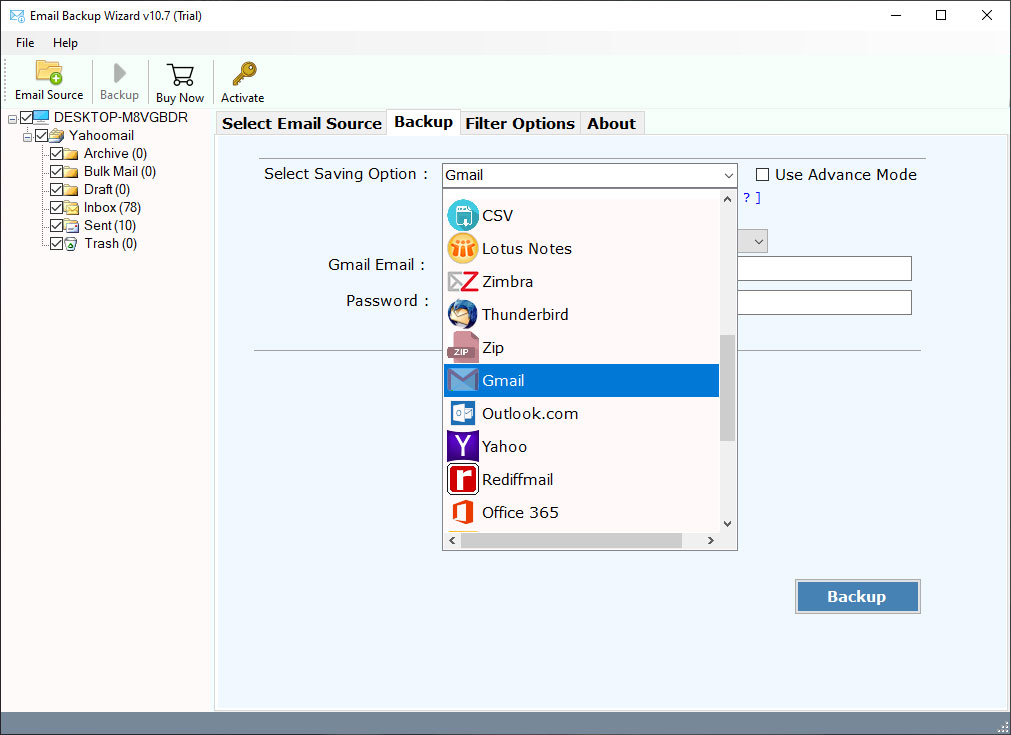 You can also pick any data filter option to backup selective hMailServer mailbox items.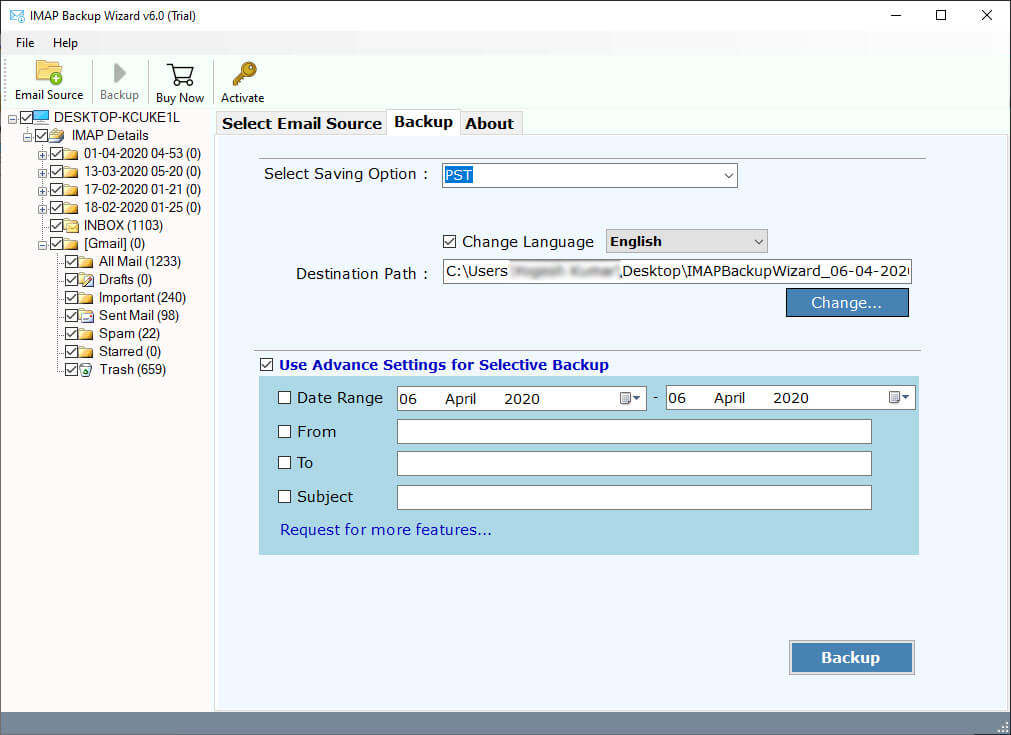 Next, fill in the destination saving format login details in the respective fields. If you have selected the email format then this step will be skipped.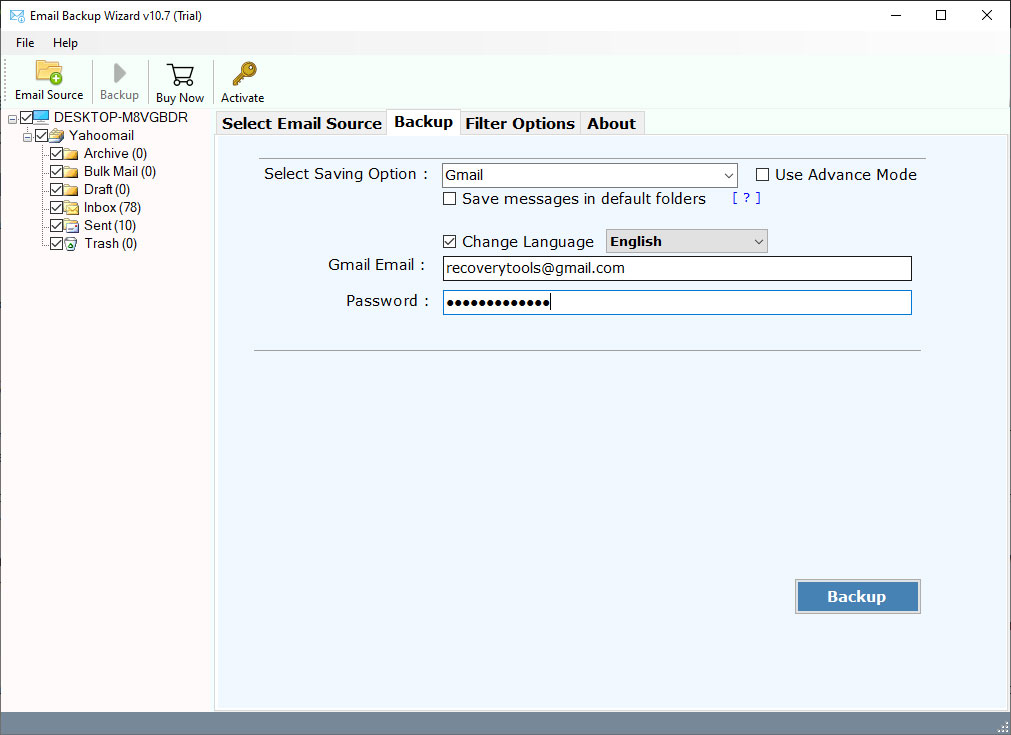 Lastly, enter any destination location for saving the output and start the backup of hMailServer emails, folders, mailboxes to the chosen format.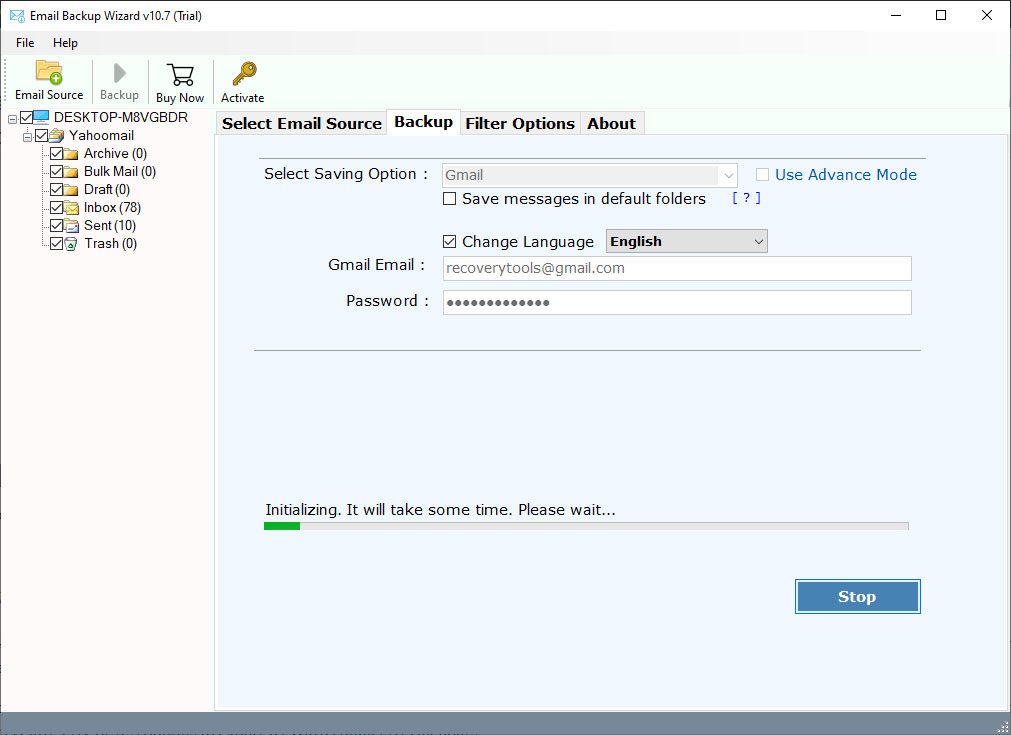 Once this hMailServer backup process will end, you will get a conversion completed message.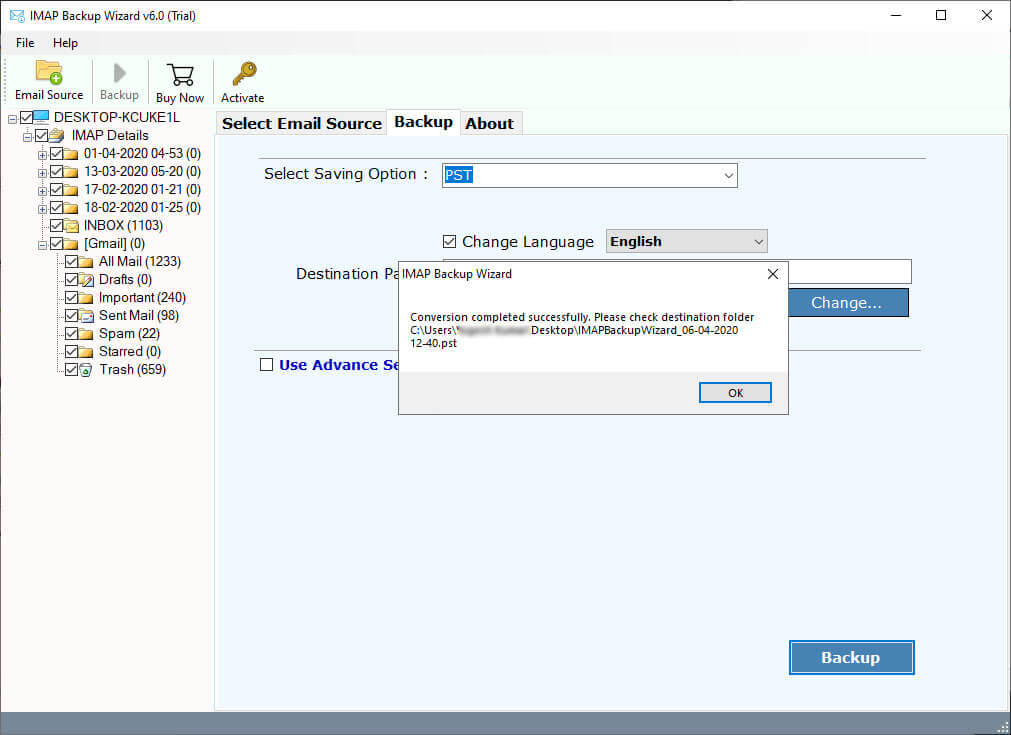 Some Extra-ordinary Advantages of hMailServer Backup Solution
Download hMailServer Emails to File Formats:
This software offers many saving options such as PST, MSG, EML, EMLX, MBOX, Zip, CSV.
Import hMailServer to Other Email Clients:
Make use of hMailServer backup solution to save all hMailServer emails to Thunderbird, Outlook, Windows Live Mail, Zimbra, Lotus Notes, Mac Mail, Apple Mail, etc.
Backup hMailServer Data to Document Formats:
This software also gives functionality to backup emails from hMailServer to formats like HTML, PDF, MHT, RTF, XPS, DOC.
Backup hMailServer Mailboxes to Webmail:
Along with other saving options, you can also backup hMailServer email messages to webmail like G Suite, Gmail, Yahoo, Office 365, Outlook.com, IBM Verse, Amazon WorkMail, IceWarp & IMAP accounts.
No Loss to Data Integrity:
Throughout the process to backup hMailServer emails, there will be no loss to the integrity of data. The software will keep intact all email properties along with their attachments, images, hyperlinks, text formatting, etc. Also, it will keep intact the original folder hierarchy of emails.
Windows & Mac Compatibility:
Users can install the hMailServer backup software on any latest and old version of Windows, Windows Server, macOS.
If you wish to backup hMailServer mailboxes in a selective manner, then the filter options play a major role. It enables to sort the email messages as per date range, subject, email address, etc.
Backup Multiple hMailServer Accounts:
There is a batch mode option available in the hMailServer backup utility. This feature helps to backup multiple hMailServer accounts data in a single go.
Regularly Asked User Queries
Q: I need to backup hMailServer mailboxes to a new server. Will your software help me to do this ?
A: Yes, the hMailServer backup tool comes with numerous saving options. You can easily backup emails from hMailServer data to new server.
Q: Does hMailServer backup solution runs on Windows Server 2016?
A: Yes, it works on all versions of Windows including the Windows Server 2016 OS.
Q: Do I need to install any external application to download hMailServer emails to Outlook?
A: No! This software is completely standalone and does not require an external app for its work.
Conclusion
Taking backup of email messages to a secure and more prominent location is something that every computer user desires. However, taking safe backup is very important as a single mistake could lead you to serious data loss scenarios. That's why the RecoveryTools hMailServer backup software is designed keeping in mind each aspect of user requirements. It will help you to backup all hMailServer databases to supported file formats or email platforms. If you have any queries, do contact our support team.