How to Transfer Emails from GMX Mail to Gmail (Google Mail) ?
Karen Chard
~ Modified: 20-06-2022 ~ How To ~ 6 Minutes Reading
"I have been using a GMX webmail account for 5 years. There are lots of important emails inside my GMX email account. Recently I received an email from GMX official ID, someone tries to log in to my email account. Now, I am concerned about my important emails, which contain confidential information. Finally, I decided to move GMX Emails to Gmail account. Does anyone know how to migrate GMX to Gmail Account ? Please Help me……."
Every personal and professional email is important to its users. Nobody wants to give their confidential information to others. Therefore, the best option is to save your confidential email in multiple locations. If you are among those who are facing the above issues? Or do you want to know the process of transferring GMX email to Gmail account? Then this article is for you. Here, we give you a concise and clear way to migrate emails from GMX Mail.com to Gmail account. With a simple tool, you can easily transfer emails from GMX to Gmail account with attachments.
In this guide, we are going to address and provide a solution for user inquiries like: –

How can I complete GMX to Gmail migration without any data loss ?
Can I transfer emails from GMX to Gmail mailbox directly ?
How you can import GMX Mail emails to personal Gmail account ?
First, let's do a quick talk about GMX Mail and Gmail. Why users are planning to make a move of their folder items (emails, contacts, and more) from GMX to Gmail account.
If we talk about GMX Mail, it is a web portal and cloud email service provider owned by the German Internet company United Internet. Mail.com offers many free services such as news, videos, articles, and Webmail applications. The users are provided with unlimited storage space and attachments up to 50 MB.
Gmail, also called Google Mail is a free email service with 25 GB of storage space. Also, provides chat conversations, Google Drive, Google Plus profile, which can be used to connect users in the community, etc.
How to Import GMX Emails to Gmail or Google Mail Account ?
Steps to Export GMX Emails to Gmail are as follows: –

Launch RT GMX Mail Migration Tool on Computer.

Enter Credentials & choose folders to export into Gmail account.

Choose the saving options as Gmail or Google Mail in the list.

Enter Gmail account credentials in the user Interface.

Click on the next to import GMX Email to Gmail Account.

Some of the Reasons to Transfer Emails from GMX Mail to Gmail Account
There can be several reasons to migrate GMX data to Gmail user account. A few of the basic reasons for GMX to Gmail migration is mentioned below:
Overall Performance: – Gmail is accessed by users all over the world due to its great functionality. It has millions of active users whereas GMX is a German-based email client. It is less popular than Gmail.
Additional Benefits:- The features of GMX is pretty much common like other email clients such as managing data, sending & receiving information, etc. But, with Gmail, the user can manage emails and other information in a better way using Google Apps.
Support: – Many businesses are running on Gmail. It is highly used in the corporate world. Therefore, migrating emails from GMX to Gmail can get you benefits.
Now, it's time to introduce you to all the most promising solutions for a successful GMX to Gmail migration. The tool is available in two modes – Demo and Licensed.
How to Export GMX Emails to Gmail Account ?
Download and launch the online GMX to Gmail Migrator on Windows supportive platform.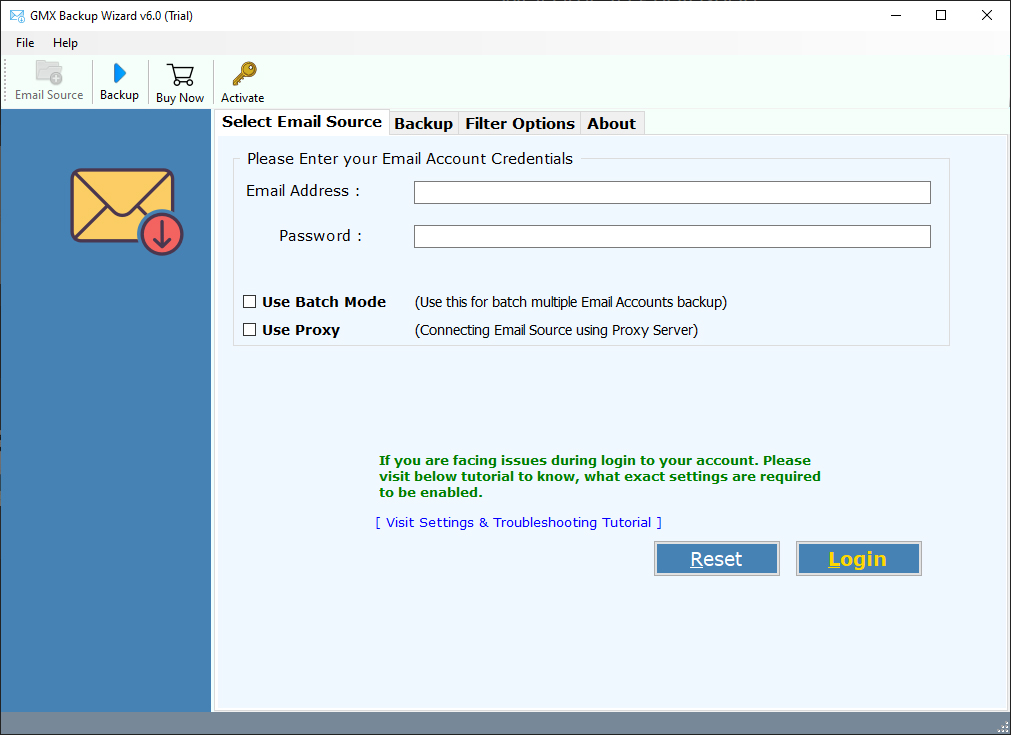 Fill the credentials of your GMX Mail as shown in the screenshot – username and password. Then, click on the Login button.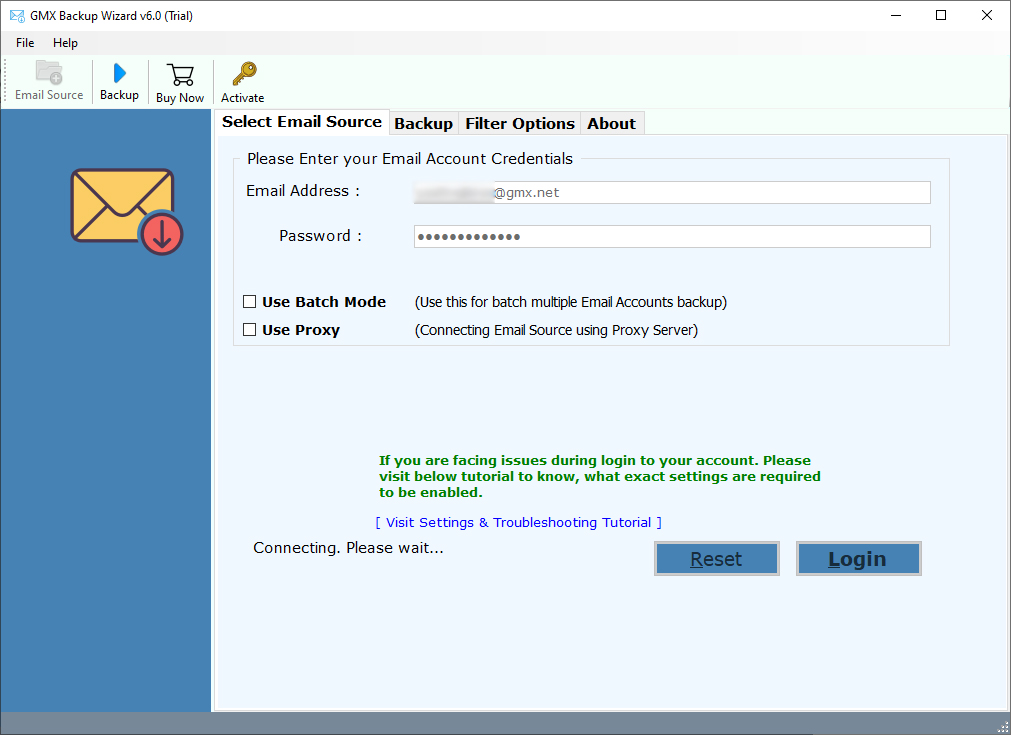 (The software has a special feature for administrators, Use Batch Mode. It allows migrating multiple GMX accounts to Gmail with all information.)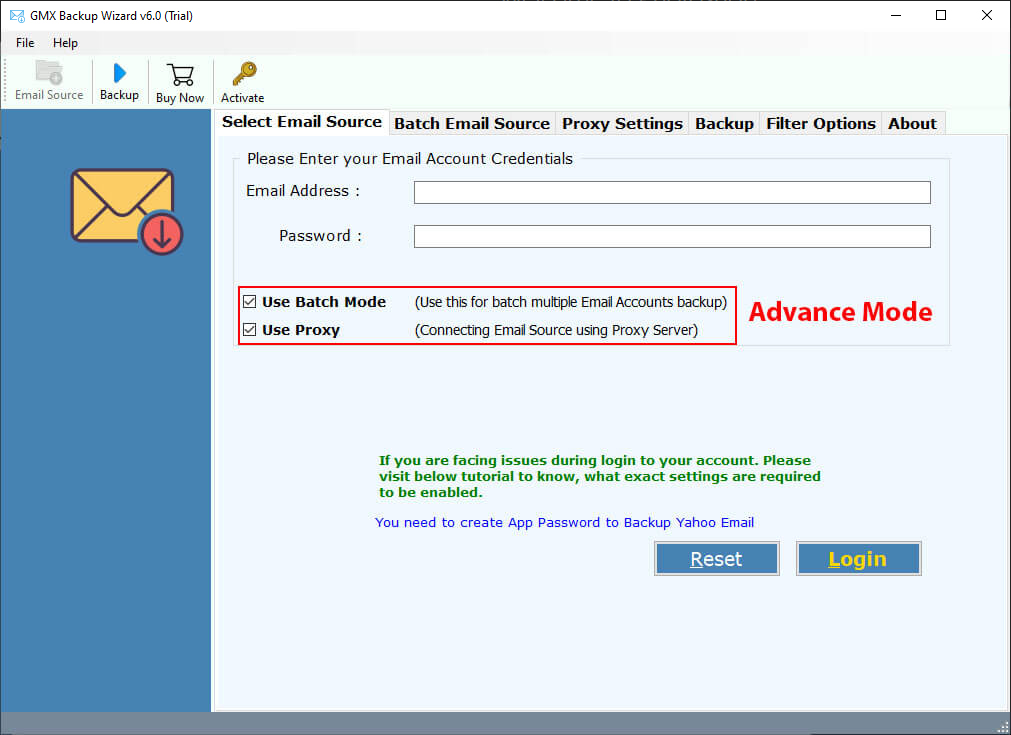 Now, the software loads all the folders from your GMX account. Please check the required for the migration task.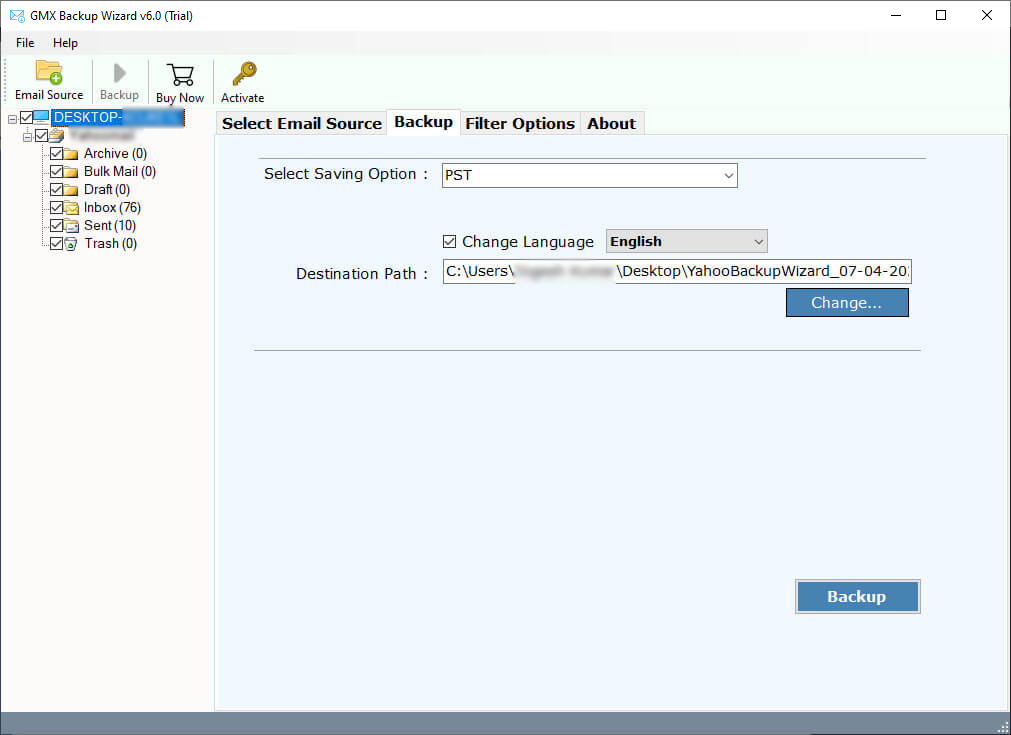 Choose Gmail as the desired saving option from the list.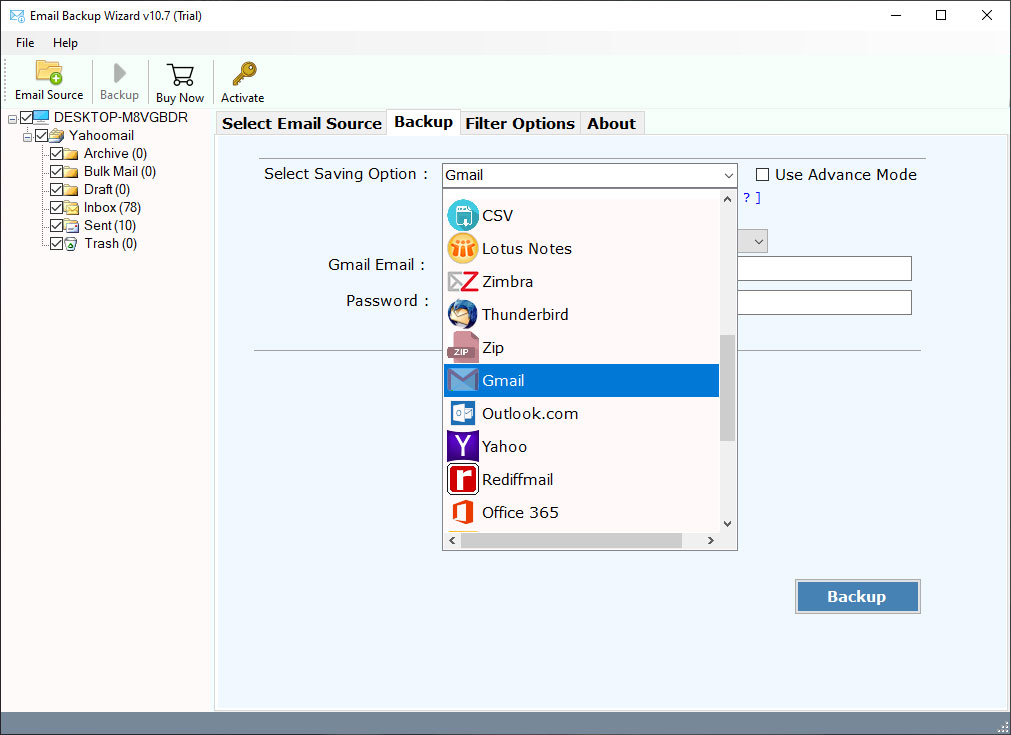 Next, fill the information like username and password.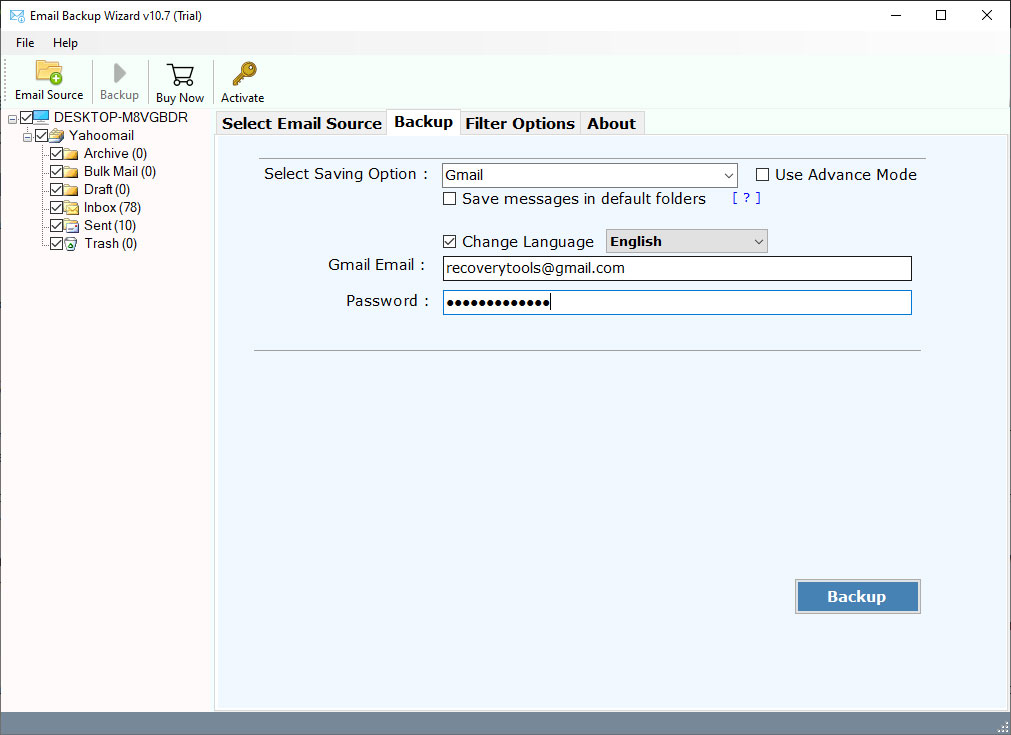 If you want to sort the GMX Mail data when migrating to Gmail account, use the advance settings. It offers you filter options like date range, to, from, and more. Check if any of it is required. Go to the Backup button and start the live migration from GMX account to Gmail. It is a simple and direct process.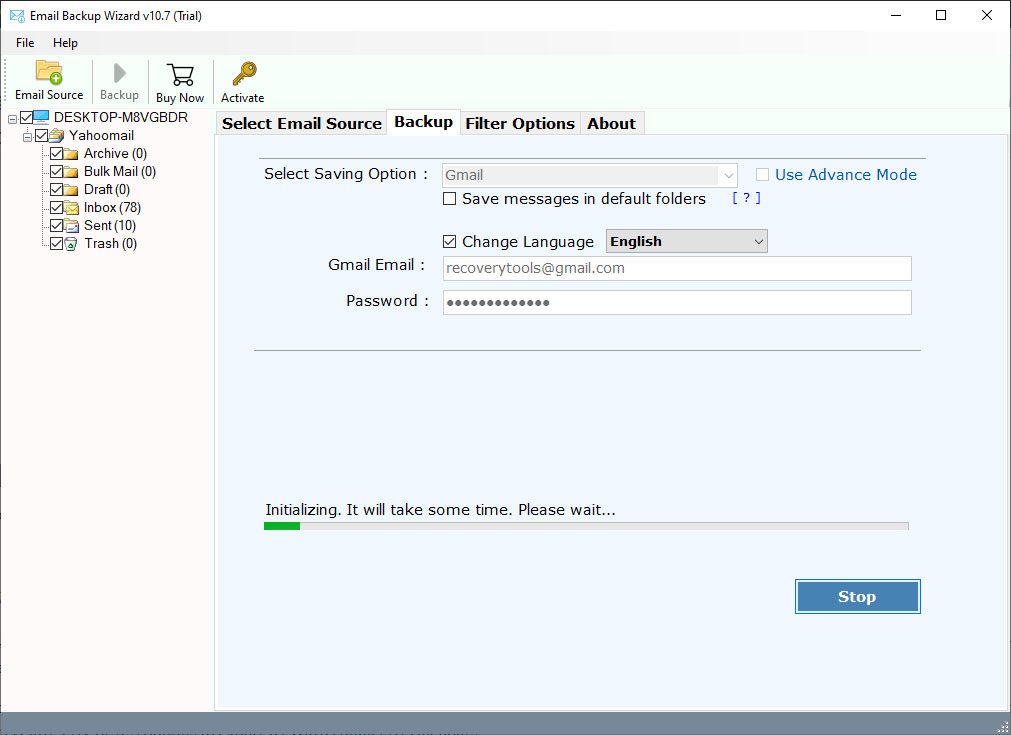 When the process of migrating GMX emails to Gmail ends, you get a complete conversion message. It also gives you a log text report giving all the information about the work. At last, go to your Gmail account, and there you get a folder with GMX name. Click on it and get 100% accurate results.
Automatic and Powerful GMX to Gmail Migration Tool for Windows Users
Unfortunately, there is no manual solution to import GMX emails to Gmail account. Therefore, you have to accomplish the GMX to Gmail migration with a third-party. Download and use RecoveryTools GMX Backup Wizard. The software can migrate entire mailboxes from GMX account to Gmail in just a few simple steps. Using this solution, you can also perform bulk transfer of emails from GMX to Gmail account. It provides a simple and easy-to-use interface for all users. With this app, you can also transfer into Office 365 and more.
Get the free download program on any Windows-based system. Next, enter the GMX mail account details in the software panel. This is a reliable solution that can finally make you 100% successful in migrating from GMZ to Gmail. The limitation of the trial edition is 25 files. You can activate the license edition of the software anytime you feel.

The Best-Known Features of the GMX to Gmail Import Tool
It is the best, safe, and easy-to-use application to migrate complete data from GMX to Gmail account.
The tool comes with a very simple user interface. Both technical and non-technical users can easily use this application without losing any information.
Migrating selective folders with attachments from GMX to Gmail is very effective.
Using this software, you can easily migrate data in bulk from multiple GMX Mail accounts.
The tool successfully supports the migration of unlimited files from GMX to Gmail accounts.
To use this application, there is no need to install any third-party or supporting applications.
When migrating GMX to Gmail, the tool will always maintain all email attributes.
This software can be easily installed in all the latest and earlier versions of the Windows platform.
The Final Words
We discussed one of the best ways to migrate from GMX Mail to Gmail. As we all know the manual configuration is so confusing and complicated. Hence you can try the best GMX to Gmail Migration tool for instant email migration. Download the FREE trial to start mailbox migration.
Also Read: Migrate Mail.com Emails into Gmail