Extract All Attachments from Outlook Desktop & Online Outlook Email Account
I just discovered a simple way of how to extract all Attachments from Outlook in Bulk mode. If you had experienced the same problem as me, then this tutorial is made for you. You will learn how to save & download attachments from Online Outlook Email Account also.
I have Microsoft Outlook that allows me to send/receive emails, store contacts, and manage calendar entries. Personally, I think Outlook is one of the best software for email clients in the world.
But the luxury of using MS Outlook for a long time has certain consequences, that is, a large amount of data that continuously increased the size of my mailbox.
When I restart Outlook, it takes a long time to load the mailboxes. After analyzing all the things, I come to a conclusion.
What is in my mailbox that takes up the most space?
The answer is attachments! Yes, the attachments are embedded in Outlook emails.
6 out of 10 emails I receive contain attachments, in any format such as PNG, JPG, GIF, RTF, DOC, XPS, PDF, XLS, CSV, VCARD, HTML, MHT, ICS, P7S, PAB, PRF, RPMSG, TNEF, CVR, FFX, MSO, etc.
These attachments collectively take up a lot of space in my mailbox. So, I decided to remove all these attachments from emails. It automatically reduces my mailbox size and Outlook load time.
Wait! What if I need these attachments in the future? Because I believe that once they have been removed from my mailbox, there is no way to get them back. Of course, Outlook Recovery Tool & Outlook Repair Tools are excluded.
What to do next: I should abandon the idea of ​​deleting attachments from my inbox
Obviously not. There is another way. Why shouldn't I just extract all the attached files from Outlook emails into one folder? To have these files backed up properly whenever I need them.
Let's get to work and Download Attachments from Outlook 2019:
So, I started searching all the emails with the attached files, opening them, and saving the attached files one by one. The good thing about Outlook is that it displays an attachment character before each message that contains attached files.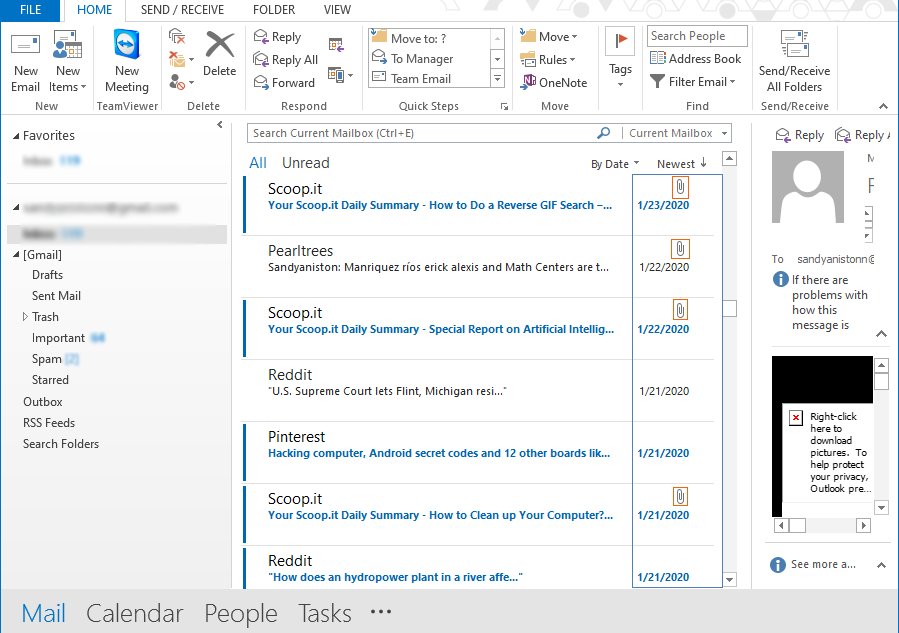 But not everything is so good … some things are also catastrophic. I just started doing this and saves Outlook attachments from the first 15 emails and I feel bored. The process was so repetitive, lengthy, and time-consuming that only I know how I feel.
And then I check the email number in the inbox. Expects up to a total of 1.20,000 emails.
And my first impression was: Don't panic, there must be a way to extract Outlook attachments in bulk, not one at a time.
How to Extract Multiple Attachments from Outlook?
My research stops with RecoveryTools Outlook Migrator. The application offers an easy way to extract all attached files to a separate folder. My personal experience with this was very nice if you are looking for the same thing. You can download it for free here:

You get a free trial that lets you extract attached files from the first 25 Outlook e-mails in bulk mode. If you want to extract all attachments from multiple Outlook e-mails, purchase a license.

The USP of this tool is its good functioning. No Outlook e-mail client was required. Just load Outlook data from a PST / OST file and choose the save format as HTML. It seamlessly unpacks all attached files from multiple Outlook e-mails to a separate folder.
Another Benefit:
Users will also get Outlook emails as HTML files. For each separate email, an HTML file will be generated. It will help in sharing the files or managing them in a proper way.
Working of Best Outlook Attachments Extractor Tool:
Only 5 simple steps & you will get Outlook Attachments in a separate folder.
Launch the software & load Outlook database files. It also enables to extract of attachments from configured Outlook mailbox data.
Select the HTML file saving option from the list.
Setup all options like destination path, ignore folder hierarchy, save converted messages in the same source folder, or file naming option. Click on the Convert button to start the process.
The attachment extract process finished. The tool will directly open the destination folder which contains all the output files.
A separate folder named with Attach also present there. When you open the folder, all the attachment files are present there.
Now you can understand why I am recommending this tool to extract Outlook emails with attachments. The whole process was so smooth & refine to automatically extract Outlook attachments while saving a lot of time.
Guide to Download Attachments from Outlook Web App:
The above-mentioned tool is only limited to extract attachments of emails obtained from the desktop-based Outlook email client. But Outlook is now also available on the cloud i.e., Outlook.com/Outlook Web Access/Outlook Web App or OWA. Here is how you can download Attachments from the Outlook.com account.
Run Outlook.com Attachment Extraction Tool & Enter Login Details.
Setup Options to Delete all the specific Email Attachment files.
Click on Backup button to start Outlook.com Attachment Extraction Process.
The Number of Attachment Files Obtained from Each Folder is Available in final SavingLog Report.
This Email Attachment Extractor tool will not only allow you to download Outlook.com emails but also other webmail formats including Attachments from Gmail account, download attachments from Yahoo account, etc.
That's it from me as of NOW. Stay Connected with me to read more guides: