How to Export Yahoo Mail to PDF File to Show as an Evidence in the Court ?
Karen Chard
~ Modified: 23-05-2022 ~ Convert Data ~ 7 Minutes Reading
Overview: Are you one of them who want to export Yahoo Emails to PDF format ? Or want to save important Yahoo emails as PDF documents for future reference ? If your answer is YES! Then this article for you to resolve all these types of issues. Because here you will learn the way to convert Yahoo Mail emails to PDF document format. So, stay with the article and keep reading.
For the past few decades, email has become an important source of correspondence for clients communicating with a legal professional. There are a lot of forensic investigators and business users who want to export Yahoo Mail to PDF format. So that the output PDF file can be shown as important evidence in court. In this blog post, we are going to talk about the same.
Today you will learn a complete solution to convert Yahoo email to PDF format. This guide is useful for all kinds of users – students, professionals, forensic experts, enterprise users who are searching for a direct method to save Yahoo email as PDF.
Before beginning, quickly download the RecoveryTools Yahoo Backup Tool on your Windows computer so that you can export Yahoo mail to PDF format easily. It is a professionally tested solution that facilitates a convenient approach to print Yahoo mail to PDF format.
Why Do Legal Practitioners Want to Export Yahoo Mail to PDF ?
There are some reasons for developing the Adobe PDF format. Have a look at them:
With PDF files, users can show sensitive client communication messages that can later be used as evidence in the courtroom.
The users can save email as PDF from Yahoo mail and can put a strong password on their PDF files so that only the sole admin of that particular file can open it.
You can add a watermark to the company documents to save the hard copies from copyright infringement.
You can refer to your important email messages without internet connectivity if you export emails from Yahoo to PDF format.
Hello, Urgent help! I have got more than a thousand emails and some attachments in my Yahoo mail. Now due to the business needs, I quickly wish to export Yahoo mail to PDF format so that I can print them easily. I have gone through the manual approach already. But, it is really tricky and a bit lengthy too. Can you please help me to get a reliable automated solution to export Yahoo as PDF format
– Dustin, UK
Hi, last month I received some important messages on my Yahoo account. I want to print them as fast as possible as I want to make a report out of them. My project date is coming nearer and can't waste a single day of time to do this. Please suggest to me the best solution to export Yahoo mail to PDF files. Your help will be really appreciated.
– Evelyn, USA
Instant Solution: Yahoo to PDF Converter
To tackle such problems, we suggest you to download the RecoveryTools Yahoo to PDF Conversion tool. This application allows you to export multiple Yahoo emails to PDF documents at once. You can also export Yahoo emails to PDF by date, by time, by particular email address, by subject, etc.
Download the Yahoo to PDF Export Tool on your Windows and Mac Computers.
Download for Windows Download for Mac
Note: You can use this free edition of this application to export few Yahoo emails to PDF Document file. For more, purchase the software key to activate the software for lifetime use.
Steps to Export Yahoo Mailbox Emails to PDF Document
Follow the given step-by-step process:
Launch the Yahoo to PDF Converter.
Enter Yahoo account credentials in the interface.
Select Yahoo Mail email folders from the list.
Choose PDF option and pick a resultant location.
Click on the next to export Yahoo Mail to PDF file.
Complete Guide to Export Yahoo Emails to PDF Format with Pictures
In the first step, you need to download and install the application on your computer.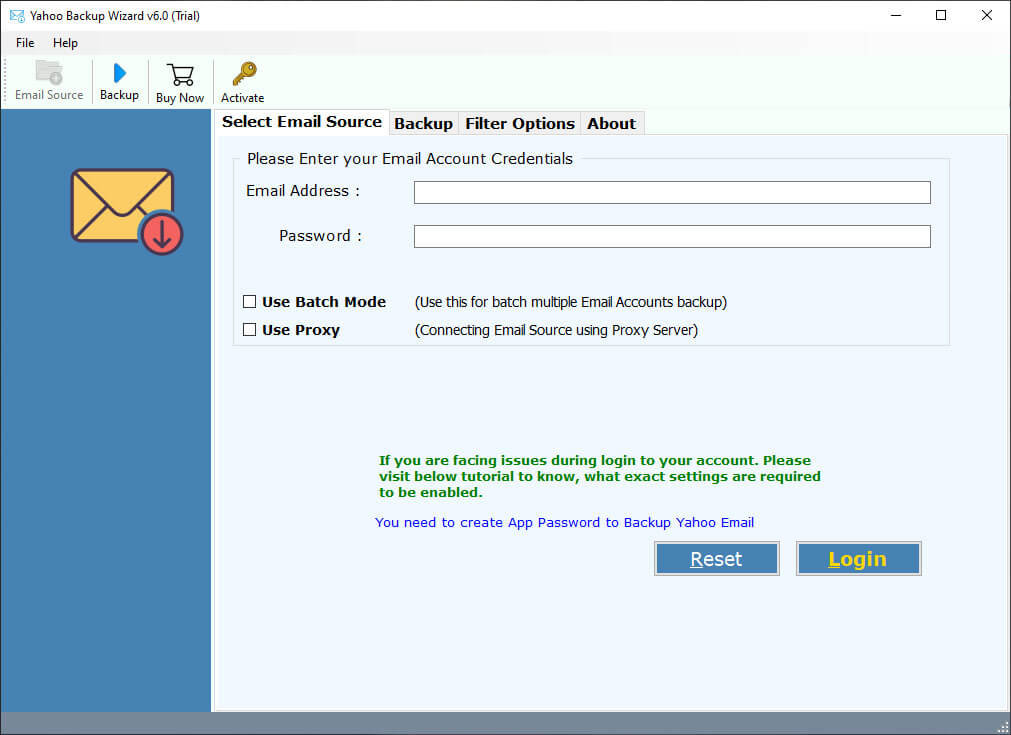 You can also use the Batch option for multiple Yahoo Mail account login at once.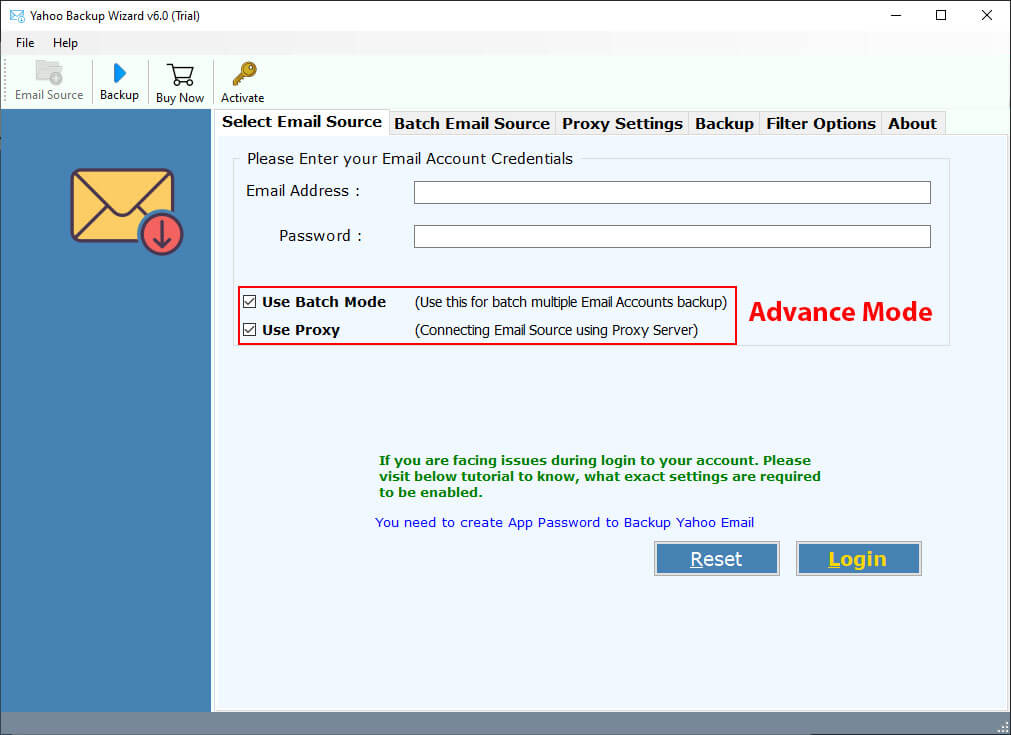 Now, at this step enter all the details of your Yahoo mail account- Email Address and Password. Also, hit on the login button to start the task.
Please note: Create an App password to connect with the Yahoo to PDF backup tool.
Once you have login, then the tool will automatically start fetching the Yahoo mailbox folders into the software panel. Here, choose the selective email folders which you wish to move from Yahoo mail to PDF format.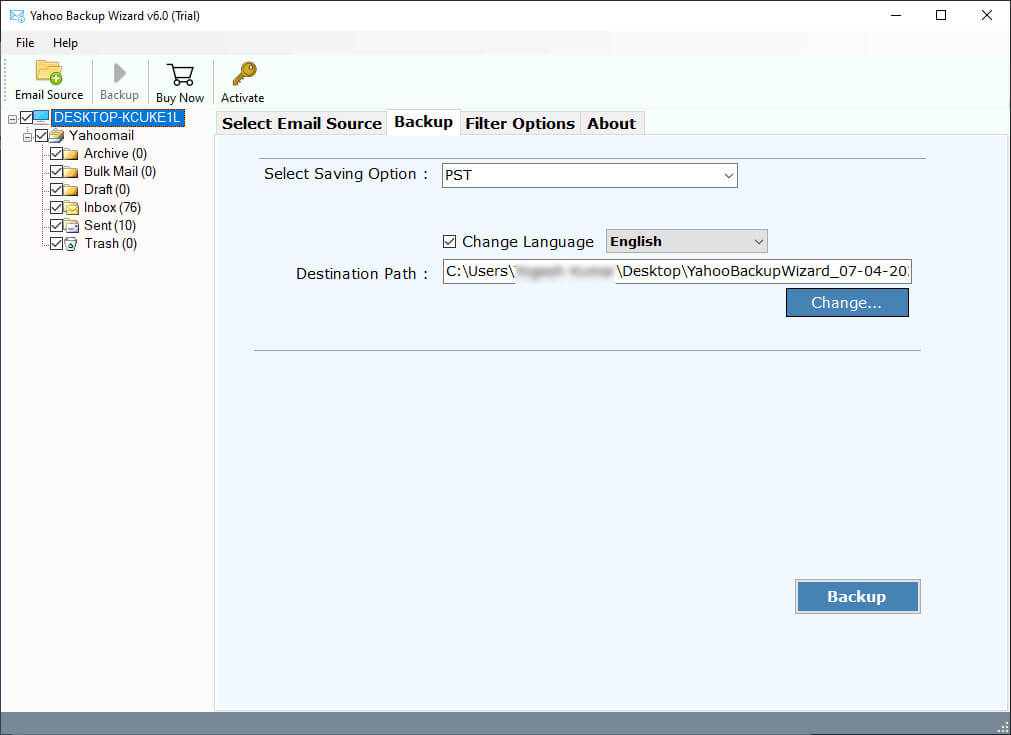 At this step, pick the destination saving option that is the PDF as saving type option.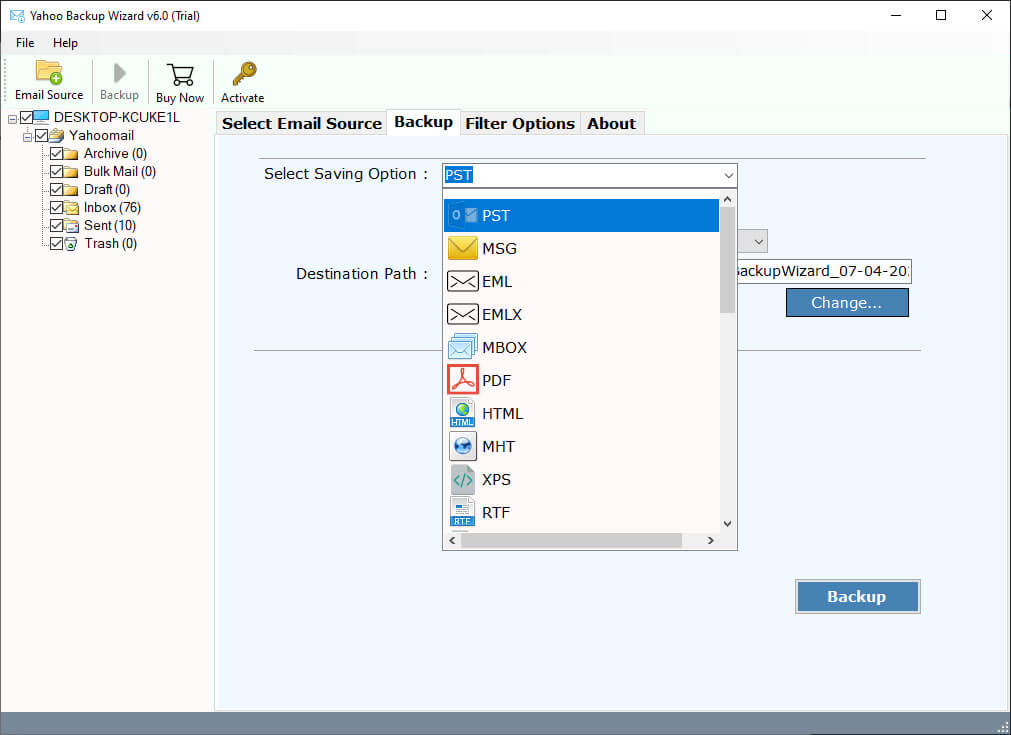 Next, enter the destination location for saving the output at a required location on your computer. Along with this, also pick a desired file naming option for arranging the email data.
Lastly, tap on the backup button to start to export Yahoo mail to PDF format.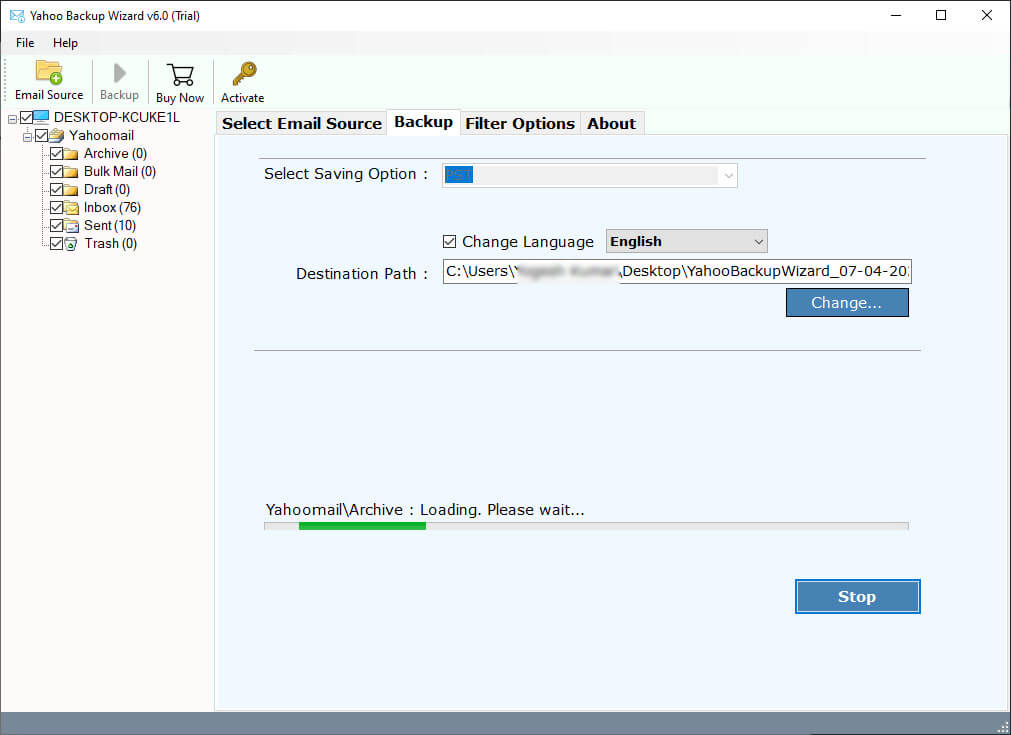 Once all steps are done, the software will give a completion message at the end. Then, quickly open the resultant folder containing the output PDF files.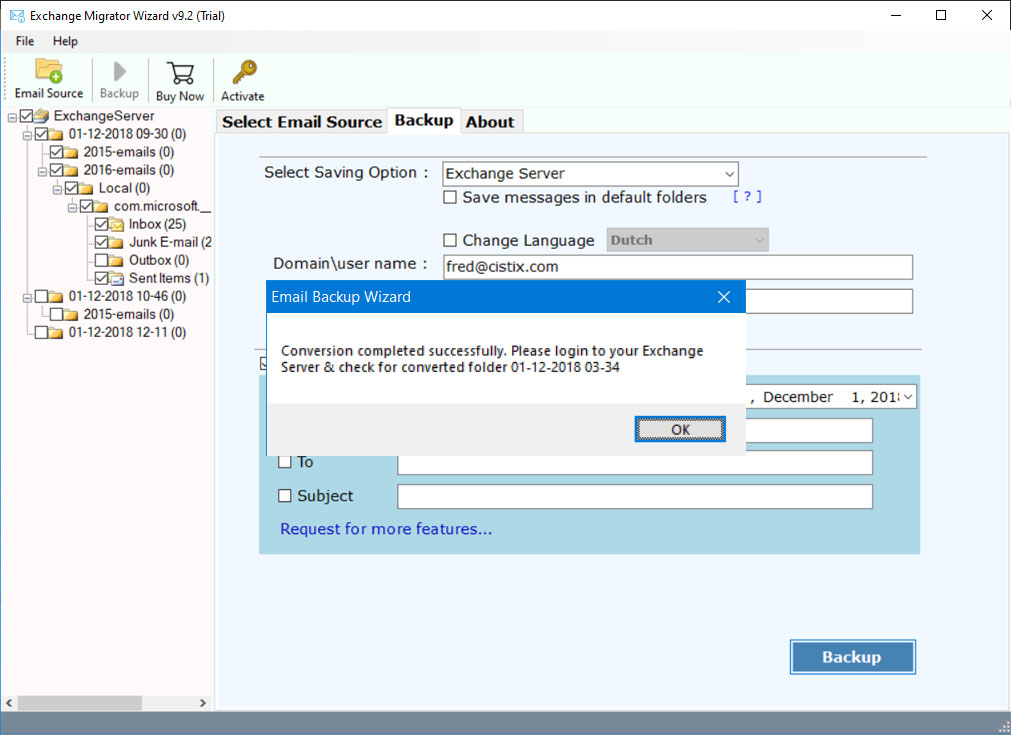 Noteworthy Features of Yahoo Mail to PDF Saving Tool
This Yahoo mail to PDF converter comprises many useful features. Take a note of them:
It gives the option to bulk export Yahoo mail to PDF format easily.
The tool allows to convert Yahoo messages to PDF files along with attachments, hyperlinks, etc.
You can selectively print Yahoo mail messages in PDF format with this tool.
It provides 100% accurate and quick results to backup Yahoo email to PDF format.
The tool preserves the internal folder hierarchy throughout the conversion.
It maintains the Metadata properties of Yahoo mailbox folders.
There are no limitations to export Yahoo mail data to PDF format.
It supports all latest as well as old versions of Windows OS.
The tool also provides various file naming conventions for better email management.
What is the Manual Method to Print Yahoo Email to PDF Format ?
Here are the steps to export Yahoo mail to PDF files with these manual steps.
Login to your Yahoo mail account and double-click on the target message. Open the email message and go to the option More>>Print.
A new window will be opened, in the destination column, choose "Save as PDF" and hit on the 'Save' button.
Now, in this window, browse the desired location where you want to save the Yahoo to PDF converted files.
Please Note:- The manual method to export Yahoo mail to PDF format takes a lot of time and efforts. Also, it can lead to data loss and will require a lot of patience too. So, we highly suggest you to use the automated Yahoo mail to PDF migration tool.
Conclusion
Your text message may contain sensitive information about your organization's policy or password. It can be done if you download emails from Yahoo to computer in PDF format for safety purposes. This blog post describes a complete procedure to export Yahoo mail to PDF files with attachments. It is a simple, reliable, and effective approach to Yahoo to PDF conversion. For more information, contact us via email or chat process.