How to Export Emails from Server POP3 to EML or EMLX Format ?
Karen Chard
~ Modified: 25-03-2023 ~ How To ~ 5 Minutes Reading
Summary: – Are you looking for a solution to export POP3 emails to EML files ? If yes, then stay here. In earlier, we have discussed how to export POP3 emails to MBOX file. Today, we are going to justify the way to convert POP emails to EML format. So stay with us and solve your queries like how to export POP3 emails to EML format ?
Do you still want to export POP3 emails to EML files ? Do you know what a POP3 server is ? Well, POP3 (Post Office Protocol 3) is used by multiple email services to send and receive messages from email servers. There are lots of email platform are use POP3 Server such as Gmail, Outlook.com, Rediffmail, and Yahoo, etc.
It is an application-layer protocol utilized by email clients to receive email from an email server. However, there are many users who want to know how to export POP3 Emails to EML format: –
"Since the day I  was setup my email account, I had no idea that my email service only supports POP3 servers. After 3 years I need to export my email from POP3 server to Windows Live Mail. But I was having problems with connectivity to POP3 server on Windows Live Mail. Therefore, I was decided to export POP3 emails to EML format. Does someone know how to export POP emails to EML files ?"
Recently, we received this query from our regular customer. Therefore, without wasting time we suggested our POP3 Backup Tool. This software allows you to download emails from POP3 server to EML, EMLX, and many more formats.
Take help with the online video tutorial to export POP3 emails to EML format.
Continue to peruse this blog to become more acquainted with additional about the astonishing advantages of this product!
Instant Solution: How to Export POP3 Mailbox to EML Format ?
Download the software on your Windows and Mac Computer to export your POP3 account emails in EML or EMLX format.
Download for Windows Download for Mac
Steps to extract POP emails to EML: –
Launch the software on your Windows PC.
Enter POP email credentials in the interface.
Check required email folders to be exported as EML Files.
Choose EML saving option and a target saving location.
Hit on the next button to export POP3 emails to EML.
Important Note: – The trial version of this program allows you to convert only 25 emails to EML format. For the complete process, you need to buy this application license key.
How to Export POP Emails to EML Files – Complete Overview
Follow the step-by-step process to export POP3 emails to EML format. First, download free Export POP3 to EML tool on Windows Machine.
After that, run this application software on the Windows machine.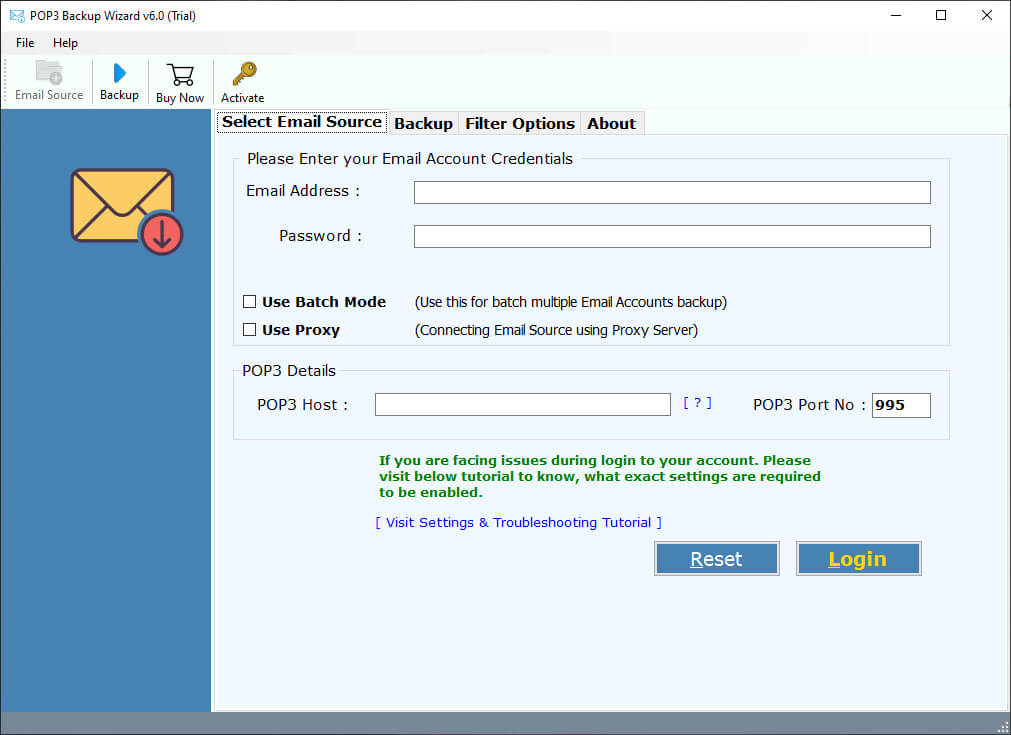 Thereafter, enter your POP Email Account details or credentials in the user interface.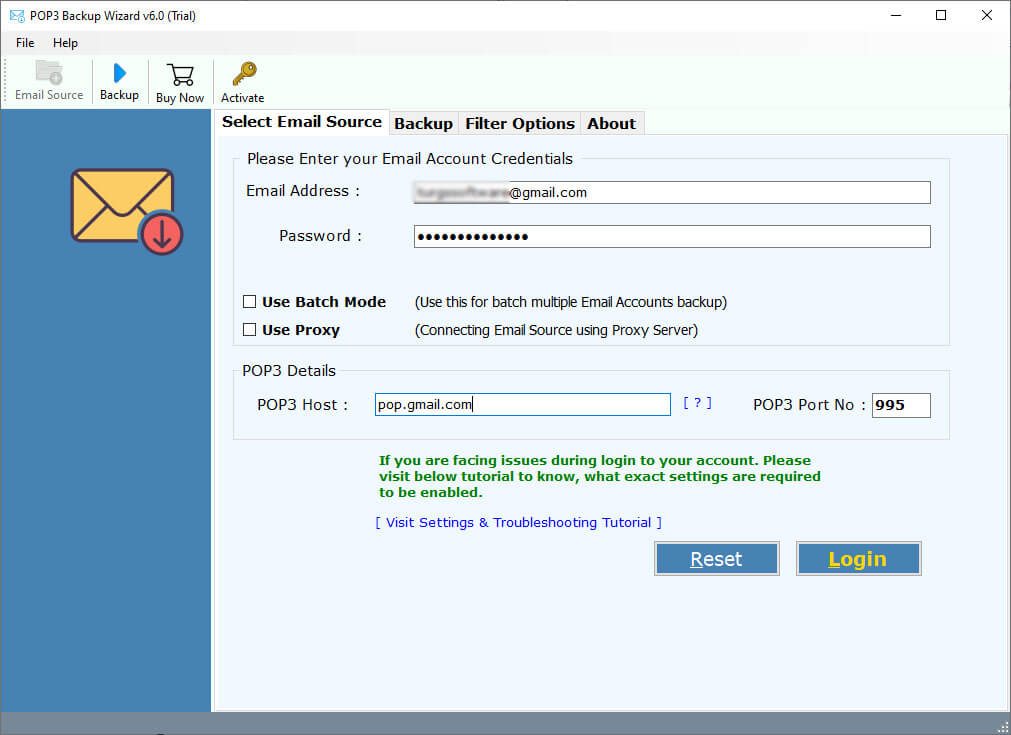 Also, you can choose the additional options such as Batch Mode for unlimited email account backup or Proxy Server Connecting option.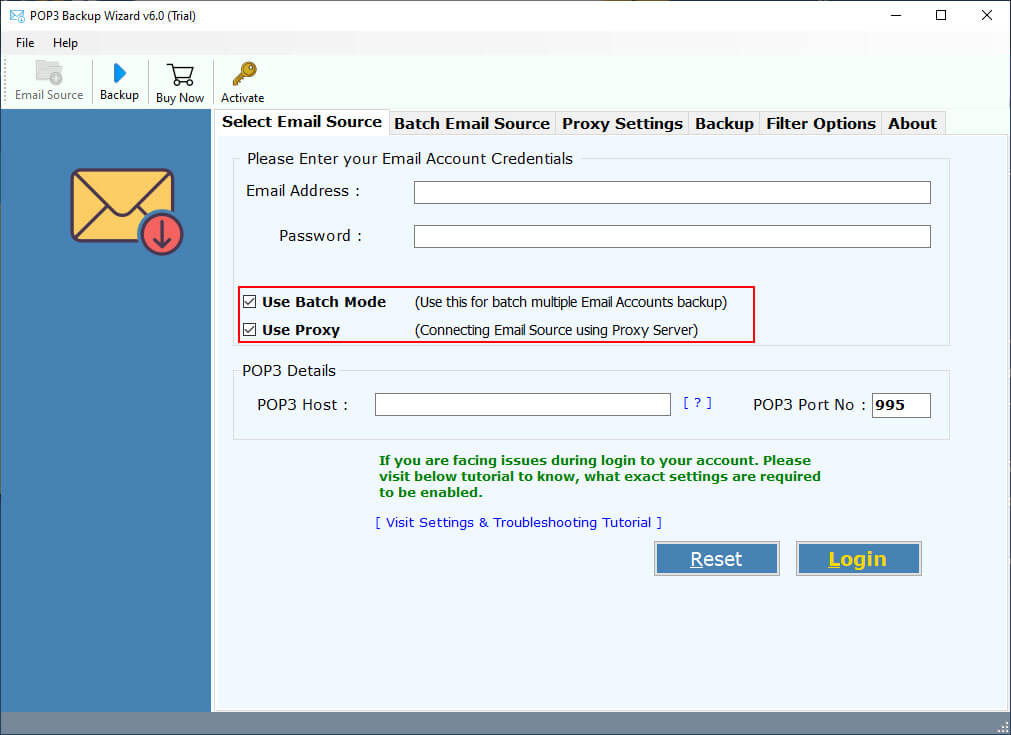 After that, mark only required email folders like inbox, draft, etc.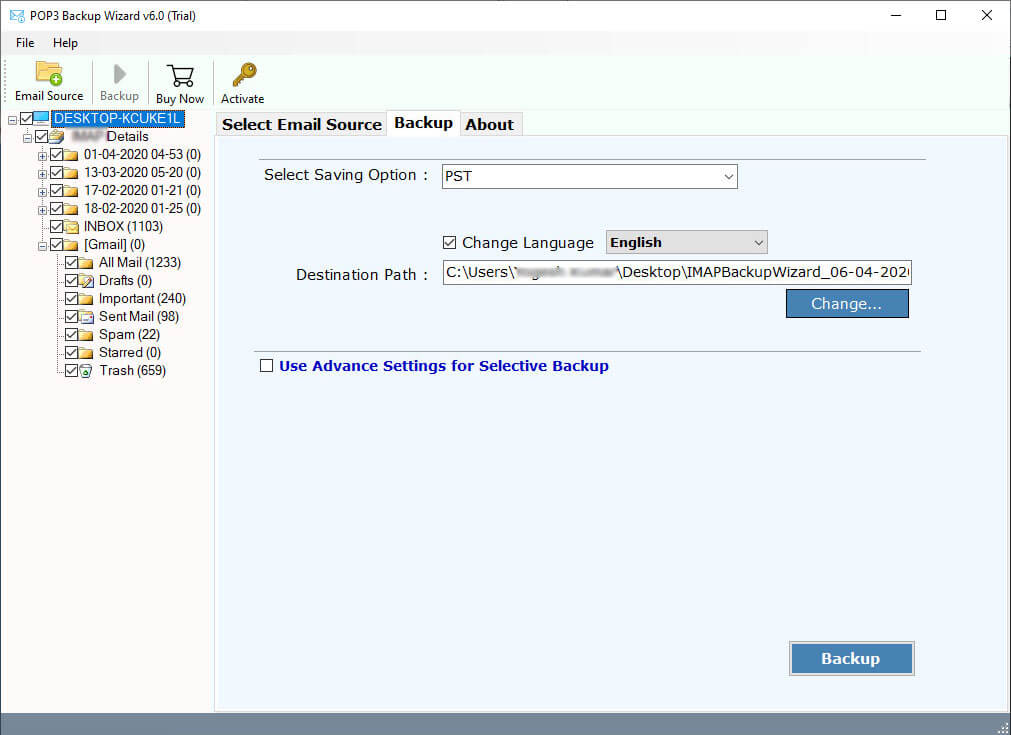 Now, select the EML option in the list of file saving options.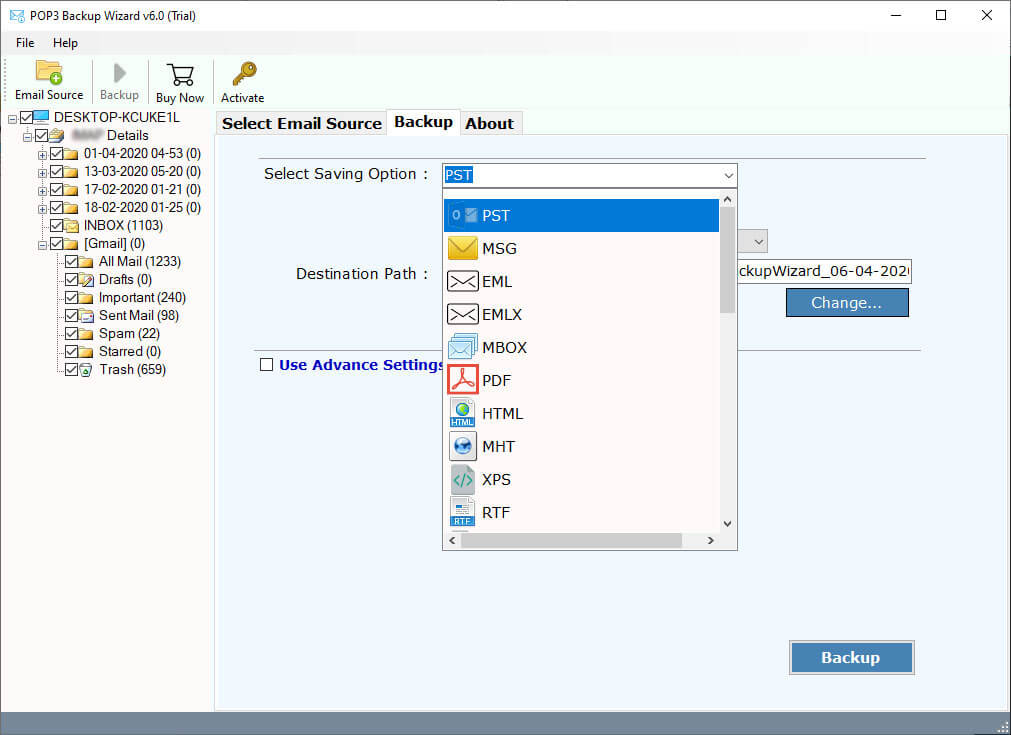 After that, set the location path to save exported data at user desired location.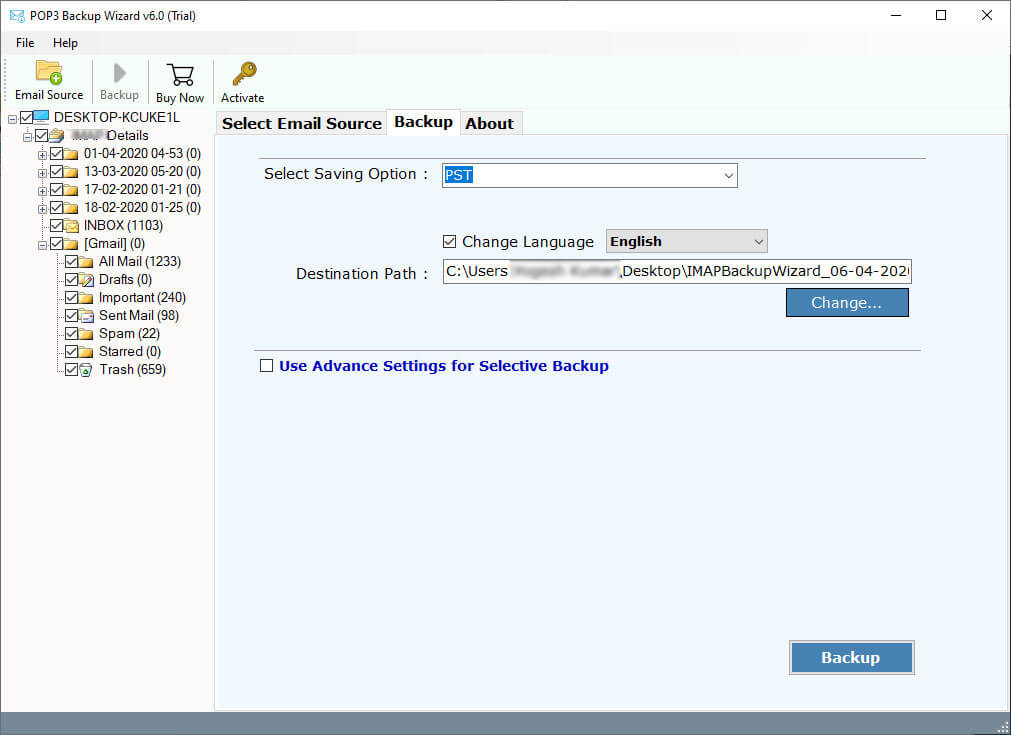 Thereafter, press on the next button to backup POP3 Emails to EML format.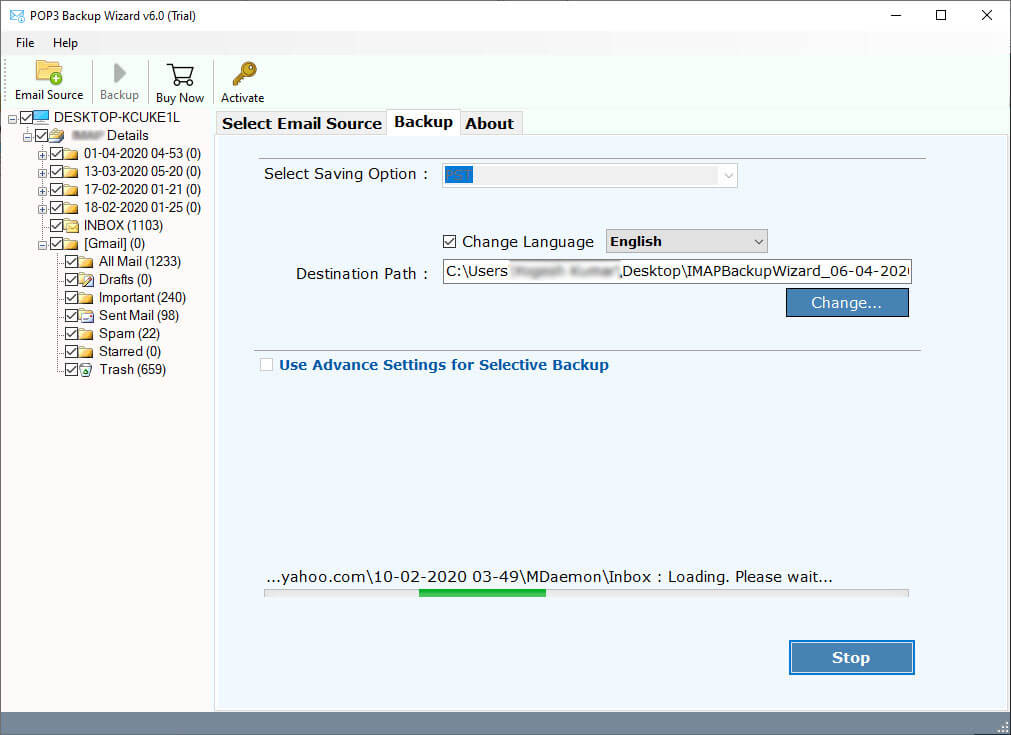 Advantages and Benefits of POP3 to EML Export Tool
Batch Emails Export from POP3 to EML:
The software provides the facilities to extract multiple emails at a single process. Using this option, you can convert multiple POP emails to EML format without any hassle.
Connect with Multiple POP Server Accounts:
The software developed with advanced technologies to connect with multiple POP3 mailboxes at same time or single process. With the help of this option, you will download emails from multiple POP mailboxes to EML format at once.
Maintain Email Properties:
The software preserves email properties during the process. It keeps all emails with attachments and secures all information such as attachments, subject, images, sender and receiver information, formatting of text, etc. during the export process.
After connected with the POP Account, the software loads all email folders in the user interface. Here, one can easily select only the required email folders for the selective transfer process.
Maintain Email Folder Structure Hierarchy:
During the backup process, the utility will maintain the mailbox folder structure hierarchy. It means you will get the exact copy of your POP mailbox to Computer.
The export POP3 Emails to EML tool comes with advance setting options. These options are used to export only required items from POP3 mailboxes. Using the options, you can export emails by subject, by email address, by date, etc.
Standalone User Interface:
The software doesn't require any other application support during the process. Because the software works with a completely standalone interface. There is no need to install any other application during the process.
Compatible with All Microsoft Windows:
POP Mailbox to EML export tool supports all editions of Microsoft Windows Operating System such as Windows 10, Windows 8.1, Windows 8, Windows 7, Windows Server 2019, Windows Server 2016, etc.
Conclusion
In the above section, we have explained the process to export POP3 emails to EML format. Here we used the POP3 Backup tool to convert POP emails to EML or EMLX format. After complete the process, the user can import POP3 emails to multiple platforms and email clients such as Windows Live Mail, Thunderbird, Windows 10 Mail, eM Client, etc. You can export only 25 items from each POP3 mailbox folder to EML format. For further innumerable POP3 to EML migration, activate the license key. If you have any further queries, contact us on live chat support.