How to Export POP3 to MBOX File Format ?
Karen Chard
~ Modified: 20-05-2020 ~ Convert Data ~ 5 Minutes Reading
Do you still have POP3 emails stored offline and wish to export POP3 to MBOX format now. Yes, earlier we have explained to you how to export POP3 emails to PST. Today, in this blog post, we are going to describe how you can convert POP3 email to MBOX file format using a simple effective solution.
POP3 (Post Office Protocol 3) is the most recent as well as standard email protocol for retrieving emails from mail servers. It is built into popular email applications such as Eudora, Outlook Express, etc.
A couple of days back, we got a query from a customer from USA –
From the day I set up my email account, POP3 has been my primary one. But, here is the major problem, I have hundreds of folders and sub-folders which also consists of hundreds of messages in the POP account. I need to transfer POP3 email to MBOX (Apple Mail). Can you please help me out for a solution to export POP3 to MBOX with the same folder structure.  I don't want to do the conversion from scratch, so I need an instant third-party solution. Thanks in advance!
Acknowledging the above query, we decided to bring the effective technique to migrate POP3 emails to MBOX files. The suggested software is POP3 Backup Tool – as the name suggests this efficient utility will let you to export multiple POP3 emails to MBOX format in few mouse clicks. Once you have achieved to switch from POP3 to MBOX, thereafter you can import the MBOX file in the supportable email clients – Thunderbird, Entourage, Eudora, PocoMail, The Bat, Spice bird, and many more.
Keep reading this blog to get to know more about the amazing benefits of this software!
How to Export POP3 to MBOX Format ?
Just use these steps to export PP3 emails into MBOX format:
Run POP3 Email Backup Tool on Windows OS.
Fill POP3 email credentials in the GUI.
Enable desired POP3 email folders to be exported into MBOX.
Select MBOX saving option and a target saving path.
Hit on the next tab to start export POP3 to MBOX.
Check these Complete Detailed Solution to Convert POP3 Emails to MBOX Format
The initial step is to download, install, and run the software properly on your Windows machine. This initiated the beginning of how to export POP3 to MBOX format.

After installation, in the Select Email Source section, enter the Email Address and Password of your POP3 email account. Along with this, also fill POP3 details: POP3 Host and POP3 Port NO. Press on the Login button to go to the next step.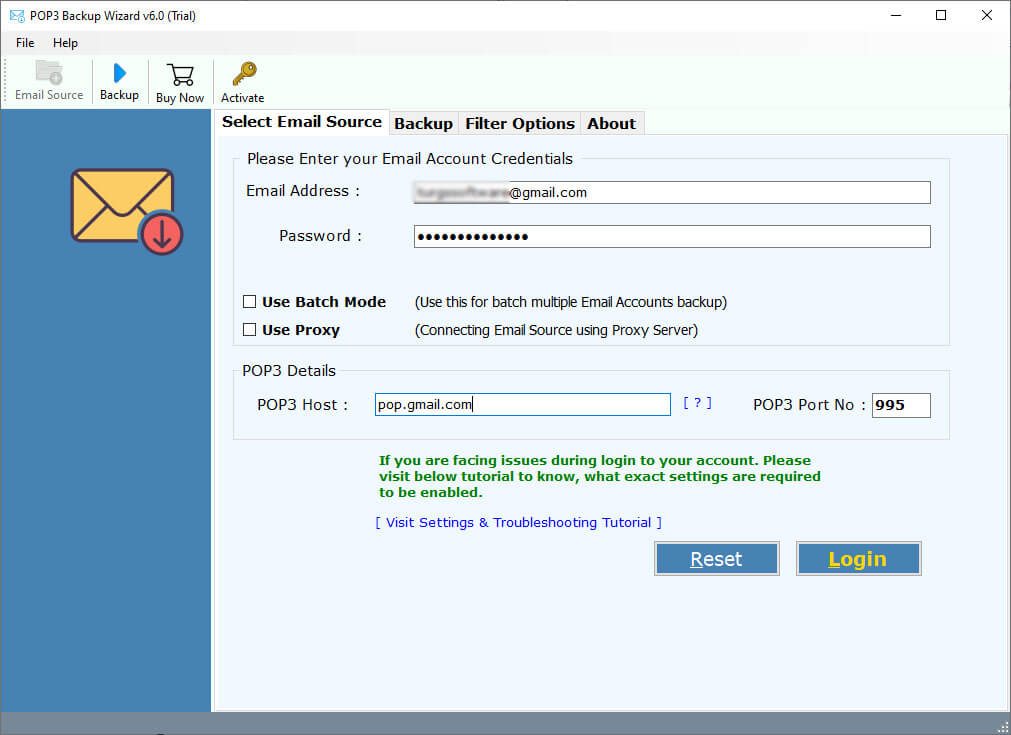 If you have multiple POP3 email accounts, then enable this option "Use Batch Mode". It helps a user to convert multiple POP3 email accounts to supported formats in batch mode.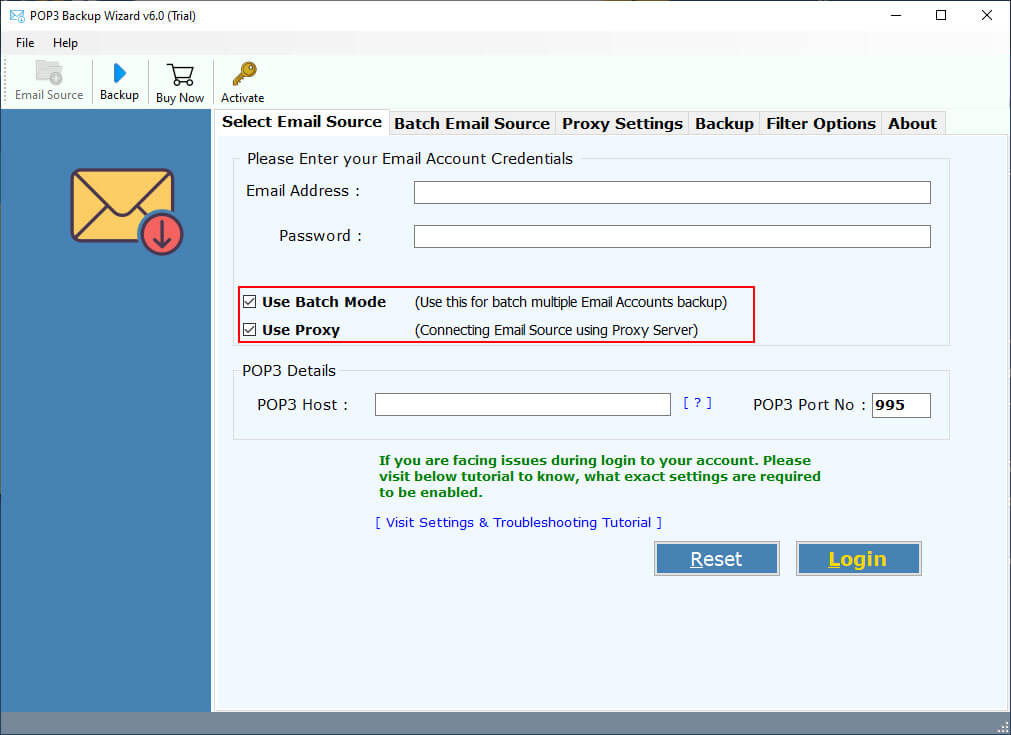 Now, once you logged in, the software will automatically load all the POP3 email folders in the interface. It's time to specify only those particular folders whose data you wish to move POP3 email to MBOX format.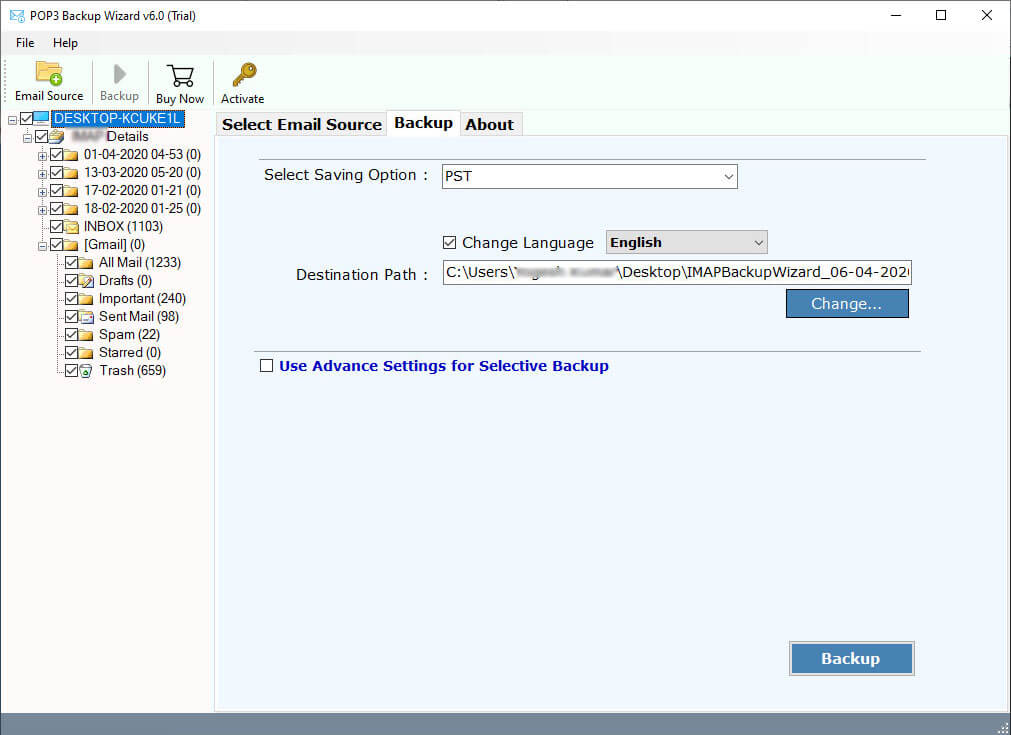 Afterward, navigate to the saving options list and choose the MBOX format.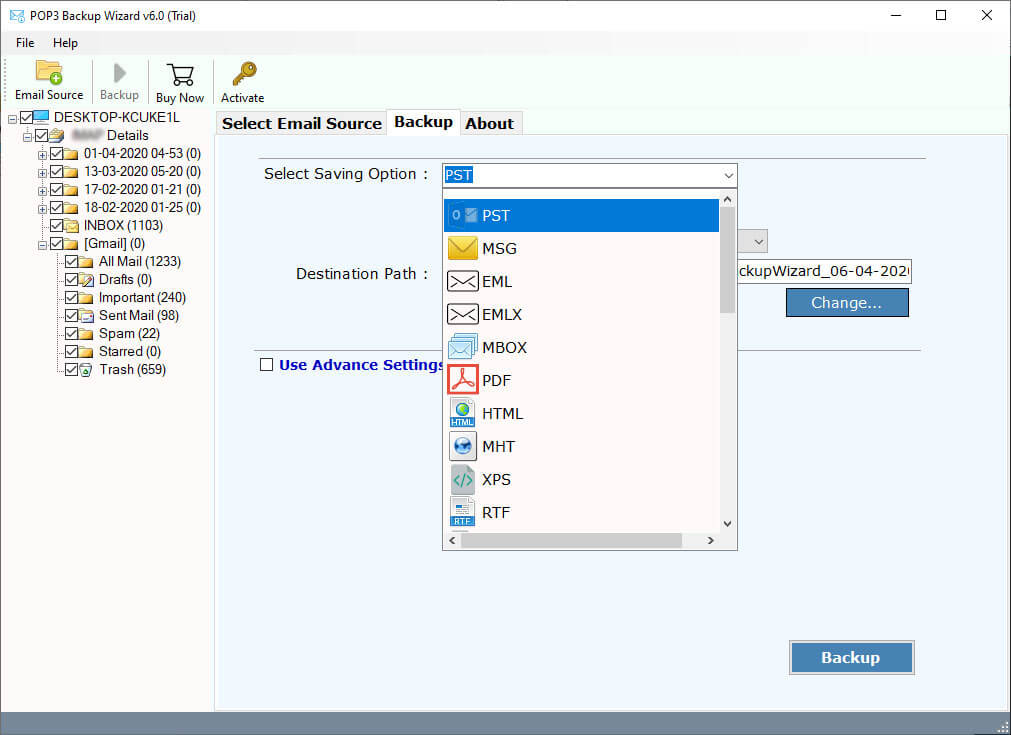 Important Note: If you wish to locate or sort some specific emails for conversion, then use this special feature "Use Advance Mode for Selective Backup" option.
Thereafter, enter the desired destination path where you want to save the resultant POP3 to MBOX converted data.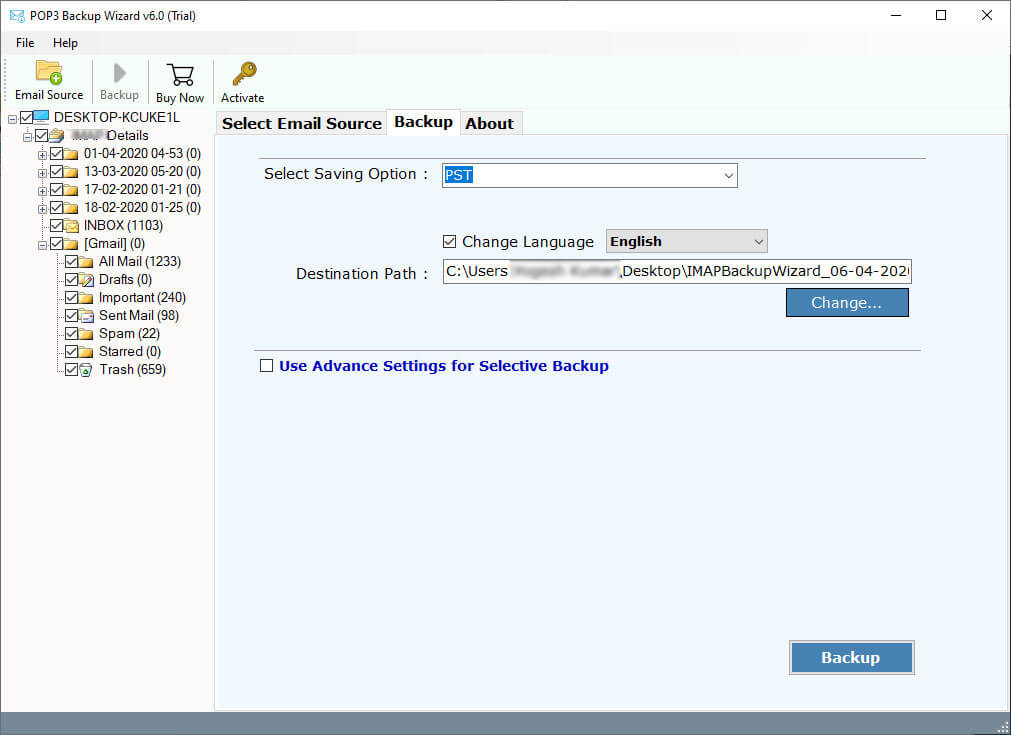 Tap on the Next button and that's it! The process to export POP3 to MBOX files starts from here.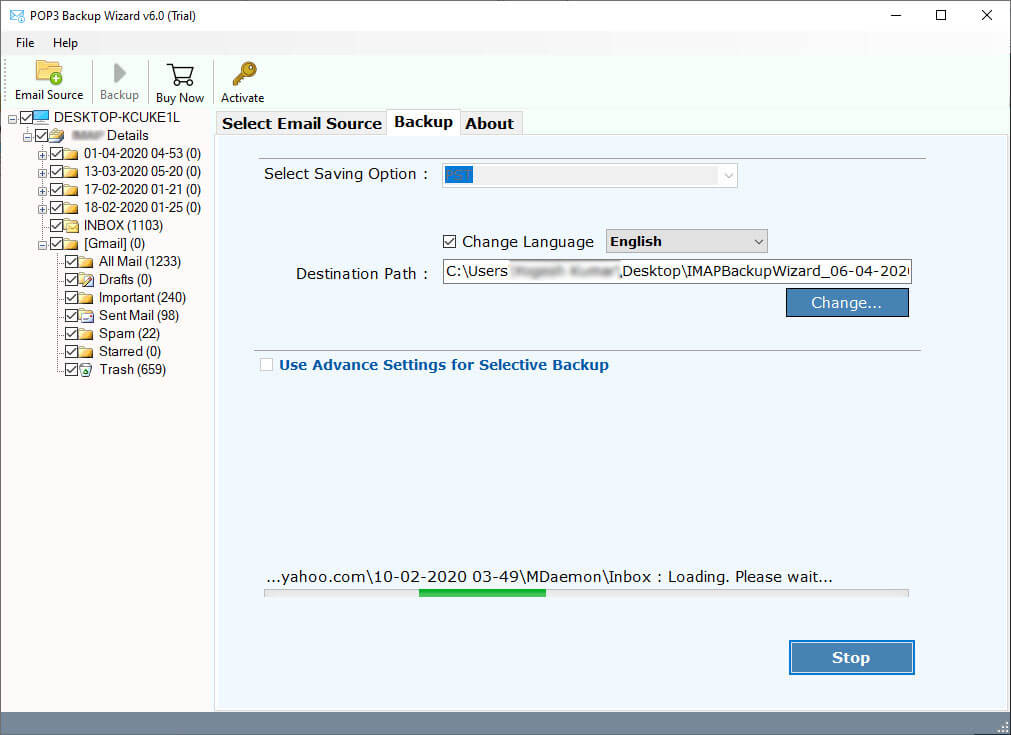 Enjoy your POP3 emails converted into MBOX format. You can analyze the entire conversation with the live progressive report.
Highlights of POP3 to MBOX Export Tool
Export Multiple POP3 Email Accounts: Now, you don't need to worry about if you have a lot of POP3 email accounts. The reason being, the tool gives you the facility to export POP3 email to MBOX format irrespective of a number of accounts. You can use the batch mode option to convert multiple POP3 accounts to MBOX format at once.
Batch Export POP3 emails to MBOX: No matter how many emails does your POP3 account carries. The utility will still export POP3 to MBOX format with the same integrity. You can migrate unlimited POP3 emails to MBOX format without suffering any data loss.
Convert POP3 with attachments: The tool has the ability to transfer POP3 to MBOX format with attachments. All attachments will also get converted along with emails.
Preserves internal folder hierarchy: The tool maintains the complete folder structure throughout you convert POP3 emails into MBOX files. It also saves entire email formatting, attachments, images, active links, etc.
Independent platform: The software has been designed in such a manner that in order to export POP3 to MBOX, there is no need for any external installation.
Windows OS supportable: It works perfectly on all Windows OS such as Windows 10, Windows 8.1, Windows 8, Windows 7, Windows XP, Windows Vista, Windows Server 2019, Windows Server 2016, etc.

Time to Conclude
The above article is meant to clear your doubts regarding this query "how to export POP3 to MBOX". Test the software with the free demo version available. You can export the top 25 items from each POP3 email folder to the selected format. For further countless POP3 to MBOX migration, activate the license key.