How to Export Emails from MailEnable to EML Format?
Overview: In case you are one of them who are searching for an answer to export MailEnable Server to EML format? Then you are at the perfect spot. This blog is about the most common way of extracting emails from MailEnable to EML files. After reading this article anybody can undoubtedly save messages in EML format without loss of the data.
MailEnable is one of the popular mail servers for Windows and Windows Server machines. It supports all elements of communication such as email, contacts, calendar, tasks, notes, and more. But sometimes there are many limitations with MailEnable such as when we need to export and backup data locally. Because there is no option to extract MailEnable data locally.
"Hi, I was using MailEnable for the past few years. But last week due to a customer requirement, we added a post requiring us to export MailEnable mailboxes to EML format. But we don't get any resolution because there is no manual way to export data into EML format. Does anyone know how can I do this ? Please help us!!!!"
A huge number of clients on the internet-based commercial market, need to change MailEnable messages to EML files. Because EML is one of the best and most used email file formats. One can easily use EML files in many email client applications without any worry.
A Simple Method – Export MailEnable to EML Tool
RecoveryTools MailEnable Migrator Tool is an incredible programming solution in the online market. That is viable to export MailEnable to EML documents along with all email attachments. The solution accompanies different file naming modes which used to arrange and manage resultant data easily. You can download this solution on your Windows and Server machines. Also, with this app, you can export MailEnable to multiple savings like PDF, and more.
Get the Solution Here:
Note: You can download the solution and test this utility at free of cost. But you can only export few emails into EML format. For more, you need to buy this solution.
Steps to Export MailEnable Emails to EML
Launch the solution on your computer.
Select MailEnable mailbox with dual mode.
Choose the required email folders from the list.
Select the EML option and set destination location.
Start the process to export MailEnable to EML file.
How to Export MailEnable to EML with Attachments?
1) First of all, you need to install this application on your local machine.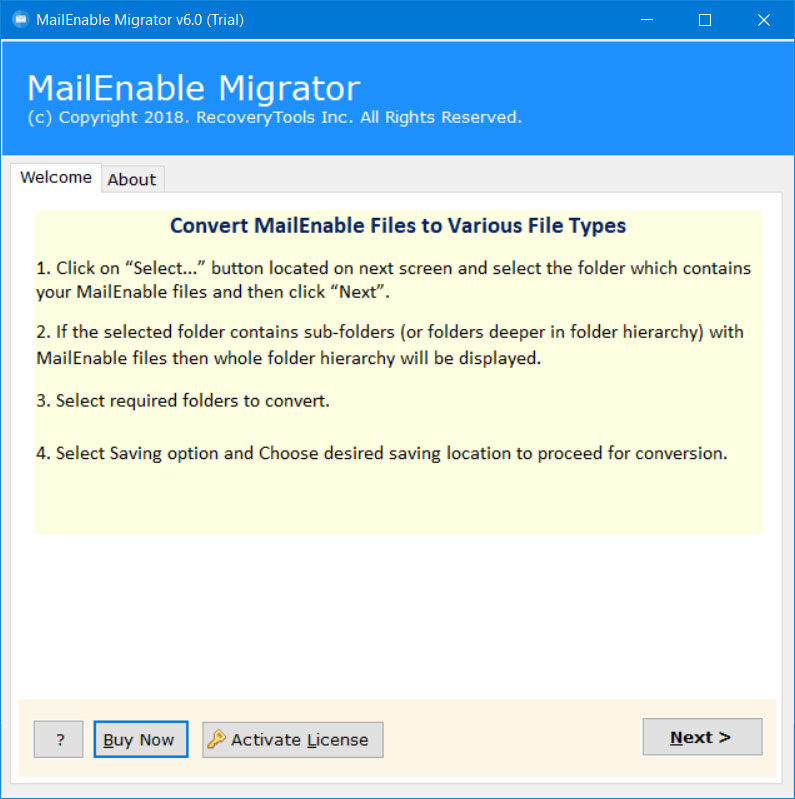 2) Select the desired option to load your MailEnable mailboxes data into the software interface.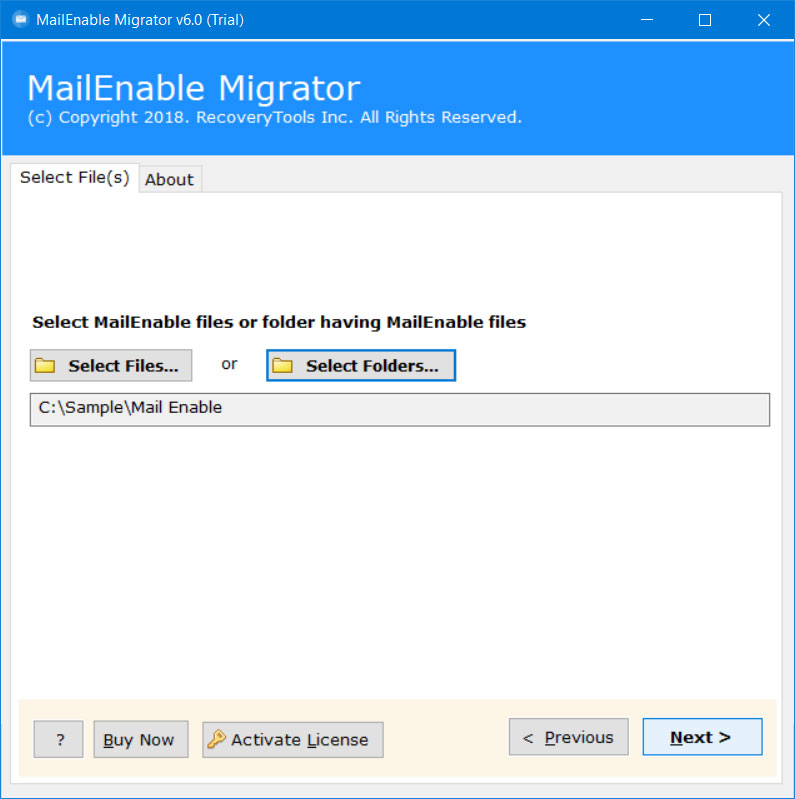 3) Choose only required folders that you need to extract into EML format.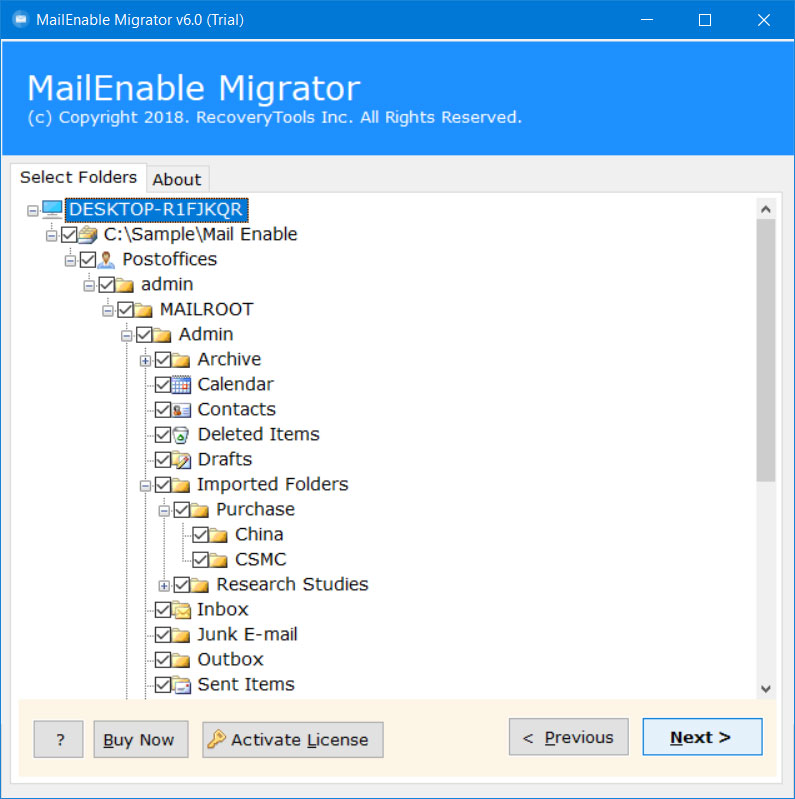 4) Select the EML saving option in the list of file saving options.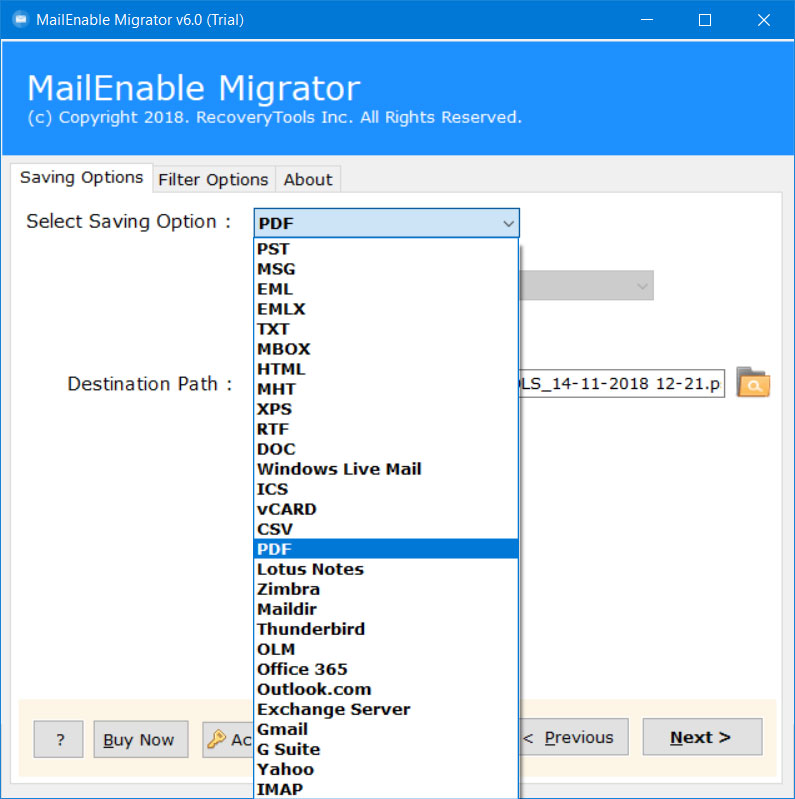 5) Choose the additional options such as local saving location, file naming options, and many more.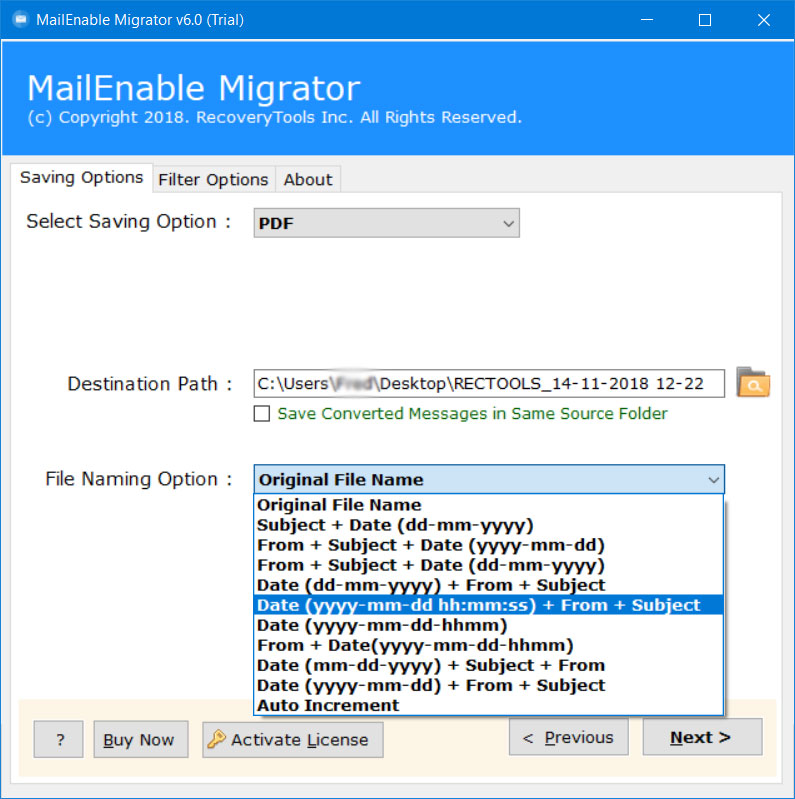 6) You can also choose the additional selective email filter options.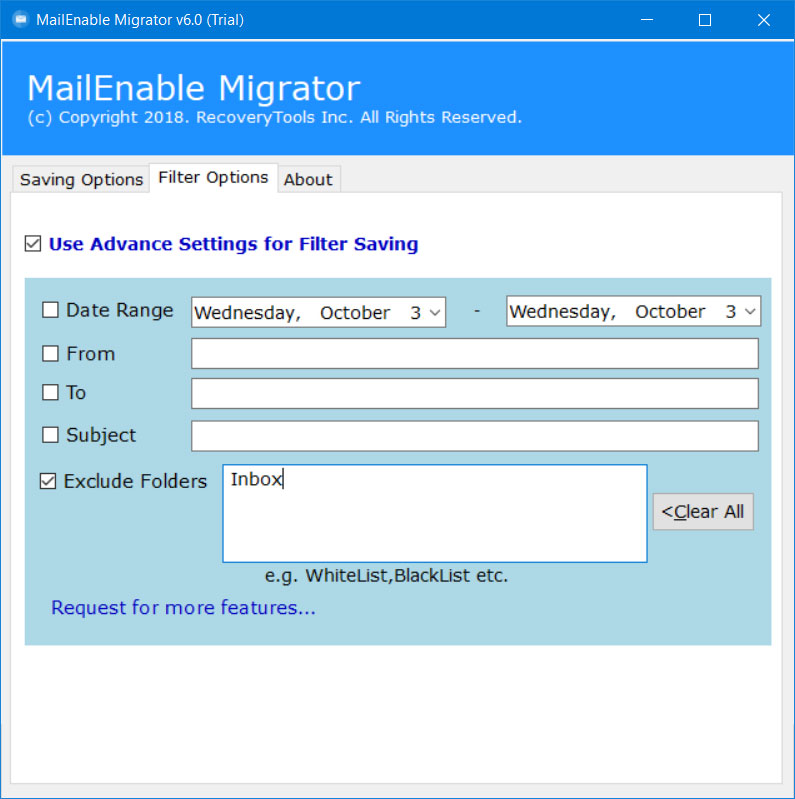 7) Press the next button to export MailEnable emails to EML format.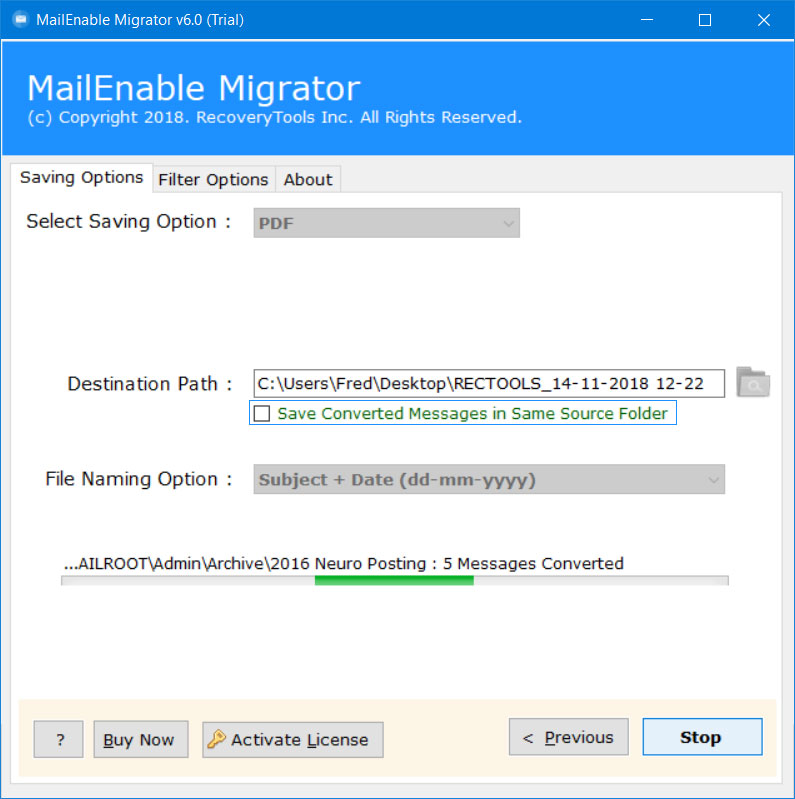 8) When all is done, press the ok button to end the process.

Top Benefits of Automated Solution
Dual Way to Choose MailEnable Mailboxes: The solution allows the users to batch export mailboxes to EML format easily. The product offers dual choice options to load several mailboxes of MailEnable user profiles at once. You can also choose the folder option and select the "I am converting Multiple Users" option to export several mailboxes at once.
Completely Standalone Application: This application ends up being perhaps the most ideal decision for the clients to export MailEnable messages to EML format. This application is totally independent to perform the conversion process without the installation of MailEnable and EML-based email client applications.
Advanced Filters Settings for Selective Conversion: This product helps the productivity of the clients by giving Advanced Filters Settings to the clients. Clients can use the predefined message filter options to export only required emails from MailEnable to EML format. You can use the filters such as Date Range, To, From, Subject, and many more.
Maintains Email Elements & Folder Hierarchy: The MailEnable to EML Converter keeps all email properties such as attachments, internet header, date and time, addresses, and many more. The software doesn't require any third-party help while the process. Also, it maintains the proper hierarchy of all mailbox folders.
File Naming Options: If you want to arrange your resultant and conversion files. Then the software provides multiple File Naming options to rename your resultant files by subject name, by date, by time, etc.
Windows Compatible Software: This application supports all editions of Microsoft Windows and Server machines. You can easily install this application on all machines such as Windows 11, Windows 10, Windows 8.1, Windows 8, Windows Server 2019, Windows Server 2016, Windows Server 2012, etc.
Conclusion
In this article, we have explained a complete method to export MailEnable emails to EML format. RecoveryTools is a well-suitable software solution company that comes with the free trial version of the software. Users can check the working procedure of this software before purchasing the license keys by extracting 25 emails from each folder message into EML format. After getting the license keys, you can convert unlimited emails without any issues. For more help, you can also contact us via chat or email process.