How to Export Emails from MailEnable to PST Format in Batch ?
Karen Chard
~ Modified: 03-06-2022 ~ How To ~ 4 Minutes Reading
Overview: Are you looking for a solution to export MailEnable to PST Format ? Or want to convert MailEnable to Outlook format ? If so, then read this article to know more. In this post, you will get a flawless method to extract MailEnable mailboxes to PST files. For more information, keep reading this post.
MailEnable is perhaps the most well-known mail server that offers end-to-end solutions for safe email and collaboration services. It is one of the World's biggest hosting organizations. It upholds every one of the significant conventions required for appropriate synchronization.
MailEnable permits portable clients to Synchronize the information through ActiveSync, SyncML, CardDAV, CalDAV, and WebDav. But it doesn't allow you to export emails to PST format. A large number of users looking for a solution to export MailEnable to PST format.
"Hi, I am using MailEnable Mail Server in my personal server, sometimes I need to read some emails from my office but, I did not get how to access my personal Server MailEnable Emails to Office. My technical Friend advises me to export emails into PST format. and then open it into Outlook client. Does anyone know how to extract emails into PST files ? Please Help Me!!!!"
PST is also known as Personal Storage Table. A Microsoft Outlook storage format for saving emails, contacts, calendars, attachments, schedules, and some more. ​It might likewise incorporate email organizers, addresses, and different information.
A Simple Way to Export MailEnable to PST File
A client can effectively export emails into PST format in a fast and simplified manner. You can do it with the assistance of MailEnable Migrator Software by RecoveryTools. This product straightforwardly extracts all emails into a PST file without getting any error massage. You can easily install this application on your all Windows and Server machines.
Get the Solution Now:
Steps to MailEnable Export to PST Format
Launch the solution on your computer.
Select the MailEnable mailbox with dual mode.
Choose the required mailbox folders from the list.
Pick the PST option and set the resultant location path.
Start the process to export MailEnable to PST file.
How to Export Emails from MailEnable to PST Format ?
First of all, you need to install this application on your windows computer.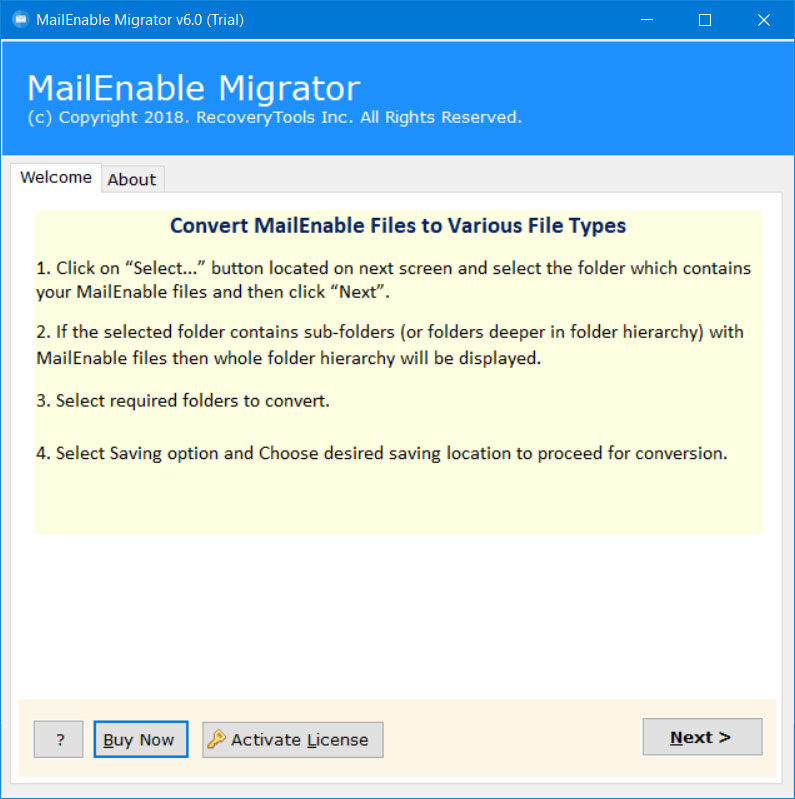 The solution offers a dual selection mode to choose MailEnable files.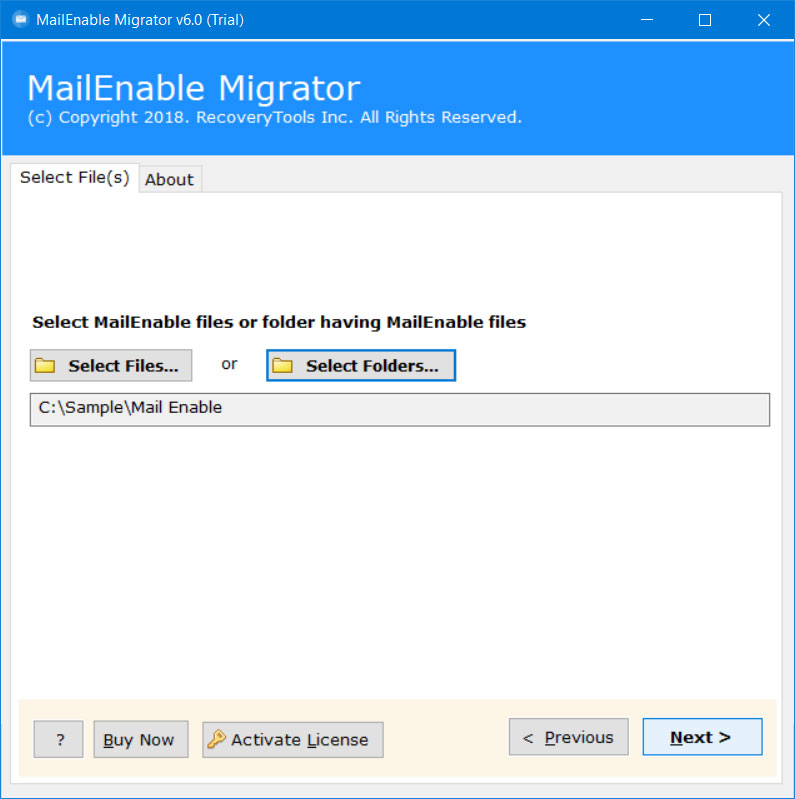 After selecting files, choose the required email folders from the list.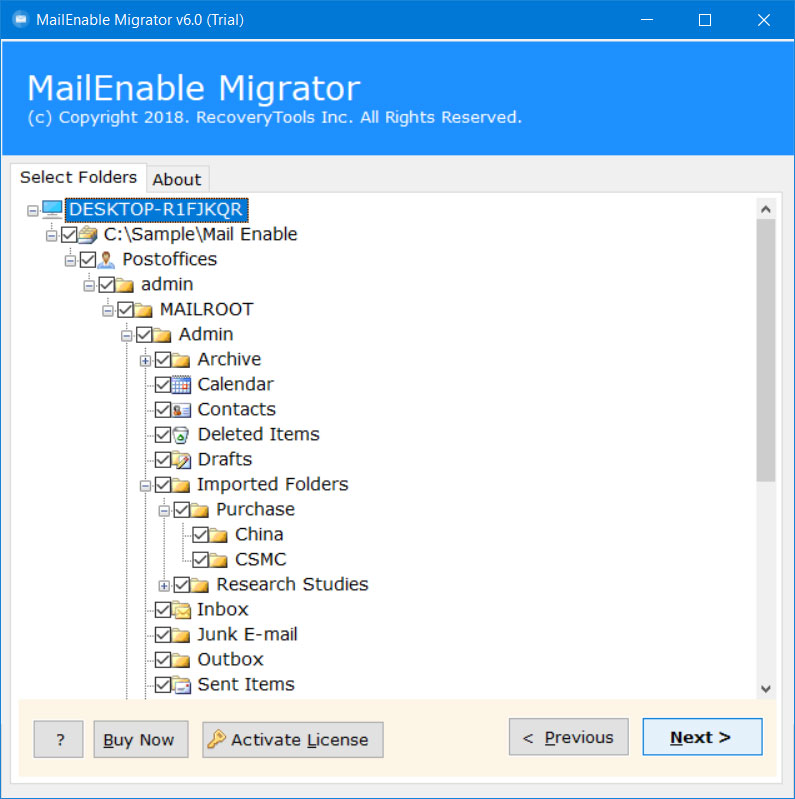 Now, pick the PST option in the list of file-saving options.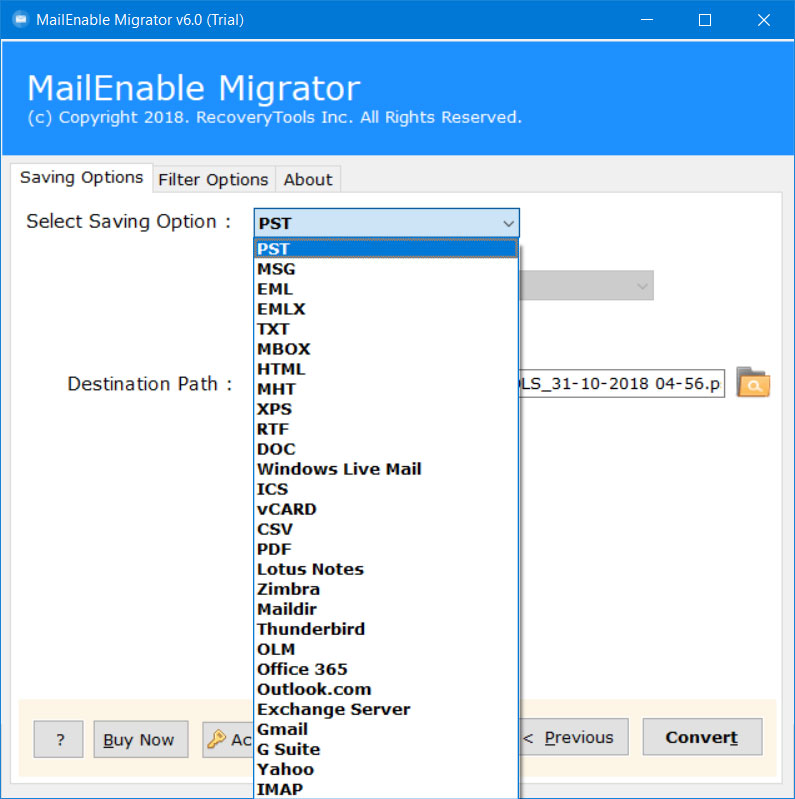 The solution provides many additional options for easily and advanced conversion process.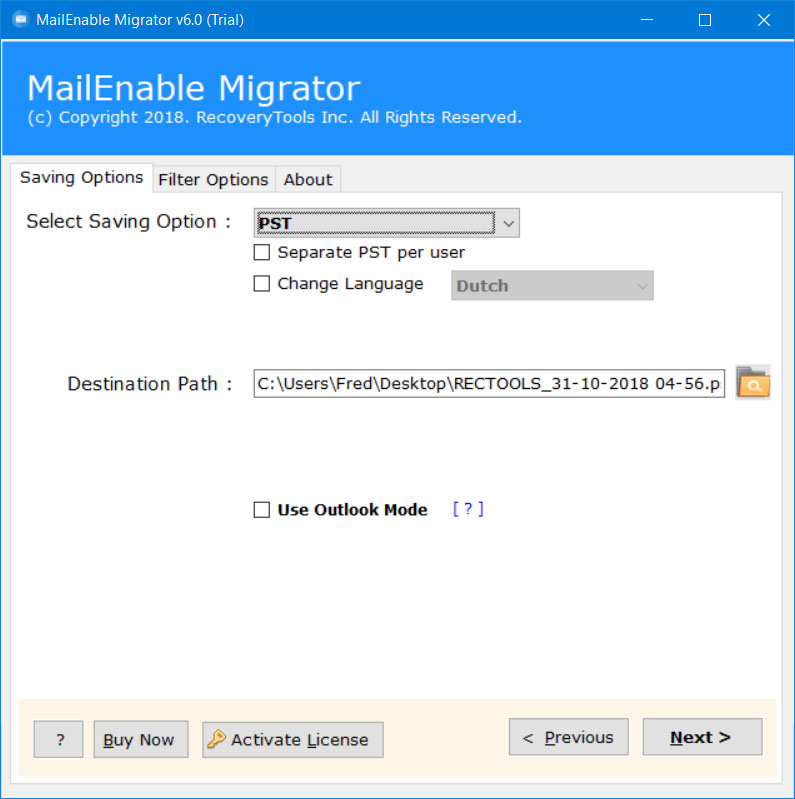 You can also choose the additional filter options for the selective email conversion process.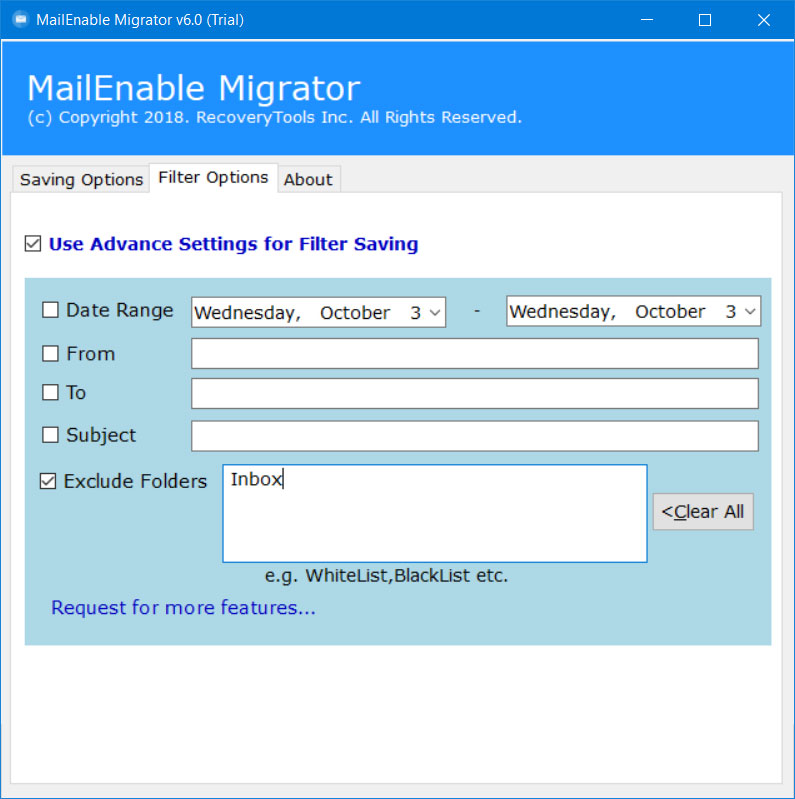 Press the next button to export MailEnable emails to PST format.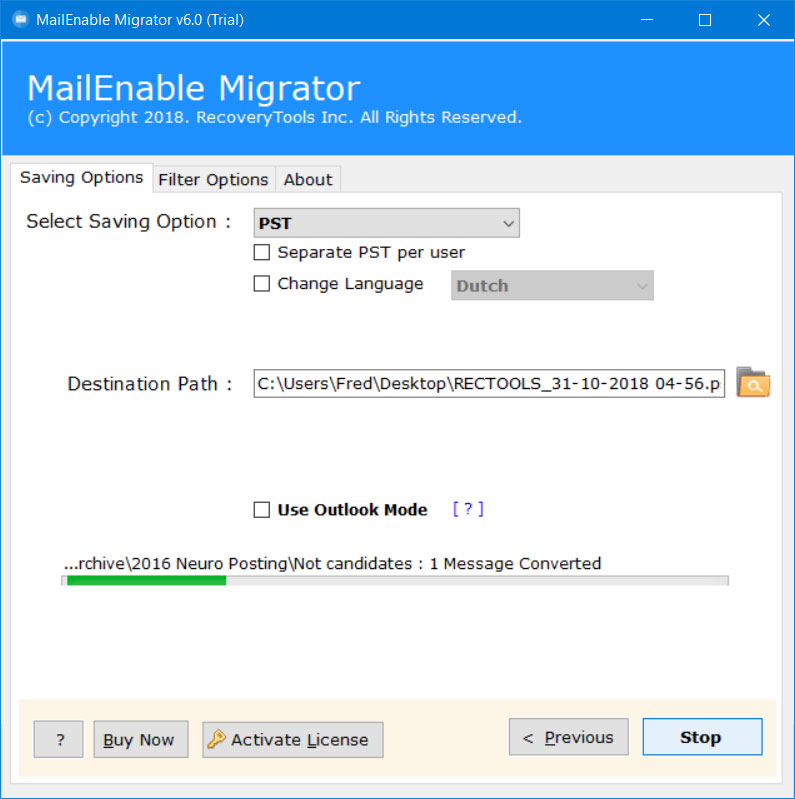 When the procedure is completed, the resultant location opens automatically.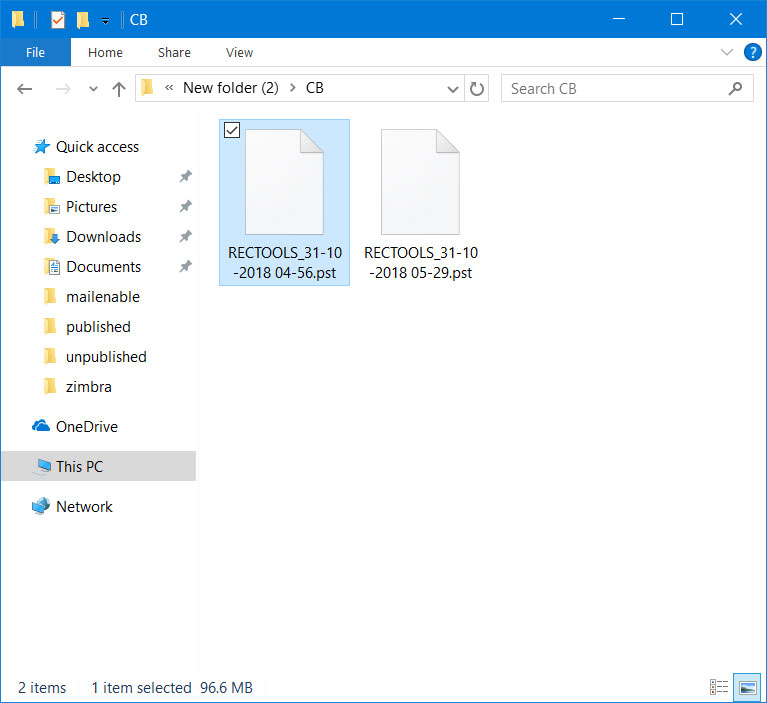 Top Features of MailEnable to PST Converter Tool
Load Mailbox Data in dual ways:
This product offers us to export mailboxes in batch mode. The solution provides dual ways to choose MailEnable mailboxes data or files into the panel with Select Files or Select Folders option.
Preserve Original Meta & Properties:
This tool will preserve the original metadata & properties of mailbox emails while trying to export emails into PST format. It will not make any changes to the email details like email headers, inserted attachment files, signature, or hyperlinks.
Create Separate PST for Per User Mailbox:
When a user tries to export multiple MailEnable user's data to PST file then this application asks the users to create separate PST file for each user or merge all user's data into a single PST file.
Apply Filters for Selective Conversion:
A user can also apply filters settings for the conversion of selective emails to PST format. You can apply all these filters settings on the basis of certain parameters including To, Date Range, From, etc.
The utility only allows the users to convert the first 25 emails from each folder of MailEnable to PST. To migrate all MailEnable data without facing any limitation one needed to activate the software by purchasing an appropriate license according to the requirements.
The solution is fully compatible with all versions of the Microsoft Windows operating systems. One can easily install this application on Windows 11, Windows 10, Windows 8, Windows 7, Windows Server 2019, Windows Server 2016, Windows Server 2012, and many more. The solution also works with all 32 & 64-bit OS systems.
Conclusion
In this article, we have explained the complete method to export MailEnable Emails to PST format. There are many users who want to know how to export emails into PST format in an easy & simple way. So, try the RecoveryTools solution to easily convert MailEnable emails, contacts, calendars, tasks, and many more to PST format. Hence, users only need to provide MailEnable mailbox files, then it automatically creates PST resultant files. For more information, contact the technical support team.