How to Export IncrediMail Emails to MBOX Format ?
Karen Chard
~ Modified: 02-06-2022 ~ How To ~ 5 Minutes Reading
Analysis: Are you one of them who need to figure out how to export IncrediMail to MBOX file ? Or have you ever faced problems when you need to convert IncrediMail to MBOX format ? Read this article totally to understand the whole process. Let's start learning.
Many customers need to know how to convert IncrediMail to MBOX format. There are two reasons for this. The first is the discontinued IncrediMail client and the second is the MBOX file, one of the popular formats in the world.
Most of us know that the IncrediMail client has closed its doors from 20th March 2020. Now, this is one of the biggest reasons to export IncrediMail emails to MBOX format. Because no one can access their email mailbox inside the IncrediMail client after March 2020.
MBOX is an email file format used to store its messages in MIME format. It is one of the popular and oldest formats which supported by many popular email client applications such as Thunderbird, Windows Live Mail, Apple Mail, and so on.
This is probably the most asked question of the month. There are many clients that need to understand how to export IncrediMail to MBOX file. Recently, our Head of Special Support team received an inquiry from a New York-based client.
"I am wondering for an answer on the internet to find a solution to export IncrediMail to MBOX format. Since I've made a normal attempt to import IncrediMail IMM or IML or DB files to Thunderbird client. But it doesn't support the MBOX format. That's why I am looking for a solution to export IncrediMail emails to MBOX format. Please suggest some solutions!!!!!"
A Way to Export IncrediMail Emails to MBOX Format
Here's the best solution in this world to export IncrediMail emails to MBOX format – called RecoveryTools IncrediMail Migrator. This application permits you to save IncrediMail emails to MBOX format with different folders. This solution allows you to pick multiple IncrediMail profiles at once. Also, get the mailbox data from default location easily.
Download the Utility Now:
Process to Extract IncrediMail to MBOX Format
Get the application on your PC.
Load IncrediMail folders from default location.
Choose the MBOX option in the file saving options.
Select the Path or location to archive resultant data.
Start IncrediMail to MBOX Export process.
How to Transfer IncrediMail Emails to MBOX File ?
Get or launch the application product on your machine.
This allows you to pick mailbox data from the default location automatically. Or you can choose the IncrediMail file manually.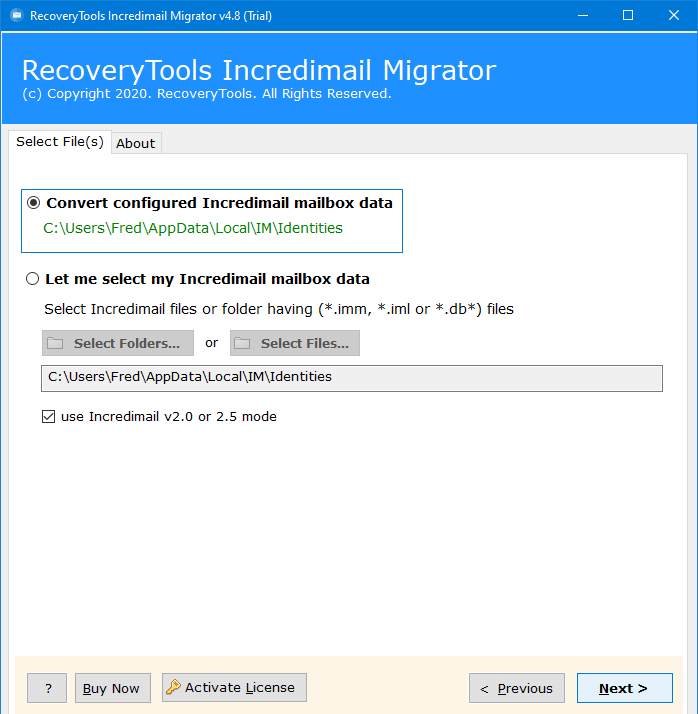 It allows you to pick the IncrediMail folders in the given list.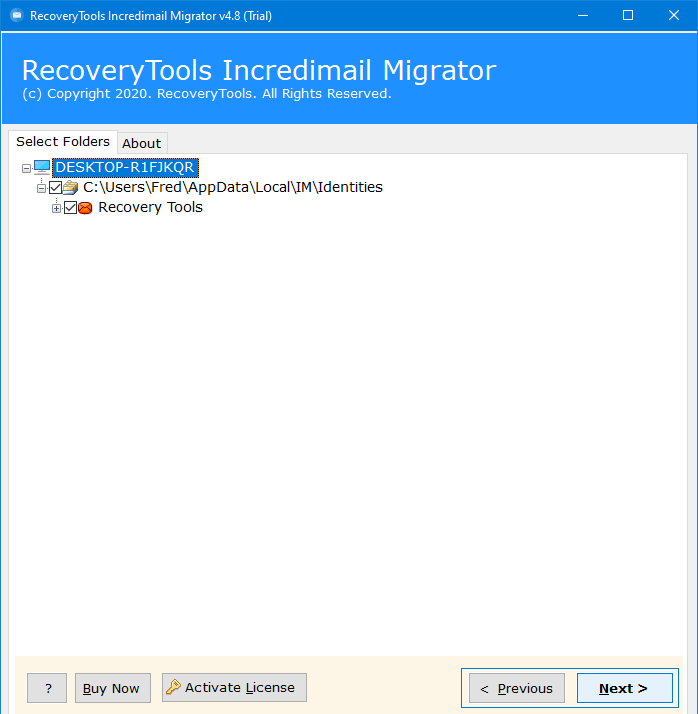 Now, mark the MBOX option in the list of file saving options.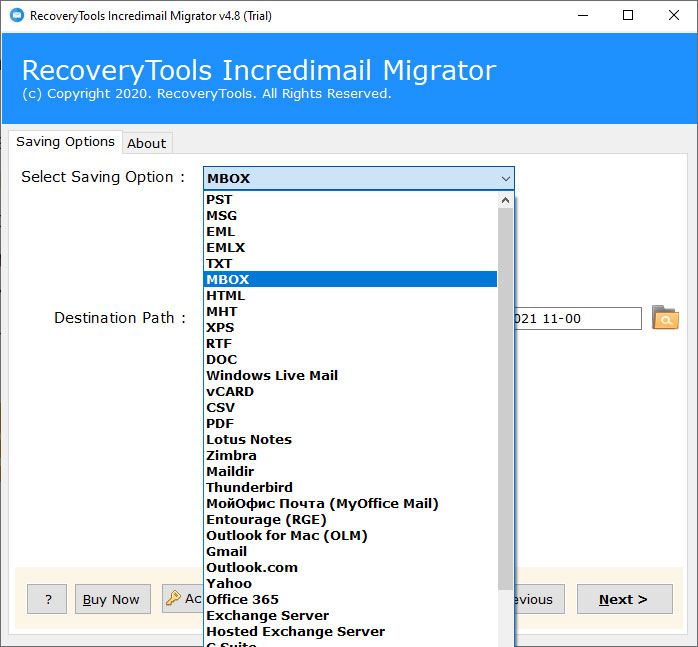 Choose your location where you want to save your resultant MBOX files.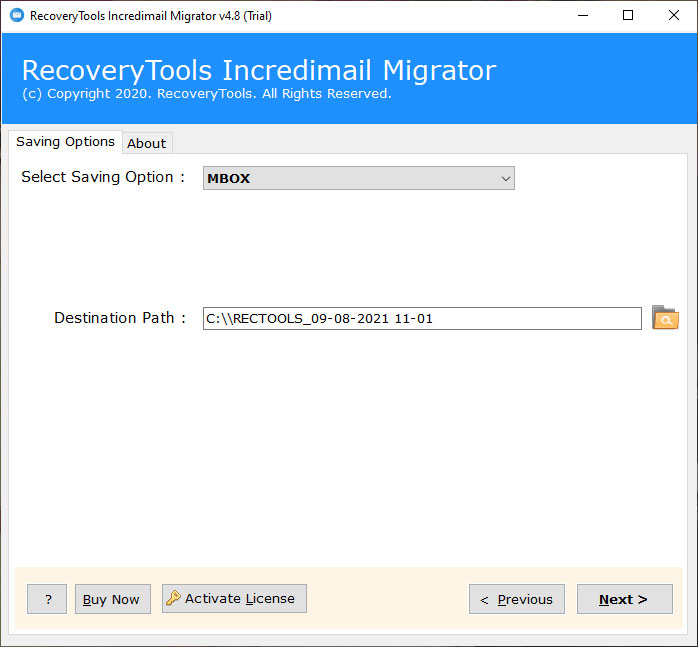 Set all options and start the IncrediMail to MBOX Export process.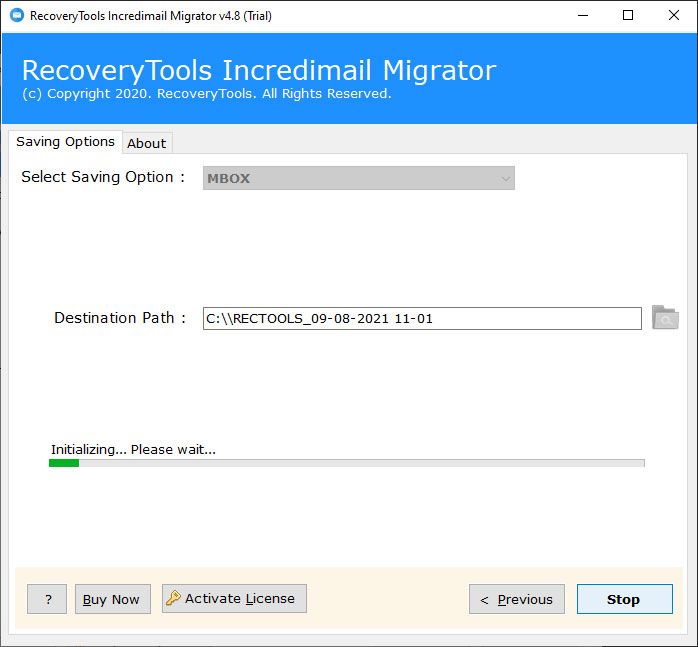 When it is done it shows a message box.
IncrediMail to MBOX Export Tool – Features Explained
Export Multiple IncrediMail Mailboxes to MBOX File:
The product accompanies the dual manual mode which is utilized for choosing numerous IncrediMail mailboxes at once. Now, one can without much of a stretch export different IncrediMail folders to MBOX format easily.
Maintain Original Email Meta-Properties:
While exporting IncrediMail to MBOX process, the program keeps all messages properties including all elements such as attachments, subject, internet header, date & time, in-line pictures, and so forth.
Export All Folders Data from IncrediMail:
Clients can physically choose the folders by an easy order / uncheck things from the list including folders such as Inbox, Sent Items, Drafts, Deleted Items, and so forth. It likewise empowers to the decision of IncrediMail folders conversion according to requirements.
Export Data When IncrediMail Not Working:
The product permits its clients to change over not working or harmed IncrediMail application to MBOX file. This apparatus additionally has advanced Mode choice. It allows you to easily convert IncrediMail IMM, IML, or DB files to MBOX format.
Advance Option to Auto Discover Mailboxes:
To decrease the customer effort and time this solution comes with multiple advanced options. One of them is the Auto-Discover option. This option allows you to automatically locate your IncrediMail mailbox without any issues.
Support all Windows & Server By Microsoft OS:
The solution is available for all the versions of Microsoft Windows as well as Server machines. So, you can easily install the solution on your Windows computer such as Windows 11 and Windows Server 2019 and below versions.
What Client Says about Product ?
"This solution is one of the best for users who have come from non-technical fields. Because it provides a simple and easy-to-use platform where we can easily export emails from IncrediMail to MBOX format. I initiated the version of this solution with a License permit and I additionally prescribe it to my other work companions, thank you for this free approach!"
"Lo mejor que prefiero de esta utilidad es la interfaz. Cada progresión de la exportación de correos electrónicos se aclara esencialmente hasta el punto de que no se espera que ningún asistente especializado trabaje con esta solución. Al ser un cliente de PC normal, tuve la opción de cambiar IncrediMail correos electrónicos a archivos MBOX para fines individuales."
Conclusion
At the end of this article, I must say that it is one of the best tools to export IncrediMail to MBOX format. After reading this post, we learn how a user can easily export IncrediMail emails, folders, profiles to MBOX format. A great part of this utility is available in test mode. You can download it free of cost. The working procedure of this application is the same as licensed with few limitations.