How to Import IncrediMail to Lotus Notes / IBM Notes ?
Karen Chard
~ Modified: 02-06-2022 ~ How To ~ 5 Minutes Reading
Overview: Is it true that you are having issues while performing IncrediMail to NSF conversion ? Or you are one of them who are searching for a method to import IncrediMail to Lotus Notes ? If yes, then your hunt is over here.
In this write-up, you will learn the complete procedure to export IncrediMail to NSF format for IBM Notes or Lotus Notes. So, without any extract efforts, let us present you the best application ever for IncrediMail to Lotus Notes conversion. But before that, lets know why user need to move from IncrediMail to Lotus Notes.
The IncrediMail Team has declared that they will close down the IncrediMail App and its server after 20 march 2020. Also, their administration will no longer be available to accessible IncrediMail program. This news has stunned IncrediMail clients and presently they are searching for superior options like Lotus Notes / IBM Notes.
Lotus Notes has assumed the best position and can be considered as the best other option for IncrediMail users. That's why presently clients need to convert IncrediMail IMM, IML, DB Files to Lotus Notes NSF format.
"
My IncrediMail program has now stopped working and shows me an error message. Can I fix IncrediMail Flash Player problem? Well, now I want to move from all IncrediMail data to my Lotus Notes application. That's why I am looking for a solution to export IncrediMail emails to NSF format. Help me.
"
In this post, we will show you the easiest method to convert IMM files to NSF format for Lotus Notes. In case you are experiencing difficulty converting the IncrediMail mailbox, think about RecoveryTools solution.
IncrediMail to NSF Converter – Perfect Solution
A product that can export all data from IncrediMail to NSF format including emails, attachments, address book, contacts, and many more. RecoveryTools IncrediMail Migrator is one of the advanced utility that allows you to convert all IncrediMail profiles to NSF format. You can easily download the solution on your all Windows machines.
Download Solution:
Steps to Export IncrediMail to Lotus Notes
Get the solution on your machine.
Select IncrediMail data with dual options.
Choose the folders which you want to export.
Select Lotus Notes option from the saving options.
Start IncrediMail to Lotus Notes conversion process.
How to Convert IMM Files to NSF Format – Import IMM to Lotus Notes
This solution allows you to convert IncrediMail emails to multiple formats. You can easily download it on your Windows and Server machines. Follow the steps to understand complete process:
Launch it and read all the instructions steps.
It provides two options to load IncrediMail emails or mailbox profiles. The first is auto-locate mode or another is dual manual options.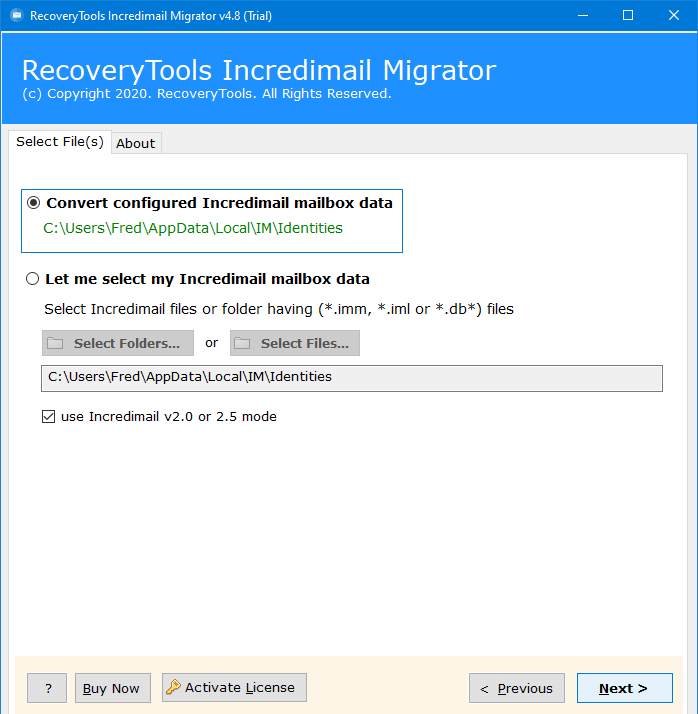 Choose the desire folders from the list to export as Lotus Notes NSF format.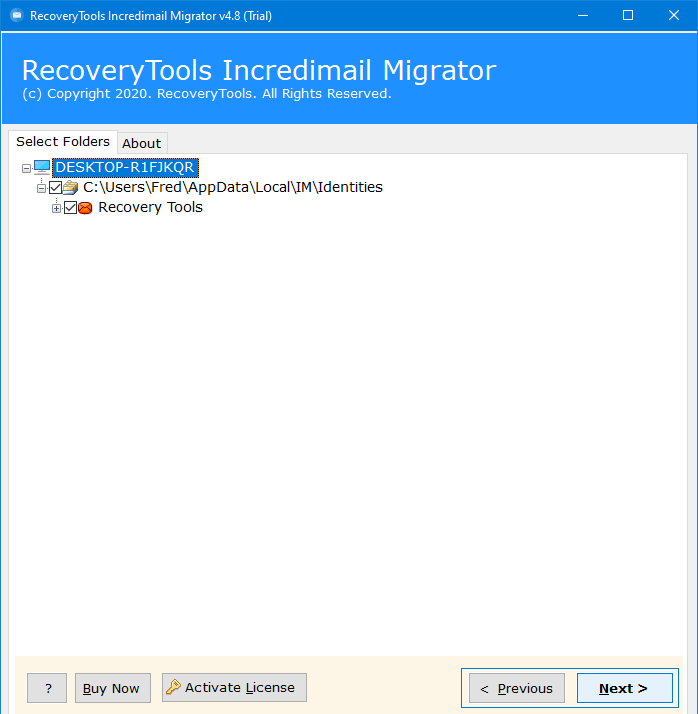 The products give multiple options, choose Lotus Notes from the list.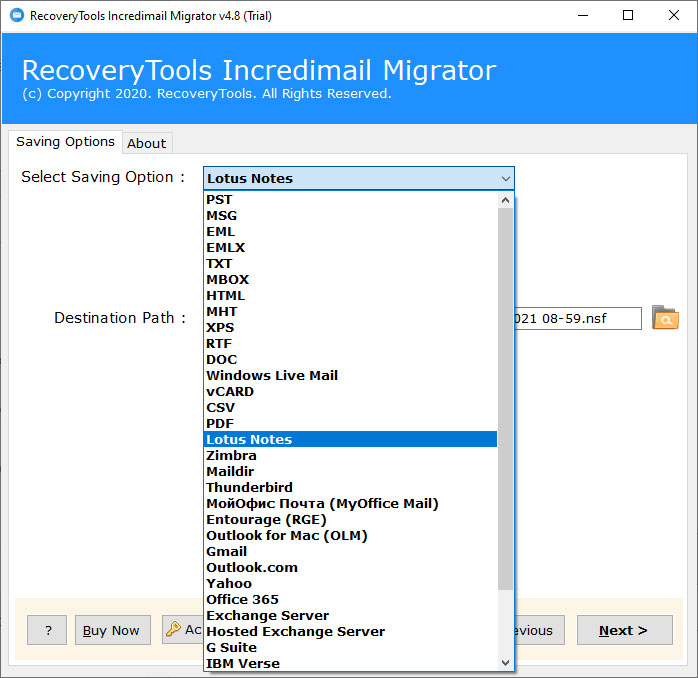 Set all the required options before start the process. You can here select the resultant location path.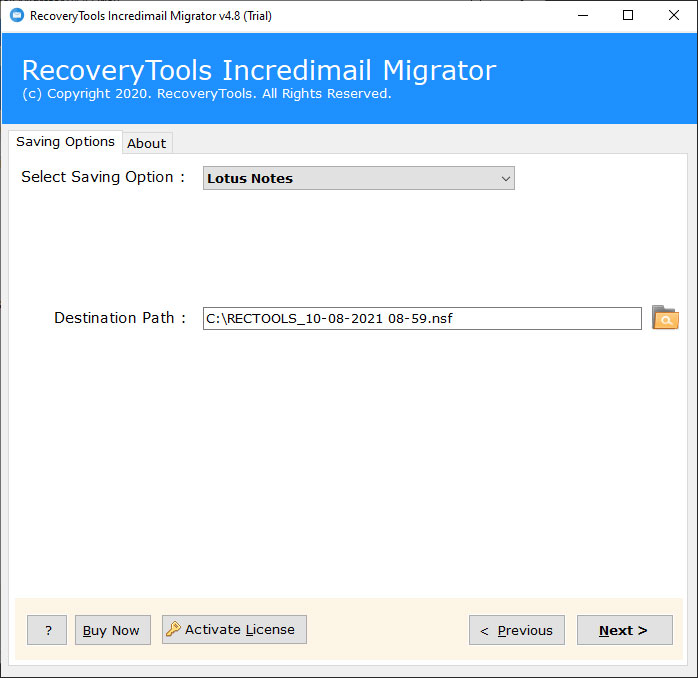 Click on the next button to start IncrediMail to NSF Conversion process.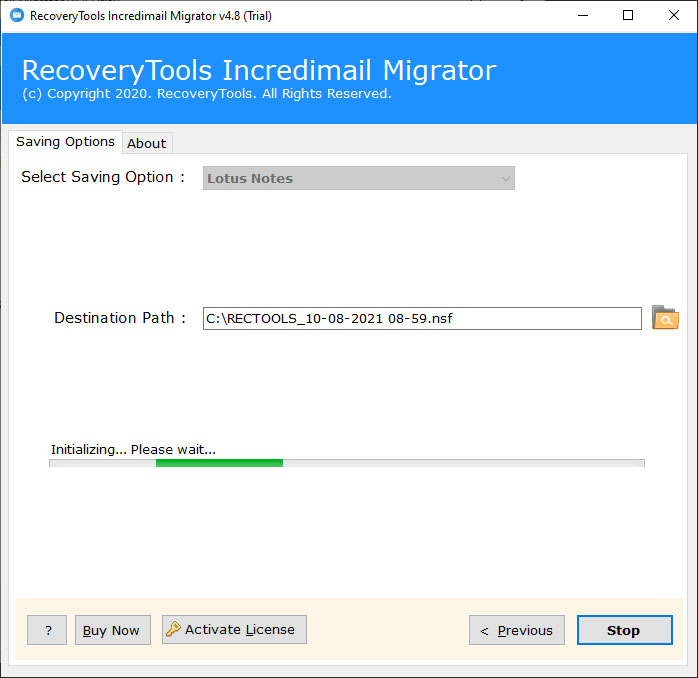 Note: The software required Lotus Notes installation while the process.
Features of IMM to NSF Converter Tool
The product gives a platform where you can easily convert IncrediMail mailbox emails to NSF format.
The most advanced option is this application can automatically discover the default location of your IncrediMail mailboxes.
It also offers dual manual process options to choose bulk and single IncrediMail mailbox files – *.imm, *.iml, *.db.
The product supports all IncrediMail versions data. It offers a special option for converting IncrediMail v2.0 and v2.5 emails quickly.
After choosing IncrediMail profiles data. It allows you to pick your required folders from the complete mailboxes.
The solution provides a wide range of saving options. You can easily convert and export IncrediMail data to various platforms.
There are lots of users who want to export IncrediMail data to external devices. That's why it allows you to choose your resultant location easily.
While exporting IncrediMail to NSF format, it keeps all your email elements and properties with attachments.
The software creates a complete original folder hierarchy of IncrediMail in Lotus Notes after complete the process.
You can easily use this application on all your Server and Windows machines.
General Asked Issues
I am confused between the licensed and demo version. Please explain ?
Sure, the licensed version of this application gives the full functionality while the demo version only exports 25 emails.
Can I use this application to convert IncrediMail 2.5 emails to NSF file ?
Yes, the software provides a quick mode to easily convert IncrediMail 2.5 version emails to NSF format.
Does it keep my email elements and attachments while the process ?
Yes, the application maintains all your elements and attachments of IncrediMail messages.
Can I use this toolkit to export only selected email folders ?
Yes, this application asks and offers an option to choose folders before the process.
Conclusion
In this article, we explain how to convert IncrediMail emails to NSF format for Lotus Notes. After complete the process, you can easily import IncrediMail emails to HCL Notes, IBM Domino Server, Lotus Notes, etc. You can also test this application before spending your money. When you need help contact the support team.