How to Convert EML Files to MBOX Format in Batch?
Karen Chard
~ Modified: 09-06-2022 ~ How To ~ 7 Minutes Reading
Summary: In this article, get to know about how to convert EML files to MBOX format. If you are one of those who have the same issues. And want to know the best solution to combine multiple EML files into a single MBOX file. Then read this post completely. Here, we explain the complete working process of an amazing EML to MBOX Converter software. So, read the write-up and get your solution.
An EML document adopted by many email programs, it is a file format commonly used by a large number of email clients. It saves email messages exclusively and includes source and beneficiary data such as date, subject, etc.
On the other side, MBOX is also an email storage format. It is a single file that contains multiple emails or EML files. It would not be wrong to say that MBOX is a briefcase of many EML files. But MBOX files must be opened by specific applications. MBOX file stores individual email messages as plain messages in a single record.
As we all know that EML and MBOX files are supported by large number of email clients. There are many reasons for a user to convert EML to MBOX file format.Thus, to give you a quick overview of the need for EML File to MBOX conversion, we have mentioned some of the real-time scenarios. Let's check them out.
Top Queries on EML to MBOX Conversion:
"I have lots of EML Files, but due to change in my job environment suddenly I have to need for exporting my entire EML Files into MBOX. But the problem here is, How to convert EML to MBOX in easy way. I tried many solutions but I didn't get any satisfactory results. So if you have any reliable lead for EML to MBOX converter please let me know. "
Source: https://productforums.google.com/forum/#!topic/gmail/ycLABzbjv4Q
"I want to transfer .eml files into new folder in apple mail

Also,  I have thousands of emails in .eml format and I want to import all into my apple mail"
Source: https://discussions.apple.com/thread/3048939
"I failed to specify that all of the e-mails are on a flash drive. All of the methods that I have tried don't have an option to import e-mails from a flash drive.
I have a netbook with Windows XP on it, but I'm pretty sure that Outlook Express doesn't have a universal e-mail format on it.
I want to save the e-mails in a universal format that is readable by Mac, Windows & Linux. Is there such a format?"
Source: https://www.mac-forums.com/forums/macos-operating-system/319041-convert-eml-files-mbox.html
These are some of the user queries that pop up everyday on forum sites, but none of them provide accurate solution  to convert EML files to MBOX format. In the following section of the blog, users will get a free and automated solution to accomplish this task.
EML to MBOX Converter – A Perfect Guided Solution
RecoveryTools EMLX Migrator is a One Stop Solution that allows users to batch covert EML Files to MBOX format. Additionally, the software is recommended by IT professionals for its smooth and error free conversion.
Moreover, users are free to export any size of EML files to MBOX format without any failure. The graphical interface of the tool is designed to simple and easy-to-use so that it can easily be used by all types of users. In addition, there is dedicated support team available that assist you with every technical problem.
Get the Solution Now:
Download for Windows Download for Mac
Note: Free Download EML to MBOX Converter utility trial version and enjoy exporting EML files to MBOX format for both Mac & Windows supported applications.
How to Convert EML to MBOX Files for Mac & Windows ?
Install & read all instructions on the home screen of EML to MBOX Converter.
Load the EML files by browsing to the source file location.

The software provides selective conversion of EML files to choose databases.

Choose MBOX file format from the list of saving options.

Setup EML to MBOX Conversion options like Destination path.

Click on the Convert button & analyze the live conversion process.

Access the resultant MBOX files from the destination folder.

Import the MBOX files into desired email client for Mac & Windows.
That's all about EML to MBOX Converter. Users can easily convert EML files to MBOX format by performing all the steps mentioned above. It is the safest solution available in the IT market that assures you 100% accurate results. Let's take a look at the manual procedure to accomplish it.
Convert EML to MBOX Format – Manually
The manual solution to convert EML files to MBOX format is divided into two phases. You have to install the desktop client and the supportive add-ons. So, follow the sequence of steps mentioned below:
Phase 1) Install Thunderbird and Configure Your Account
1) Download the desktop application.
2) Now configure your account on it by providing your email address, credentials, and server details.
3) Now, all your data will be synced to the application.
4) Afterward, create a new folder in the desktop client.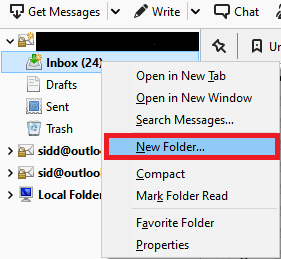 5) Minimise the application and drag-drop EML files into the application.
Phase 2) Download Add-On to Export EML in MBOX Format
1) Press "ALT" key on the keyboard to view ribbon bar.
2) Now, click on Tools >> Add-Ons >> Install Import/Export NG.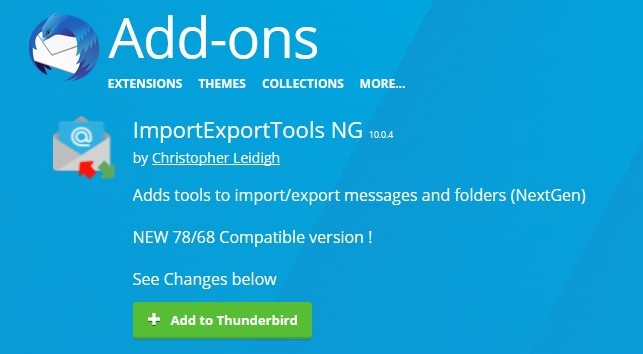 3) Afterward, select the email messages that you want in MBOX files.
4) Once you select all the email messages, make a right click and select "Save Selected Messages >> MBOX (new)."

5) Now, Provide File Name and Click on the "Save" button.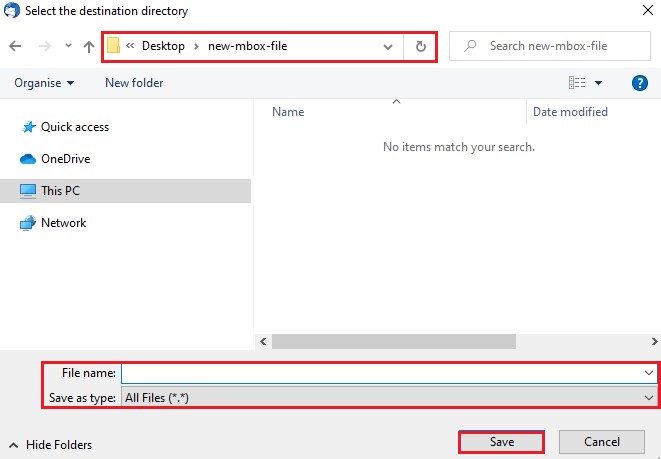 The manual procedure is a long process and requires more technicalities. Also, most of the time, users can make configuration errors. It's recommended to use the automated solution to avoid any kind of data loss. In the next section, users will learn more about the prime functions of the automated toolkit.
EML to MBOX Converter & its Major Features:
The automated solution helps the users to convert EML files to MBOX format. There is no need of having the technical knowledge to perform the EML to MBOX file conversion. Some of the major advantages are listed below:
The software provides users selective load EML files using by clicking on the Select.
Users can convert single or multiple EML files to MBOX format in batch.
It provides users the option to import EML files to MBOX in bulk.
Transfer all EML files to MBOX format which manages emails Folder Structure.
Users will receive all the emails exactly in the same folder which was available before the conversion.
The utility supports the conversion of EML files created with a large number of applications including Windows Live Mail, Windows 10 Mail, Mozilla Thunderbird, Apple Mail, SeaMonkey, Mac Mail, Outlook Express, eM Client, etc.
To convert EML to MBOX the software provides a simple Graphical user interface to its users.
The software preserves EML file properties and structure i.e. Header & Footer information, To, Cc, Bcc, From, Subject etc.
The utility allows the users to save resultant MBOX files at the user's desired location.
The EML to MBOX Converter software is compatible with Windows OS i.e. Windows 10, Windows 8.1, Windows 8, Windows 7, Windows Vista, Windows Server 2019, 2016, 2013, 2010, etc.
The Verge
In this article, we discussed the major requirements to convert EML files to MBOX format by using the automated and manual solution. The manual solution requires support of multiple applications and involves risk. In contracts the EML to MBOX converter is is designed with an advanced algorithm to reduce the time and effort of users. For more details, you can also contact the technical team.