How to Backup Emails from StartMail to Local Computer Format ?
Karen Chard
~ Modified: 19-05-2022 ~ How To ~ 6 Minutes Reading
"Hi! I am using the StartMail email account for the last 2 years. In that time, I have received lots of junk mails. Before clean my StartMail Email account, I want to take a backup copy of my StartMail Email account. For this, I am looking for a solution to backup StartMail Email account to local computer format. Does RecoveryTools provide any solution to backup StartMail Email account data ?"
Recently our team received this query from one of our old clients. Well, StartMail email service developed by Startpage in 2014. It was designed to offer a privacy-protecting and PGP-encrypted email service. StartMail offers many more services such as Never read emails policy, Unlimited aliases, IMAP/SMTP support, 10GB of personal storage space, Use your own domain name, etc.
But it does not allow you to backup your mailbox data in local format. Therefore, a large number of StartMail users are looking for a way to backup StartMail emails to local format. To solve this problem, RecoveryTools recommends you download our IMAP Backup Tool. The utility has the ability to backup multiple StartMail email accounts at once.
Our motivation in writing this article is to help customers who are facing a similar issue. Here, we will explain the complete process to download emails from StartMail account to several formats such as file formats, document formats, email clients, webmail, email accounts, mail servers, etc. The program is compatible with all Windows operating systems. In the following section, you will learn the step-by-step procedure to solve your questions in a few simple clicks.
How to Backup StartMail Email Account Locally ?
First of all, download or install this utility on your Windows computer. Thereafter, follow the given steps to know the complete process: –
After that, run the program on your Windows workstation or server machine.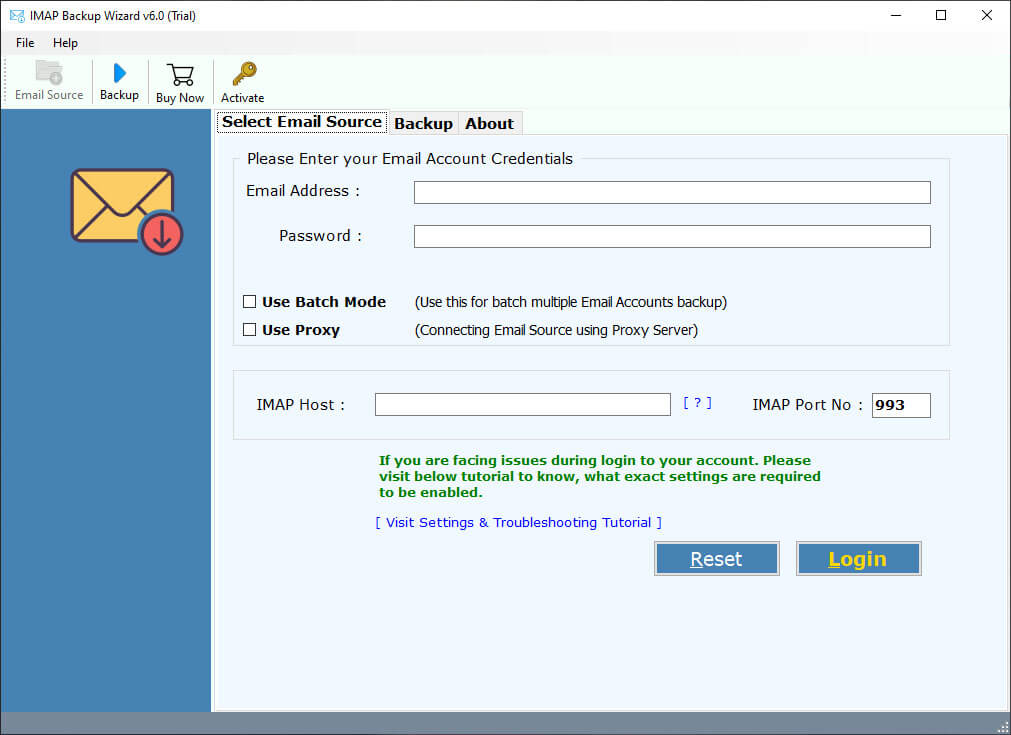 Note: – If you want to back up multiple StartMail email accounts, you can choose the batch mode option. For the batch StartMail account backup process, you must create a CSV file that contains all your account credentials. Thereafter, upload it on the user interface panel.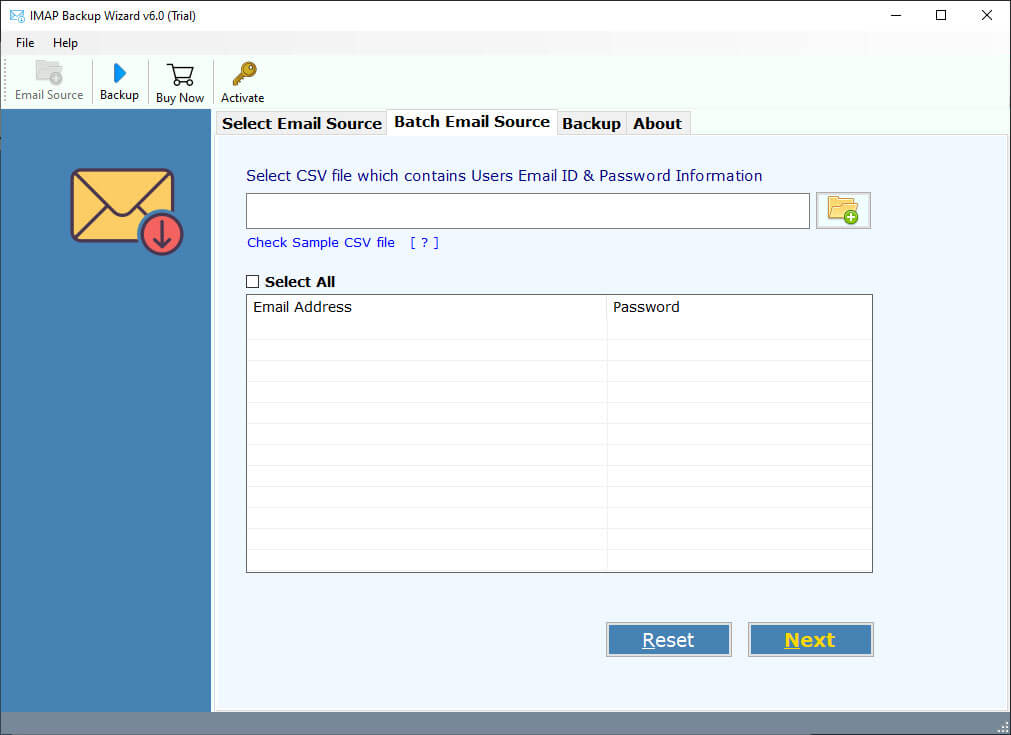 Now, enter your StartMail email account credentials with IMAP settings.
StartMail IMAP Settings

User Name: – Your StartMail Email account address.

Password: – Your email account password.

IMAP Host: – "imap.startmail.com"

IMAP Port No: – 993 with SSL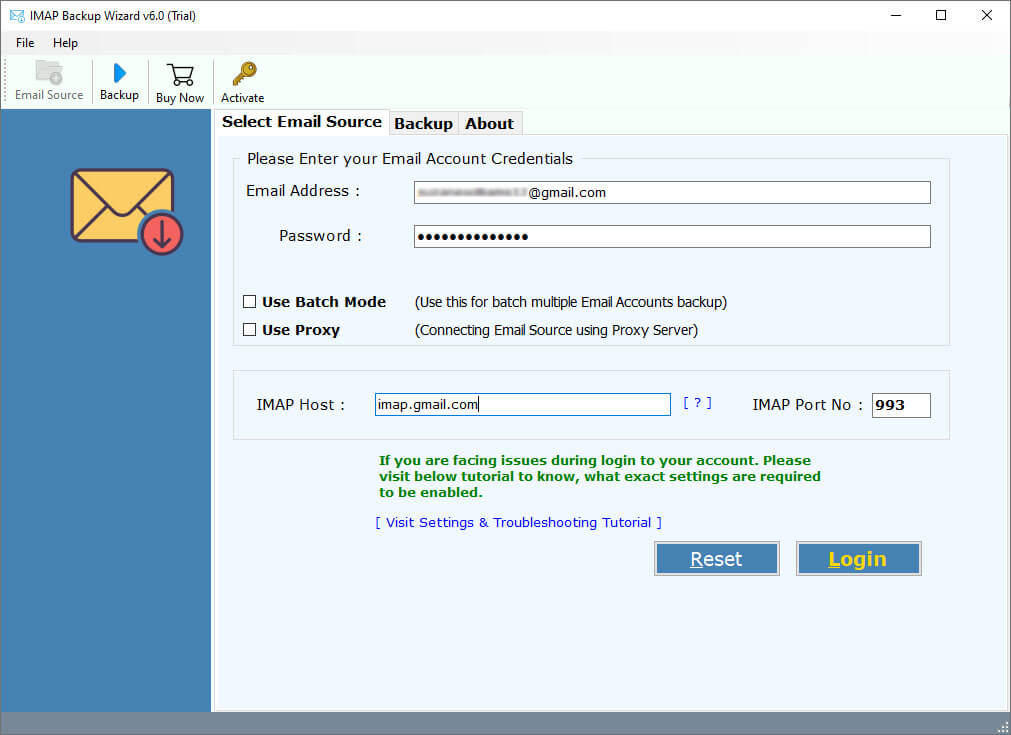 The software loads all your mailbox folders in the user interface. Here, you need to choose the required email folders from the list.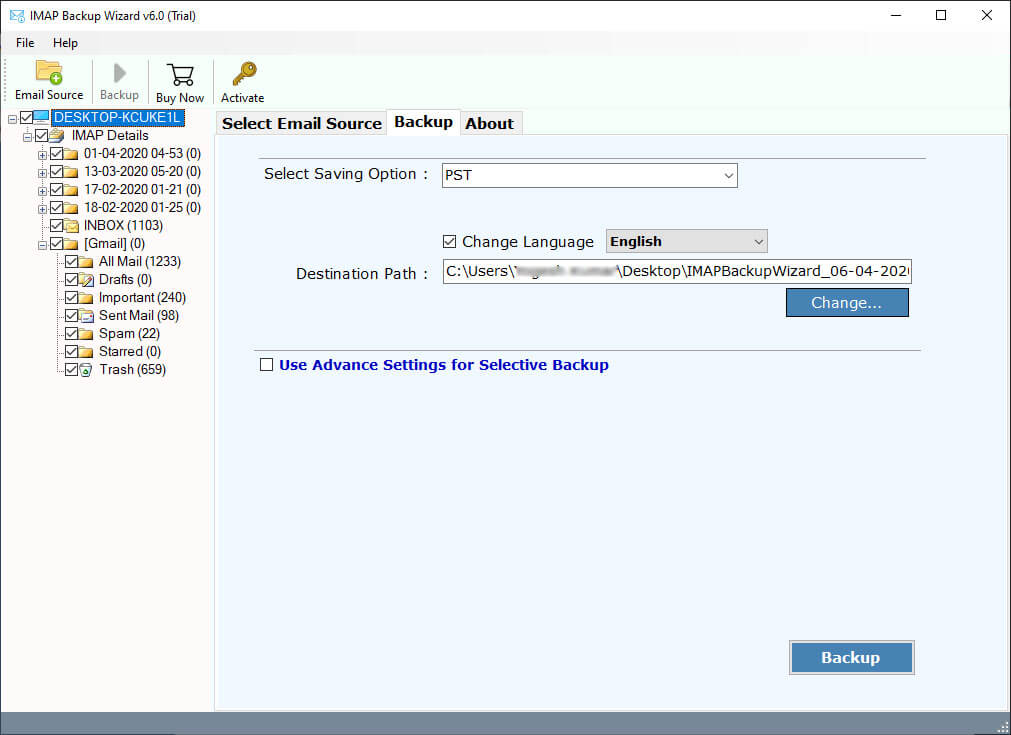 Now, you need to select the required saving option from the list.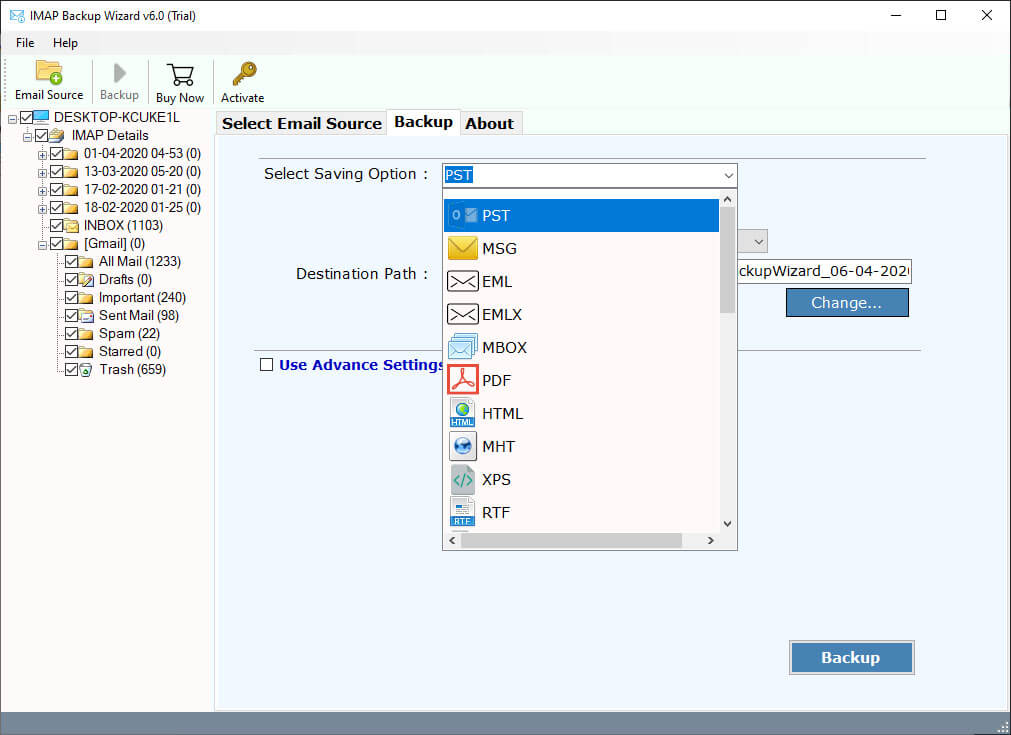 Also, you can select the filter options to backup selected emails only.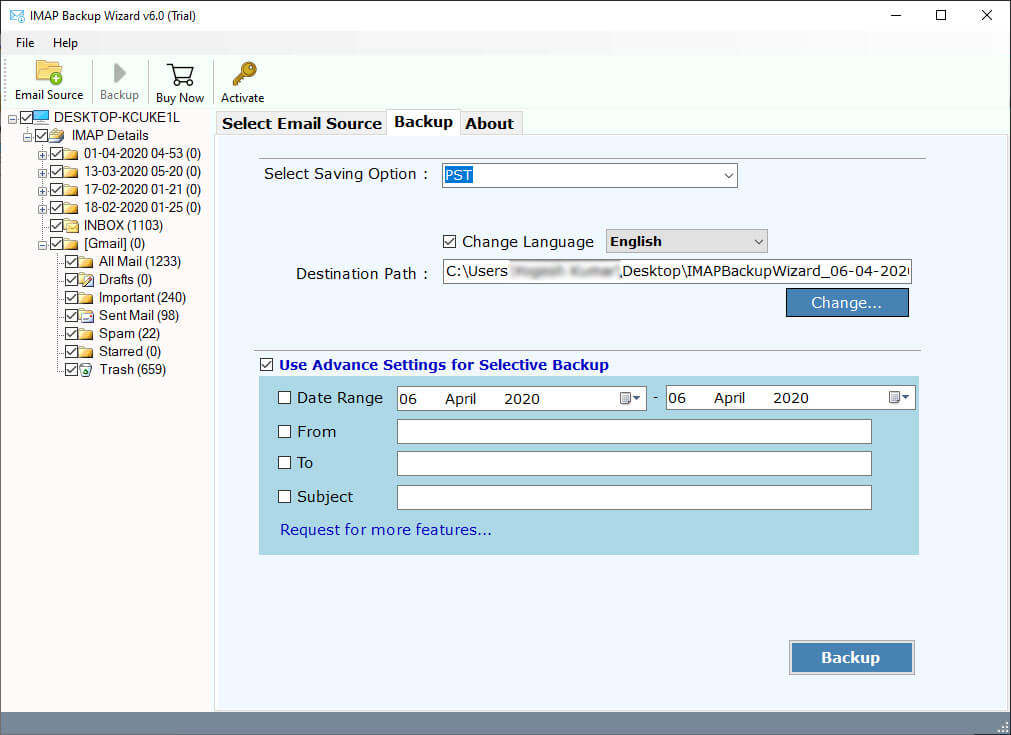 If you have selected a file format option, you can choose the destination path to save the resulting data. Otherwise, if you have selected the webmail option, enter your account credentials.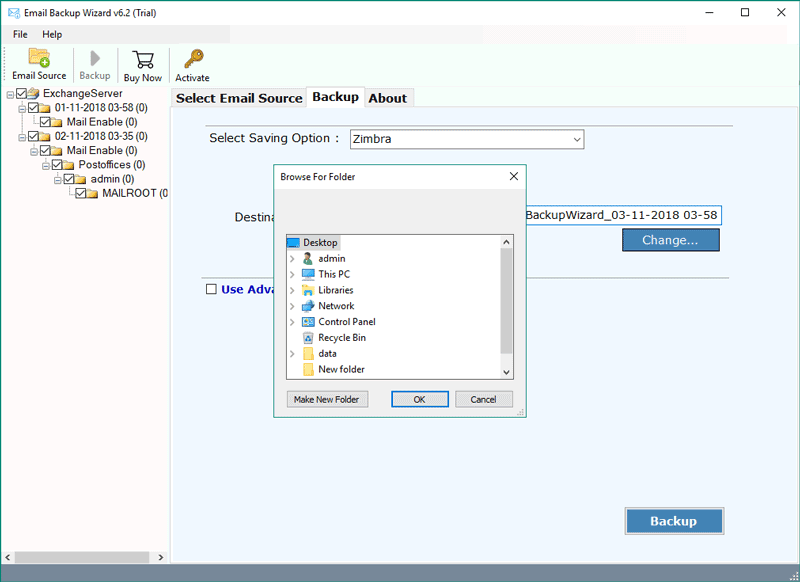 Finally, click on the backup button to start the StartMail email backup process.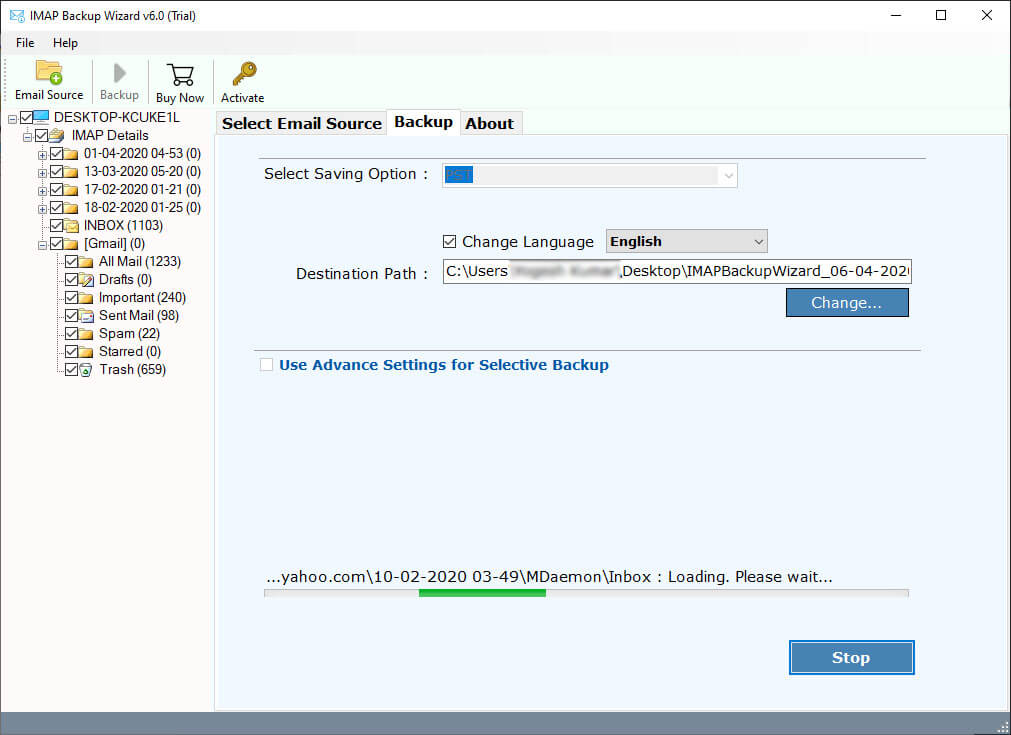 StartMail Backup Tool – Provided Saving Options
Download StartMail Emails to Multiple Email Formats: – The software provides several file saving formats such as PST, MSG, EML, EMLX, MBOX, Zip, CSV.
Save StartMail Emails to Document Formats: – One can easily save StartMail Emails to readable formats such as PDF, HTML, MHT, XPS, RTF, DOC.
Archive StartMail Emails to Another Webmail or Email Server: – Transfer emails from StartMail account to multiple webmail formats such as Office 365, Gmail, G Suite, Outlook.com, Yahoo, Rediffmail, IBM Verse, Amazon WorkMail, IceWarp & IMAP accounts.
Import StartMail Emails to Multiple Email Clients: – Access StartMail emails with multiple email client application without configuration such as Outlook, Windows Live Mail, Lotus Notes, Zimbra, Thunderbird, Apple Mail, Mac Mail, etc.
StartMail Webmail Backup – Features & Benefits
Backup Multiple StartMail Email Accounts: – The software allows you to download multiple StartMail email accounts at once. First, you need to create a CSV file with all your account credentials, then enable the batch mode option and upload it to the user interface panel.
Maintain Email Folder Hierarchy: – When saving StartMail email, the software will maintain the email folder hierarchy structure. So, you will get the original folder hierarchy structure without any problem with your resulting format or webmail account.
Retain Original Email Formatting: – During the process, the software keeps all email properties such as email with attachments, images, subject, hyperlink, email addresses (to, cc, bcc, from) information, email formatting, etc.
Option to Backup Selective Emails: – This program offers various filter options that allow you to take only the required emails from StartMail server to the local machine. You can easily backup StartMail emails by date range, subject, email address, etc.
100% Secure User Interface Panel: – Security is one of the major concerns of many users. So our team has developed a master pie that never takes any data of your database from your server. It is a lab-tested product that never saves your account credentials in the interface.
Workable with Windows & Mac Editions: – The program is available on both Windows and Mac platforms. You can easily use this application without facing any complications.
Ability to Backup / Migration / Conversion of StartMail Emails: – The software facilitates the migration / backup / conversion of StartMail emails with several saving options. You can easily take advantage of this application to use your StartMail email on multiple platforms.
Common FAQs
Does the software work on Windows Server 2016 computer ?
Yes, the software supports all editions of Microsoft Windows as well as Server editions.
Can I install this application on Mac OS X editions ?
Yes, you need to download the Mac edition of this application to backup StartMail Email on Mac.
Does the utility keep my email properties after complete the process ?
Yes, the software maintains all the properties after complete the StartMail backup process.
Note: – If you need more help regarding any issue, you can contact us on live support chat.
Conclusion
In this article, we have discussed ways to backup the StartMail email account locally. If you have similar issues and want a solution, then read this article in its entirety. Using our solution, you can easily create a backup copy of your StartMail email account in several formats. In addition, you can try our software without any registration.
Also Read

Backup Gandi Webmail Emails to Computer