How to Transfer Yahoo Mail to Outlook ? – Move Emails from Yahoo to Outlook
Karen Chard
~ Modified: 23-05-2022 ~ How To ~ 6 Minutes Reading
Overview: Are you looking for a solution to transfer emails from Yahoo to Outlook ? Or want to know how to export Yahoo emails to Outlook 2021, 2019, 2016, 2013, 2010, 2007, 2003, 2002, etc. If your answer is YES! Then this article is for you. Here, you will learn the complete process to access Yahoo emails in Outlook without account configuration.
Last year itself, Microsoft launched the new version of the Microsoft Outlook mail client i.e. 2019. This version comes with many unique features which are extremely new and innovative. These features enable the customers to manage their data in an easy and orderly manner. After seeing the ease and flexibility present in MS Outlook, organizations and individuals have decided to use MS Outlook. So, a question arises that how to transfer emails from Yahoo to Outlook.
People using Yahoo Mail look for a solution that allows them to transfer Yahoo Mail to Outlook. Their major concerns are regarding data integrity. This is because when enterprises decide to switch from Yahoo to versions of Outlook 2019 or below, they do not compromise on existing data. The mail folder contains many important messages which can be risky if breached.
Why We Need to Transfer Yahoo Emails to Outlook
"Because of the brilliant features available in Microsoft Outlook 2021 platform. Now I want to switch Yahoo business emails to Outlook 2021 client. Currently, I am using Yahoo mail for professional purposes and have decided to now continue my work with MS Outlook. For this, I have to move emails from Yahoo to Outlook 2021. I am not aware of any method to attempt this activity. So, can anyone please show a correct path for the same?"
Either for switching mail platforms or for backup purposes, organizations search for a workaround to import email folders from Yahoo to Outlook. Therefore, through this post, we are going to share a standard method to export Yahoo mail folders to Outlook 2019 and the below versions. This solution comprises the use of an application named Email Backup Wizard. It is a dedicated application that allows transferring of Yahoo mail to Outlook effortlessly.
Instant Solution: Transfer Yahoo Mail to Outlook
To resolve Yahoo to Outlook transfer queries, you need to download the best Yahoo Mail Backup Wizard on your computer. The software provides a direct way to transfer Yahoo emails to Outlook client directly. You can also download this application on your Windows and Mac Computers. The software supports batch Yahoo mail account migration to Outlook at once.
Download from Here:
Download for Windows Download for Mac
Note: The trial application allows you to export 25 Yahoo emails to Outlook format. You can also buy this application to migrate multiple Yahoo emails to Outlook client at once.
Steps to Transfer Emails from Yahoo to Outlook
Follow the given steps to export Yahoo emails to Outlook:
Launch the software on your computer.
Enter Yahoo Mail account credentials.
Choose the required email folders from the list.
Select Outlook PST format from the list.
Click on the next to export Yahoo Emails to Outlook format.
How to Transfer Yahoo Mail to Outlook ? Step-by-Step
The following steps will give the answer to your question that how you can move emails from Yahoo to Outlook in a simple way :
Download the setup file of the Email Backup Wizard and install it on your computer. Launch the program on your system and select Yahoo from the list of 'Email Source'.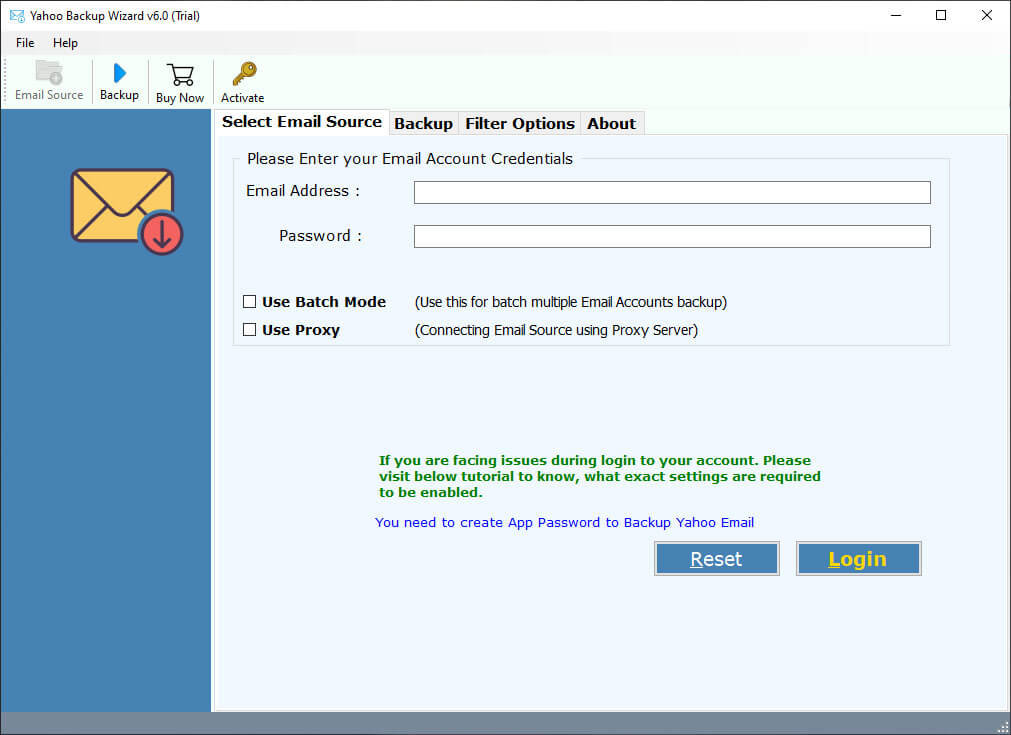 Enter the Yahoo tenant credentials in their respective fields and click on the Login button.
Note – You need to ensure that your Yahoo tenant is enabled with IMAP settings. Also, make sure that the 'Allow apps that use less secure sign-in settings are enabled.
Here the software starts fetching email folders from the source Yahoo account. This extraction of data is done on a temporary basis just to move emails in Outlook. Later, this data gets permanently erased after the completion of the entire procedure. Check the checkbox of only those Yahoo Mail folders, which you wish to export in Outlook.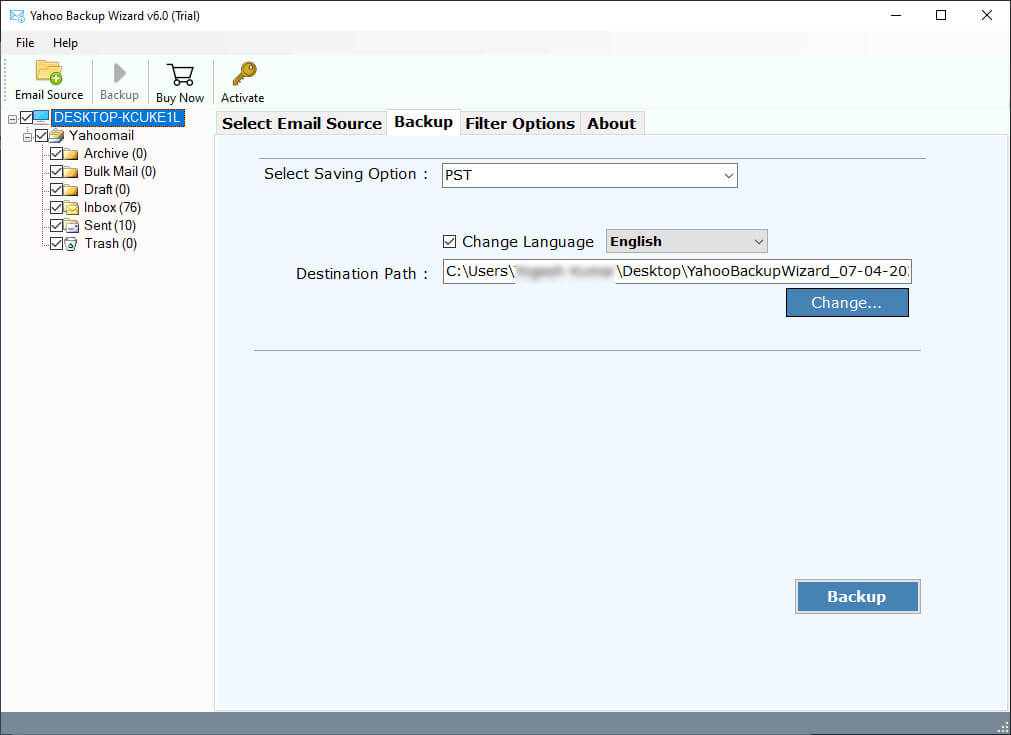 Now continue the procedure to transfer Yahoo Mail to Outlook by selecting PST from the list of 'Select Saving Option'.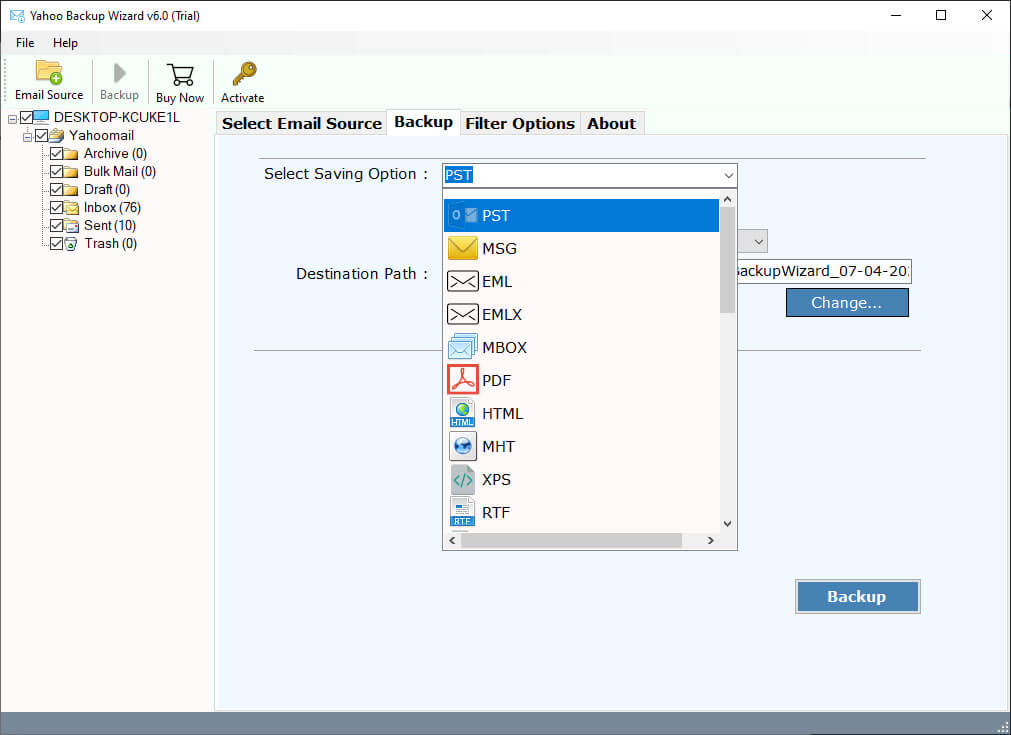 Define the path where you wish to store the resultant Outlook PST file. If you desire to change the software's auto-detected location, use the Change button.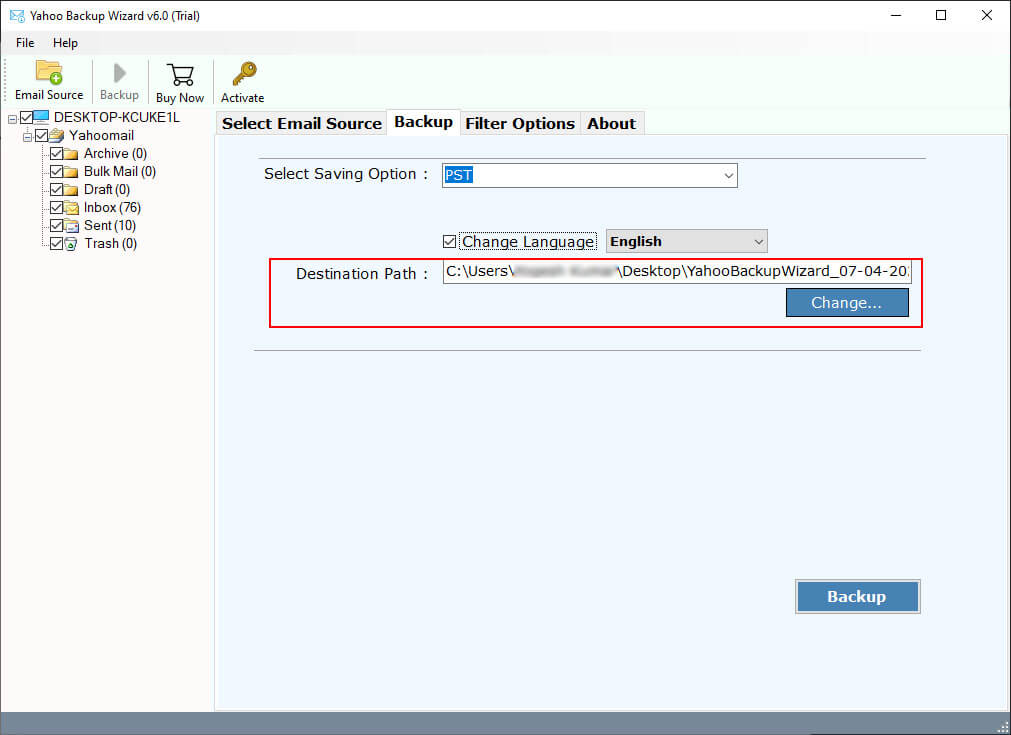 Before start the migration process, you can also select the filter options.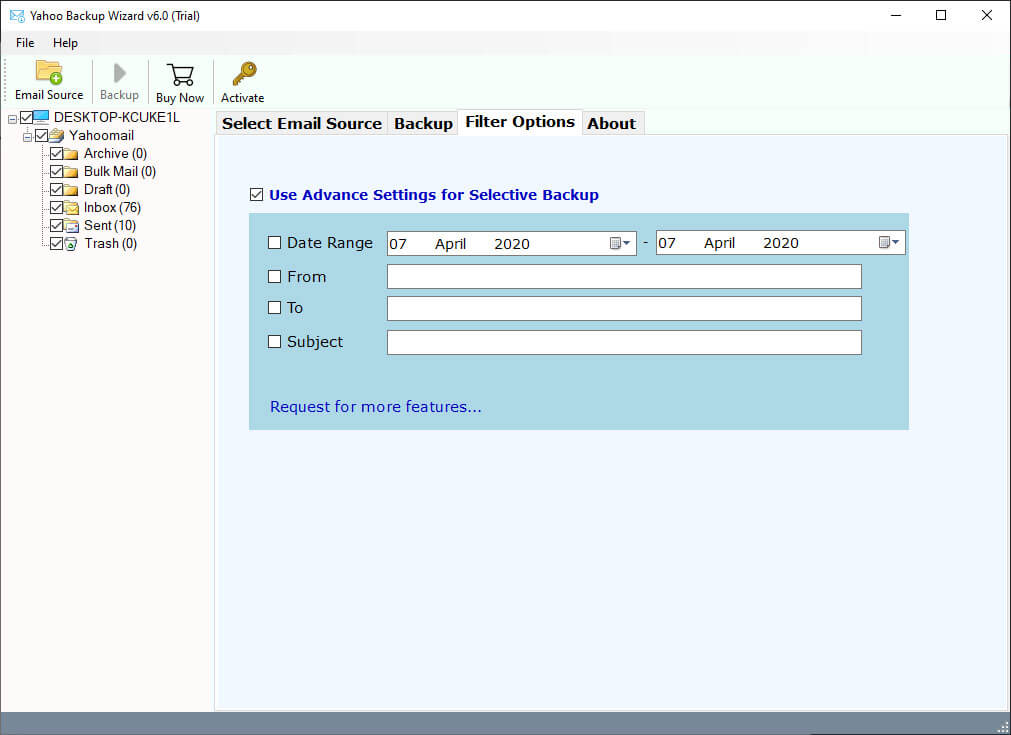 Finally, it's time to hit on Backup button and initiate the process of transferring Yahoo Mail to Outlook.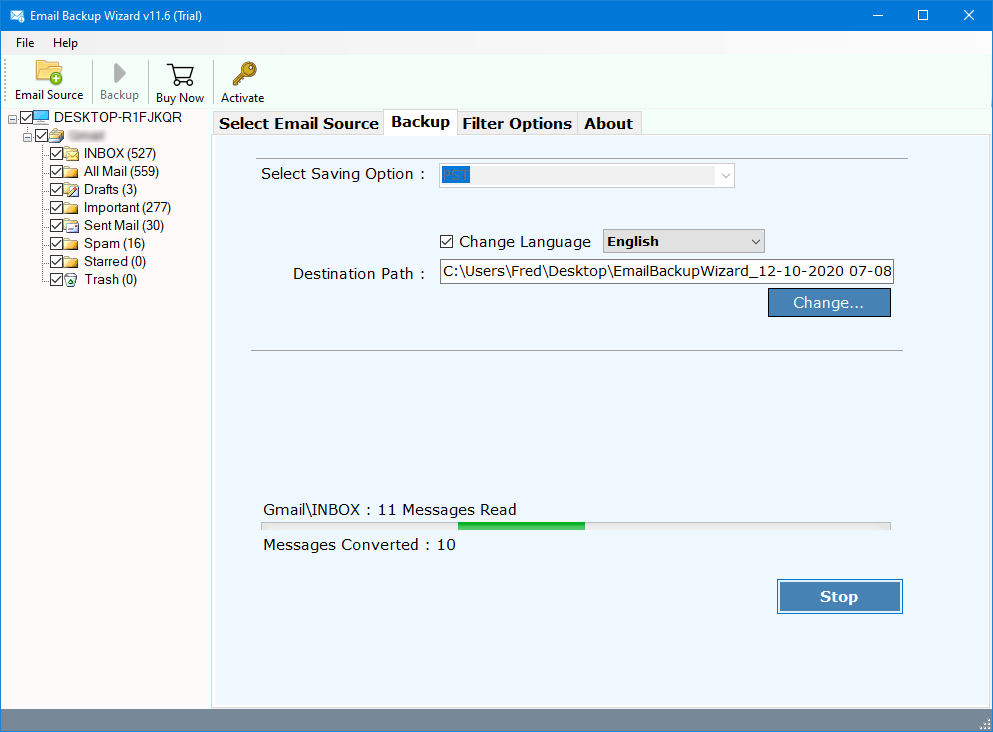 The process consumes the shortest time duration to accomplish the task. It does not harm the email structure and formatting while processing messages. You can now easily import email folders from Yahoo to Outlook 2019, 2016, and below versions.
Does there Exist Any Manual Method ?
Yes, there exists a manual approach to transfer Yahoo mail to Outlook mail client. Before you start with the learning of this measure, please read out the following points :
An expert should be hired to export Yahoo mail folder to Outlook manually.

It is essential to have knowledge about Outlook and Yahoo tenant settings.

Changes in existing server settings are required to accomplish the task.

There is no guarantee of data integrity while importing Yahoo email folders.
Now if you are ready to move emails from Yahoo to Outlook via manual workaround, execute the following steps :
1. Open MS Outlook profile on your PC and click on File >> Info >> Add Account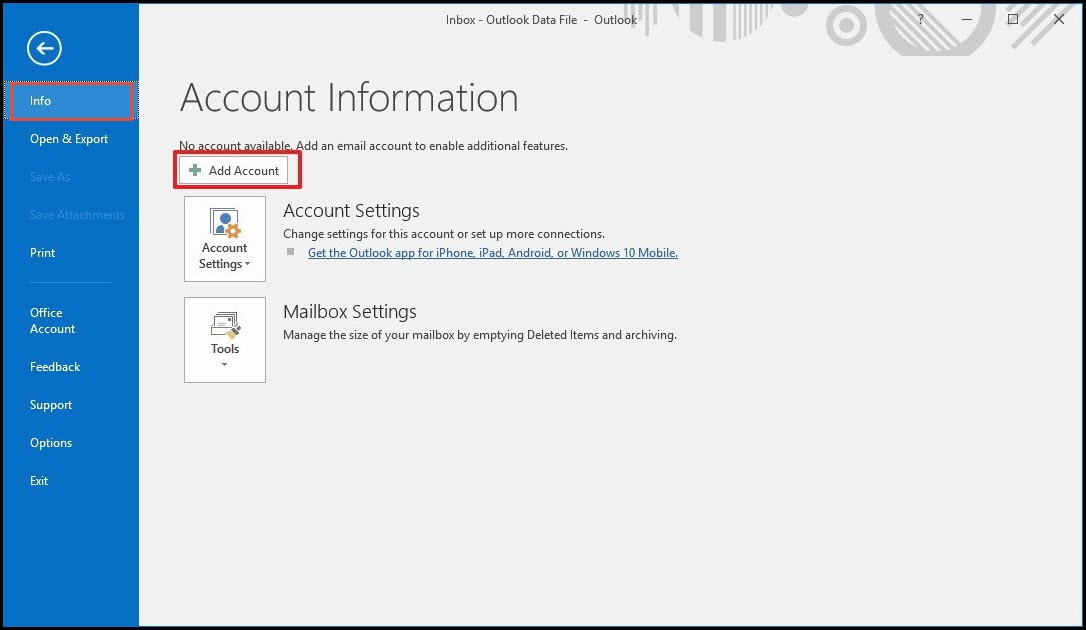 2. This opens an Add Account window where you have to use the Manual setup or… option. Click on Next to continue with the procedure to import email folders from Yahoo to Outlook.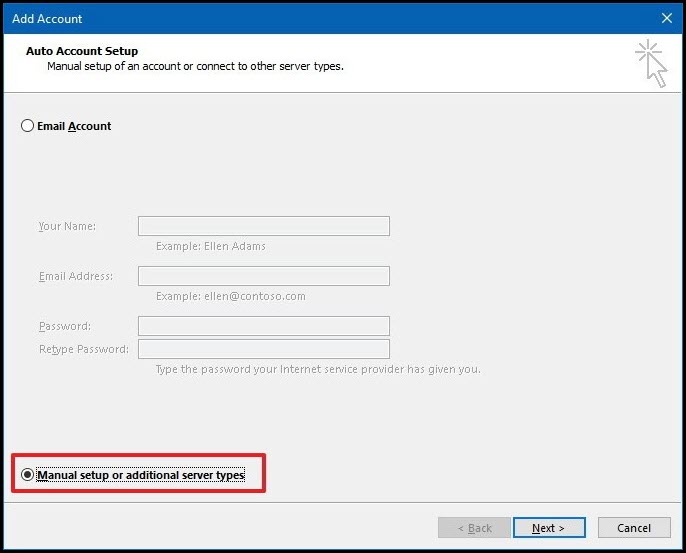 3. Proceed with the process to transfer Yahoo mail to Outlook by click on POP or IMAP >> Next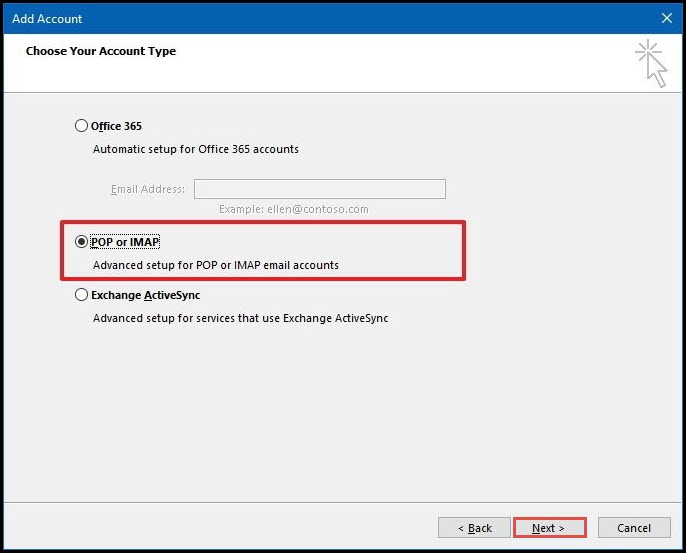 4. Enter the data required on the current screen like Yahoo email address, account type, password, etc.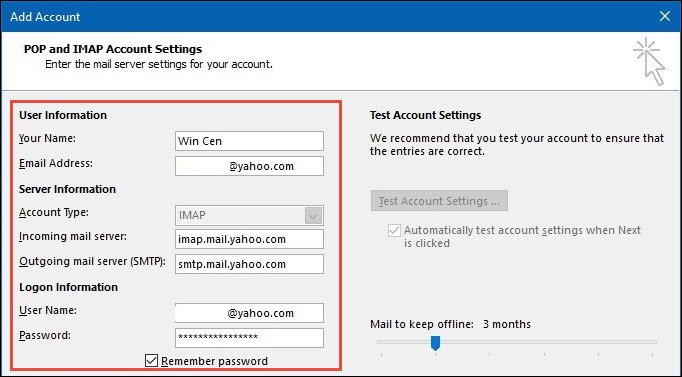 5. Click on the More Settings button to make some changes in the server settings.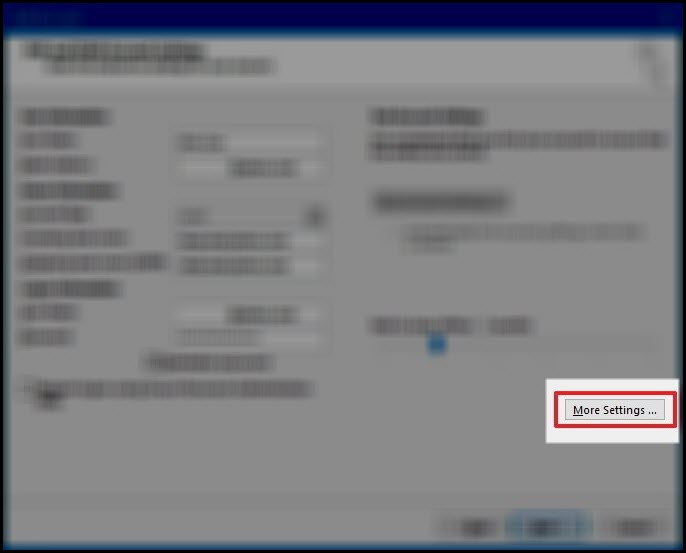 6. Click on the Outgoing Server tab and enable the checkbox of My outgoing server…. (as shown in the screenshot)
7. Now it's time to click on the Advanced tab and enter the port numbers as shown in the screenshot.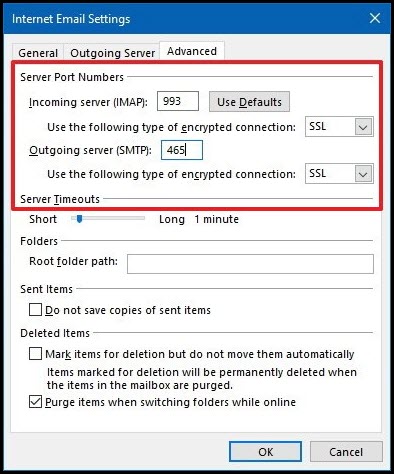 8. In order to update all the changes, please click on the OK button.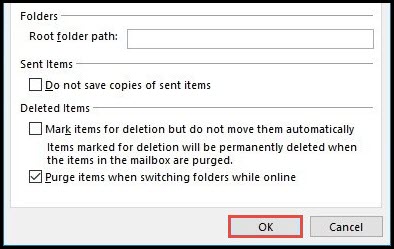 9. At this point, the software authenticates the defined account credentials along with the server details. In case there is some error in the server settings then, the authentication procedure does not get completed. Again you have to make changes and try for the authentication.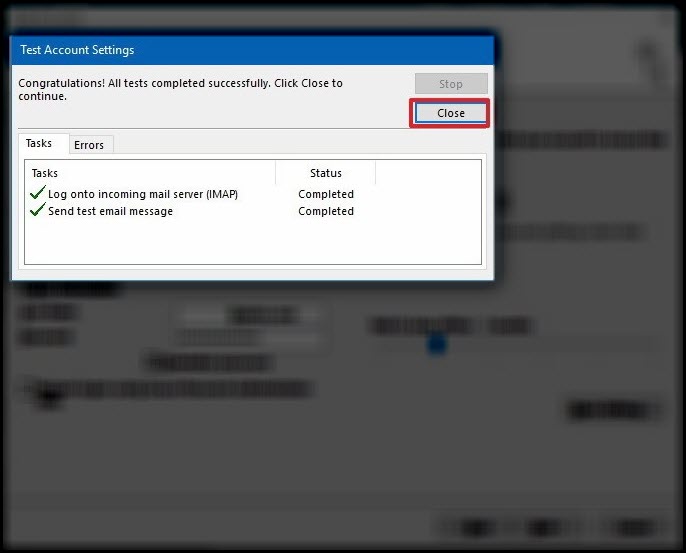 Once the authentication successfully gets completed, Outlook starts fetching data from the source Yahoo account. And this is how the configuration of Yahoo mail takes place in Outlook.
Observational Verdict
Possible solutions on how to transfer Yahoo mail to Outlook 2019 or the below versions are described in this post. Talking more about the manual method then, there is no guarantee that it will definitely result in a positive manner. But, in the case of an automated solution, it is guaranteed to move emails from Yahoo to Outlook. Also, you can test this program's commitment by using the trial version of the solution. So, this will allow you to analyze the software without any extra charges.