An Effective Guide to Migrate Rogers Email to Gmail Account
Overview: Are you suffering for a solution to transfer Rogers email to Gmail account? Do you want to learn how to export Roger's email to your Google Workspace account? If yes, then this article provides complete guidance. Here, you will get all the information about the transfer process with a solution that will allow you to migrate Roger's email to Gmail easily. So, let's start the process one by one.
Rogers is a Canadian interchange and media organization working basically in the fields of remote correspondence, satellite TV, communication, and Internet provider. Within the service, it also offers a Webmail platform where users can easily send or receive messages.
Like Rogers, Gmail is also a webmail or email service provided by Google. It is one of the most popular and top-rated email services in the world. It provides many services such as Search, Maps, Videos, Applications, Meet, Video conferences, Contacts, and Calendars.
I am a small entrepreneur in Canada. All my email account messages are edged in via Rogers webmail. I have some specific email messages in my Rogers email account and I want to migrate them to Google Mail. Does anyone know how to transfer Roger's Email to a Gmail account?
Expert Recommended Solution to Rogers to Gmail Migration
One of the best and most reliable solutions to transfer Rogers email to Gmail is RecoveryTools Email Backup Wizard. This software has the ability to do bulk email conversions within a seconds. The solution needs your exact email address and IMAP details to migrate Rogers email to Gmail. The rest of the process is automated and will directly move Rogers email to Gmail service.
Get the Product:
Download for Windows Download for Mac
Steps to Migrate from Rogers to Gmail Account
Obtain the solution on your PC.
Choose the Rogers option in the list
Select the required email folders from the list
Enter your Gmail details to move Rogers to Gmail
Start the migration procedure by clicking on the button.
How to Transfer Roger's Email to Gmail or Google Workspace?
First, obtain the program from the website on your Windows and Mac computers.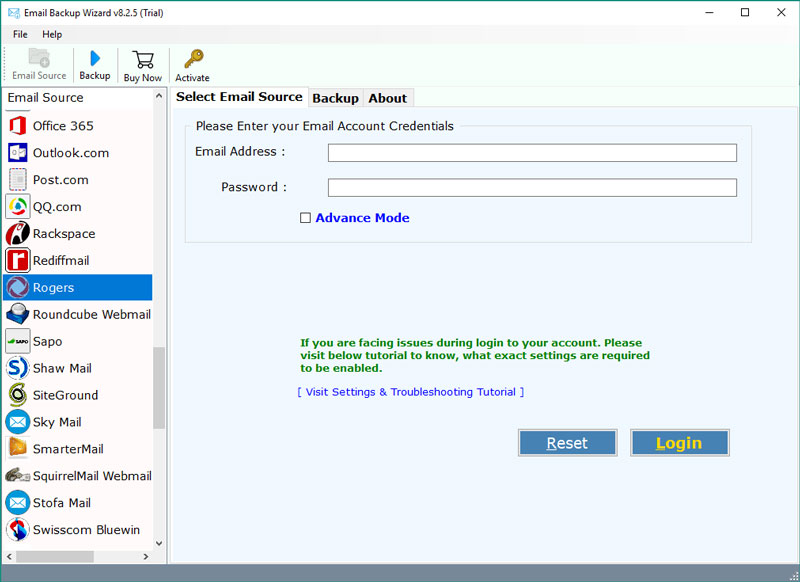 It offers some additional options such as Use Batch Mode and Proxy Server. Set them as per your requirements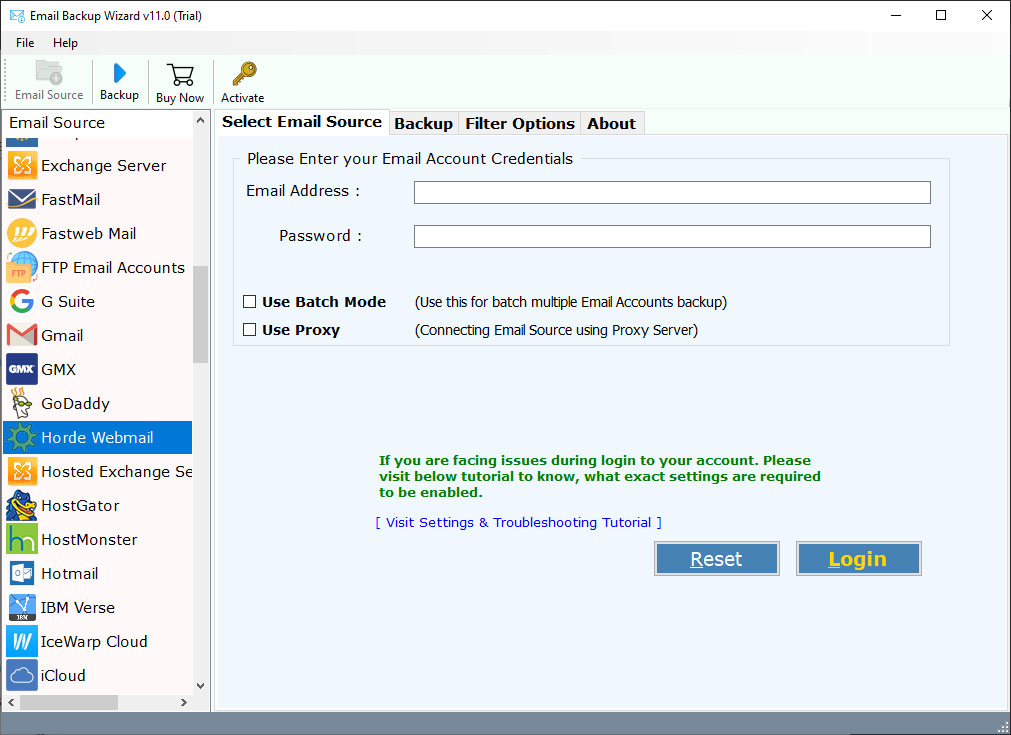 Select the Rogers option and enter all the details of your Rogers email account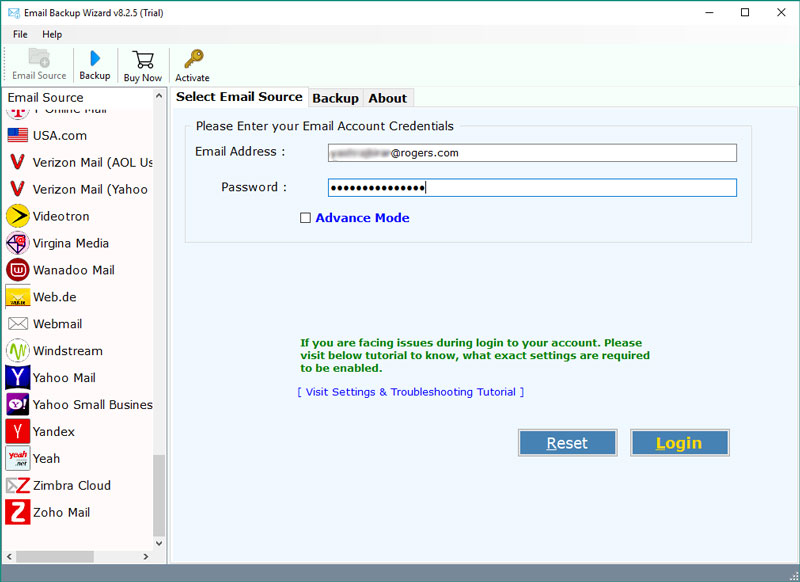 Enable those folders of Rogers mailbox whose data you want to transfer into the Gmail account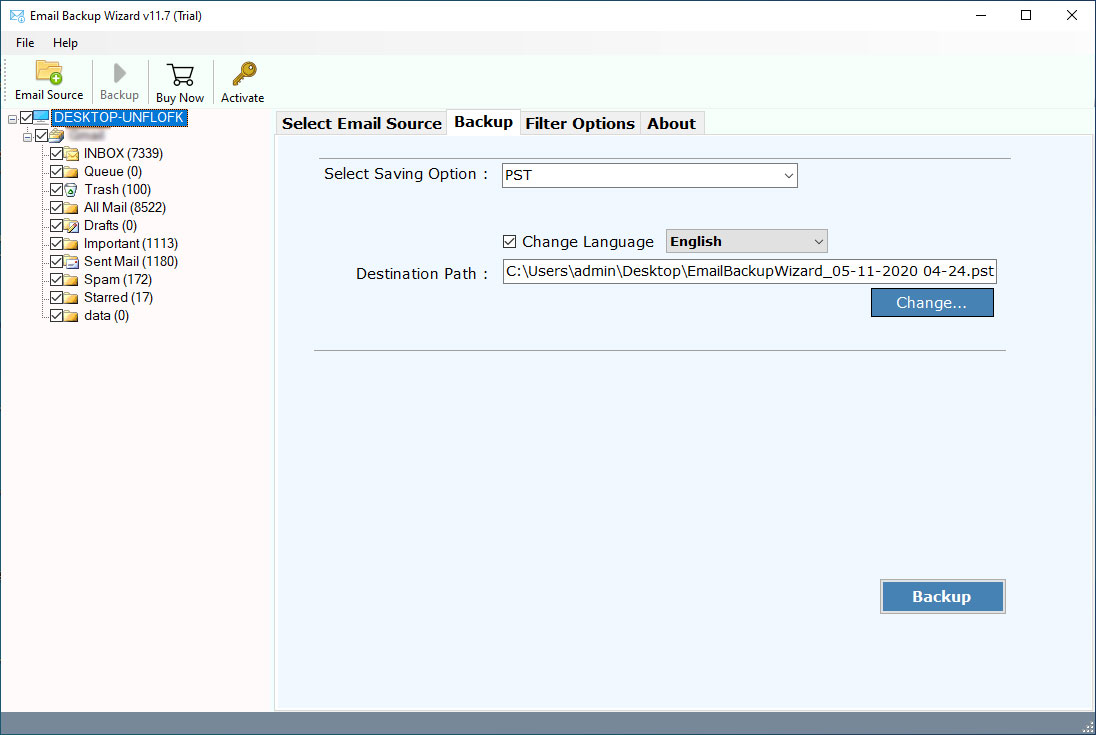 Now, choose the Google Mail (Gmail) option in the list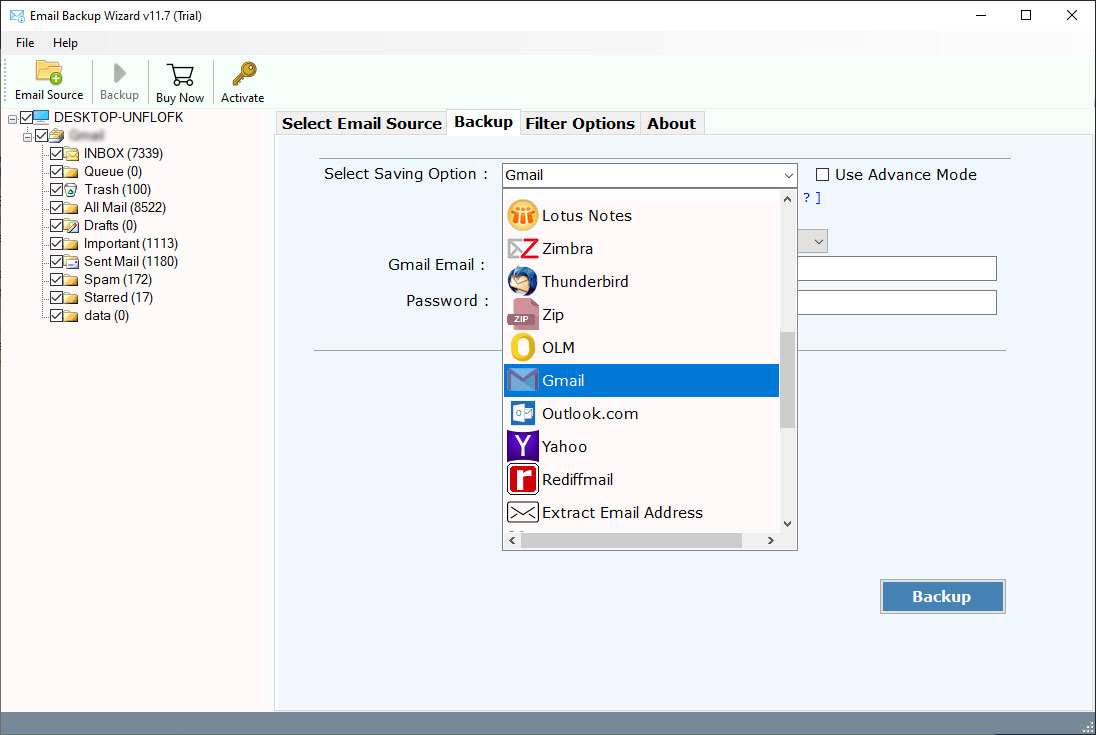 You can also choose the additional options to move Rogers email selectively to their Gmail account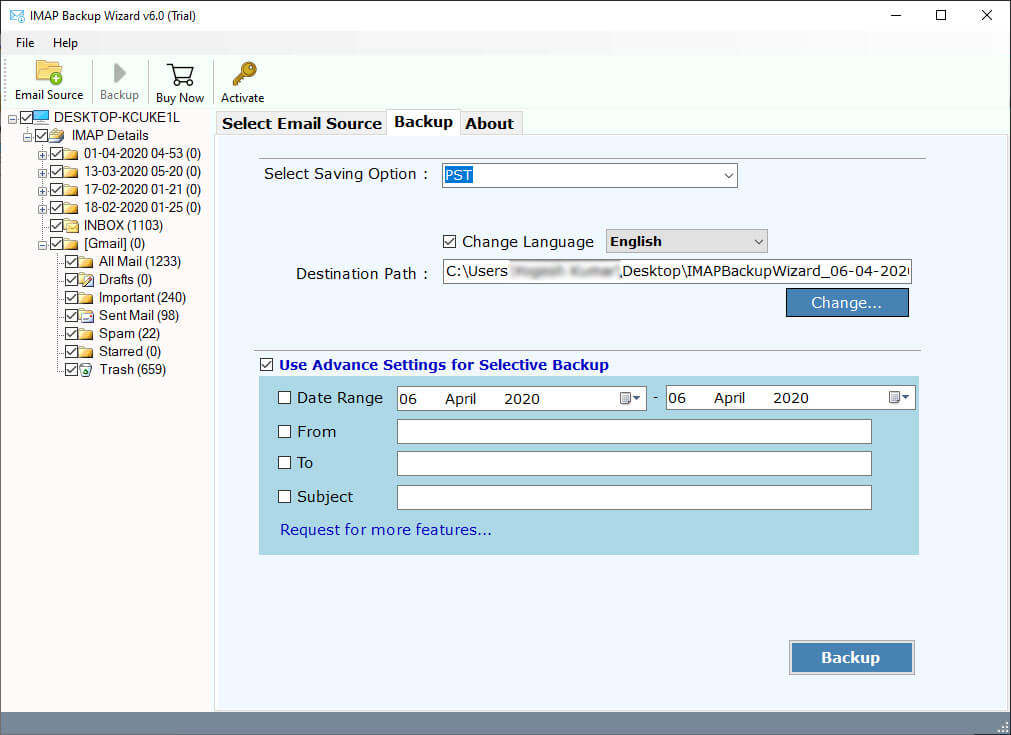 Enter all the details of your Gmail account in the UI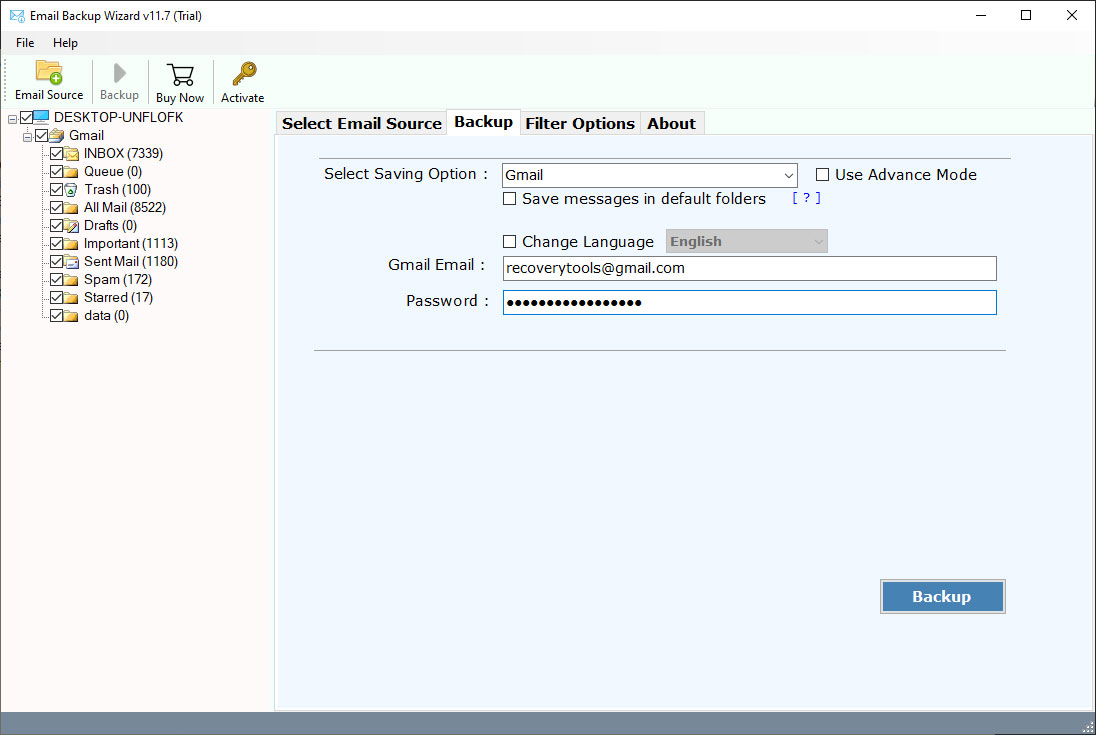 Start the Rogers to Gmail migration process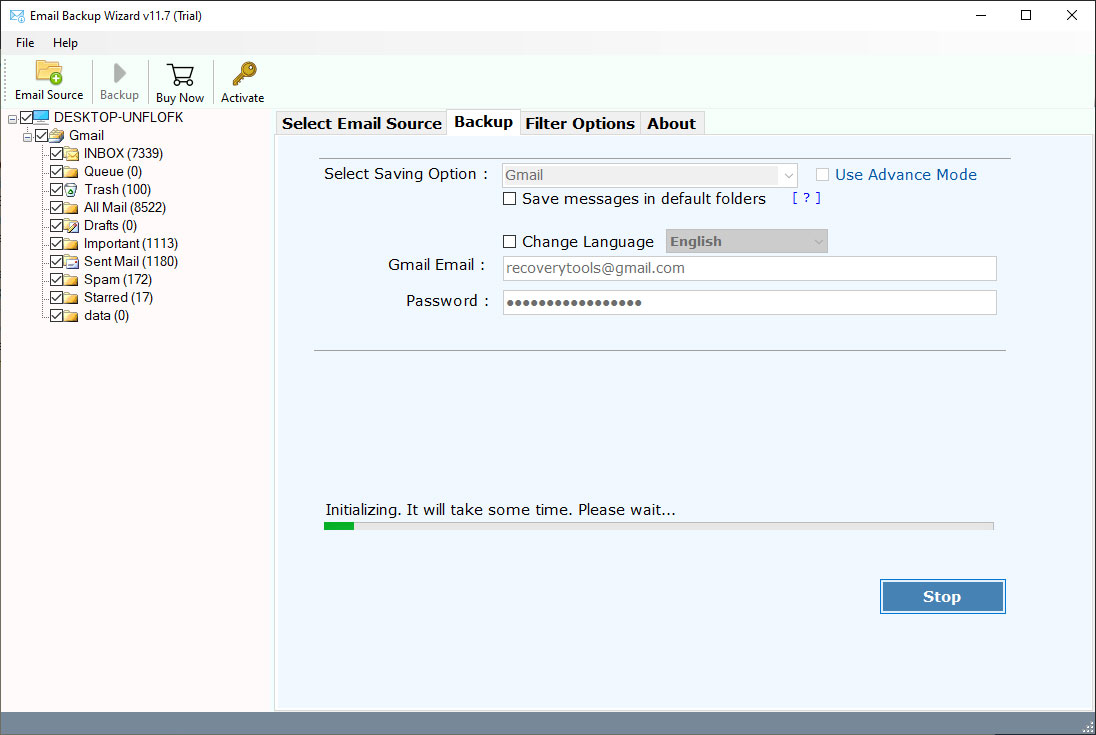 Top Advantages and Provisions – Rogers to Gmail Migration
This product offers various advantages and provisions to move Rogers Email to Gmail.
Direct Migration of Rogers to Gmail:
The tool gives a direct option to transfer all messages from Rogers to a Gmail account. Simply enter the account records and credentials of both email accounts in the software interface to transfer emails between Rogers and Gmail accounts.
Migrate Particular Email from Rogers to Gmail:
This utility permits you to decide and migrate only required emails from Rogers mailbox to Gmail account directly. It also offers many advanced filter options that may help you to sort out and export only the desired emails by date, time, address, etc.
Selective Folder Migration:
It allows you to choose the required email folders or organizers that you need to relocate from Rogers to a Gmail account. This option appears after connecting with your Rogers email account in the user interface panel.
Retain the Hierarchical Structure of Mail Folders:
Moreover, it keeps the email directories and labels structured during the relocation of Rogers email to Gmail. It will also maintain email elements with attachments, Internet headers, subjects, inline images, and many more.
Straightforward and Simple UI Solution:
RecoveryTools Rogers Emails to a Gmail account. Also, there is no need to install any other applications.
Windows & Mac Workstation Support:
This product works with Windows and Mac computers. You can easily install this application on all Windows and Server machines, including Windows 11 edition. It also supports all Mac OS X edition machines.
User Review
"I have to say that RecoveryTools Rogers to Gmail migration software is a simple and intuitive utility for Windows computers. A few days ago, I was searching for a solution to import Rogers email to Gmail software. And finally, I found it. The software provides fast migration and easy to use platform."
"
– Daniel Andres
"Esta es la mejor herramienta de migración de correo electrónico de Rogers a Gmail. Ofrece muchas opciones de este tipo que no encontraría con ninguna otra herramienta de migración de correo electrónico de Rogers a Gmail. Funciona bien para importar el correo electrónico de Rogers a Gmail Cloud y es incluso mejor ahora que admite conversión por lotes. ¡Impresionante herramienta! "
– Carlos Mario
Conclusion
The above write-up has discussed one of the best and most reliable solutions available in the market to move Rogers emails to your Gmail account. To allow you to test the working and capabilities of this software, the company offers a free version of this application to move only a few emails from Rogers to Gmail. For more other information and help, please contact us.
Also Read: How to download Rogers emails?