How to Transfer Rackspace Email to Gmail | G Suite Account ?
Overview: Are you searching for a method to transfer Rackspace Email to Gmail account? Have you got stuck with the Rackspace webmail and now want to switch to Gmail? If yes, then read this article.
Numerous people use Rackspace for all their email, contact handling, email management, cloud drive, and Web hosting requirements. However, there are many issues that may be holding your work back. As a result, you might be looking for a better option and Gmail is the ideal one. The objective of this post is to throw some light on how to transfer Rackspace email to a Gmail account.
Gmail is one of the most used cloud platforms in the world and is liked by individuals and organizations for its adaptability, convenience, and conveying ability across different devices. It not only provides email service but, also leverages other facilities like Google Docs, Google Drive, Google Hangouts, etc. Moreover, the familiar interface of Gmail is not hidden from anyone. It is simple, classy, and professional.
Normally, moving emails from Rackspace to Gmail with a large number of email threads with your colleagues, clients, customers, and contacts, can appear to be a huge task. Hence, you can follow these guidelines to transfer the Rackspace email to your Gmail account.
Best Professional Solution – Transfer Rackspace Email to Gmail Tool
Grabbing the RecoveryTools Rackspace Backup Tool is one of the best solutions to resolve the problem of migrating Rackspace to Gmail. It offers a self-descriptive Graphical User Interface. You don't need to be a technical expert in order to use this tool.
Get the software by hitting on this link:
Download for Windows Download for Mac
Steps to Migrate Emails from Rackspace to Gmail
Download the software on your Windows PC.
Choose Rackspace & enter its account login details
Now, select the required folders from list
Pick the Gmail option & fill in its login credentials
Begin Rackspace to Gmail migration process.
Follow the below Steps to Transfer Emails from Rackspace to Gmail and G Suite Account
Open the software on your Windows or Mac PC.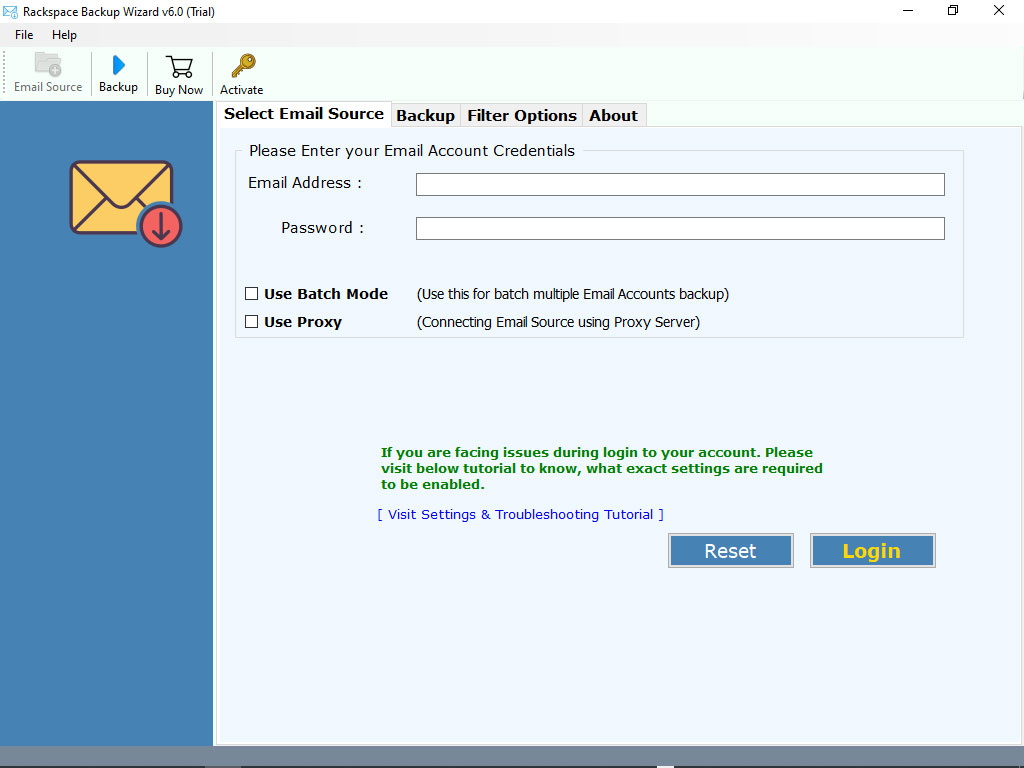 Choose the Rackspace option from the email sources. Specify the email address and password of your Rackspace account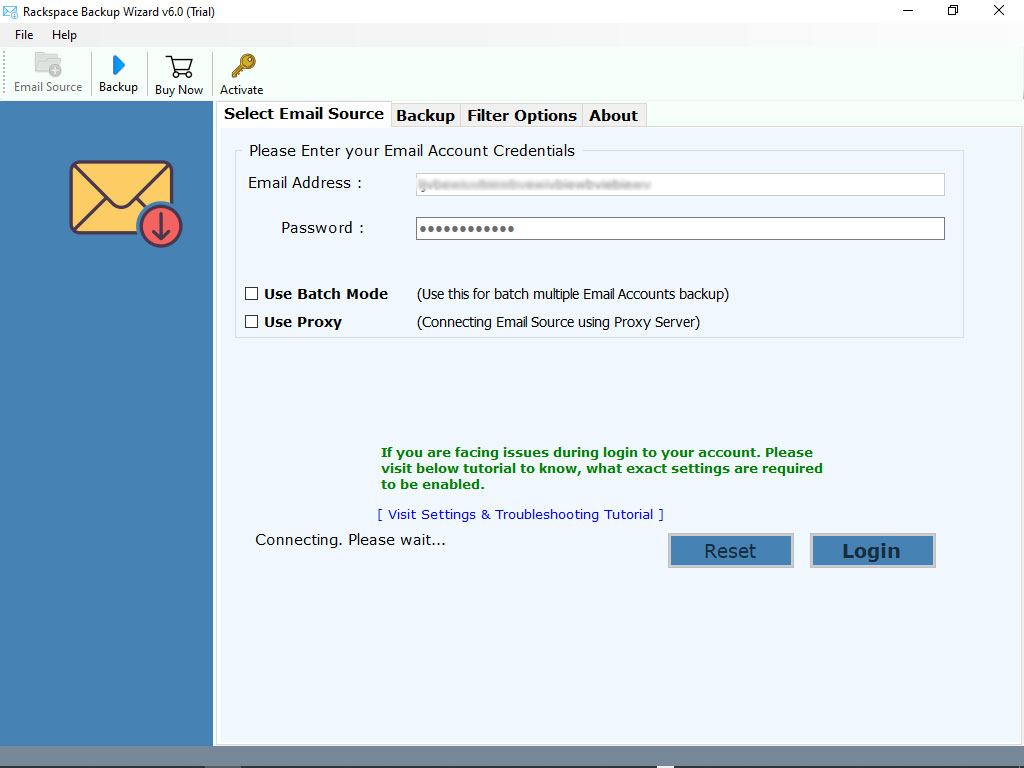 Enable the Batch Mode option in case you have multiple accounts and wish to migrate data from all of them at once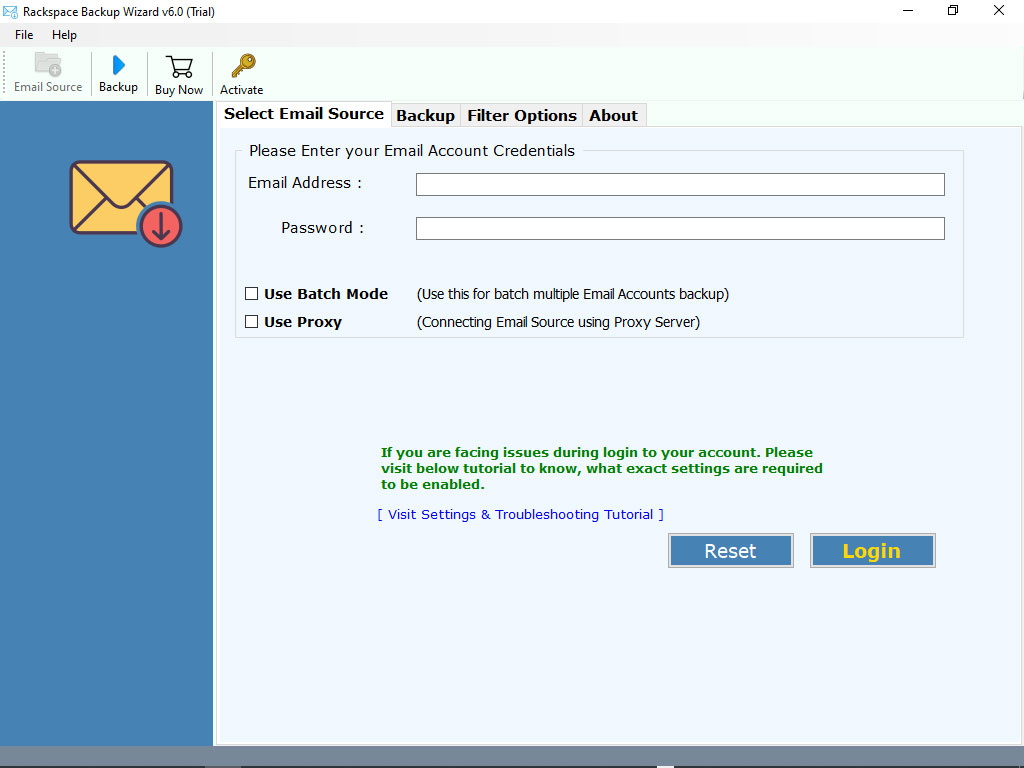 Thereafter, click the Login button and select the email folders that you wish to migrate into your Gmail account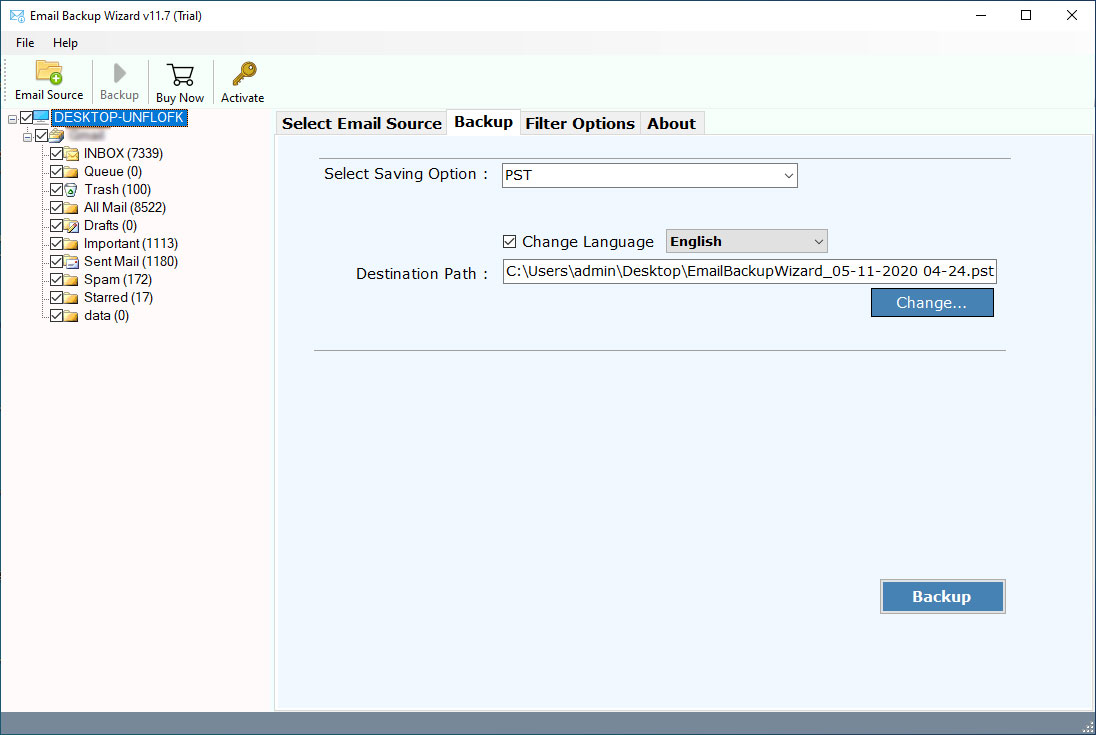 Choose the desired saving option as Gmail from the Select Saving Option drop-down list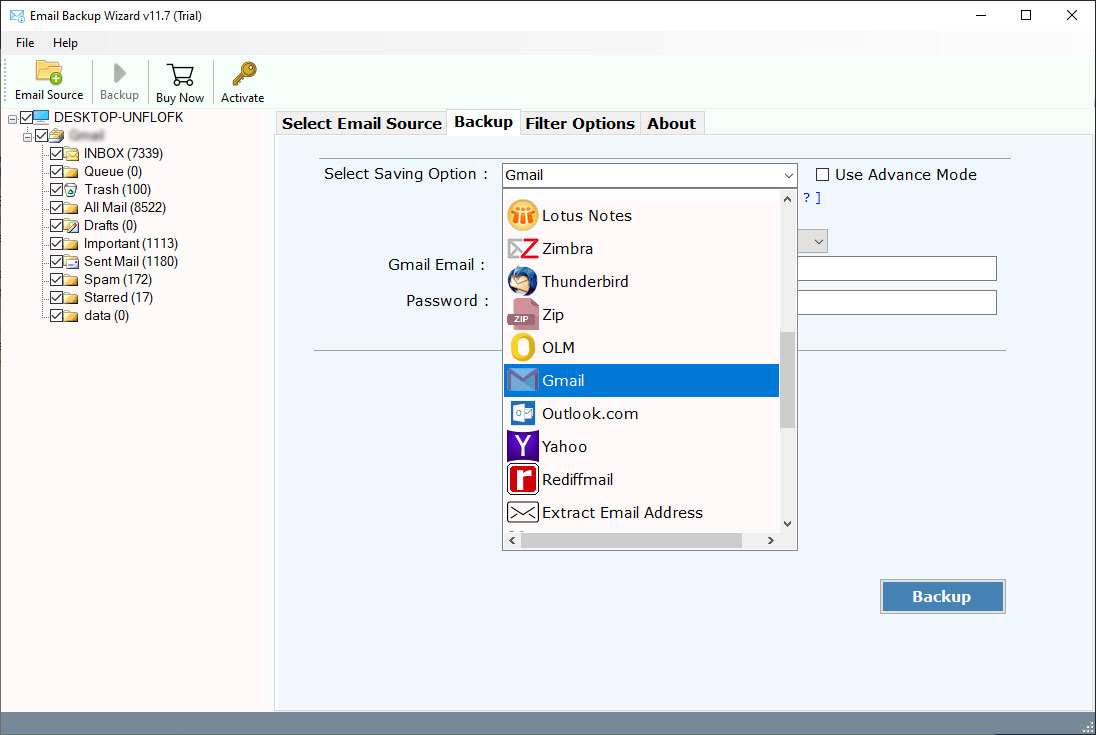 Enter the email ID and password of your Gmail account. For making G Suite the destination, select G Suite from the storage options list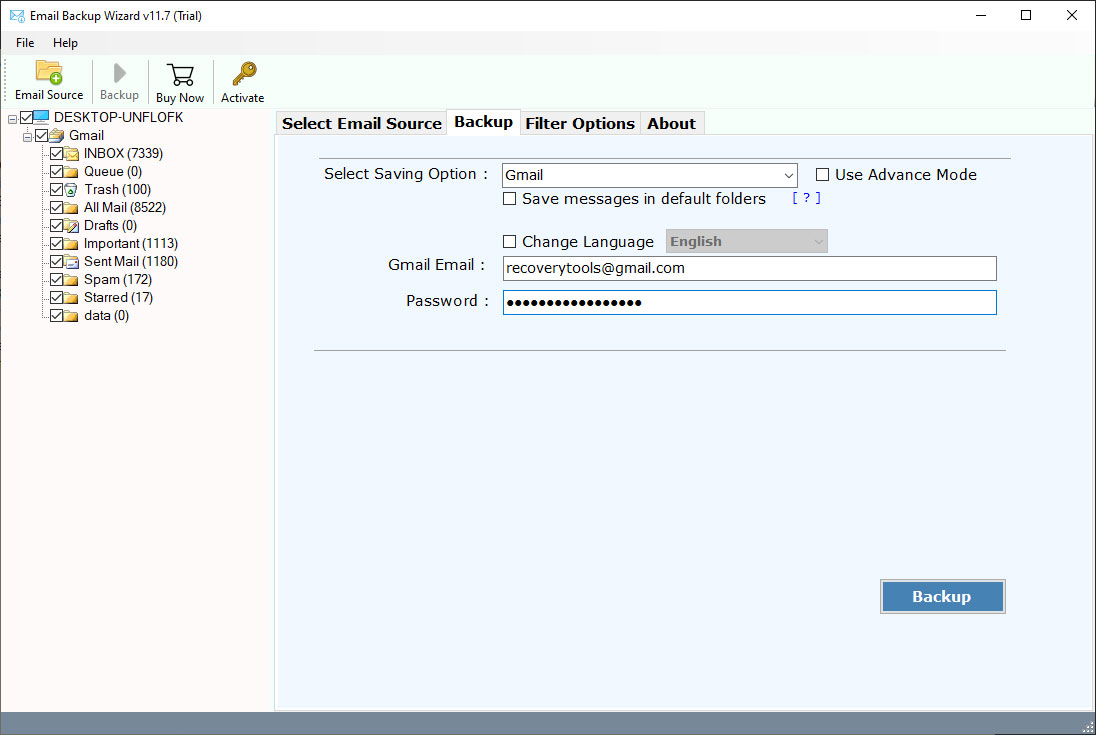 You can also choose the additional filter options for the selective email backup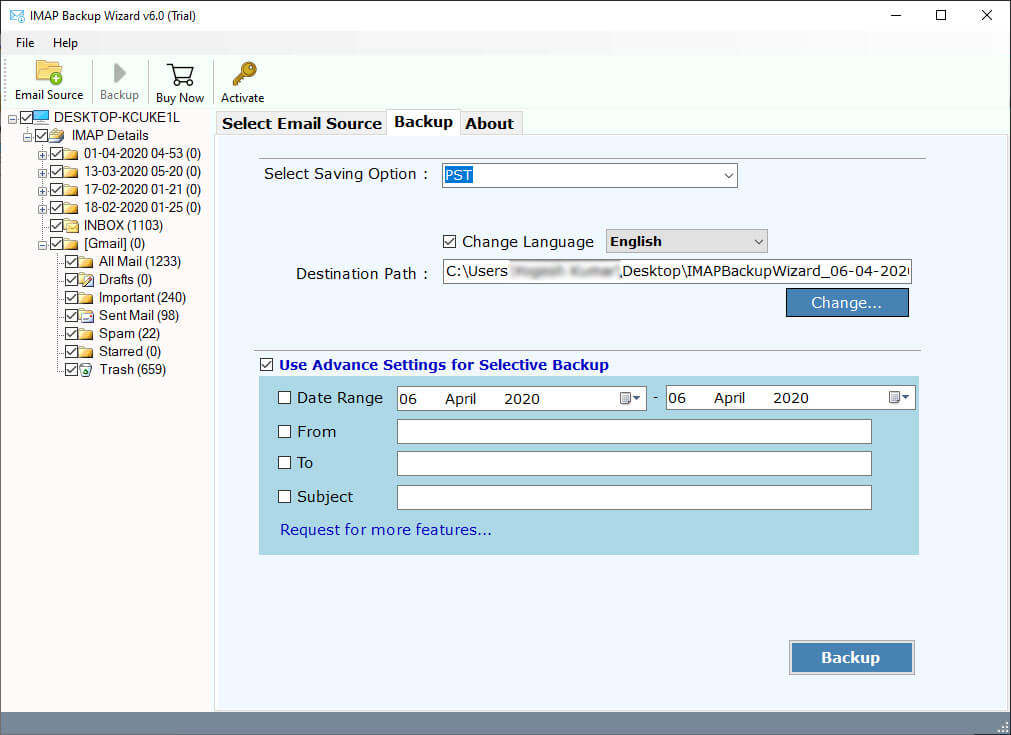 Next, click the Backup tab to start transferring Rackspace emails to Gmail account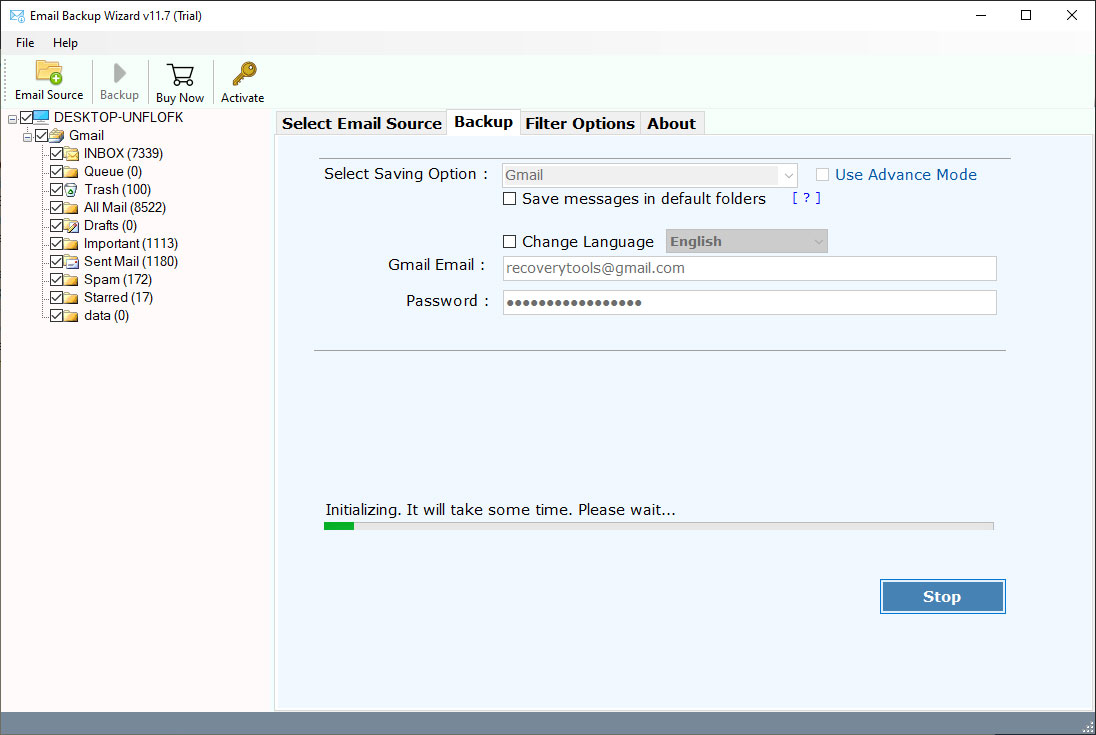 Top Features of Rackspace to Gmail Transfer Tool
We have designed our product methodology in such a manner that there will be zero impact on the email components. There will be no data left behind while transferring Rackspace email to Gmail with this tool. Read on to have a glimpse of some of the unique benefits and features of this software:
By using this application, one can bulk forward Rackspace email to Gmail in batch mode. The batch mode feature allows users to choose more than one Rackspace account. It will ask for a CSV file containing all account credentials. Then, you have to upload the same file in the toolkit.
The tool facilitates the selective transferring of Rackspace email to a Gmail account. This is possible by using various data filters like email address, date interval, and subject.
The software does not impose any restrictions on transferring emails from Rackspace webmail to Gmail account. You can move as many emails and attachments from Rackspace to Google mail.
Preserves Folder Structure:
It keeps intact the internal folder hierarchy during the entire process of transferring Rackspace data to Gmail.
This application preserves all email attributes like sender details, recipient details, subject, email address, text formatting, images, and hyperlinks.
One can evaluate the efficiency of this software by using the trial version, which is absolutely free. The trial allows users to transfer a few email items from the Rackspace server.
The tool provides a secure conversion of Rackspace email to Gmail account. It preserves the integrity of data.
Windows & Mac Supportable:
You can easily install this product on all editions of Microsoft Windows OS like Windows 11, Windows 10, Windows 8.1, Windows 8, Windows 7, Windows XP, Windows Vista, Windows Server 2019, Windows Server 2016, etc. It is compatible with all the latest Mac machines.
Conclusion
Most of the users encounter problems while transferring Rackspace email to Gmail. Such as moving data to an entirely new service, encountering downtime, losing important data, etc. However, you can easily overcome such issues by using the solution explained in this write-up.
Within a couple of mouse clicks, you can transfer unlimited emails from the Rackspace server to your Gmail account with attachments. We hope that this article is helpful for you to implement email migration easily. If you still have any queries in mind, please feel free to contact our support team via live chat or email.