How to Transfer Emails from Bell.net to Gmail / Google Mail Account?
Karen Chard
~ Modified: 25-02-2023 ~ How To ~ 6 Minutes Reading
Overview: Are you thinking about a solution that allows you to export Bell Email to Gmail account? Do you want to know how to transfer emails from Bell to Gmail or Google Mail accounts? If so, this article explains it all. Here, you will get to know a simple method to migrate Bell Email to a Gmail account. So, read the post to know more.
We are living in the era of cloud computing. Cloud storage is the capacity space where we can store our information online in a cloud server. We are moving everything like emails, reports, contacts, pictures, and more to the cloud and webmail accounts.
However, we cannot directly transfer data from one cloud account to another cloud account. Therefore, many people often ask questions on the Internet about finding a reliable solution to transfer Bell's Email to a Gmail account. One such query is as follows:
"Hi, I'm from Ontario, Canada, and have been using Bell Internet service for the past few years. Over the years, I have sent and received several emails from my Bell webmail account. Now, I want to transfer all this data to my personal Gmail account. Can anyone help me to migrate Bell's email to my Gmail account?"
Bell Internet is one of the largest webmail and Internet service providers in Canada. It has over 3 million customers in Ontario and Quebec, making it the largest ISP in Canada.
However, in May 2017, 1.9 million Bell clients' email addresses including their names, and phone numbers were stolen. Also, in Jan 2018, another security breach occurred affecting nearly 100 thousand Bell clients.
That's the reason why lots of users want to migrate from Bell Email to Gmail account.
A Perfect Solution of Bell Email to Gmail Migration
We all know that Gmail is one of the most secure platforms to store data. But we cannot manually transfer Bell's email to the Gmail account. That's why we need a professional solution.
RecoveryTools Email Backup Wizard is one of the best solutions in the world to do this task. It provides an amazing service to migrate Bell Email to a Gmail account directly. You just need to provide valid credentials for both platforms in the tool's interface to make it directly transfer all the information from your Bell account to Google Mail. One of the best things about this application is that it will maintain all the meta-properties of your emails.
Get the Solution:
Steps to Migrate Bell Emails to Gmail Account:
Launch & run the solution on your workstation.
Select IMAP and enter Bell account credentials.
Choose the required Bell Webmail folders in the panel.
Now, select the Gmail option and fill in all Gmail account details.
Start the process to transfer Bell Email to your Gmail account.
How to Transfer Emails from Bell to Gmail Account?
First of all, you need to download or install this application on your Windows or Mac- based computer.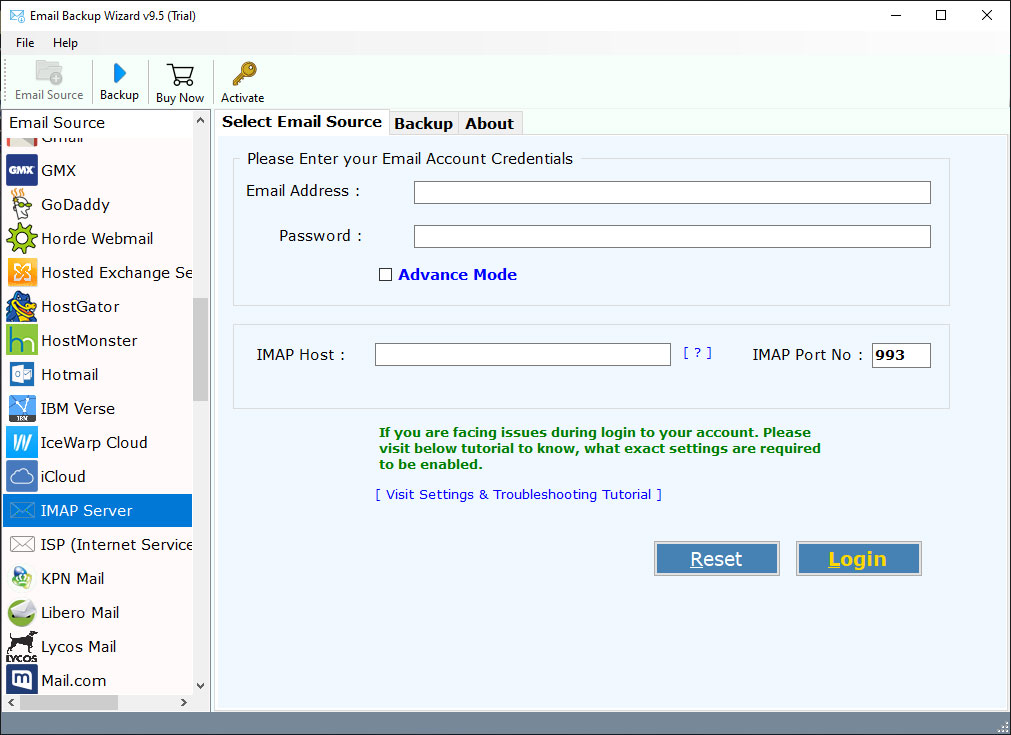 Choose the IMAP option in the list of email services.
Now, enter the Bell IMAP Settings and your user's name and password:
Bell IMAP Settings:
User Name: your email address name.
Password: your account password.
IMAP Address: bell.net
IMAP Port No.: 993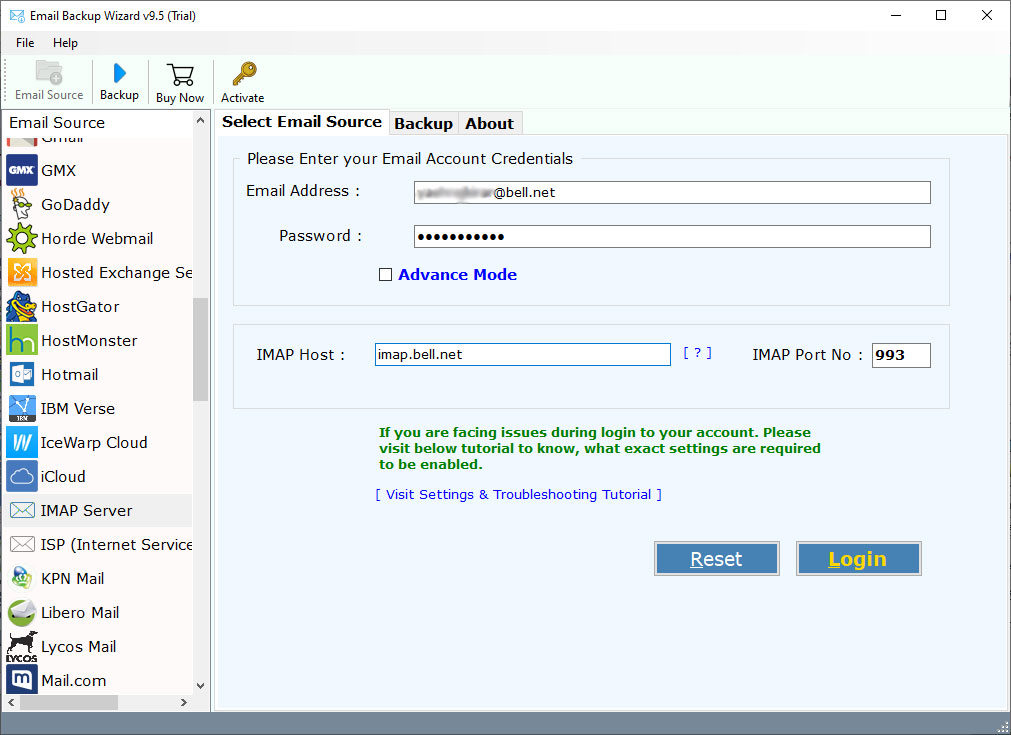 Select the desired Bell Email folders from the given list.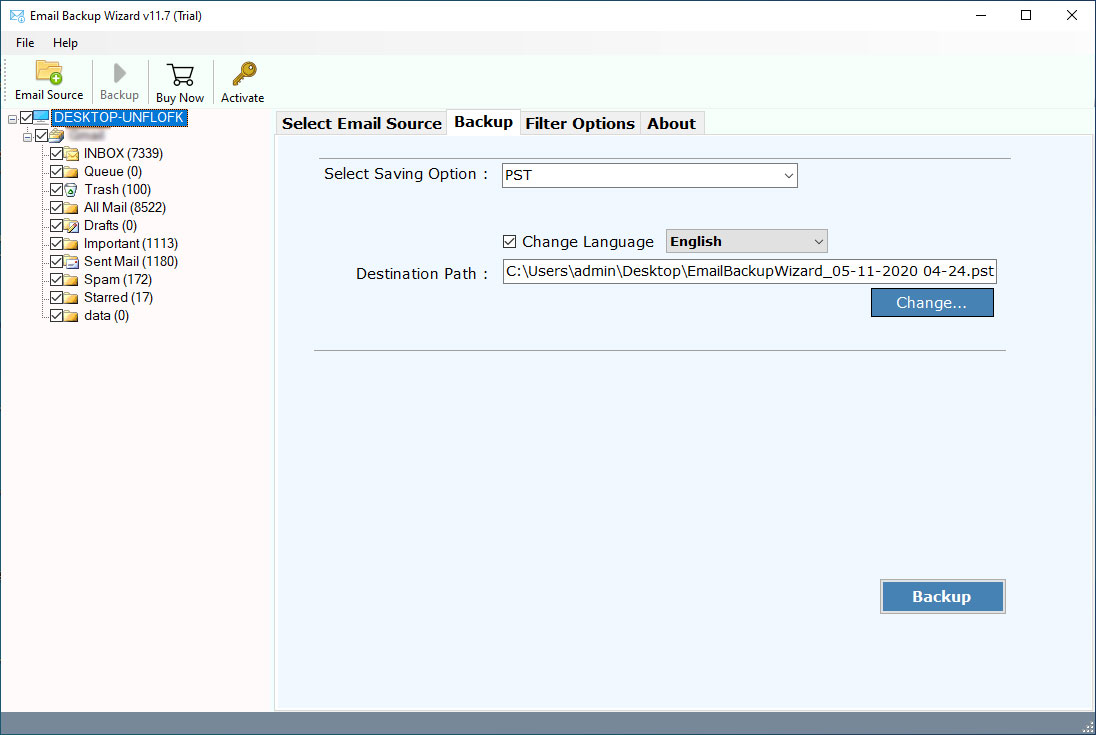 Choose the Gmail option from the list of saving options.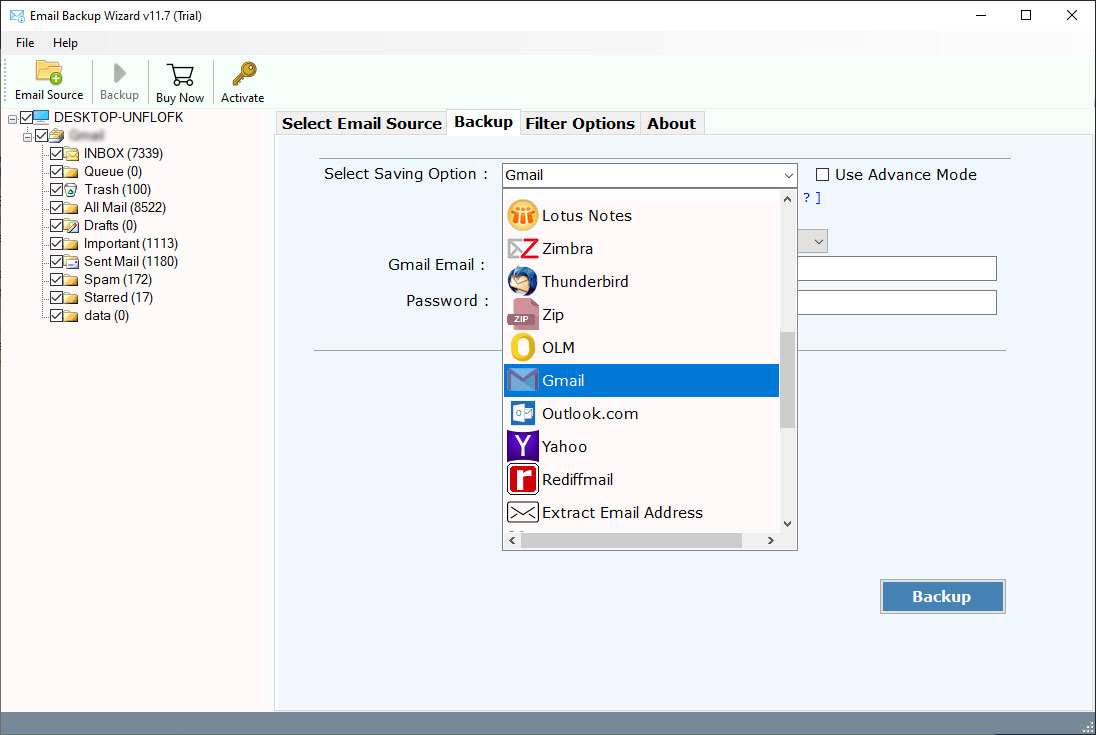 Now, enter your Gmail account credentials in the panel.
Note: If you face any issues while logging in to your Gmail account, create an APP password or contact the support team.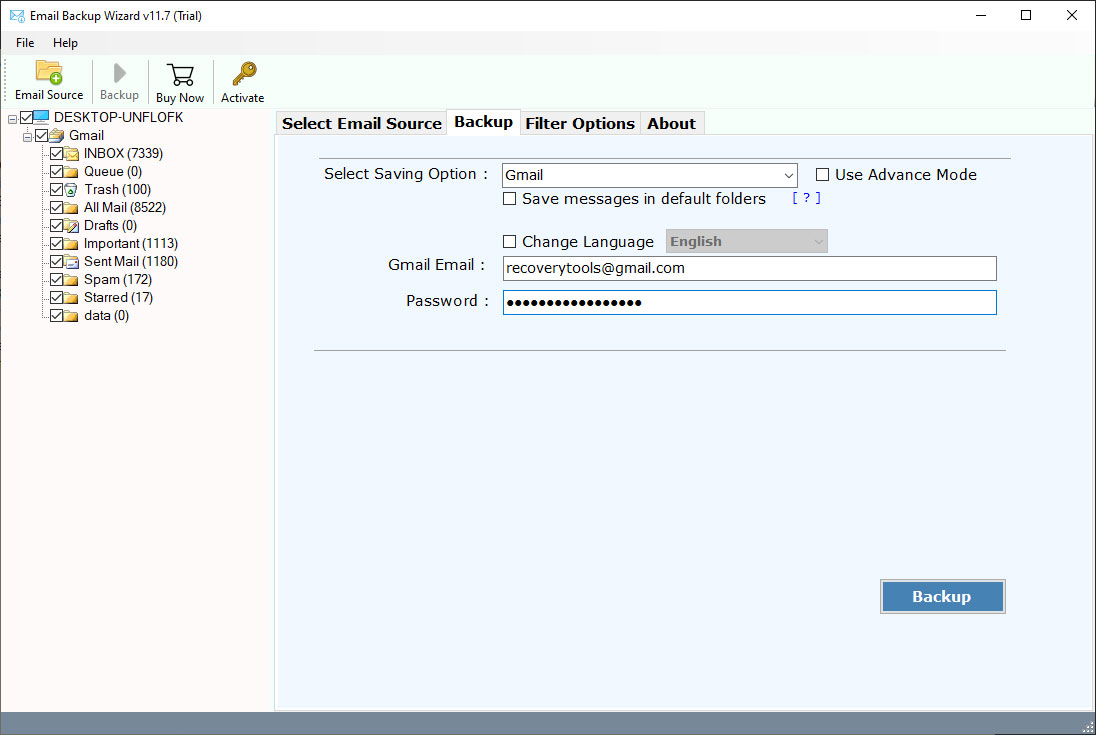 Choose additional filter settings if you need to migrate only some selective data from Bell to Gmail.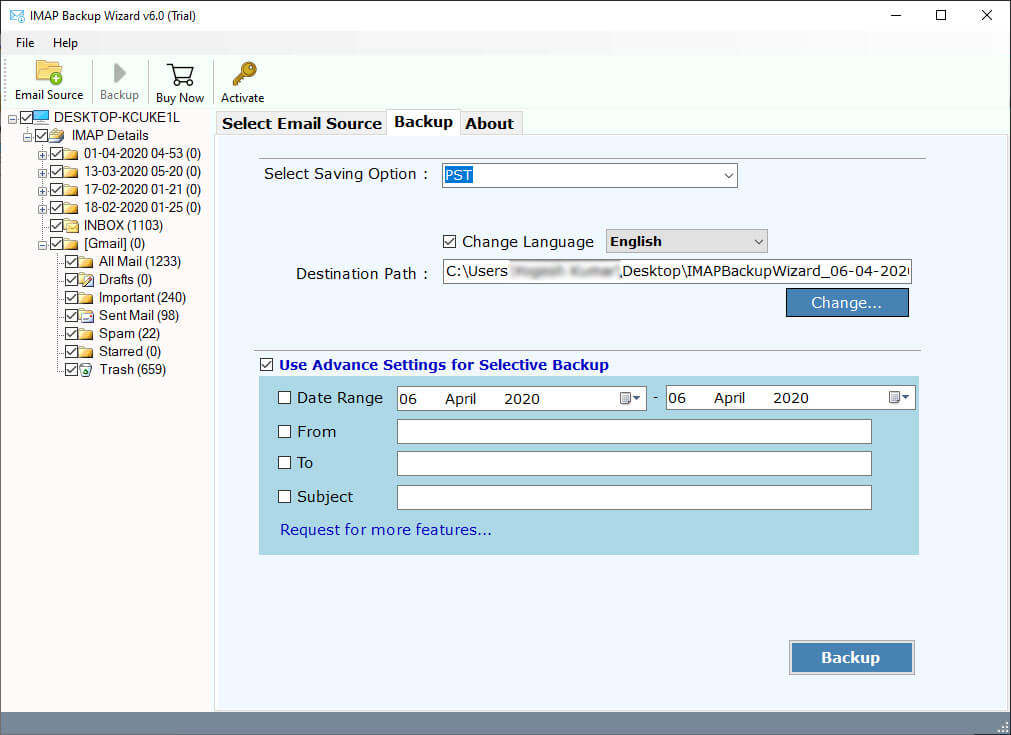 Finally, press the Backup button to transfer emails from Bell to the Gmail account directly.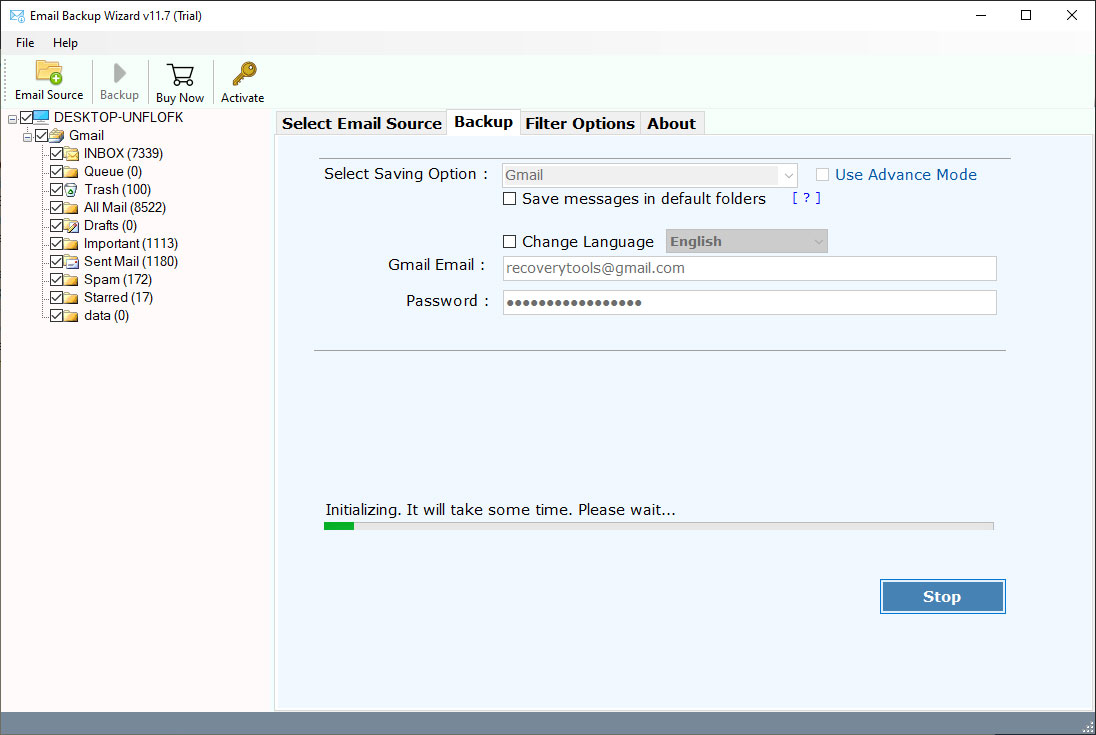 Key Features of the Bell to Gmail Migration Tool
Transfer Selected & Complete Bell Webmail Data:
The solution lets you transfer only the selective or the entire mailbox data to the Gmail account. After connecting to your webmail account, the solution allows you to choose the required email folder. Here, you can easily mark and unmark the email folders that you want to move from Bell to your Gmail account.
Transfer Bell Account to Gmail or Another Webmail Service:
The solution gives the facility to migrate emails from Bell to Gmail accounts directly. Also, the solution offers many webmail options such as Yahoo Mail, Office 365, Outlook.com, and Exchange Server.
Advance Settings Option to Migrate Only Important Emails:
It offers many alternative filter options that allow you to migrate selected emails from Bell to your Gmail account directly. You can utilize the options to migrate emails by date, subject, email address, and so on.
The Bell to Gmail Migration tool maintains all email components & attributes during the transfer process. It maintains all original entities such as emails with attachments, subjects of emails, images, text, formatting, etc.
We provide round-the-clock support to our users. You can contact us at any time and we will be available to solve your problems without delay.
Support with Microsoft Windows & Mac OS X Only:
It is one of the best applications that can easily uphold all editions of Microsoft Windows and Mac OS X operating systems. You can easily install this application on Windows 11, Windows Server 2019, and all the lower editions.
Frequently Asked Questions
What is the Bell Email IMAP Server location address?
You can use the following information to get your Bell account data easily.:
(Bell Canada email) IMAP Address: bell.net
IMAP Address Port Number: 993
Security of IMAP: SSL/TLS
Would I be able to transfer Bell's email to Google Workspace by using your product?
Yes, the product allows you to move all your Bell account data to your Google Workspace account without any issues.
Does your product give numerous alternative filters to export only selected Bell Emails to Gmail?
Yes, it offers many filter options to allow users to export only the desired data from Bell Email to their Gmail account.
Can I install this product on my Windows Server machines?
Yes, this product works on all Microsoft Server machines without any issues. You can install it on Windows Server 2019, 2016, 2012, etc.
Let's Conclude
This write-up explains how to migrate Bell email to a Gmail account. The automated product suggested in this blog gives you a complete and direct solution to transfer emails from your Bell account to Gmail account. You can also try the demo version of the solution for free to migrate a few emails from Bell to Gmail account. For any other queries, contact the technical team.