How to Split Large MBOX Files of Thunderbird or Gmail ?
Karen Chard
~ Modified: 09-06-2022 ~ How To ~ 6 Minutes Reading
Overview: Are you want to split a large MBOX file into smaller part ? Or you have downloaded a large Gmail MBOX or Thunderbird MBOX file. And you want to split MBOX file ? If so, then read this article. Here you will get a simple and easy-to-use solution to divide MBOX file into small parts. Read more to know more.
There are millions of users who are seriously affected by the oversized MBOX files and their consequences. The large-sized MBOX files lead to various issues and cause especially crashing of the program, lapsing huge timing on loading mailbox items, hardware failure issues while sharing such large files, etc.
MBOX files are obtained from a large number of email clients and services. Some of them are Apple Mail, Webmail, PocoMail, Gmail, Postbox, Entourage, Eudora, Opera, Netscape, Thunderbird, Spicebird, Evolution, Power Mail, Claws Mail, SeaMonkey, Sylpheed, GyazMail, Gnu, Mulberry, Sparrow, The Bat! etc. Some use the original version of the MBOX file while others use an extended or modified edition of the mailbox file.
This article describes three manual & free ways to split large MBOX files into smaller or individual files. There is also an expert's recommended MBOX Splitter Wizard, which enables the users to split MBOX file into smaller files on the basis of Date, Size, or From the User fields. It also allows splitting MBOX files for the emails between two dates.
Oversized MBOX File – Common Failure Issues
In MBOX Files, all the email content and related information are saved in a single text file. All the emails and messages are saved in serial one after another. Each message is separated with the 'From' keyword while it terminates with a blank line.
An email conversation is a continuous process. A user may receive several emails on the regular basis. Hence the size of the mailbox file attached with it is also getting increased. It results in the various causes of working with MBOX files like an error in opening MBOX file, incompatibility with the platform, etc.
The major issue that is faced by the users is the corruption of MBOX file. Large MBOX files are also seen to be causing abnormal behavior in some mail clients. As though, there is no file size limitation imposed by new Thunderbird editions for saving emails on MBOX file in present time. But, older Thunderbird versions support MBOX files only up to 4 GB.
Requirements for Splitting MBOX File into Smaller Files:
As in the previous section we have discussed how users face various problems. You can better understand about this scenario by analyzing the following user's queries:
My mail list has been hoarded with MBOX File and Thunderbird mailbox size limit exceeded to about 5 GB. Due to large size of MBOX file I was unable to open my mailbox items in Thunderbird and any of the other Email Client. I decided to finally split MBOX file into smaller files so that I can share them with my client easily. All references are acknowledged. Thanks in Advance!

Eric Neyas, Texas, 26 June 2018
A Professional MBOX Splitter Wizard Toolkit:
Both methods discussed above are completely free and require just some manual tricks to split MBOX files. But, to accomplish it, a user must take care of the fidelity of the emails. It may harm the internal folder structure and integrity of the emails. Finding only the required messages from a large number of mailbox items and performing operations upon them one by one is not so quite easy.
Hence, to split MBOX into a separate file we need advanced and professional MBOX Splitter software. In this scenario, there comes the MBOX Splitter Wizard that allows a user to split MBOX by Date, Split MBOX into individual messages by User ID (from), or Split MBOX file on the basis of size. It allows splitting all types of MBOX files including Thunderbird, Google Takeout, etc.
Download this amazing MBOX Splitter Wizard from Given below link:
Note: The software will allow splitting only the first 25 emails to a new file during the trial version. The working of the utility is very simple. It also displays the preview of the emails in its working panel. One can analyze its working with the help of its working screenshot.
How to Reduce MBOX File Size ?
As oversized MBOX files lead to file corruption issues, therefore, it is a wise choice for the users to compact, reduce, extract attachments from MBOX file or split MBOX file to make them easily manageable. Users can perform these free and manual tricks to reduce the size of the Oversized MBOX file.
Follow the given procedure to reduce Large MBOX file size:
First of all, you need to get the solution on your computer machine.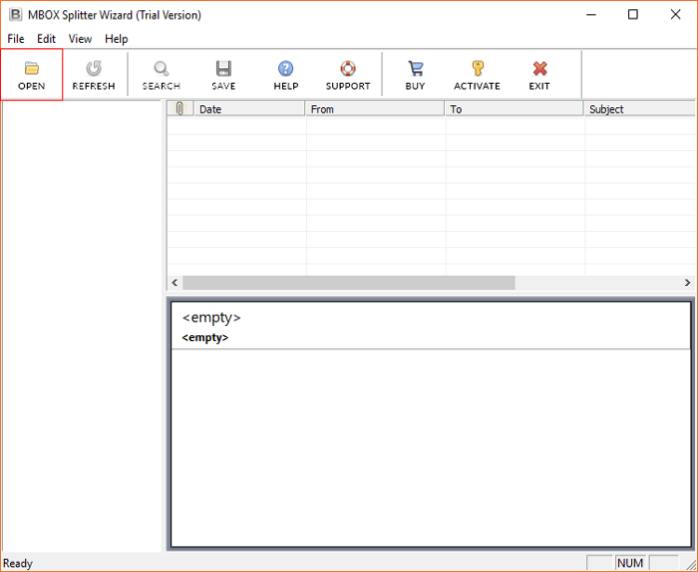 Now, open the MBOX file location with the browse option.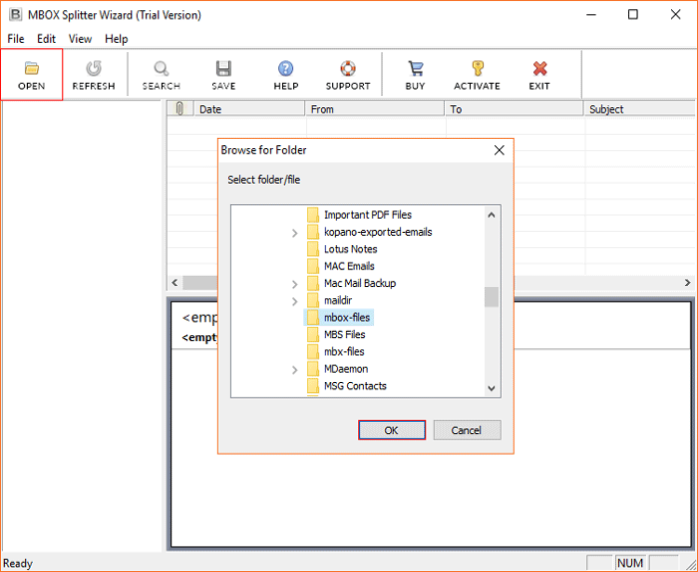 Choose the folder options and select the Save option.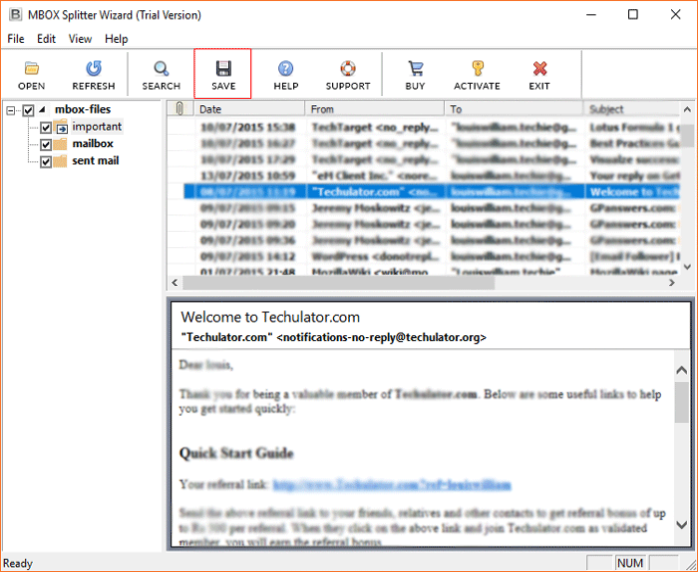 One can easily change or choose splitter options according to your requirements.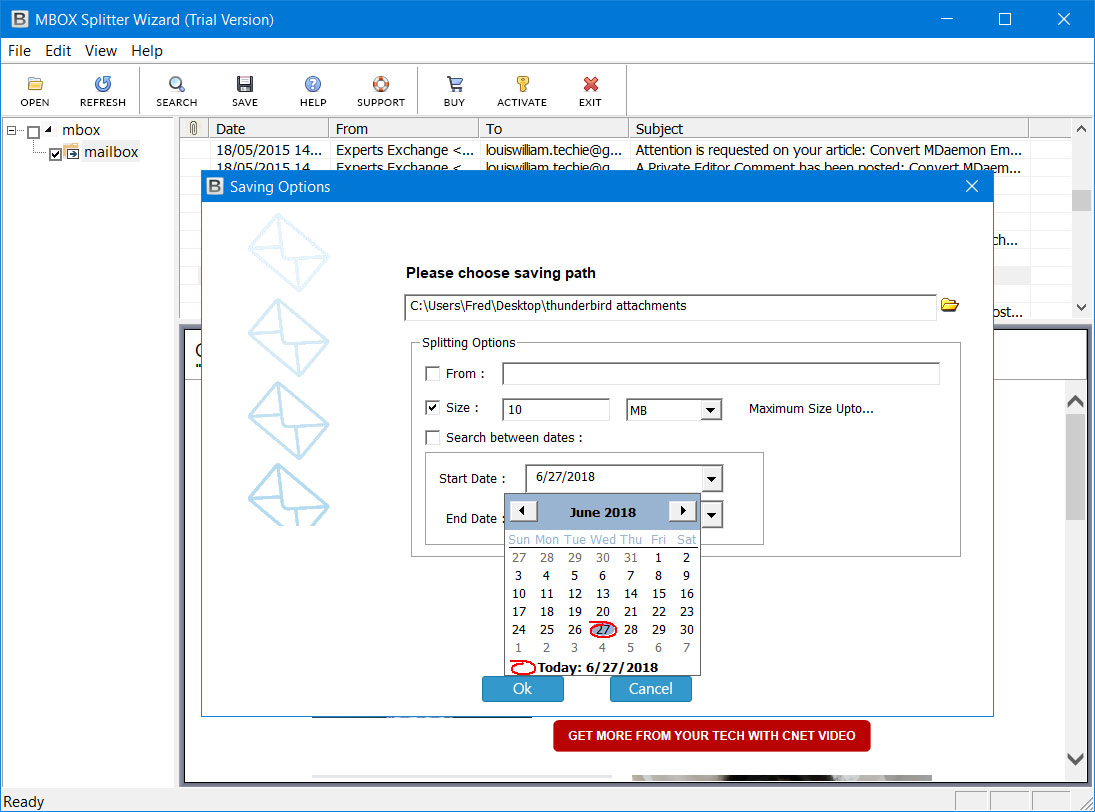 Start the process by clicking on the Next button.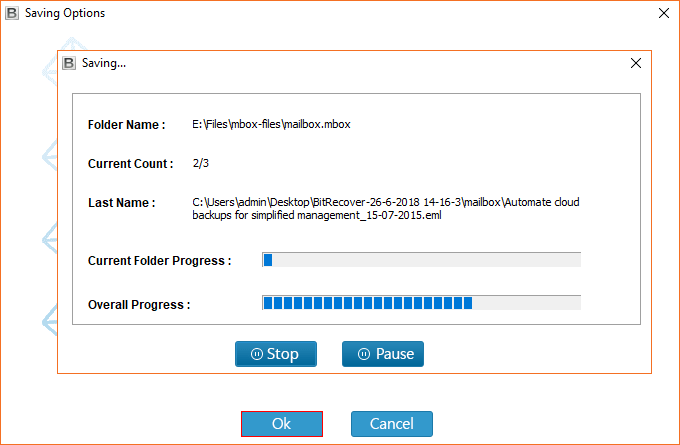 The Major advantages of Splitting MBOX Files are:
Share only the required emails to your seniors or colleagues instead of whole mailbox.
As large MBOX files gives more chances to corrupt, hence splitting it ensures the data security.
Corresponding email client hangs for long time and consumes more time. Hence, loading only a few mailbox items will certainly reduce time in loading mailbox items.
Delete Unnecessary Emails and Compact File:
It is a good approach to reduce the MBOX file size by deleting unnecessary emails. There are several messages, newsletters, advertisements, manuals, and spamming content which is totally unnecessary. These messages rapidly increase the size of the mailbox file and deleting them is no doubt helps to compact the MBOX file size. Once you deleted the unnecessary emails, it is essential to compact the folders also to reclaim the deleted message space as in most of the email clients, it is not done automatically.
Split MBOX Files by Cut/Paste Information from Original File:
A user can also separate desired emails from the MBOX file and create a new mailbox file containing the message information. It can be done simply by Cutting/Pasting the details from the MBOX file corresponding to the desired emails to a new file. As MBOX files are simple Text enriched archives containing lots of messages. A user can identify and separate each email as its information by finding the unique message ID.
The Verge:
A large number of email clients are responsible to create MBOX files. With time, the emails are continuously received and sent by the user hence increasing the size of the MBOX file rapidly. But as it leads to various issues, then most of the users decided to fix this issue by breaking or splitting the MBOX file into smaller parts.
This article successfully describes the whole scenario about oversized MBOX files and how to manage them. It solves various queries of the users like 'how can I split large MBOX files, how to break MBOX files into smaller parts, how can I split MBOX by date' etc.