How to Export Emails from SmarterMail to Zimbra Platform ?
Karen Chard
~ Modified: 02-06-2022 ~ SmarterMail ~ 6 Minutes Reading
Overview: Are you finding a method to transfer emails from SmarterMail to Zimbra Desktop ? Or learn the way to export SmarterMail emails to Zimbra TGZ format ? If yes, then read this article. In this post, users will get to know about how can a user convert SmarterMail to Zimbra (Server & Email Client). If you are also looking for an advanced solution to export SmarterMail to Zimbra Mail clients instantly & quickly, then continue reading.
SmarterMail delivers an Exchange level email server that features a fraction of the cost. SmarterMail has very lower hardware requirements, superior abilities, & reduced maintenance costs. It has very low TCO (Total Cost of Ownership) & is the best-in-class Microsoft Exchange alternative for the management of businesses & hosting companies. It also comes up with Webmail, instant messaging, desktop, & mobile sync, user collaboration & more of it.
On the contrary, Zimbra Mail Server or ZCS has a complete email management package that allows the users to manage & organize. Zimbra has evolved into a free, open-source software that is not compatible with Microsoft Exchange. Zimbra will not go bad as all the current versions of Zimbra by VMware developer Cloud Zimbra so famous would be improved.
SmarterMail Server users can switch from SmarterMail mailbox items to Zimbra Mail clients. A lot of SmarterMail users want to move on SmarterMail Server to Zimbra Mail client available for free working. SmarterMail to Zimbra Migration toolkit is very beneficial among the users. Learn how to convert SmarterMail to Zimbra Mail client in easy steps by using this SmarterMail Mailbox to Zimbra Migration toolkit.
A Perfect Solution – SmarterMail to Zimbra Converter
A lot of SmarterMail users want to migrate SmarterMail Server to Zimbra Mail Server which is available for completely free of cost. This can be done with the help of RecoveryTools SmarterMail Migrator software by converting directly them into Zimbra Mail client. This utility needed to switch SmarterMail Server to Zimbra Mail Server without making any loss in its previous information like Emails, Contacts, Calendars, Tasks, Notes, Journals, etc. You can easily get the solution on your Windows Server and Windows Workstation machines.
Free Download SmarterMail to Zimbra Migration Toolkit:
How to Migrate Emails from SmarterMail to Zimbra Desktop ?
The working of this SmarterMail to Zimbra Mail Migration tool is very easy & simplified. Follow these simple steps to accomplish the SmarterMail to Zimbra Conversion:
Install & Run SmarterMail to Zimbra Export tool & then Read all the important instructions.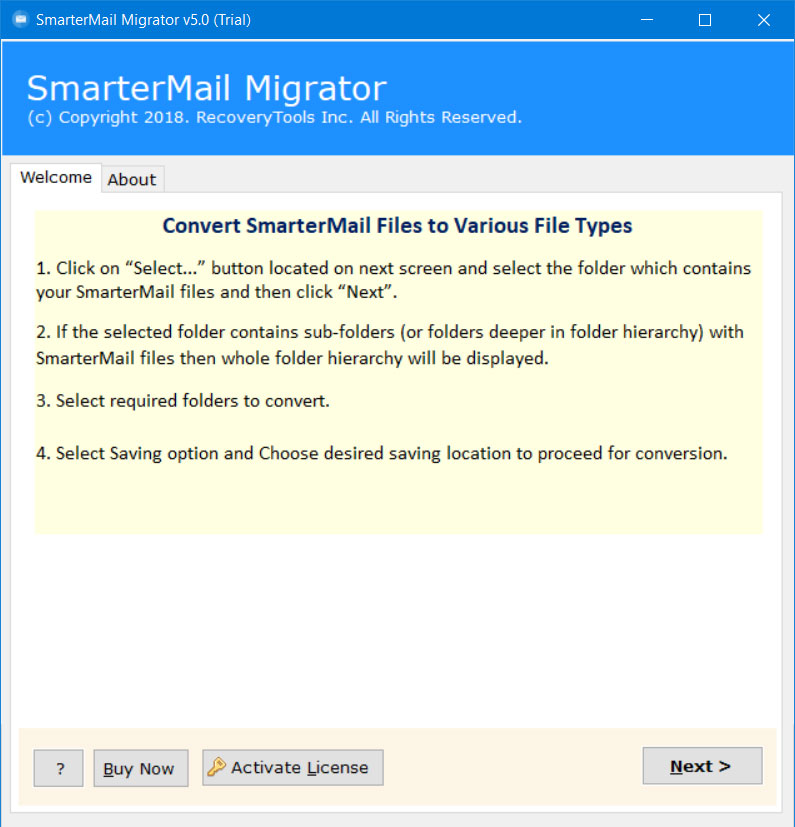 Load SmarterMail mailbox items from source file path & select the folder having SmarterMail user's data by click on Select Files or Select Folders.
The software will also display all the SmarterMail mailbox items like Domains, Users, Administrators, Contacts, Inbox, Sent Items, Drafts, Junk, Sent, etc. mailbox folders.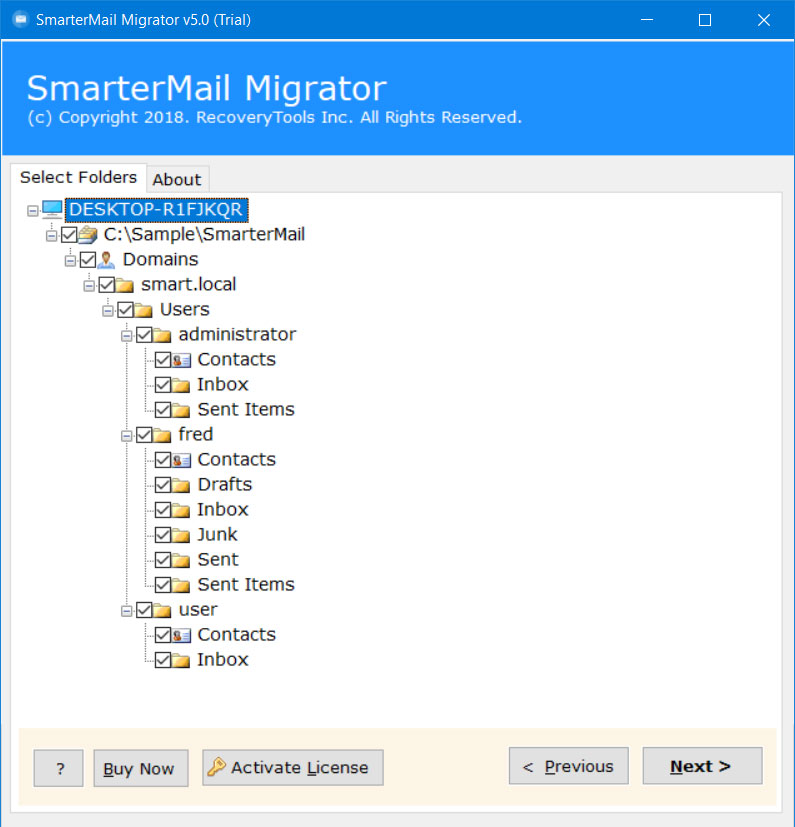 Choose the Zimbra option from the list of 20+ Saving options & then click on Next.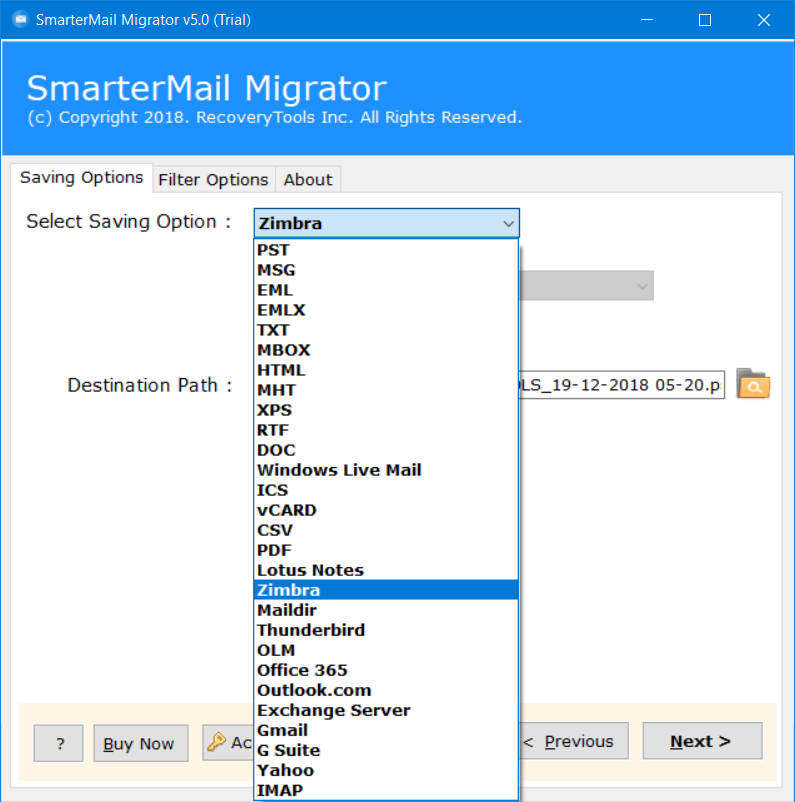 Setup SmarterMail to Zimbra conversion options in the application panel.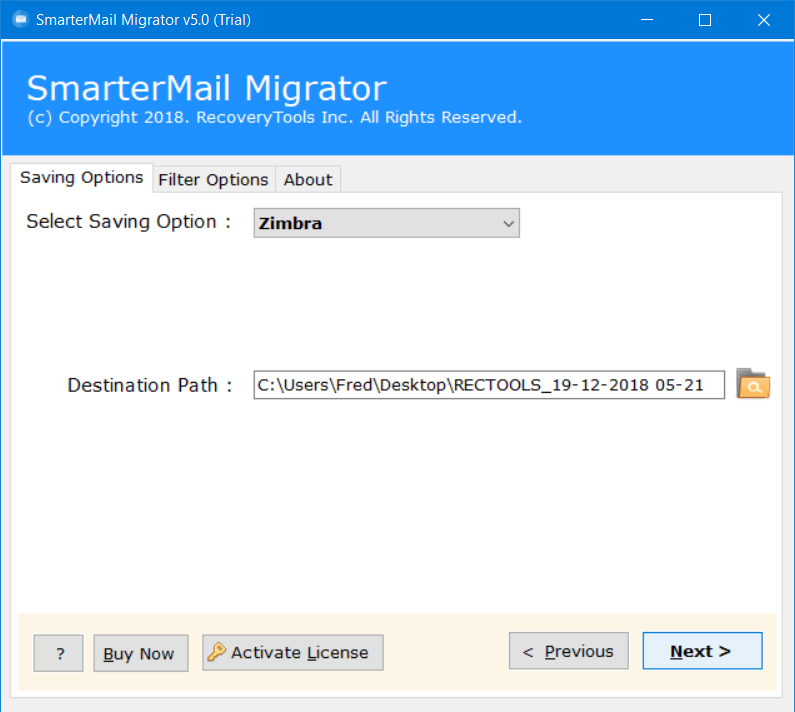 If you want to change the default destination location from Desktop then click on Folder Icon & then select the desired destination folder.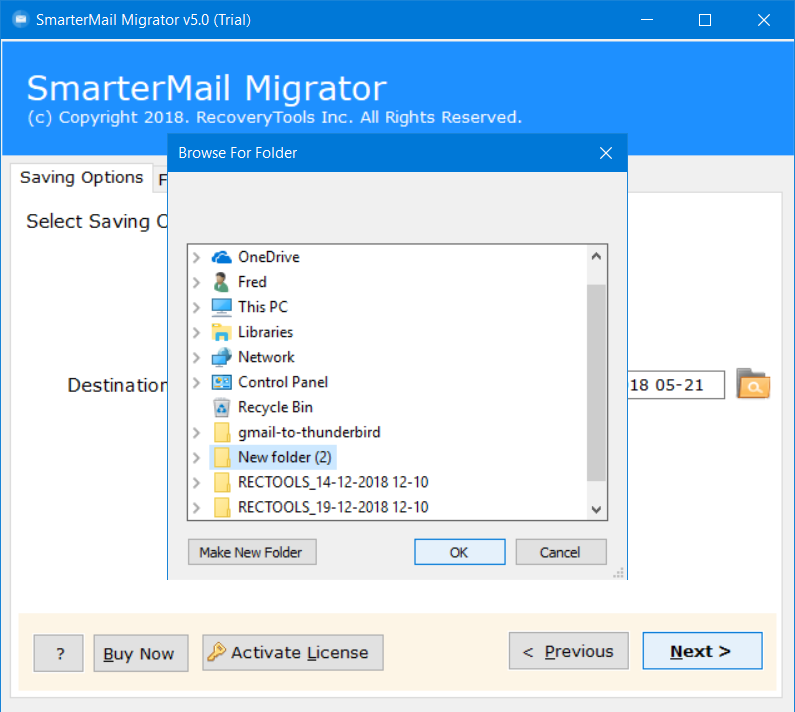 Users can also apply Advanced Filters Settings for selective conversion of SmarterMail to Zimbra mailbox on the basis of Date Range, To, From, Subject or Exclude any unwanted folders.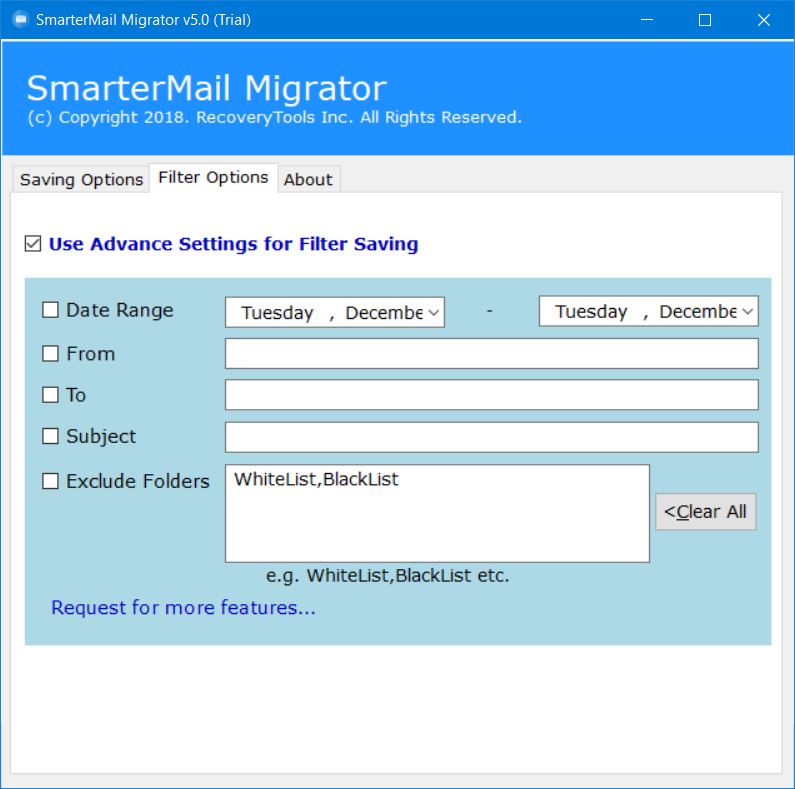 Click on the Next button which will initialize the live SmarterMail to Zimbra migration process.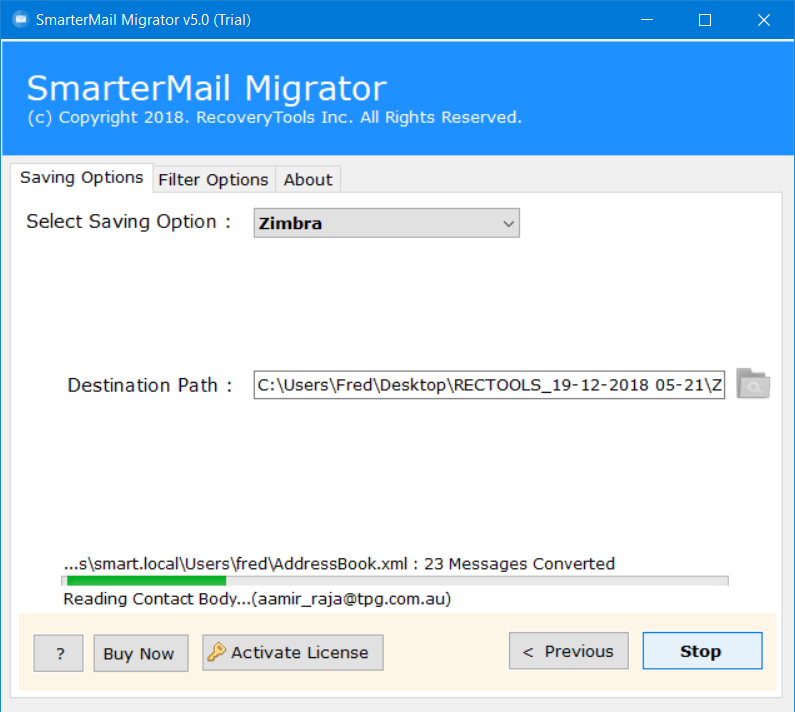 After the conversion process is finished users can click on the OK button to exit.

After that, the utility will Create a SavingLog report which includes all the important information like Saving Date & Type, Saving Type, Source Folder Path, Number of Items Converted, Destination Path, & final Status of the process.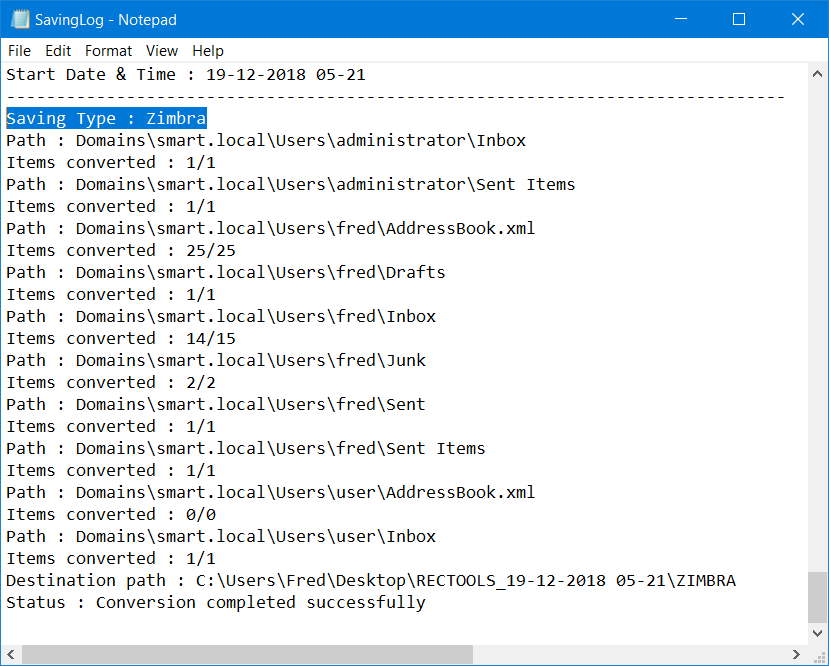 As we can easily analyze from above that the working of this SmarterMail to Zimbra Converter tool is very easy & simplified. The software never needed to have any third-party application installed in the software panel. Any non-technical user having no SmarterMail to Zimbra migration knowledge can also use this software.
SmarterMail to Zimbra Converter Tool – Major Features & Benefits:
Batch Export SmarterMail to Zimbra Mail:
This software allows the users to batch export multiple SmarterMail users to Zimbra Mail clients. When a software clicks on the Select Folder option then the utility will provide, I am Converting Multiple Users When all the mailbox items will be loaded then all the mailbox folders will be displayed in its panel.
Advanced Filters Settings for Selective Conversion of Items:
This advanced software increases the efficiency of the users by providing them some Advanced Filters Settings for selective backup of SmarterMail to Zimbra mailbox format. One can also easily separate the mailbox folders by applying filters like Date Range, To, From, Subject as well Exclude Unwanted Folders in the application panel.
Convert SmarterMail to Zimbra TGZ File:
This application allows to batch convert SmarterMail to Zimbra mailbox file. The software is completely standalone to perform its work & does not requires Zimbra Mail installation. The utility will convert SmarterMail to TGZ file & then the resultant TGZ files can be imported into Zimbra email client.
Preserves Original Folder Structure & Hierarchy:
This utility manages the migration of SmarterMail mailbox items to the Zimbra Mail client. The software will maintain all the properties of emails completely preserved like To, Cc, Bcc, Subject, & content of the message. The SmarterMail to Zimbra mailbox migration tool maintains the on-disk folder hierarchy among the mailboxes items.
Fully Windows Compatible Solution:
This SmarterMail to Zimbra Converter software is primarily designed for Windows Operating System. Anyone can easily run this amazing software on all Microsoft Windows versions i.e. Windows 10, Windows 8.1, Windows 8, Windows Server 2019, 2016, etc. You can also install this application on both 32-bit & 64-bit OS editions.
The Verge
After reading this article, you will get knowledge about how to transfer emails from SmarterMail to Zimbra Desktop. If you have similar problems, then you can read the post and download the solution on your computer. You can also try the demo edition of this application to test the software's working process first. The free version allows you to migrate only a few emails from SmarterMail to Zimbra. For the unlimited migration process, you can also purchase the licensed edition of this tool. If you have any other issues, then contact the technical support team.