How to Export SmarterMail to Outlook 2019, 2016, 2013, 2010, 2007, 2003 ?
Karen Chard
~ Modified: 02-06-2022 ~ SmarterMail ~ 6 Minutes Reading
Overview: Are you looking for a method to import SmarterMail Emails to Outlook program ? Or want to know how to export SmarterMail emails to Outlook 2019, 2016, 2013, 2010, 2007, etc. ? If so, then read this article to know more. In this article, you will find a solution that allows you to move emails from SmarterMail to Outlook directly. So, read this post to know more.
SmarterMail is one of the best email servers on the earth. It provides lots of benefits such as collaboration and group chat, email archiving facilities, data migration process, award-winning email solution, and more. It is supportable for large and medium size of businesses.
A large number of users are regularly asking on various forums & platforms about how can they convert SmarterMail mailbox to PST file. Some of the major queries are listed below:
"Hello,
My company is currently hosting our website and emails with a local hosting company. We are starting the transition from them to GoDaddy as our host due to price. That company uses SmarterMail for the email client. We have lots of important emails and files saved on our SmarterMail accounts.
I'm having issues trying to figure out how to migrate all of our emails that are saved on them into a new client. It needs to be online or offline accessible, so I think we will go with Outlook Mail. Does anyone know a good way to ensure all emails get moved from SmarterMail to Outlook.com? We have to make this process as quick and easy as possible!
Any feedback would be greatly appreciated!"
Expert Solution – SmarterMail to Outlook Converter
Free Download SmarterMail to Outlook Migration tool which enables the users to import SmarterMail emails to Outlook. Hence by doing so, one can easily import SmarterMail emails, contacts, calendars into Outlook 2019, 2016, 2013, 2010, 2007, 2003, 2002 all older & newer versions. With the help of advanced RecoveryTools SmarterMail Migrator you will create a UNICODE Outlook file for all editions. There is no need for Outlook installation for the working of this software. You can download the solution by below buttons.
SmarterMail to PST Converter Tool Free Download:
How to Migrate Emails from SmarterMail to Outlook ?
The working of this amazing tool is very easy to understand due to its simplified user interface. Any non-technical user can perform the SmarterMail to Outlook migration just by following these simple steps:
Install & Start the SmarterMail Migrator software and read all important instructions displayed on the Home screen.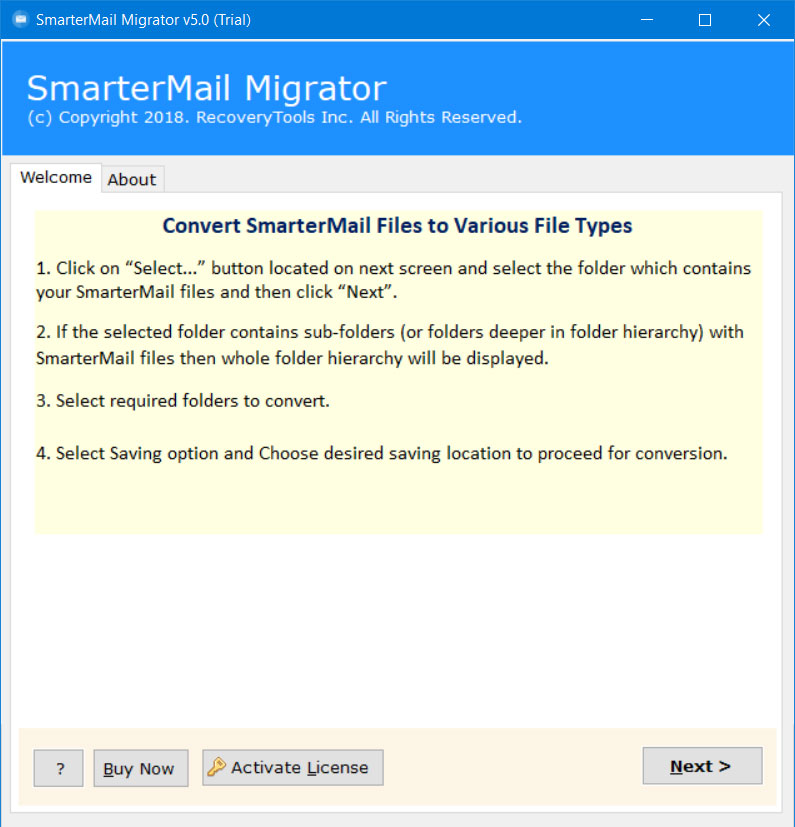 The software requires users to upload the SmarterMail mailbox items by dual ways on the basis of by Files or by Folders.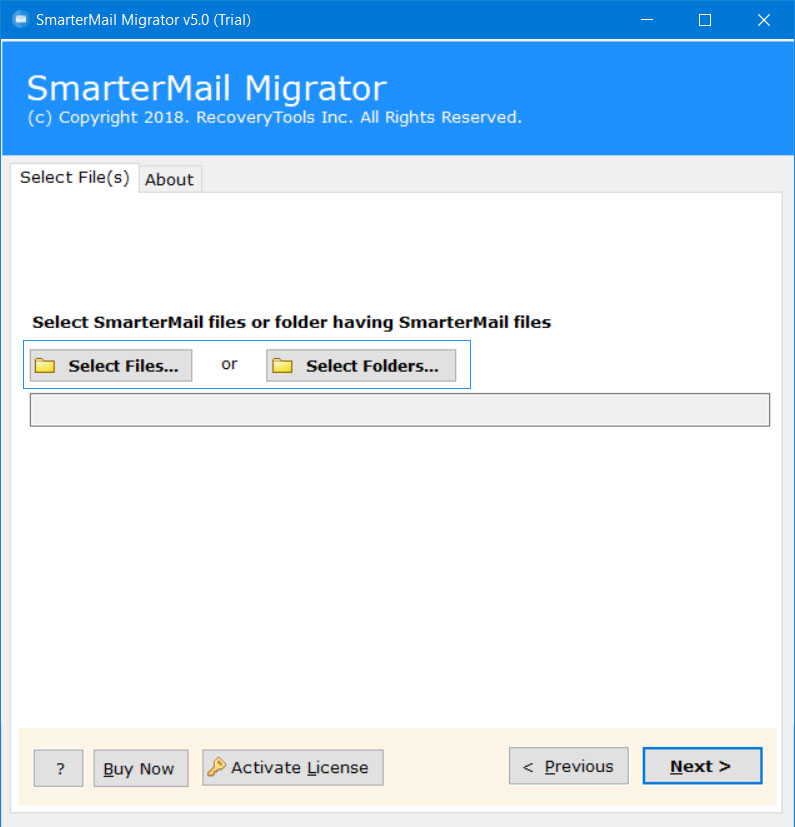 If you click on Select Folders, ask users to convert data from multiple users. Enable the checkbox for I am Converting Multiple Users option & then click Select Folder…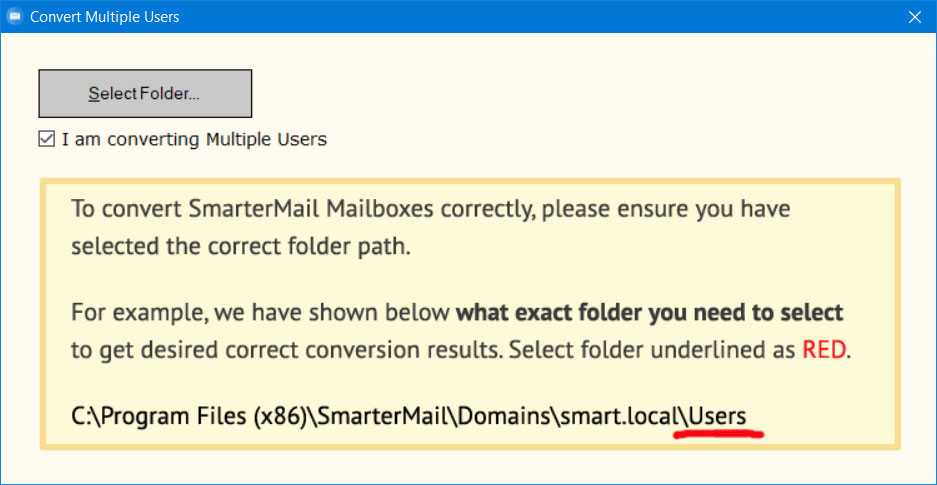 Select the folder having SmarterMail mailbox data to load into the application window.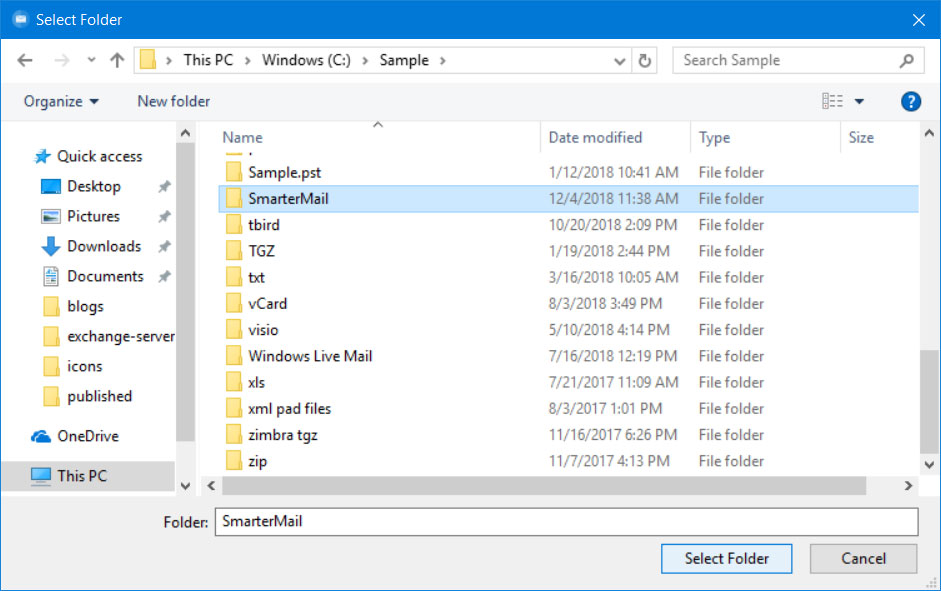 Check the location of the SmarterMail file / folder again.
Select all SmarterMail mailbox folders for conversion as displayed Hierarchically.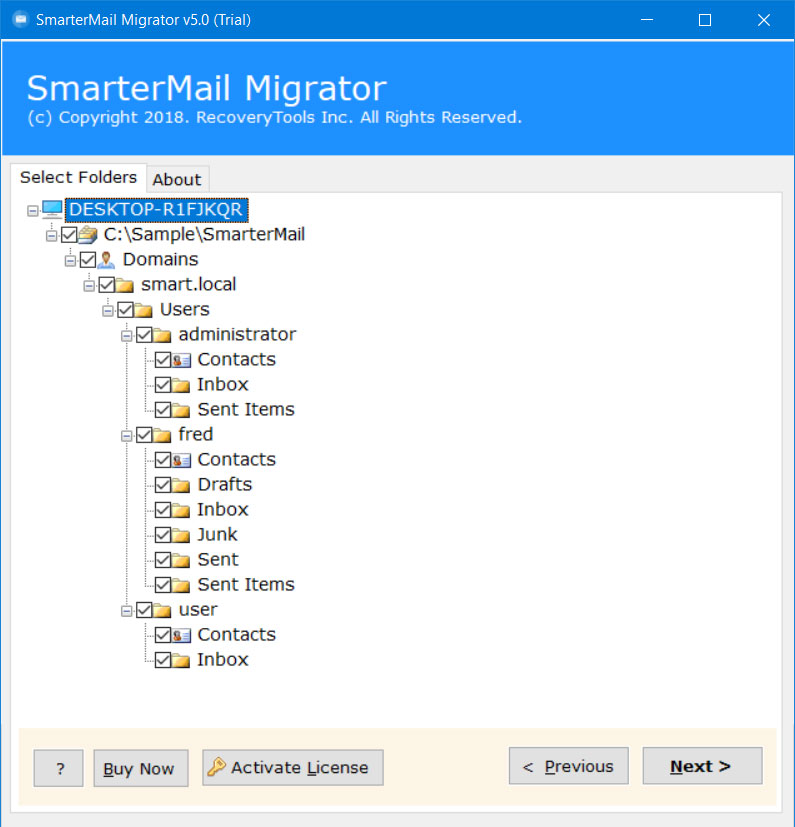 Select PST format from the list of more than 20+ Select Saving options.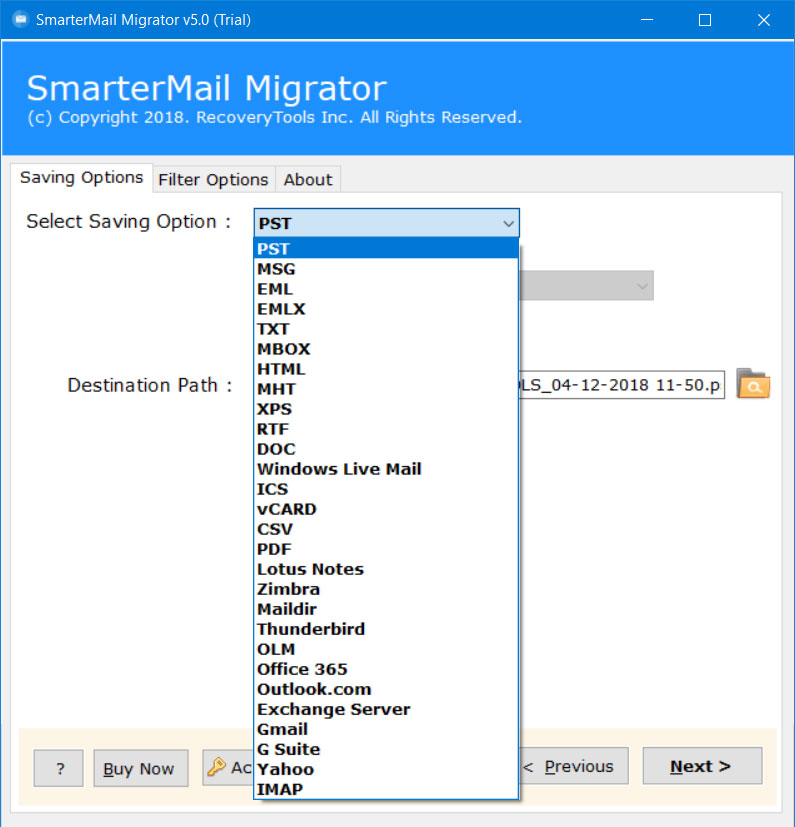 Configure SmarterMail to PST conversion options such as the location of the destination file, Change Outlook file language, Create Separate PST for each User, etc.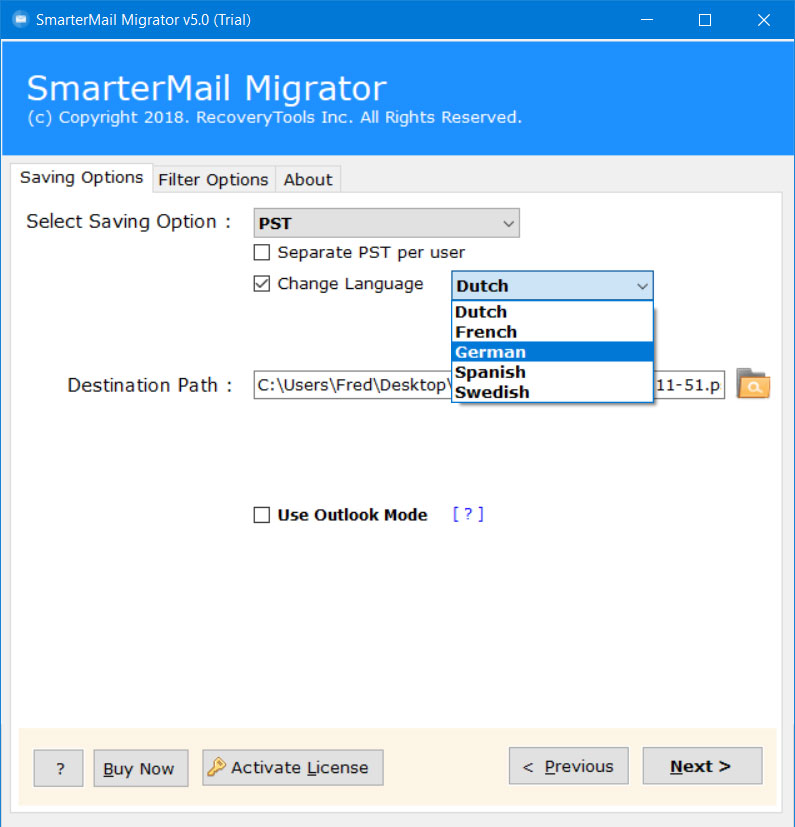 The software also offers advanced filtering configurations for migration or selective emails & other items.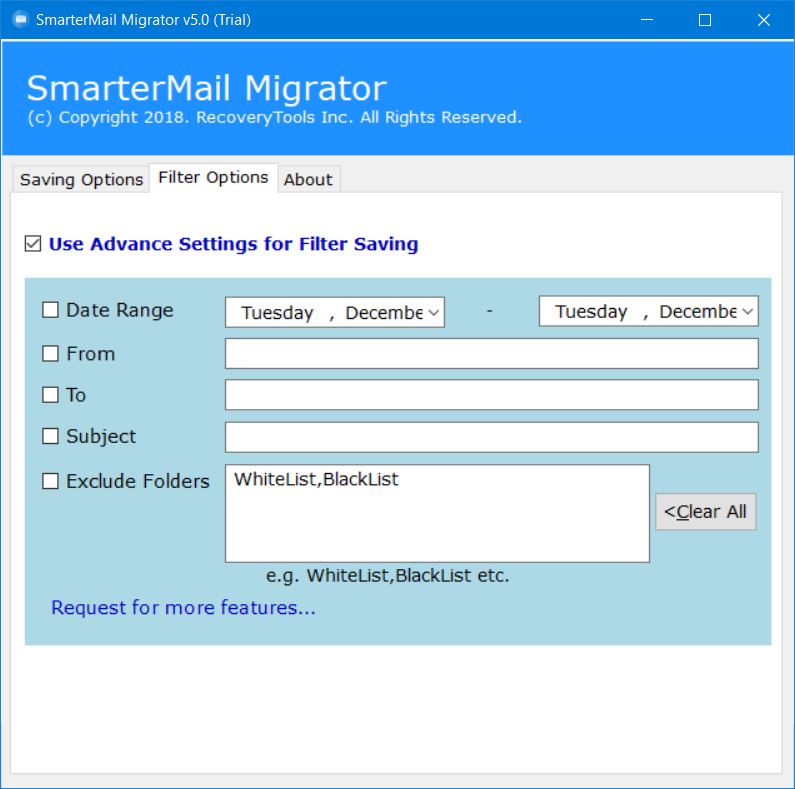 Click on the Convert button to initialize the SmarterMail Mailbox conversion process.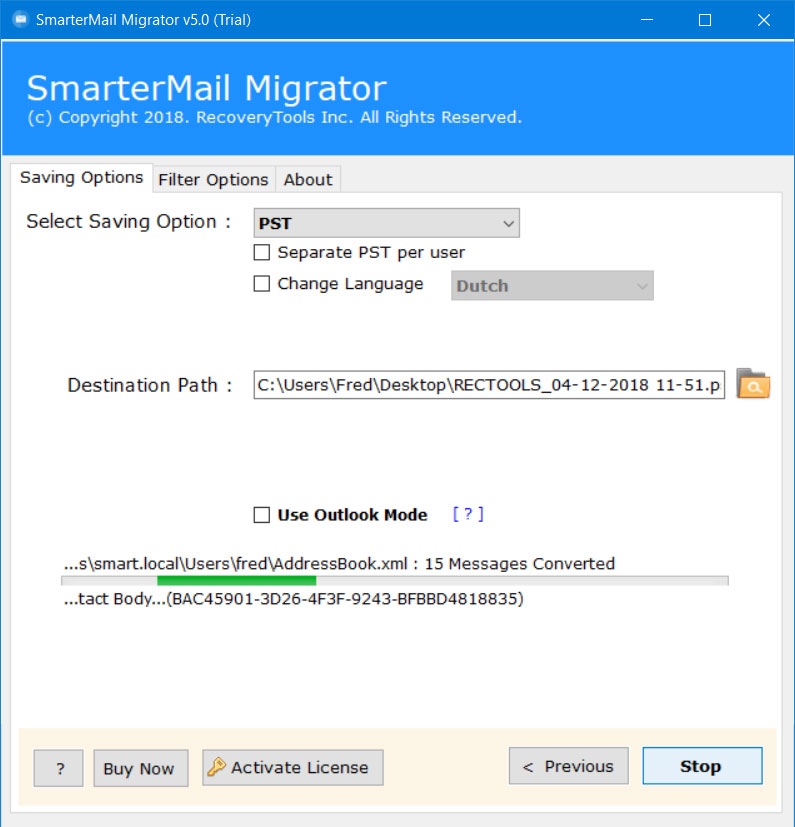 When the conversion process is completed then click on the OK button to confirm.

The software creates a SavingLog report with all related information like Saving format, Start Date & Time, Resultant file storage path, or Items converted.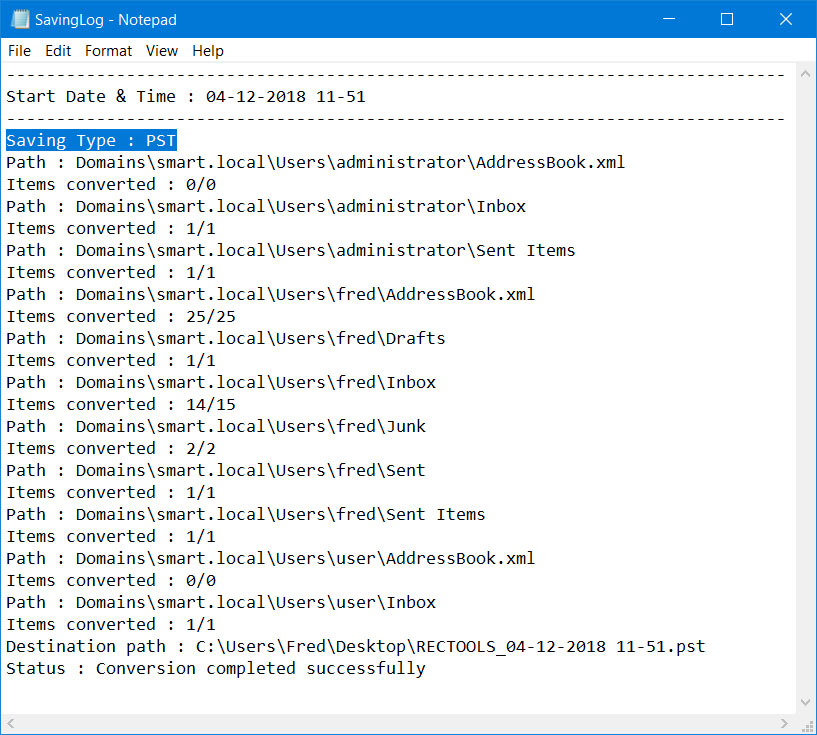 As we can easily see from above that the working of this software is very easy & simplified. Users can directly create a UNICODE PST file by converting it from the SmarterMail mailbox file.
SmarterMail to Outlook Migration Tool – Major Features & Benefits:
This software provides various advantages & benefits to its users particularly in terms of speed & accuracy. Some major queries are listed below:
Migrate Multiple SmarterMail Users Data into Outlook:
The software enables the users to batch convert multiple SmarterMail mailbox user data. The SmarterMail to Outlook Converter software provides a direct option to select I am Converting Multiple Users as well it also gives the option to create a separate PST file for each user.
Completely Standalone Application:
This SmarterMail to Outlook Export tool is a completely Independent toolkit available at present time. There is no need for Outlook installation to perform SmarterMail to Outlook file conversion. However, the software provides Outlook Mode in case if you have Outlook installed on your PC to fast conversion.
Supports Unlimited Transfer Process:
The major problem faced by vast number of communities is the transfer of a large amount of mailbox data from SmarterMail into Outlook Mail client. When they try to do so by manual methods it took a lot of time for the users. But, with the help of this amazing software one can get fast & accurate results for the migration of unlimited mailbox data without imposing any file size limitation.
Export SmarterMail Contacts & Calendars:
The software enables the users to transfer all the SmarterMail Contacts to Outlook Contacts as Outlook files. The utility displays all the SmarterMail mailbox folders including Contacts & Calendars. Choose only the required Address Book or Calendars folder & then set up SmarterMail to PST file conversion option to finalize the whole process.
Fully Windows Compatible Software:
This application is fully compatible with Microsoft Windows OS & one can easily run this software on Microsoft Windows i.e. Windows 10, Windows 8.1, Windows 8, Windows 7, Windows XP, Windows Vista, etc. for both 32-bit & 64-bit OS editions.
The Verge
In the above article, we get to know about how can a user transfer all mailbox items including emails, contacts, calendars from SmarterMail to Outlook email client. Free Download SmarterMail to PST Converter Wizard which enables the users to export SmarterMail mailbox to PST file & then import into all latest Outlook versions & editions. The trial version will only allow you to convert the first 25 emails from each folder which you can later extend by activating the product.