How to Migrate SmarterMail to Gmail or Google Workspace Account ?
Karen Chard
~ Modified: 25-03-2023 ~ SmarterMail ~ 6 Minutes Reading
This how-to explanation solves SmarterMail to Gmail Migration-related queries. If you are one of those who want to move SmarterMail emails to Gmail account. Then read this post completely. After reading this article, you will get a simple and amazing way to get SmarterMail emails to Gmail account easily. So, read this article to know more.
A huge number of clients continuously look for its solution on various platforms & forums in particular with the hosting mandarins. A few queries regarding the same are also discussed below in which a user wants to get ideas before migrating the SmarterMail mailbox into a Gmail account as quoted:
Our client has brought up an issue of migrating their SmarterMail inboxes to Gmail-based. Before I advise them on whether or not to do it, I would like to know what the experts say. I would like to hear about real-world experiences. Any substantial help will be highly cherished.

– Drazen, Tokyo
As in the details of the above query the user was directly looking for the solution for the issue of the migration of SmarterMail inboxes to the Google-based Gmail webmail service. There is no doubt that as a free Webmail service, Gmail offers a large number of services to its users in a single account like Docs, Sheets, 15GB Free Storage Drive, Analytics, Maps, News, Calendar, Google Plus, Photos, Books, Webmaster, Contacts, Hangout, Keep, Classroom, Jamboard, & Collections of important Searches.
A Professional Method – SmarterMail to Gmail Migration Tool
With the help of the amazing RecoveryTools SmarterMail Migrator tool, you can easily move emails from SmarterMail to Gmail account. One only needed to provide the account login credentials of resultant Gmail free domains or G Suite Business accounts. The SmarterMail to Gmail Migration can be done easily with the help of some third-party applications.
RecoveryTools SmarterMail to G Suite Migration tool is one such amazing toolkit available at the present time which provides a direct option to import SmarterMail emails, contacts, calendars, tasks, notes, etc. to Gmail account with high speed & accurate results.
Free Download SmarterMail to Gmail Migration Tool:
How to Migrate Emails from SmarterMail to Gmail Account ?
The working of this amazing toolkit is very impressive & easy to perform. Hence it proves to be very beneficial for non-technical users. Follow these simple steps to accomplish the SmarterMail to G Suite Migration process:
Install & Run SmarterMail to Gmail Converter tool & Read all important instructions.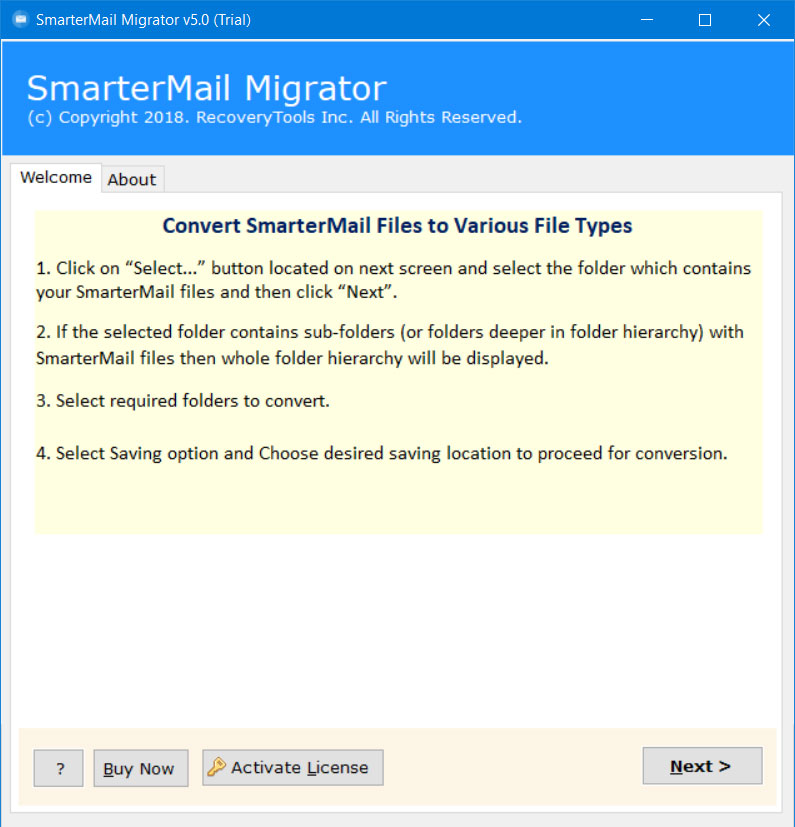 Load SmarterMail Mailbox items in the application panel by dual methods i.e. by Files or by Folders.
Choose only the required Mailbox folders & sub-folders displayed with proper folder hierarchy.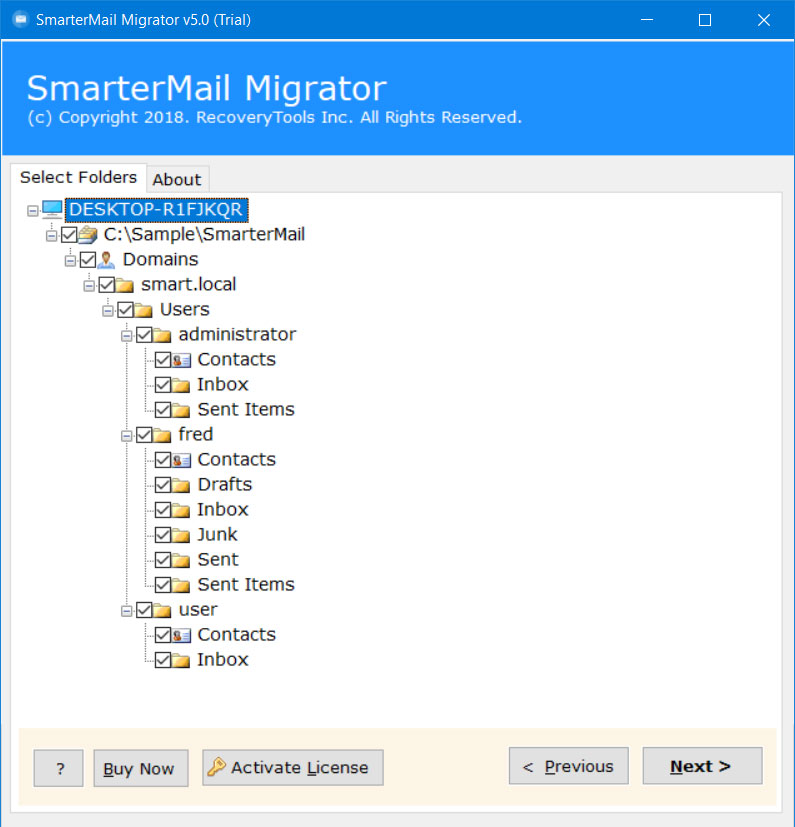 Select Gmail/G Suite option from the list of 20+ Select Saving options.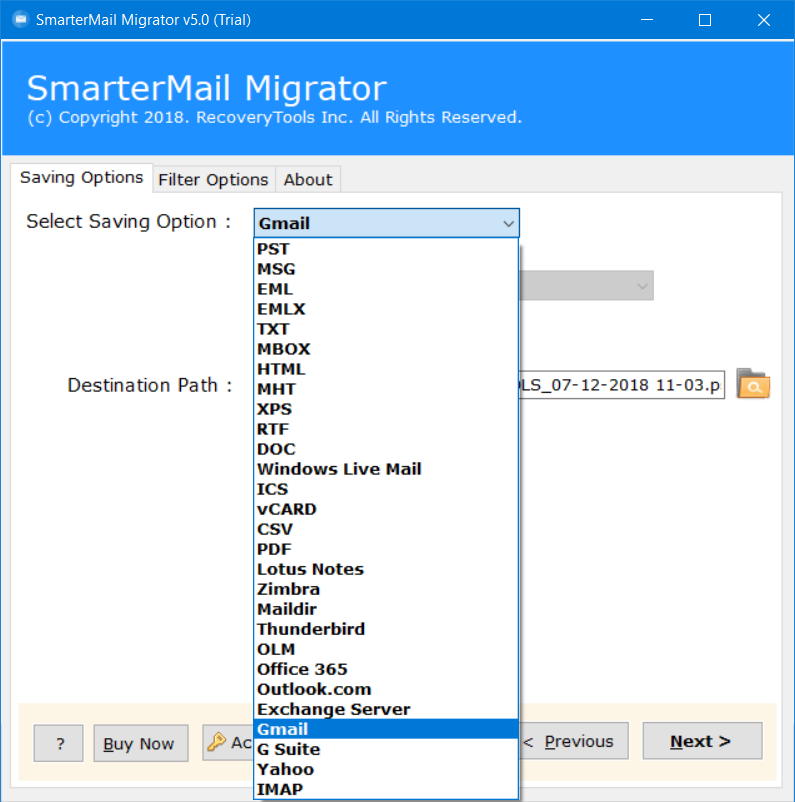 The software will ask the users to enter the details of resultant Gmail/G Suite Account.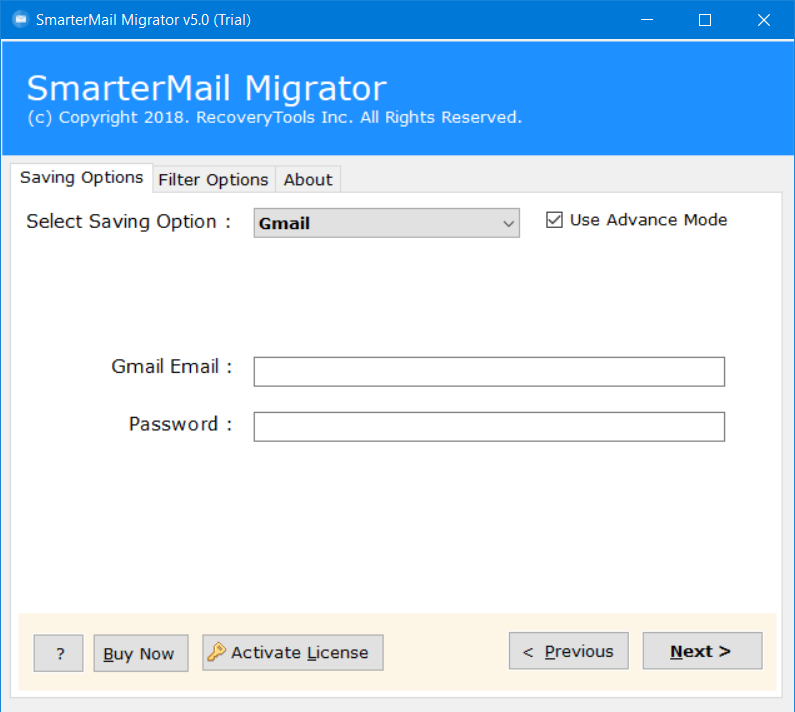 Now, enter the Gmail Login credentials like User Id & Password as well-Advanced Options.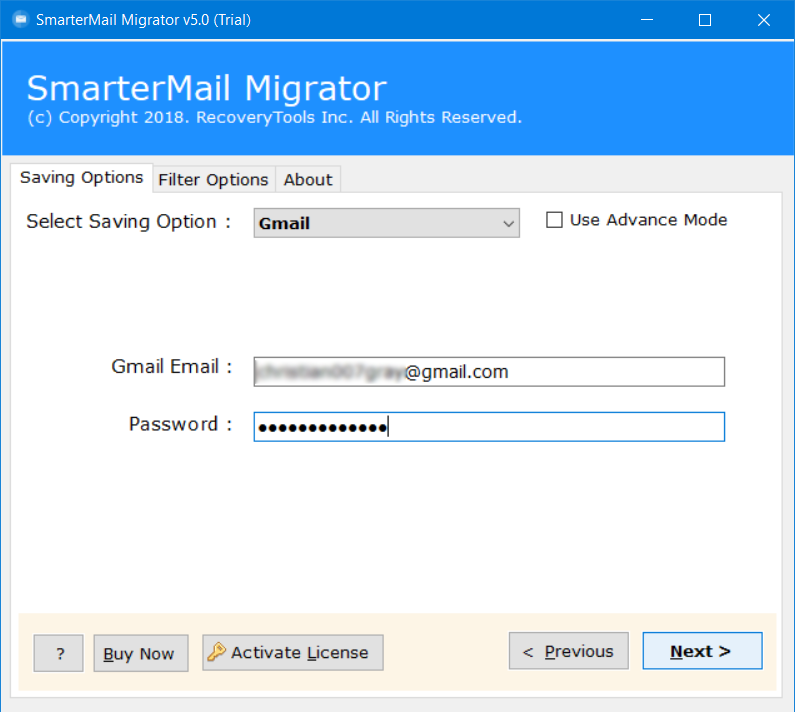 Users can also perform the selective conversion of SmarterMail mailbox items to G Suite by applying the Advanced Filter Settings on the basis of Date Range, To, From, Subject or Exclude Unnecessary mailbox folders.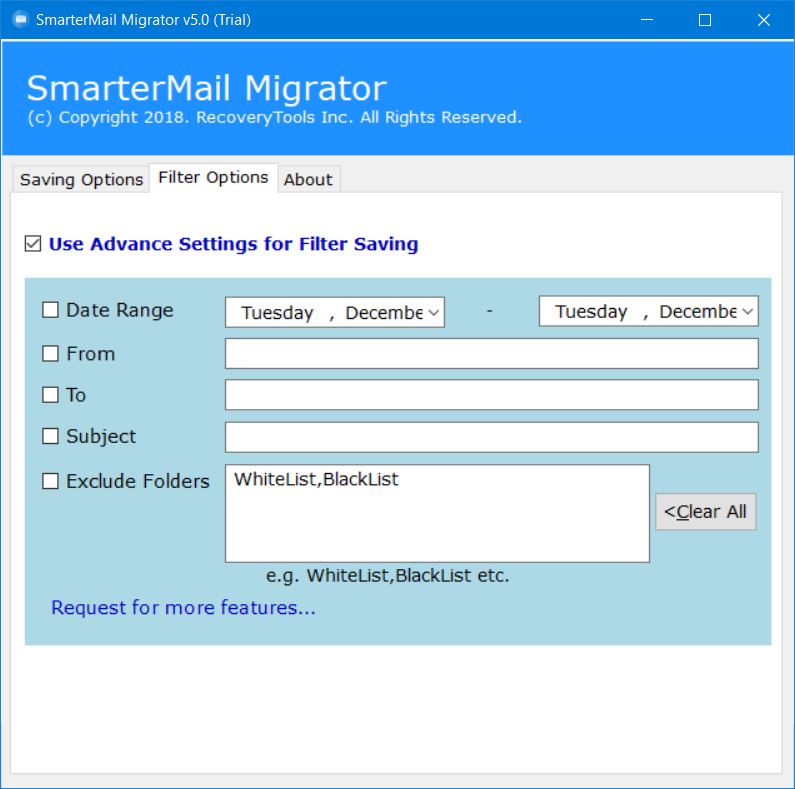 Click on Next button to initialize the SmarterMail to Gmail migration process. Users can analyze the live conversion process directly in the application panel.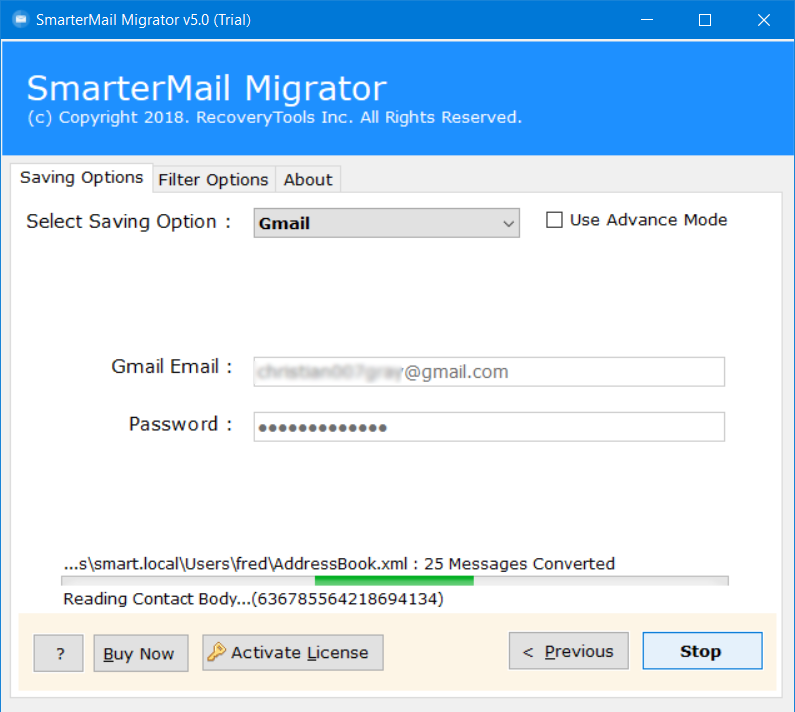 After Conversion process finished successfully click on OK button to confirm it.

At last, the application will generate a SavingLog report which includes all the information like Start Date & Time, Saving Type, Path, Items Converted, Gmail Destination Folder, Status, etc.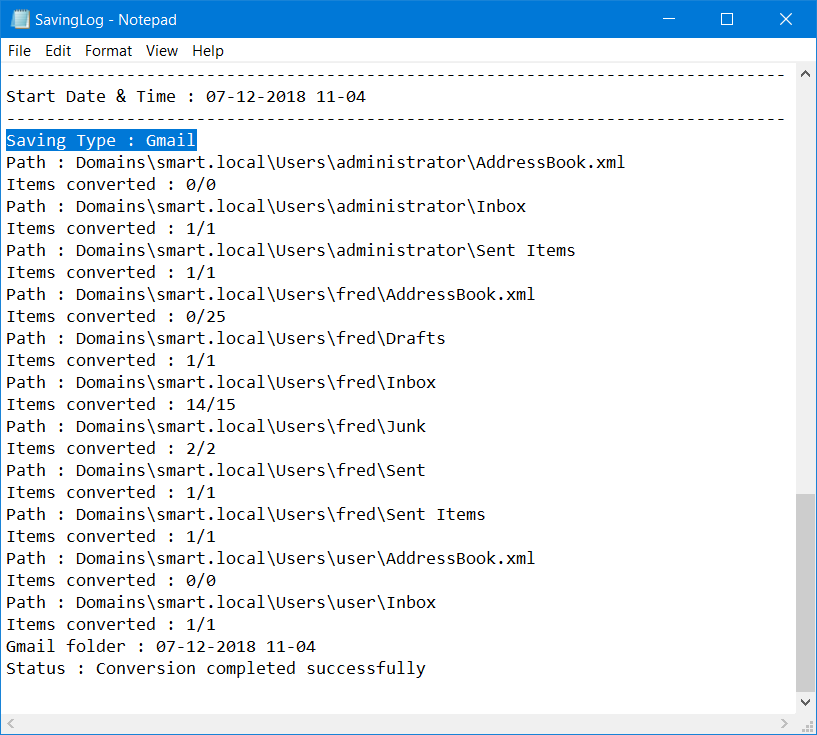 SmarterMail to Gmail Migration Tool – Major Features & Benefits:
Batch Migrate Multiple SmarterMail Users to Gmail Account:
With the help of this toolkit, any user can easily upload multiple SmarterMail user's data into Gmail account. The software provides a separate option for the users with the label as I am Converting Multiple Users where users can select the Folder having multiple user's mailbox data.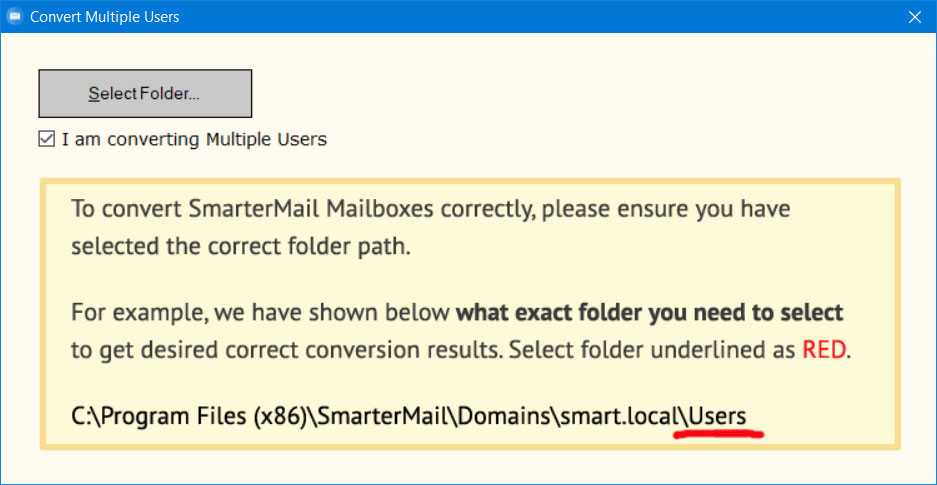 Transfer SmarterMail Emails into G Suite Business Account:
The software enables the users to transfer all the mailbox databases of SmarterMail to G Suite Mail account. One can migrate SmarterMail Emails, Contacts, Calendars, Tasks, Notes, Junk-Emails, Deleted Items, Trash, etc. to Gmail or G Suite account. One can easily & instantly import SmarterMail database mailbox items into G Suite Business account.
Advanced Filter Settings Selective Conversion of Items:
This SmarterMail to Gmail migration tool is designed to perform the selective conversion of SmarterMail mailbox items. One can apply Advanced Filters Settings on the basis of Subject, To, Cc, Bcc, as well Exclude unnecessary folders from the SmarterMail Mailbox during the migration of SmarterMail into Gmail account.
Easy to Use & Simple Graphical User Interface:
This application proves to be one of the finest solutions available at present time in terms of speed & accuracy. It is designed with advanced algorithms & provides an Advanced option that makes the users upload data when the toolkit fails to login into account & it takes a lot of time to make so. All of its work is completely step-by-step & the users only needed to provide account login credentials of the resultant Gmail account.
Fully Windows Compatible Utility:
This SmarterMail to Gmail Export tool supports all Windows Operating Systems. One can easily run this software on all the latest versions of Microsoft Windows i.e. Windows 10, Windows 8.1, Windows 8, Windows 7, Windows XP, Windows Vista, etc. for both 32-bit & 64-bit OS running systems.
How to Export SmarterMail to Gmail Account Instantly?
In the above video tutorial, we get to learn about how can a user transfer its data from SmarterMail mailbox to Gmail account instantly & quickly.
The Verge
In the above article, we get to know about how can a user export SmarterMail to Gmail or G Suite account with the help of a professional toolkit. Free Download Trial Version of SmarterMail to Gmail Migration tool which allows us to convert the first 25 items from each folder to G Suite account completely free of cost. Purchase the suitable license & then activate the product to perform the unlimited migration. If you have any issues, then contact us via live chat or email process.