How to Save Apple Mail as PDF on Mac OS? Solved Query!
Karen Chard
~ Modified: 20-10-2022 ~ Apple Mail ~ 5 Minutes Reading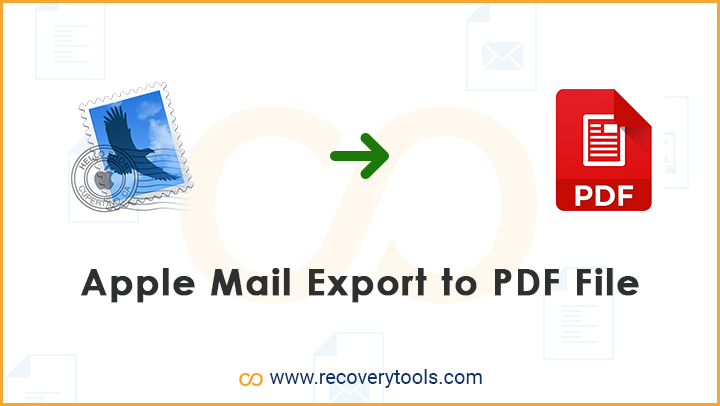 Overview: Are you searching for a method to save Apple Mail as PDF document? If YES, then read this post. Here, you will get a simple method to export multiple emails to PDF files in batch. Keep reading to know more.
Apple Mail is the default email client for macOS, iOS, OS X, and numerous other Mac clients. Macintosh Mail or Apple Mail is intended to work with practically all email and webmail accounts such as Outlook.com account, Yahoo Mail, AOL Mail, Gmail, iCloud, and so forth. It involves SMTP for sending messages and messages while getting messages from POP3, IMAP, and so forth.
"Hi! I work on macOS 10.15 and I have been using Apple Mail for a long time. There are some Apple Mail emails stored in my local storage. I want to save Apple Mail as PDF file format for some legal purpose. Is there any solution for this? I cannot afford to change the email properties. Please suggest me some practical methods!"
There are many different solutions available to save Apple Mail emails to PDF documents on a Mac machine. We will focus on two practical solutions that have served thousands of users worldwide. The first one is a free manual method that helps when the user is dealing with a few emails. The second method is useful for the bulk export of multiple Apple Mail MBOX files to PDF. It is easy-to-use software with a number of advanced features that make the process quick and simple. So, let us start with the manual methods first.
Table of Contents:
Manual Method to Export Apple Mail to PDF
Apple Mail provides its very own method to easily export email messages to PDF files. However, its downside is that it is only applicable to one message at a time.
Anyhow, the process is as follows:
Launch Mac Mail Application on your machine.
Double-click on the email message to open it.
Go to the File menu and click on the Export as PDF option.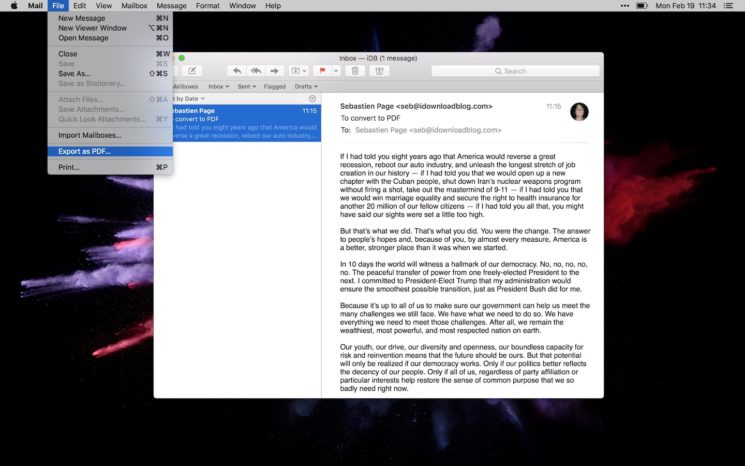 Select the location where you want to save the PDF file.
That's it!
If you want to save multiple emails at once, then opt for the next method that involves a professional solution.
A 2-Step Solution to Save Apple Mail as PDF on Mac
Mac MBOX Converter is the best possible way to export multiple emails to the required PDF Adobe format on any Mac OS system. Also, it offers many advantages that make the process simple and time-saving. The solution for exporting multiple emails to PDF does not require the installation of any external software or utility. Moreover, it is easy to use and provides a flexible user interface that can be used by all users exists on the Internet.
Download the Solution on your system:
Download for Windows Download for Mac
Also, there is a DEMO version available for this software. But, the limitation of this demo version is that it allows exporting only 25 files per folder. So, get familiar with the tool by using the free version and if satisfied, opt for the licensed version for limitless conversion.
Before saving the files, you need to prepare Apple mailboxes for conversion first. This step involves exporting emails to MBOX format first. Only then, we will save the emails to pdf
Export Apple Mail Mailboxes
Go to Mac Mail, select the mailbox folders that you want to save as PDF
Go to the Mailbox menu, then choose the Export Mailbox option.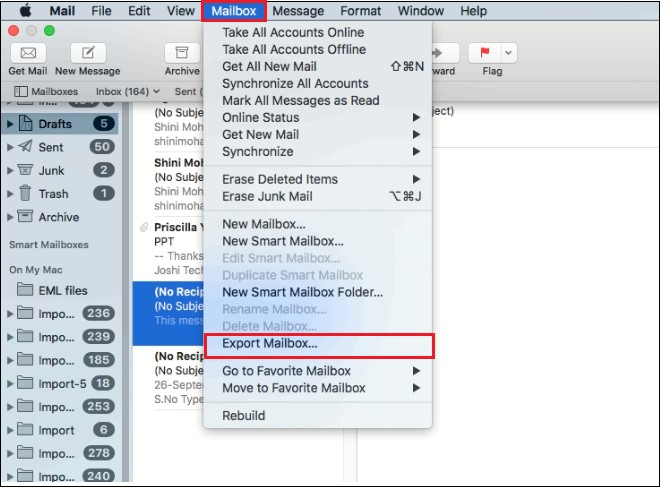 Another way to do so is to right-click on a particular folder and choose the Export Mailbox option.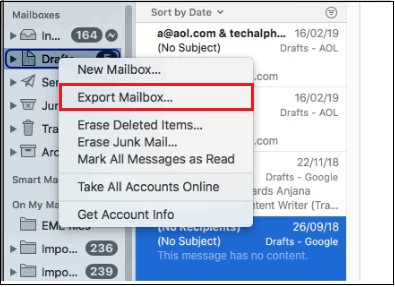 Thereafter, select the location where you want to save the file and click Choose button.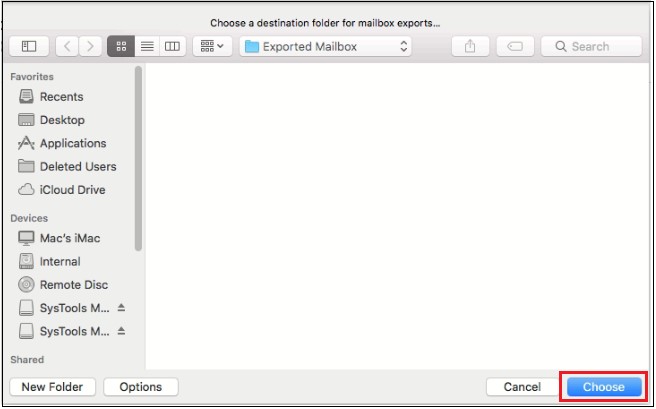 Well, you will have the files saved in .mbox format.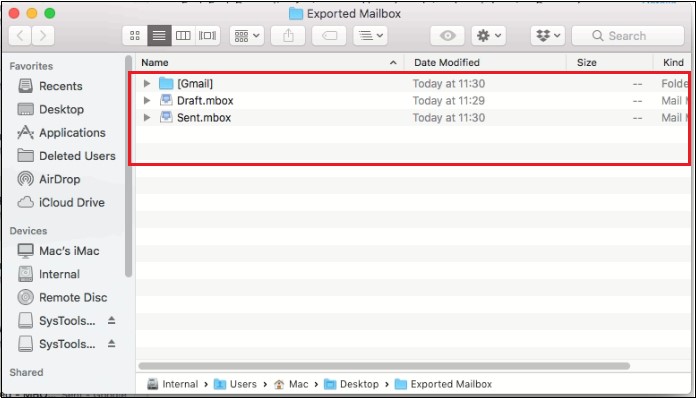 We have the data prepared now. So, it is time to export all those Apple Mail mailboxes to PDF format.
Save Mac Mail as PDF in Bulk – Complete Steps
Follow the steps given below to save Apple Mail as PDF format on Macintosh:
Firstly, download, install and run the tool on any Mac OS machine.
Secondly, from Add File(s) or Add Folder(s) options, add the exported Mac mail files.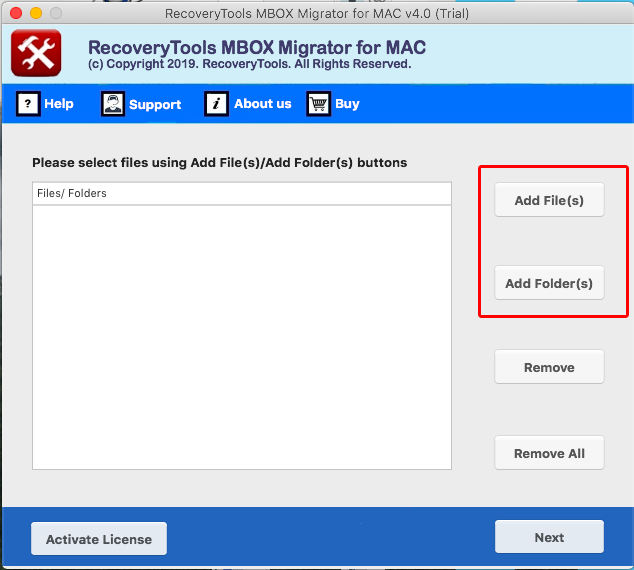 After that, choose the previously exported MBOX files. Click on Next.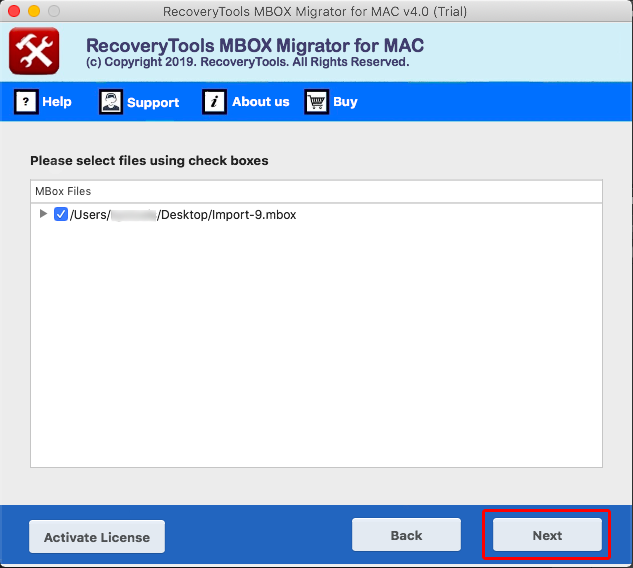 After that, select the saving option in PDF format.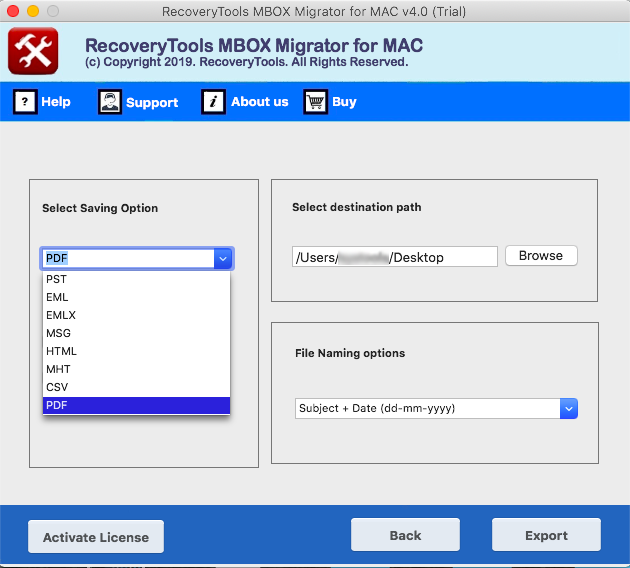 Now, choose the Destination Path and File Naming Options.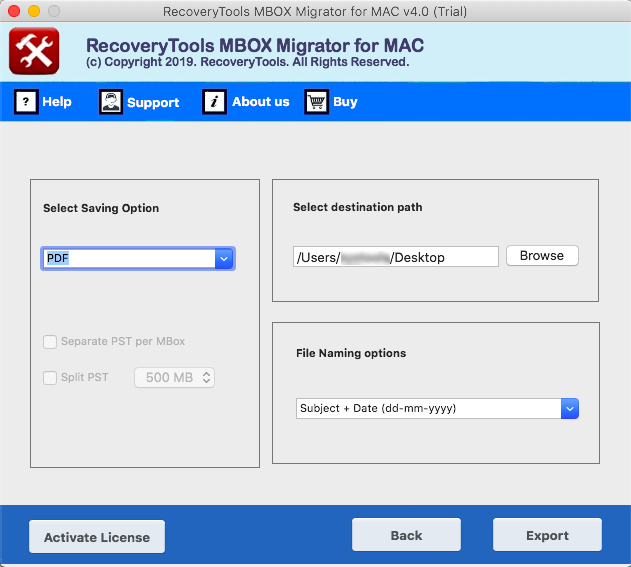 Lastly, click on Export to change all emails from Mac Mail to PDF.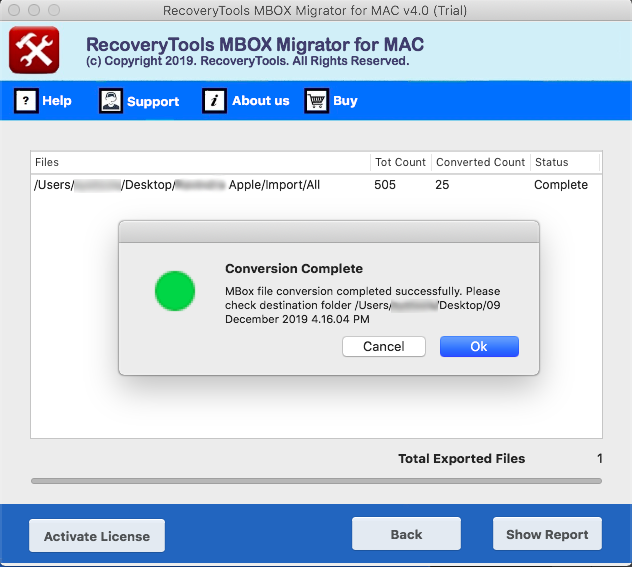 So, within some time, all your selected files will get saved in PDF document format along with attachments.
Features & Benefits of Using the Software
This is a multi-featured solution. It allows saving multiple files together in just a single click.
With this solution, all Apple Mail emails are saved along with attachments.
Can export MBOX to PST, MSG, and more than 30 formats and email services.
The utility can save multiple or even unlimited numbers of emails as PDFs on different Mac machines.
Option to save emails from Mac Mail to hard drive in multiple file formats
Also, this utility maintains the entire folder structure and original formatting when saving mailbox files to PDF on a Macintosh computer.
If you have problems while exporting emails to PDF, you can always contact the support team. Moreover, online customer support is available at all times to answer your questions.
Closing Words
In the above write-up, we have explained a complete solution to save Apple Mail as PDF files along with attachments on the Mac machine. This tool allows us to quickly save all files in the required PDF format while maintaining the original formatting of Mac Mail emails. Also, you can try the trial version of the tool for a better understanding. Of course, if you have to process only a few email messages, the free manual method is more than enough for the task.