How to Fix and Resolve Microsoft Outlook Error 0xc0000005 ?
Karen Chard
~ Modified: 14-06-2022 ~ How To ~ 5 Minutes Reading
Yet another software update has been thwarted by Microsoft, and this time it appears that the update has broken Outlook with a 0xc0000005 error. According to reports, while accessing your Outlook you may receive an Outlook error 0xc0000005, also known as Access Violence Error. Usually, when a user tries to run Microsoft Outlook for Windows, it immediately crashes with error code 0xc0000005.
Are you one of them who also experiencing the same issue with Outlook ?
If Yes, then don't worry.
In this article, we will explain all the possible causes of this issue and give a proper way to use your Outlook emails again. However, when you try to run this application on an infected Windows PC, the Outlook error 0xc0000005 mostly occurs. This error appears in the system due to several reasons. The low RAM space may be the main reason behind this issue. Error notifications may occur because the DLL (Dynamic Link Library) that supports the running of the software is incomplete or corrupt.
Users may encounter this error due to virus infection, corrupted profile configuration settings, miss DLL files, and much more. If you encounter this same error, you need to solve it faster. Recently our old customer has sent a query related to the Outlook problem.
"Hi, RecoveryTools team. Recently I updated my Microsoft Outlook 2016 Professional Edition. After the update, my Outlook suddenly crashes and is giving an error message.

"An application error has occurred and an application error log is being generated. Exception: access violation (0xC0000005), Address"

Now, I am worried about my Outlook data. Please help me!!!"
So, now the question arises that how will you get your important email and other document data which is in your Outlook application.
Two different solutions are available to solve this query.
Cause of Outlook Error 0xc0000005
Outlook associated with different versions of Exchange Server takes advantage of the offline mailbox to manage data in Outlook. OAB is similar to a GAL or global address list in an Exchange Server mailbox. GAL contains user information such as name, email address, etc., which is accessed by Outlook. However, after recently Outlook Update many users get the different error code messages.
"Exception code: 0xc0000005, Fault offset: 0x000474b2, Faulting process id: 0x4cf0", the error message reads.
The "Stop 0x0000008E (0xC0000005 …)" combination on the blue screen.
"The application failed to initialize properly (0xC0000005). Click OK to terminate the application".
Recently, Microsoft also admitted that there is nothing good with Microsoft Outlook. Microsoft team said "We're investigating whether a recently deployed update could be the source of this issue. As a workaround, users can utilize Outlook on the web or their mobile clients. Additional details can be found in the admin center under EX218604 and OL218603."
So, what are the common reasons behind this error code: –
Corrupt DLL files.
Defective & low space RAM.
Incorrect Security Update.
Hardware & Software Registry Issue.
Corrupt Profile Configuration Settings.
How to Resolve Microsoft Outlook 2019, 2016, 2013, 2010 Exception Error Code 0xc0000005 ?
As discussed in the above section, when you open Microsoft Outlook it crashes with an error code 0xC0000005. However, the Microsoft team is investigating the problem and may take longer to resolve it until the next update. So, if you are worried about your Outlook data, then follow the below steps: –
First, download the RecoveryTools Outlook Migrator application on your Windows computer.

After that, launch the software and read all the instructions of this application.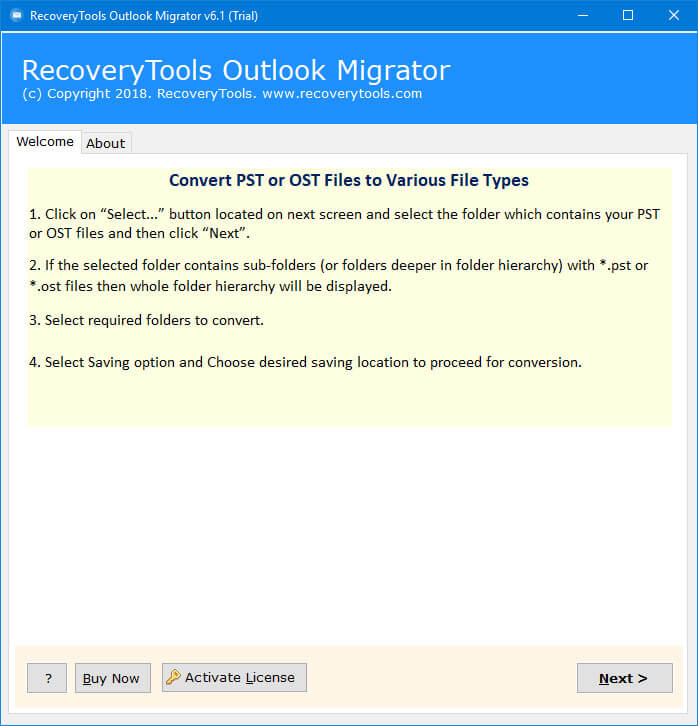 Thereafter, the software allows you to detect your Outlook data automatically with the "Convert Configured Outlook Mailbox Data" option. Also, you need to check on the "Use Recovery Mode" option.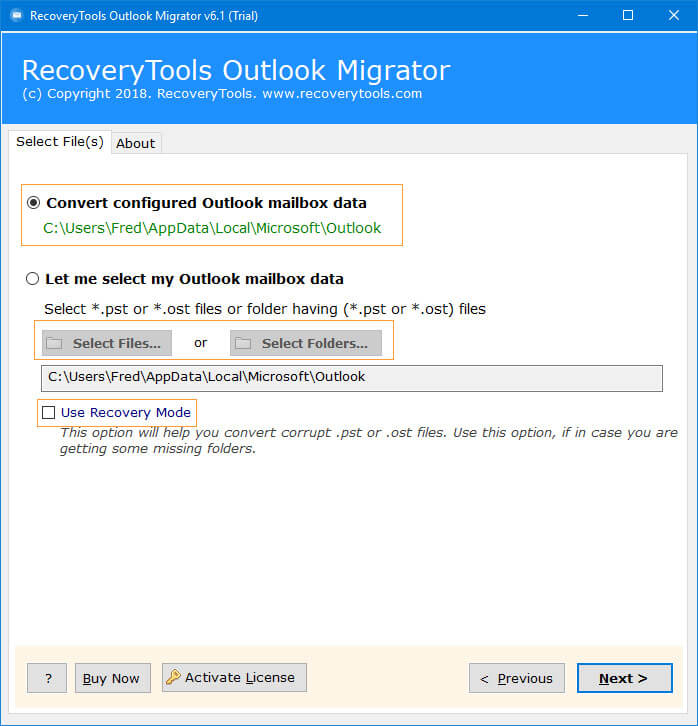 After that, the software will load all Microsoft Outlook Mailbox folders including your contacts & calendar folders. Here, choose your important folders.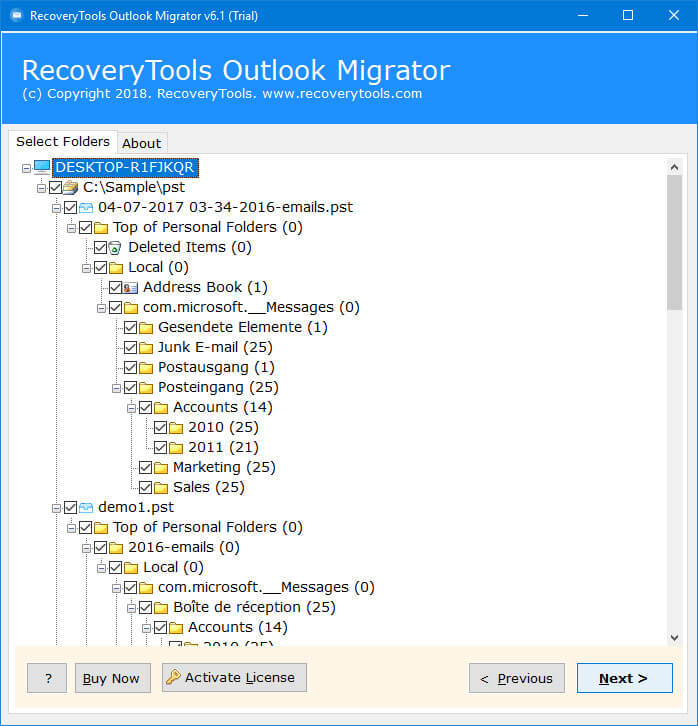 Thereafter, the software provides a wide range of saving options to backup your Outlook emails & contact details. Here, you can also select other email client applications to directly transfer your Outlook data to another email client.
Note: – Here, you can also choose the PST option for future reference.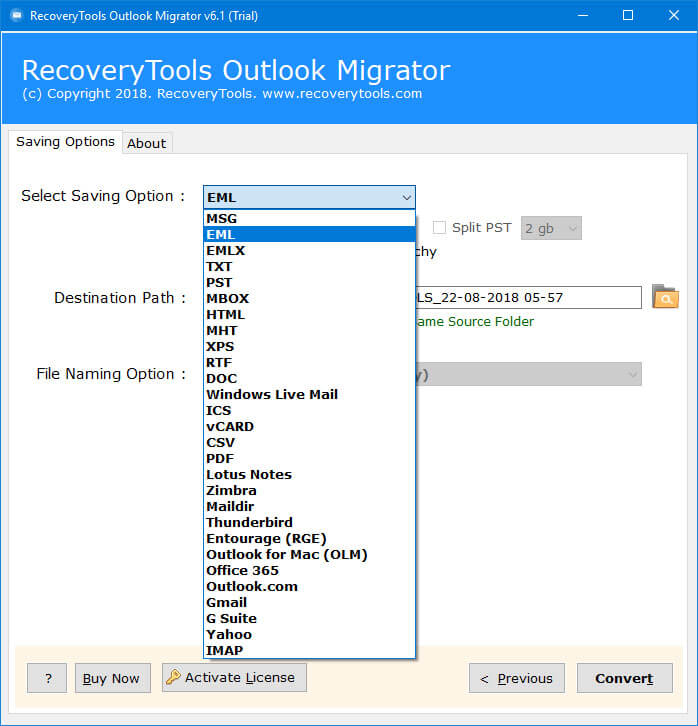 After that, choose the destination path to save your crashed Outlook data at your location.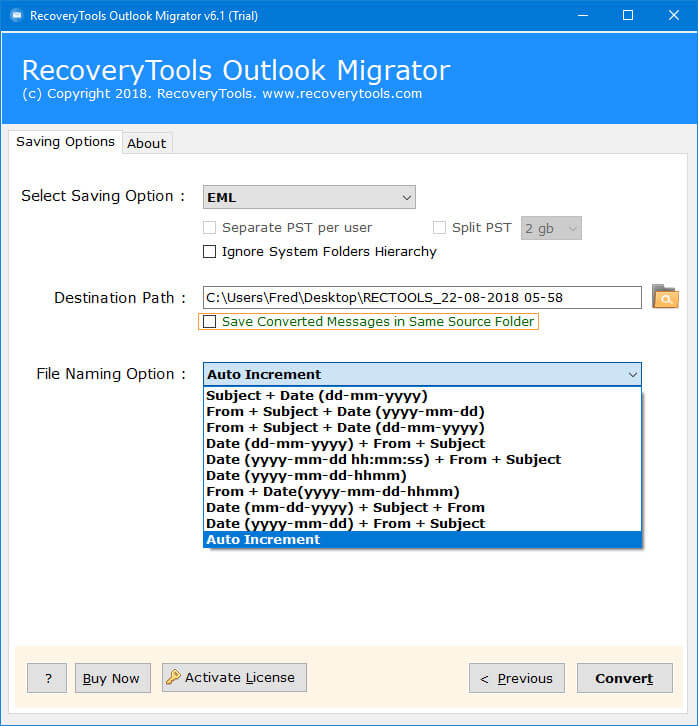 Thereafter, click on the next button to start fixing Outlook data.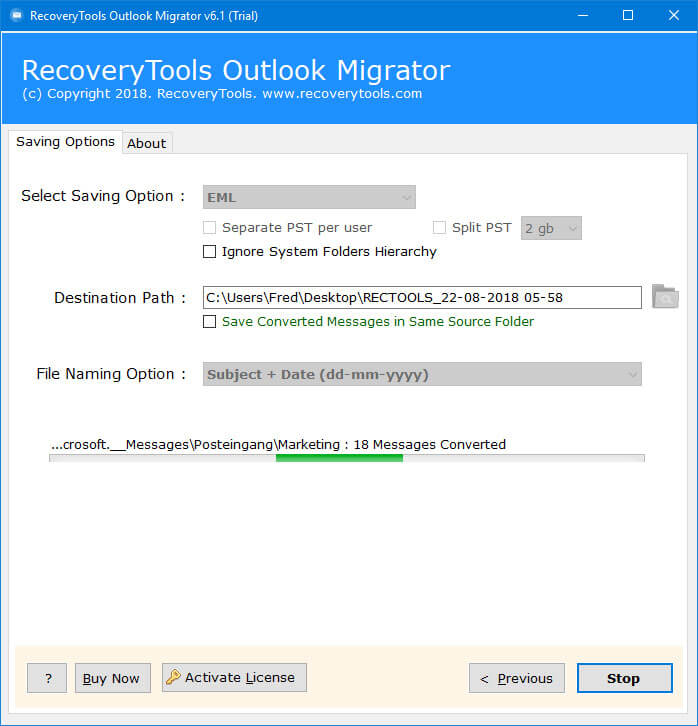 Fix Microsoft Outlook Error 0xC0000005 – Manual Method
If your Microsoft Outlook is crashing with error code 0xc0000005 on your Windows computer, then follow the below step by step process to fix it: –
First, open the Command prompt by Win+R key.
Type "CMD" in RUN utility and press the enter button.
Now, type "cd \Program Files\Common Files\microsoft shared\ClickToRun" (Copy it).
Press enter and your "ClickToRun" folder open it.
Here, type officec2rclient.exe /update user updatetoversion=16.0.12827.20470 and press enter.
Now, type exit and press enter.
or
You can also download tiny utility to fix Outlook 0xc0000005 Error.
Conclusion
Errors cause interruptions in the working flow, the same in the case of Outlook. Many times, the user encounters an Outlook error 0xc0000005 while working. In the above discussion, the same error is described that makes it easy for users to perform the error to correct the error and continue with the flow of work. Microsoft says that a fix has already been published and is continuing to users worldwide, but it will take time to promote it worldwide. So, if you want to save your data without any losses, then use RecoveryTools.
Note: – If you have any problems with the software and its process, feel free to contact us on live support chat or email us at the official email address.
Also Read