How to Bulk Convert Postbox Mail to PDF Document ?
Karen Chard
~ Modified: 02-06-2022 ~ Postbox ~ 5 Minutes Reading
Overview: If you are searching for a way to export Postbox emails to PDF Document in batch ? Then here, we will define the method where you learn the Postbox to PDF conversion process. After reading this write-up one can easily get to know about the full process of how can users save emails of Postbox mail as PDF files. So, if you want to learn the process, keep reading.
Post digitization, email is one of the best resources for organizations to communicate with customers and employees. Through email messages, one can easily share documents, files, presentations, and more. But to see all these, we need a web-based client or a desktop-based email client application.
Postbox is a desktop-based email reader/mail user agent for a client or computer that accesses and manages user email mailboxes. Postbox is also known as a feed reader or news client was launched in 2008. It was established and developed by Mozilla Corporation. It is available for Mac and Windows operating systems.
Postbox does not allow you to print multiple email messages in PDF format. That's why users export multiple Postbox emails one after the other as PDF documents. Converting Postbox emails to PDF format in batch requires a lot of users. That's why they keep looking for solutions like Postbox to PDF conversion tool.
"
Hi, in this 21st century I was still using the Postbox email client to access my email mailbox. But now I decided to move from Postbox to Thunderbird client. Because I don't have much money to spend on Outlook and other email clients. But my concern is my email mailbox. Before proceeding I would like to export all my important emails from Postbox to PDF format. Does anyone know how I can export Postbox email to PDF document?
"
Immediate Solution – Postbox to PDF Converter
RecoveryTools Postbox Migration Tool is the most suitable solution for converting Postbox email to PDF in batch. The software allows us to export email messages from multiple Postbox profiles to PDF document at once. This application is also suitable to transfer postbox email to different location. This product can be easily installed on Windows and Windows Server machines. You can download the solution by the given buttons.
Note: This application is shareware. You can test it without paying your money. The trial version allows you to export certain emails from Postbox to PDF format with company watermarks.
Simple Steps to Convert Postbox Emails to PDF File
For converting Postbox mailbox emails to PDF document, you need to follow the below procedure:
Install or launch the tool on computer.
Select Postbox mailbox files with two options.
Mark only required email folders from the list.
Choose PDF option and select location path.
Press the next button to convert Postbox to PDF document.
Learn Complete Procedure of Converting Postbox Emails to PDF Document
The below procedure explains the method of converting multiple Postbox emails to PDF Documents. You can learn the process by following steps:
Download and install it on your Windows & server computers.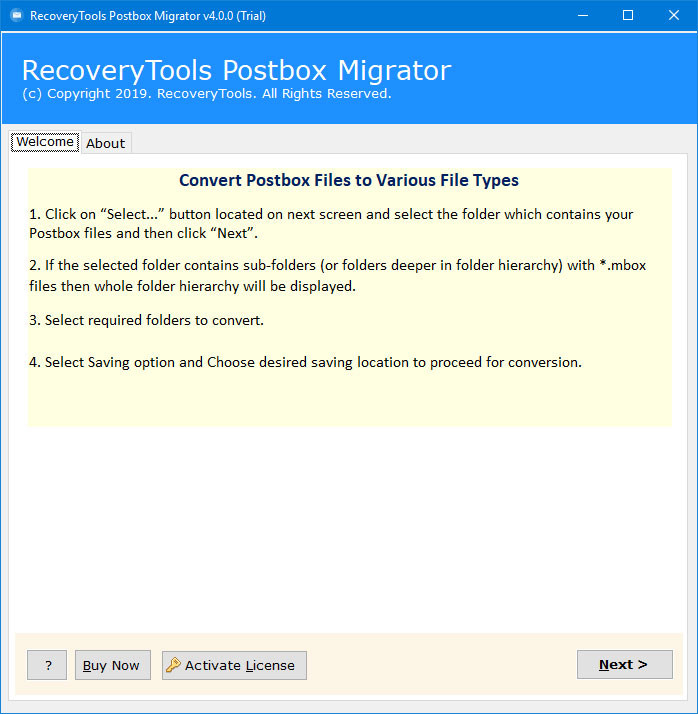 Choose the Postbox mailbox files with dual selection options.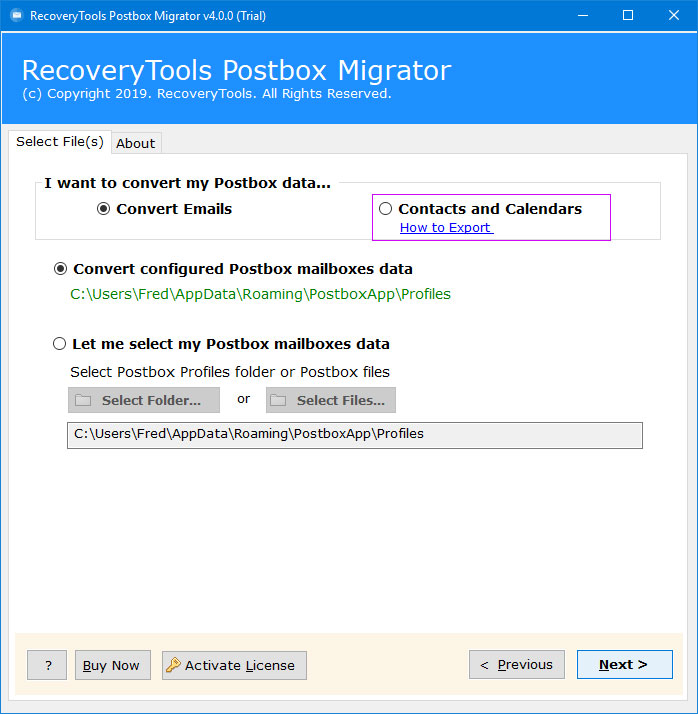 Select the required email folders of your selected Postbox mailbox files to convert as PDF format.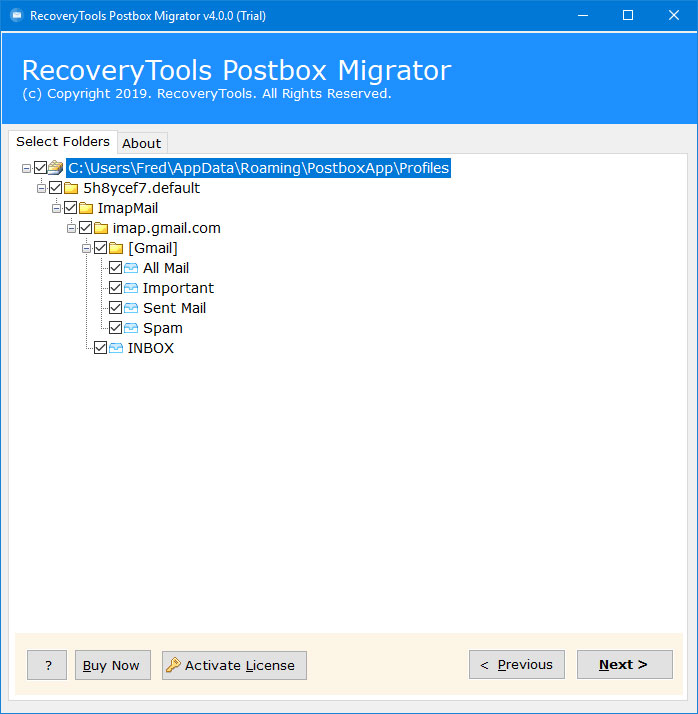 Now, is time to select PDF option in the list of file saving options.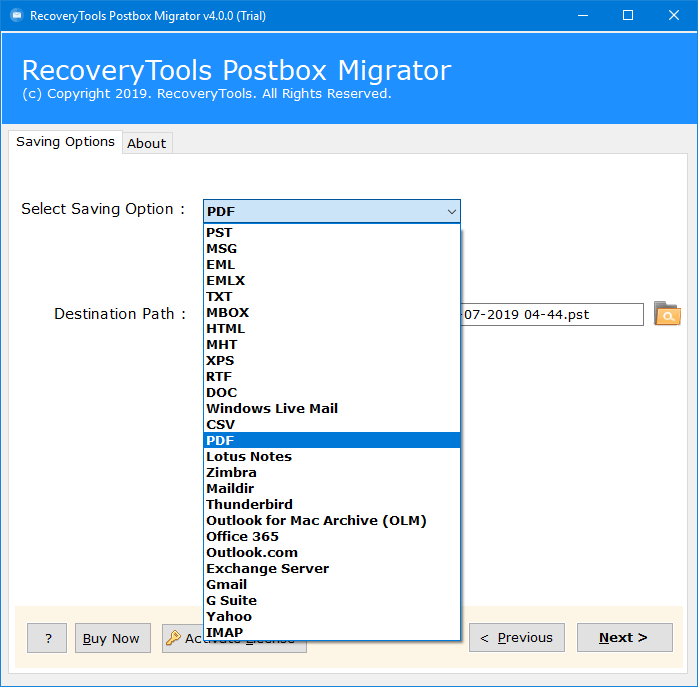 After this, you can choose the extra options such as File Naming Option & Destination Location Path.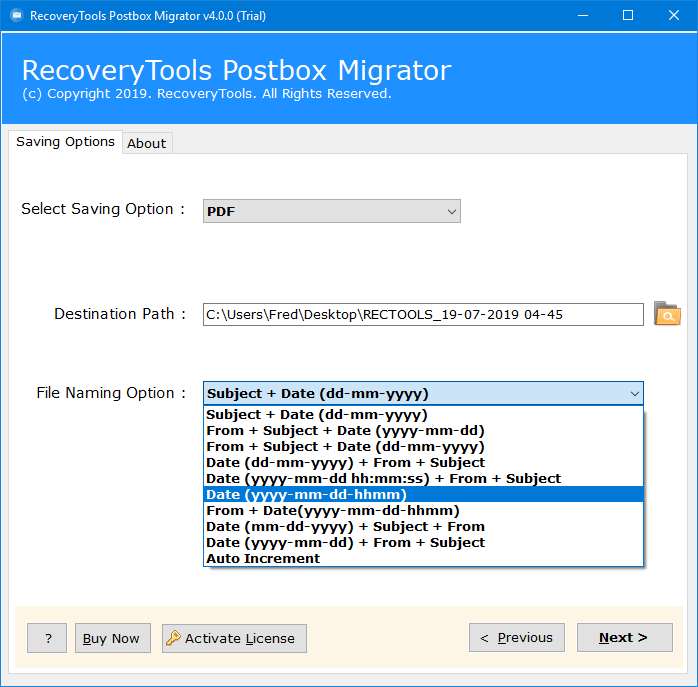 Click on the convert button to start the Postbox to PDF Conversion process.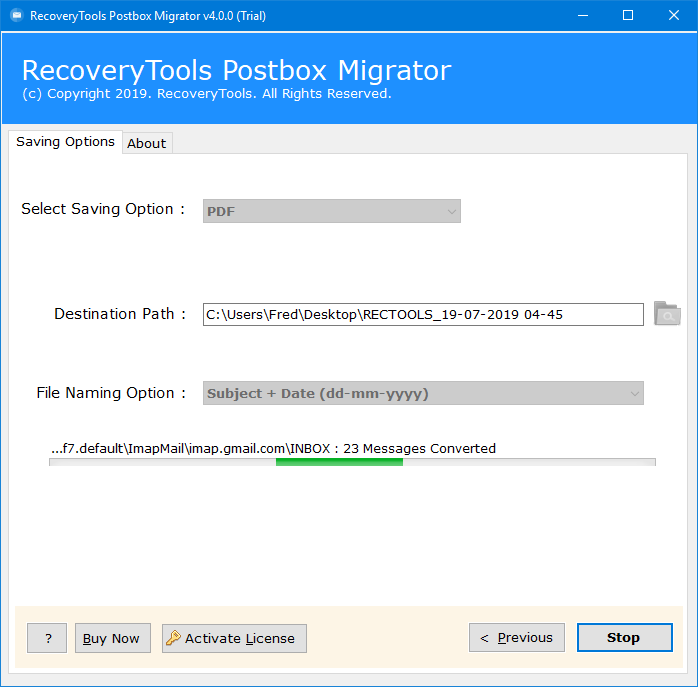 When it has done, press the ok button to confirm the process.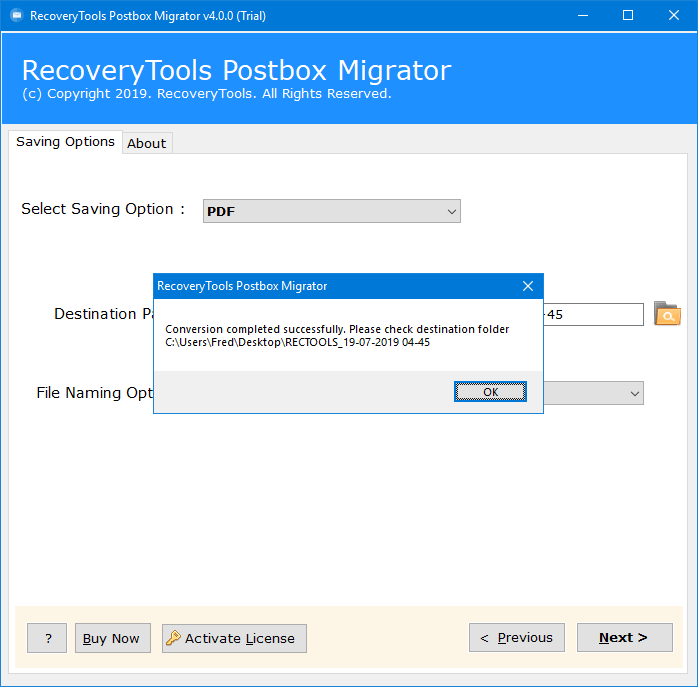 Open your destination location path and get all the messages in PDF document format.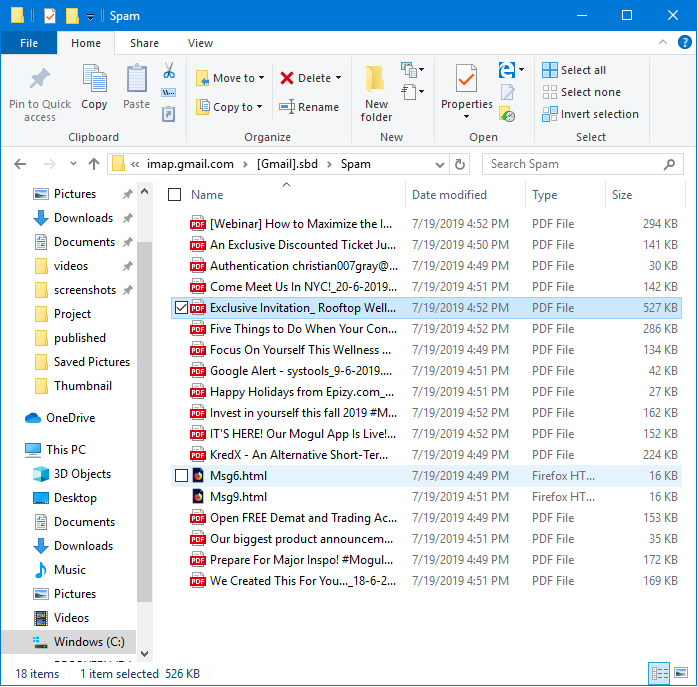 Top Advantages of Postbox to PDF Conversion Tool
This is one of the best Postbox to PDF Converter tool to export multiple Postbox messages to PDF document format.
One can also use the batch selection options to choose multiple Postbox mailboxes files at once.
The utility does not place limitations on this and allows professionals to process a large number of mailboxes at once.
RecoveryTools Postbox to PDF exporter tool allows you to print Postbox emails to PDF format with attachments.
During the process, the email properties of each element are the same as those in the postbox files before.
It also keeps email internet header information and shows on resultant PDF files.
The program holds several file conventions options to manage resultant data easily.
The solution works on all Microsoft Windows operating systems such as Windows 11, 10, 8.1, 8, 2019, 2016, 2012, etc.
User Issues Related to Postbox to PDF Document Converter Tool
How I can export 1500 messages from Postbox to PDF document files ?
For this, you need to use RecoveryTools Postbox to PDF converter tool. This application is able to convert multiple Postbox messages to PDF format without any issues.
Does the program also support to export attachments of Postbox emails to PDF embedded files ?
This application will convert all your Postbox messages as PDF documents along with all embedded attachments.
Are there any issues when converting multiple Postbox Profile mailbox files to PDF format ?
No, this application can handle a large number of Postbox mailboxes without any issues. You can convert multiple Postbox mail to PDF files without any issues.
Can I convert Postbox mailbox files to PDF on my Mac computer ?
Sure, we have another tool – MBOX Migrator for Mac – to convert Postbox emails to PDF on Mac.
Final Words
This article explains how to convert Postbox emails to PDF documents. If you are interested in this process. Then you can use a faster solution – RecoveryTools Postbox to PDF Converter. This application converts all your postbox messages to PDF format in batch mode. Also, take the help of RecoveryTools technical users to learn the process and solve all your issues related to Postbox or PDF.