How to Export Outlook Emails to Text / Documents Format ?
Karen Chard
~ Modified: 03-06-2022 ~ How To ~ 6 Minutes Reading
Overview: Are you looking for a solution to export Outlook emails to Text formats ? Or want to convert Outlook to TXT, RTF, XPS, HTML, DOC, MHTML, PDF, and other document formats ? If yes, then read this article completely.  In this article, we get to know about how to convert Outlook emails to documents. Anyone can easily know the solution without having any issues. Just read this article completely.
Outlook is an email client application developed by Microsoft Corp. It allows to receive and send email messages through the desktop application. One can use Outlook to manage emails, contacts, address books, appointments, calendars, tasks, etc. Whether you use Outlook consistently, you probably won't have the foggiest idea about a few cool things. That can assist you with being more useful options.
On the other hand, a text file is a simple ASCII file that stores normal text without images. It is a very simple file that can be easily accessed through any device. It's much easier to move and store lots of words in smaller file sizes.
A large number of users are looking for a way to obtain Outlook emails to Text format. That's why they continue searching on the internet to find a proper solution to export emails from Outlook to Text file. We can understand the required by a user based query:
"Hi, I'm an Outlook user since 2007. I have used many Outlook editions such as Outlook 2003, 2007, 2010, 2013, 2016, and currently using Outlook 2019 edition. Recently I need to extract some document-based information from Outlook messages. Unfortunately, I have lots of messages inside my Outlook application. Does anyone know how to export emails from Outlook to Text file ?"
Smart Solution: Outlook to Text Converter
As we can easily analyze from above that a large number of users are looking for a perfect way to convert Outlook emails as Text files. The whole process can be done with the help of RecoveryTools Outlook Migrator software. This utility is one of the best solutions to solve a large number of queries including how to save Outlook emails to hard drive as plan text format. How to save multiple Outlook emails individually (same subject line) etc.
However, Outlook emails can be saved into OST or PST files by default. Therefore, this software is compatible with both OST & PST files and can export emails into Text files without Outlook installation. You can download the solution on your Windows as well as Mac Computer.
Read Also – Export Outlook Emails to MBOX Mailbox
Outlook to Text Converter Free Download:
Download for Windows Download for Mac
Note: The demo version of this application allows you to export only a few emails to Text file. You can test the working steps using this trial edition. For more and all email conversion, you need to buy this application.
Steps to Export Emails from Outlook to Text File

Launch the product on your computer.
Select the Outlook data in three ways.
Choose only those folders which you want to export.
Now select a Text file format from the list.
Start the process to convert Outlook email to Text file.
How to Convert Outlook Emails to Text Format ?
The working of this amazing software is very easy and simplified. Just follow these simple steps to perform Outlook to Text file conversion.
Install & Run the software on your Windows or Mac computers.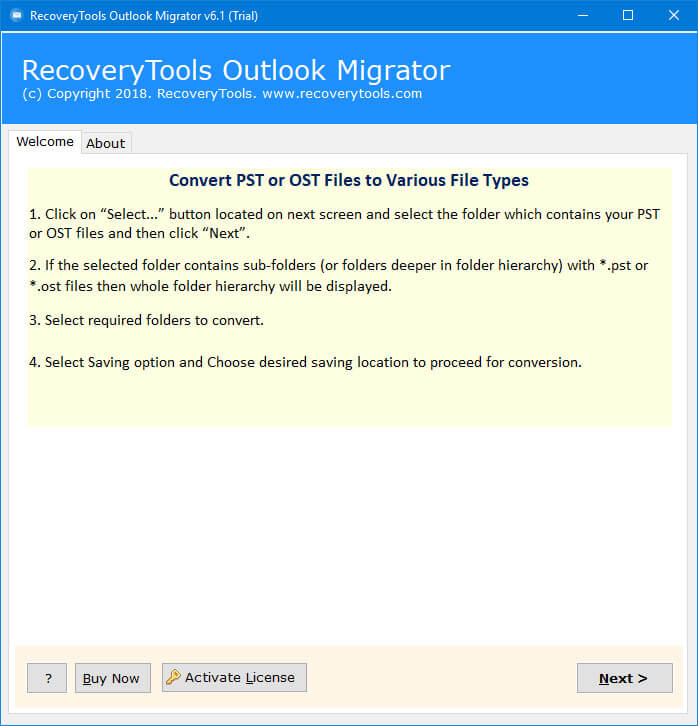 load Outlook Files with three sub-options:
Convert Configured Outlook Mailbox Data.
Select Outlook Files.
Select Outlook Folders.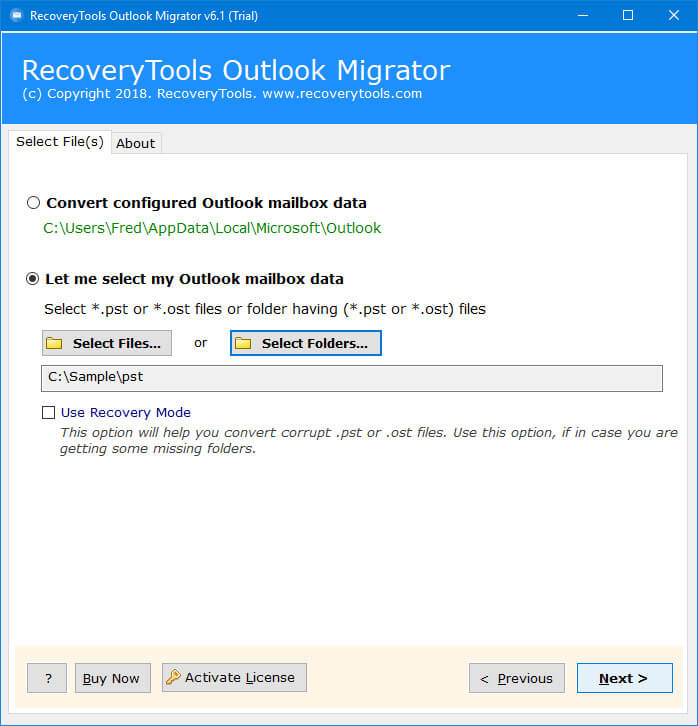 Now, select the required folders which you want to extract as Text format.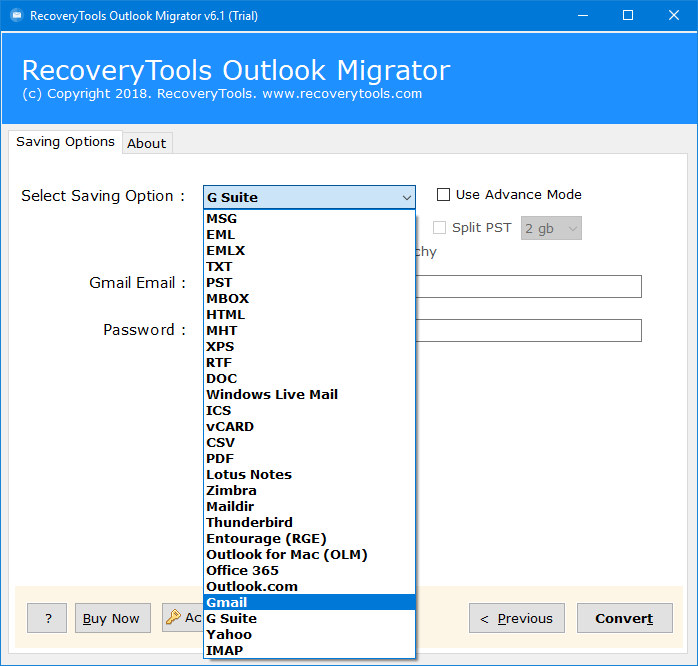 After that, choose the TXT, HTML, MHT, XPS, RTF, and other options from the list of Select saving options.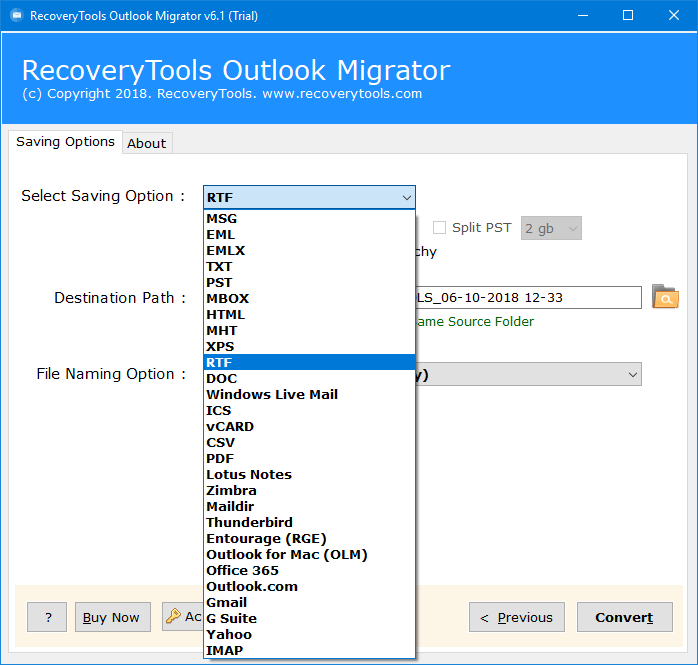 Setup Conversion options like Destination Path, File Naming Options, or Save resultant Text or HTML documents at the same source location.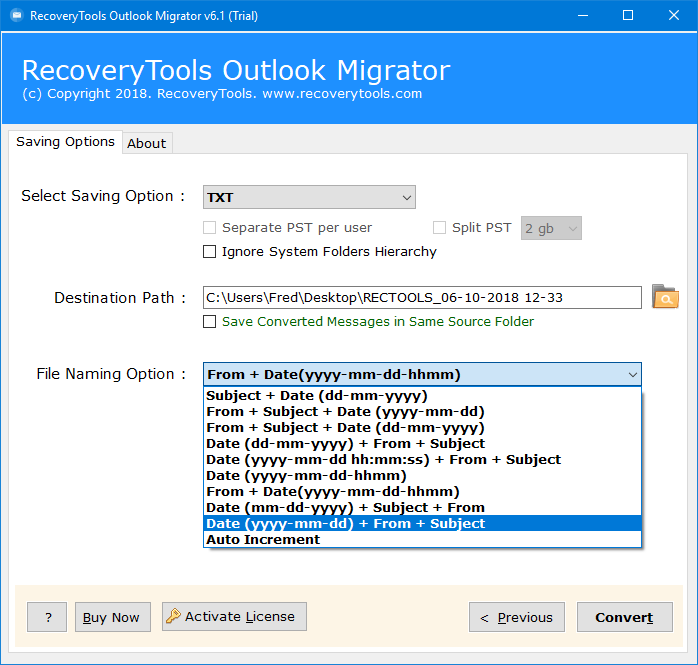 Click on the Convert button, analyze the live conversion process & access resultant files.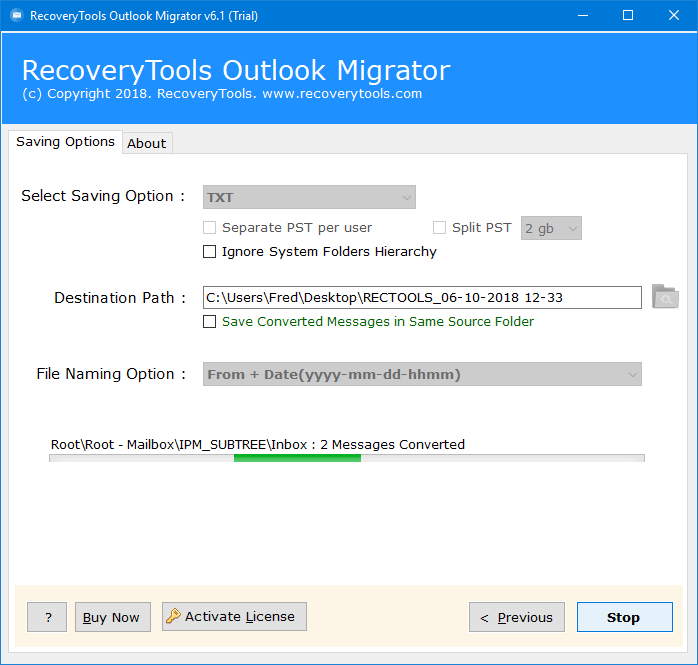 When the conversion process is ended, press the next button to end the process.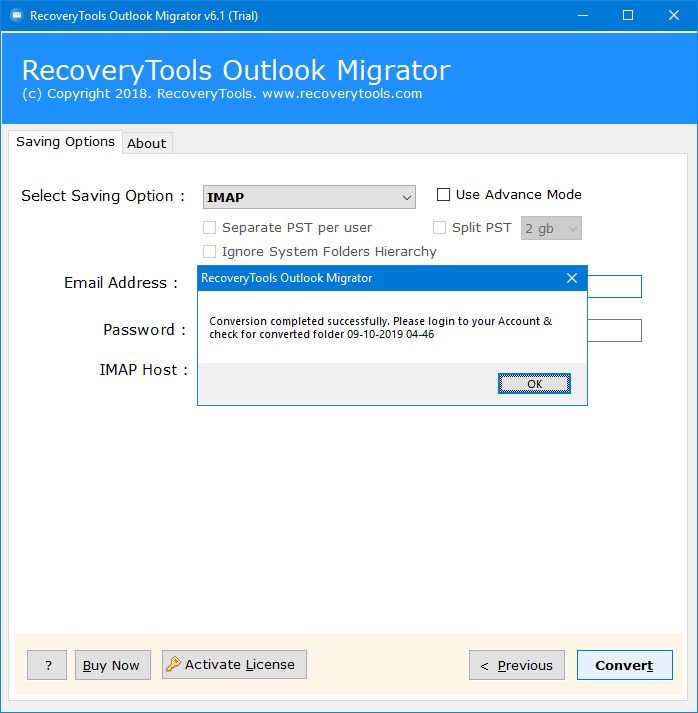 As we can clearly see that the working of this software is very easy and simplified. Any non-technical user can also save his Outlook emails as Text files using this software.
PST & OST to Text Converter – Major Features & Benefits
As we can see above that this software provides various advantages to its users including support of both OST & PST Outlook Data Files. The All-in-One software is compatible with all Outlook versions including Outlook 2019, Outlook 2016, Outlook 2013, Outlook 2010, Outlook 2007, Outlook 2003, etc. on Windows OS for both 32, 64-bit. Some of the major advantages which are provided with this solution are described below:
The software is particularly designed to simplify the process of saving Outlook emails as Text files. Any non-technical user can export emails from Outlook Data File to TXT, HTML, RTF, XPS, MHT, and other documents.
Batch Export OST & PST Files:
The software allows the batch conversion of multiple Outlook Data Files to save their emails to hard drives automatically as Text files. Users can select an unlimited number of Files either by files or selecting the complete folder having Outlook files. One amazing feature of his software is that it allows conversation configured Outlook emails by loading files from the default profile location.
Maintains Original Metadata & Formatting:
The software completely maintains the original Internal System Folder Hierarchy of the emails. The Metadata properties of the emails such as To, Cc, Bcc, Subject, etc. are also kept preserved during the conversion. No loss in the formatting of the emails and messages did while saving them as Word files.
Handle non-English UNICODE Text:
The utility is designed with advanced algorithms to handle the non-English text and character set. The software supports encoding a large number of languages such as Dutch, French, German, Spanish, etc.
The Verge:
In this article, we get to know about how to export Outlook emails to Text files from both OST & PST files using a third-party application. Free Download Outlook to Text Converter software from above and enjoy conversion of first 25 Outlook emails as Web documents. If you want more information regarding this tool, then read the post and get the support help now.