How to Migrate Emails from Thunderbird to Webmail Account ?
Karen Chard
~ Modified: 15-06-2022 ~ How To ~ 5 Minutes Reading
Overview: Are you finding a way to move emails from Thunderbird to Webmail account ? Or want to learn the Thunderbird to Webmail migration process ? If so, your searches end's here. In this article, we will explain the complete method to export Thunderbird Emails to Webmail account directly. For this, you need to download and read this article completely.
Thunderbird is one of the popular email client programs in this world. It is an open-source freeware application for Windows, Mac, and Linux users. In recently, it is also available on Mobile phones. Thunderbird Views, Tags, Filters, Fast Search, and Smart Folders help you manage mail in Mozilla Thunderbird.
It provides a security firewall, spam filter, and antivirus properties. Thunderbird gets rid of junk mail and detects scams using Bayesian filtering. But there are many problems with Thunderbird that users have to face such as the RSS feed reader can be better integrated and provide more power for Thunderbird. Mozilla Thunderbird may be more helpful by suggesting tags or answer text.
"Hi, I have been using the Thunderbird email client application for the last few years. Recently, I have faced many issues with Thunderbird program. It's not that easy to incorporate the configuration of multiple security features. That's why I need to move from Thunderbird to Webmail account. So, does anyone know how to migrate emails from Thunderbird to Webmail account ? Please Help me!!!!!"
A Simple Solution – Thunderbird to Webmail Migration
Thunderbird Migrator by RecoveryTools is one of the best solutions in the world for Thunderbird. The solution provides a direct way to move from Thunderbird to any Webmail account directly. One can easily use this solution on all Microsoft and Mac computers. Also, the working of the utility is extremely simple and rearranged. Simply download the product from the below buttons.
Download the Solution on your Windows and Mac Computers:
Download for Windows Download for Mac
Steps to Migrate Thunderbird Emails to Webmail
Launch the solution on your computer.
Select the Thunderbird files with dual options.
Now, choose the required Thunderbird folders from the list.
Select the Webmail option or IMAP option in the list.
Put all the details and start Thunderbird to Webmail process.
How to Migrate Emails from Thunderbird to Webmail Account ?
Launch the solution on your computer machines.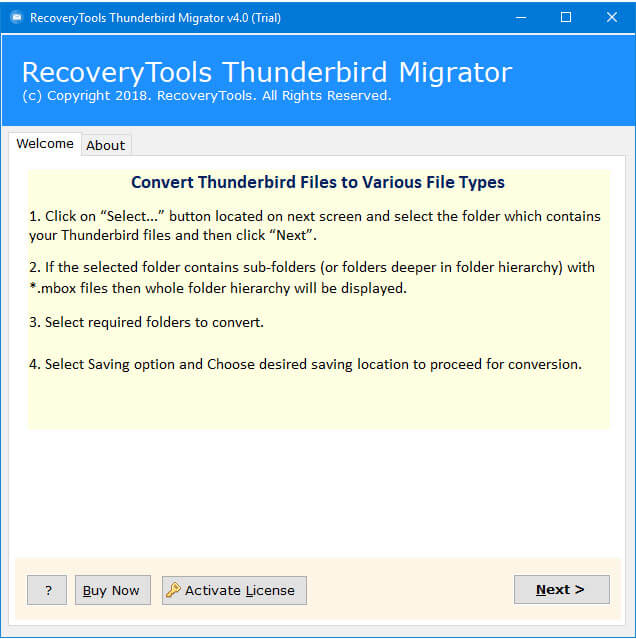 Now, select the Thunderbird mailbox files with dual selection options. If you have already installed the Thunderbird client, then choose an auto-locate option.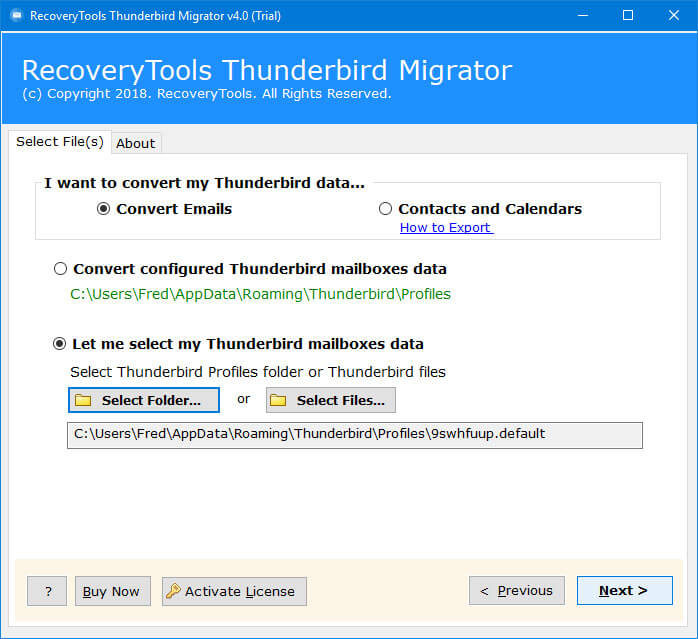 After that, choose the only selected folders from the list of mailbox folders.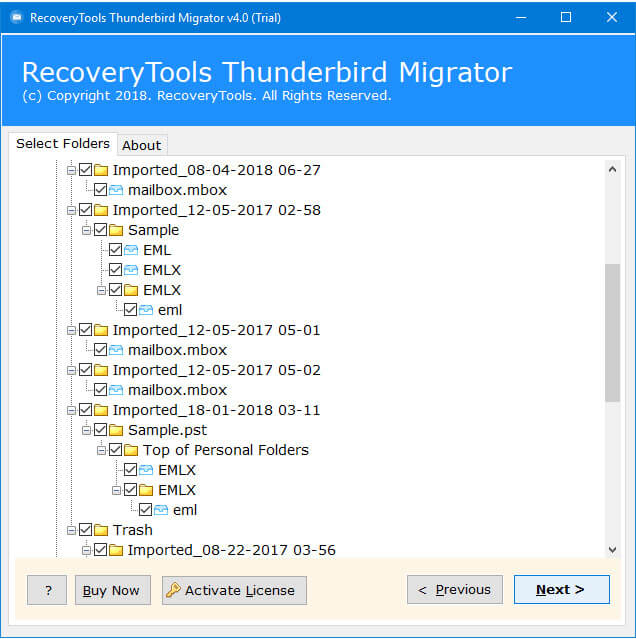 Select the IMAP option in the list of file-saving options.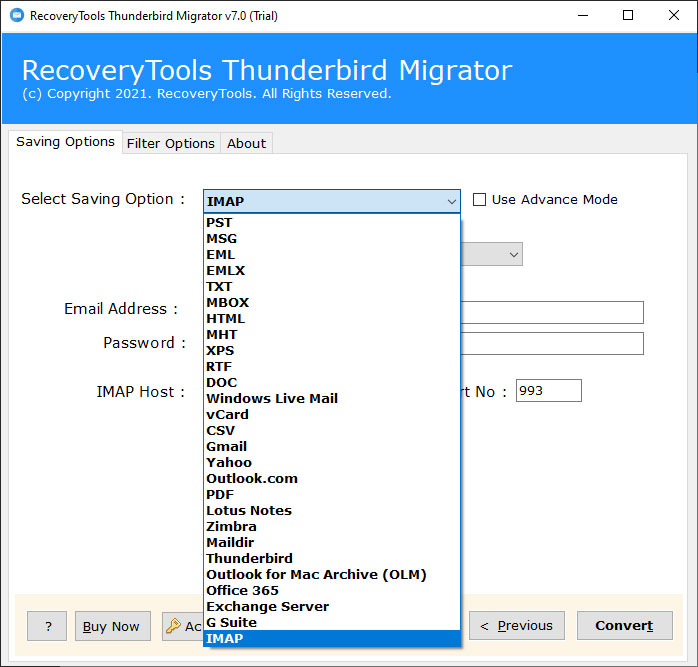 Now, set the Webmail account information and details in the user interface panel.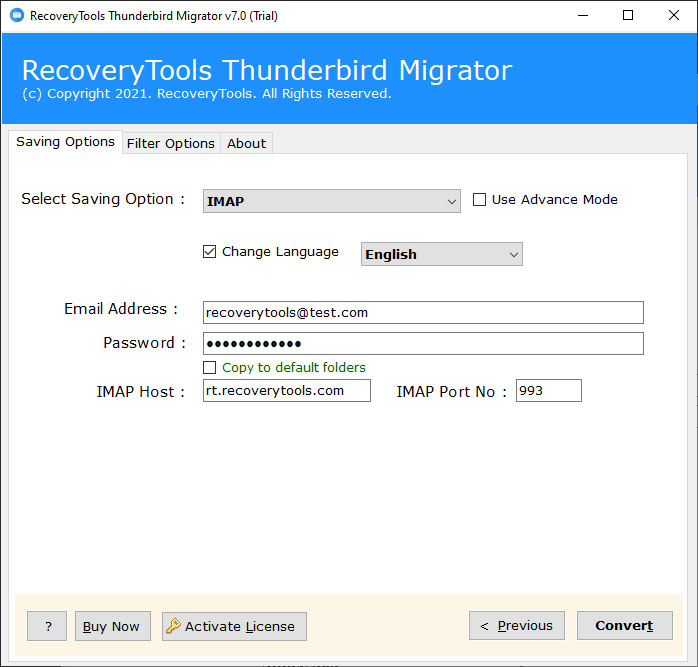 You can also select the additional filter options to export only required emails.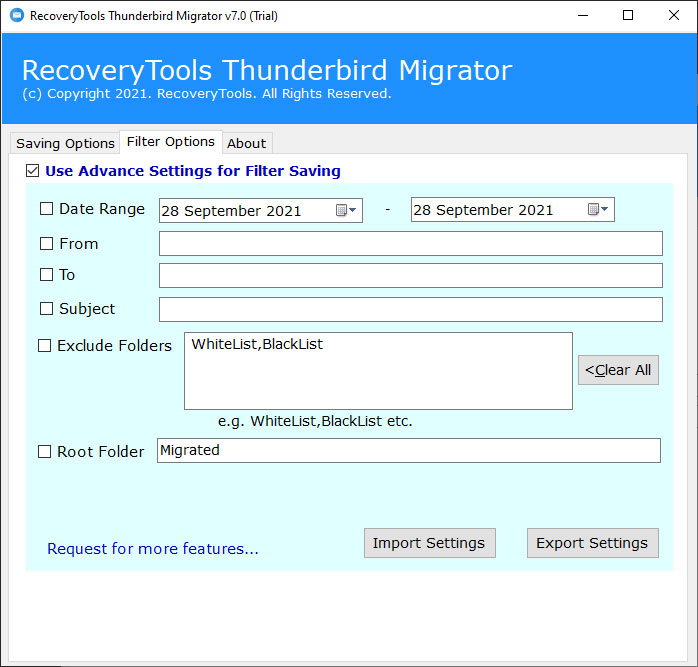 Now, start the process of Thunderbird to Webmail Migration process.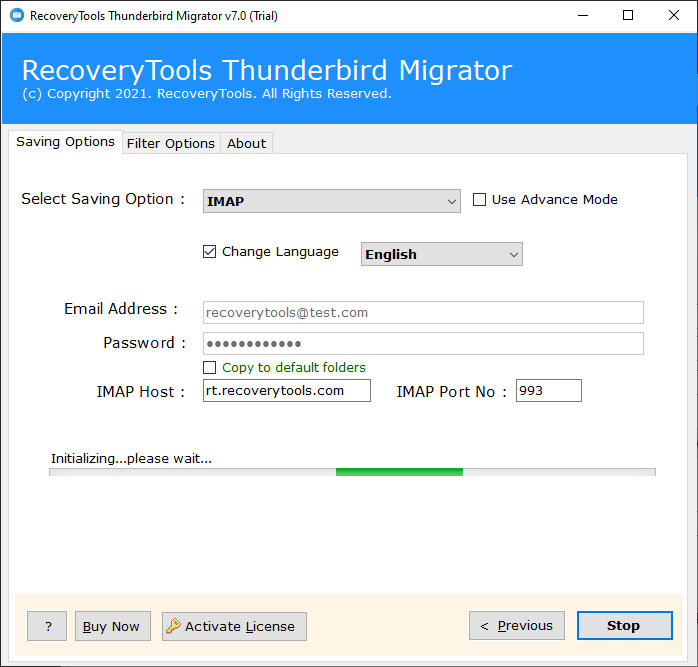 Thunderbird to Webmail Migration Tool – Features Explained
Dual Option to Manually Select Thunderbird Files:
The Thunderbird to Webmail Migrator solution comes with dual options to manually load Thunderbird files into the UI panel. Also, the select files option enables the user to single Thunderbird files. And the select folders option allows you to bulk conversion of Thunderbird Mailbox data.
Advance Option to Auto Detect Thunderbird Mailbox:
To decrease the client exertion and time the Thunderbird to Webmail Migration tool gives "Convert configured Thunderbird mailbox data". Also, this option will naturally identify and stack the Thunderbird mailbox information from the default locations. In this way, it will likewise, assist the clients with easily export email information from Thunderbird to Webmail account.
Efficient Output Management Through Email Filters:
The solution offers diverse file naming choices while changing over Thunderbird messages into Webmail client. It assists the clients with saving and deal with their resultant Webmail account as per their significance. Also, the solution provides several email filters options to export only the required emails by date, time, subject, ranges, etc.
Migrate Thunderbird Emails with All Properties:
While migrating messages from Thunderbird to Webmail account, the solution guarantees to move attachments with the particular messages. Also, it keeps up with all the email properties and elements such as location, subject, email addresses, internet header, substance, text design, hyperlinks, and so on with no change.
Support All Microsoft Windows & Mac Computers:
Thunderbird to Webmail Migration tool is a fully Windows & Mac compatible toolkit suitable for all types of users. Also, the solution can be run on all latest editions of Microsoft Windows editions such as Windows 11 and Windows Server 2019 editions. You can also install this application on all Mac OS X editions.
Conclusion
In this article, we get to know about a preferred way to export Thunderbird emails to Webmail account. If you want to export all and selected emails from Thunderbird to Webmail, then download the solution on your computer now. The solution is available in trial edition to export only a few emails from Thunderbird to Webmail account. Also, for more, you need to purchase the solution key. You can also contact the technical support team if you have any other issues.