Two Tips to Migrate Gmail to G Suite Account – Complete Guide
Karen Chard
~ Modified: 14-07-2022 ~ Cloud Backup , How To ~ 5 Minutes Reading
Gmail is one of the free email services used by more than half of the population to manage their personal data. It provides better security features. Users can also use this professional use but sometimes face an issue while managing their entire data. At that time, it is better for them to migrate to a better business email platform such as G Suite. A lot of users are already seeking for a solution to migrate Gmail to a G Suite account. There are not only single but multiple other reasons for that.
G Suite is one of the Basic Business Collaboration Suites that offers users the to store their professional data. Using this, it is possible to share business emails, calendars, and contacts, and do video meetings, conferences, and multiple other things. G Suite is basically an essential and upgraded version of Gmail accounts. It stores the entire data on the Cloud platform with better and more effective security features.
Here, in this write-up, we will discuss the complete solution to migrate personal Gmail to a G Suite account. Just stay with us till the end, and get both the free as well as the paid solutions.
Freeway to Migrate Email from Gmail to G Suite:
Google itself provides a method to ensure Gmail to G Suite Migration is completely free of cost. One can migrate email from Gmail to G Suite with the help of Google Data Migration Service. Follow these steps to do so:
Sign in to your Google Admin Console using an Administrator account.
Go to Data Migration available at More Controls from Admin Console Home Page.
Choose the Email option from the list.
Select the Gmail option from the Migration Source list & click on Connect.
Either Accept default options or choose whether to migrate deleted and junk emails.
Click on Select Users to hover over Add (+) and click Select User.
Enter user's Old Gmail Addresses in the Migration Form.
Type the user's new G Suite email Addresses in Migrate To.
Click on Authorize button and again Sign In to your Account.
Gmail account owners need to review and grant permission to access mails then click on Allow
Copy & Paste Authorization Code in Authorization Code field in Admin Console.
Click on the Start button to initialize the whole process. To migrate Gmail to another user, repeat these steps. Click on Exit Migration.
Limitations of Free Solution:
The above solution is not suitable for non-technical users to migrate Gmail to G Suite. The whole process is very technical and requires knowledge of all aspects of Data Migration and its risks. It is a very time-consuming process and users may lose their precious time in performing a Migration from Gmail to G Suite.
Effective Solution to Migrate Personal Gmail to G Suite:
In the above section, we discussed a free method to migrate Gmail to a G Suite account and also its limitations. To overcome its limitations, one can use a RecoveryTools Gmail Backup Tool. One such feature of this application is that it provides users with dual options. Users can easily do a migration of a complete personal Google Mail account without imposing any kind of size limitations.
Users only need to provide Account Login credentials for both source and resultant Google Account and the software will instantly initialize its working.
Download for Windows  Download for Mac
Complete Steps to  Do Gmail to G Suite Migration:
Download the mentioned Migration tool from here. Install & Run the software in your Windows PC.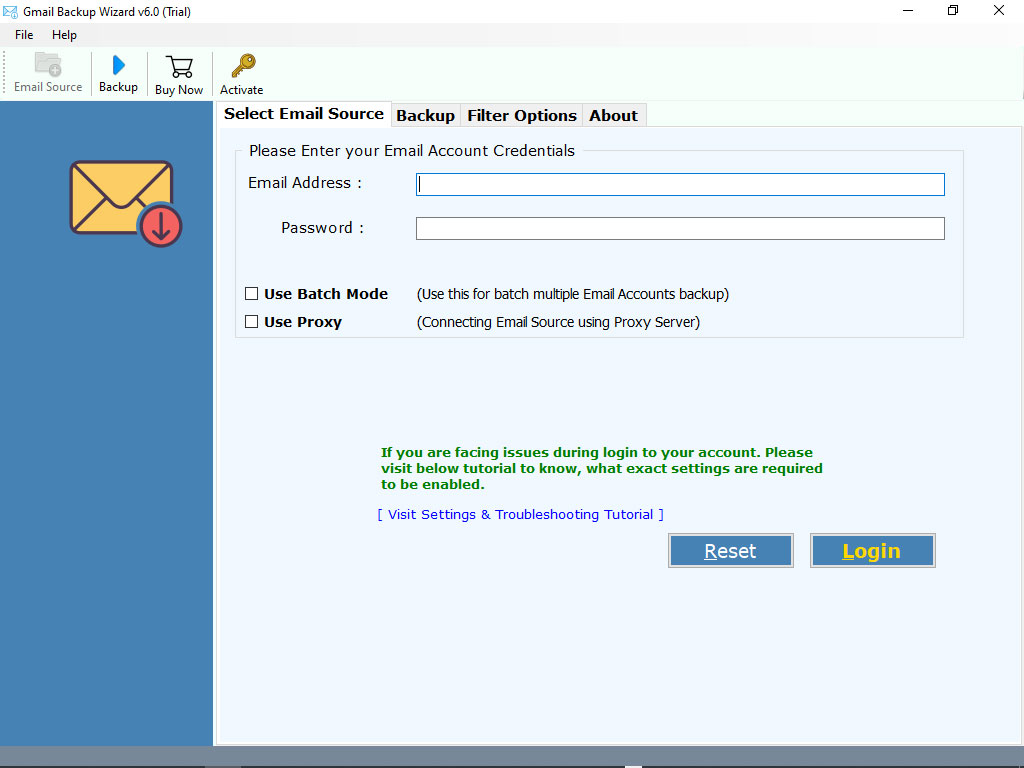 Enter the login credentials of your Gmail account there. Choose the respective settings option.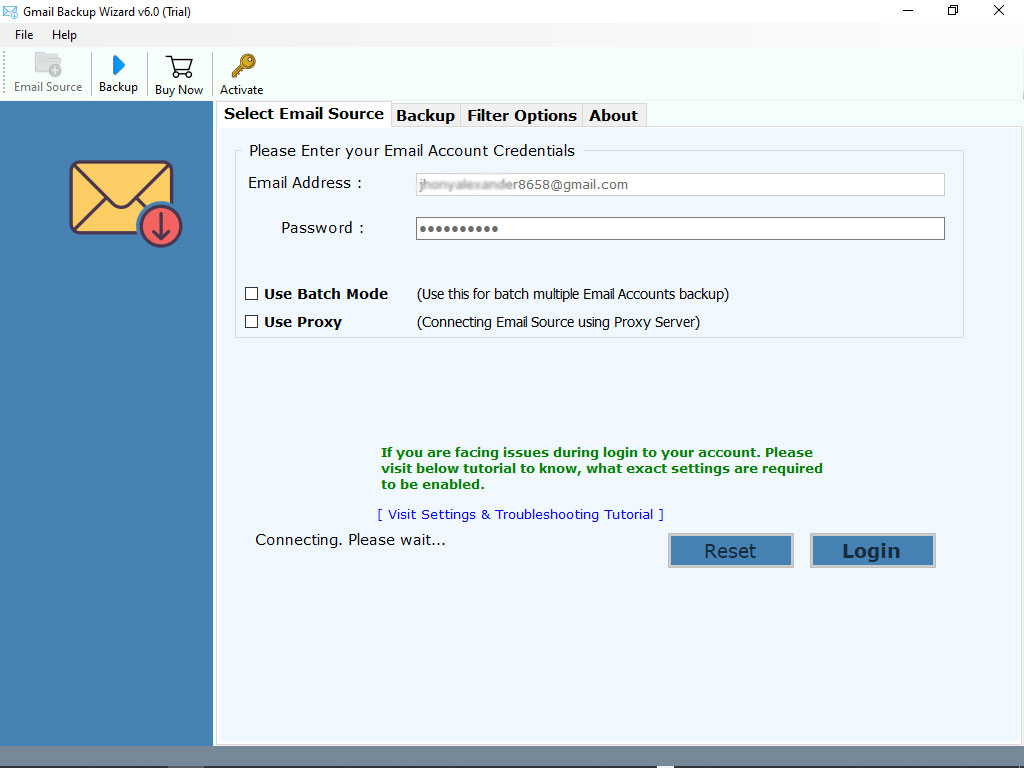 The utility will instantly start downloading Gmail mailbox items in the application panel. Choose the selected items which you want to migrate to G Suite account.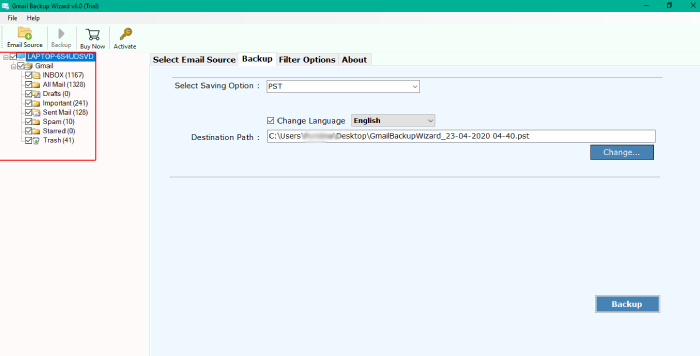 From the Select Savings option list, choose the saving option as G Suite.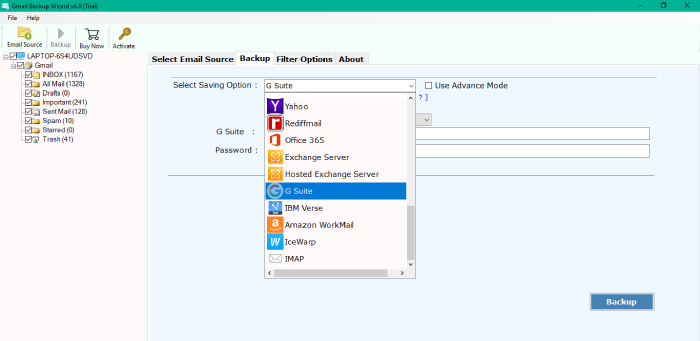 Enter Account Login credentials for the destination G Suite account.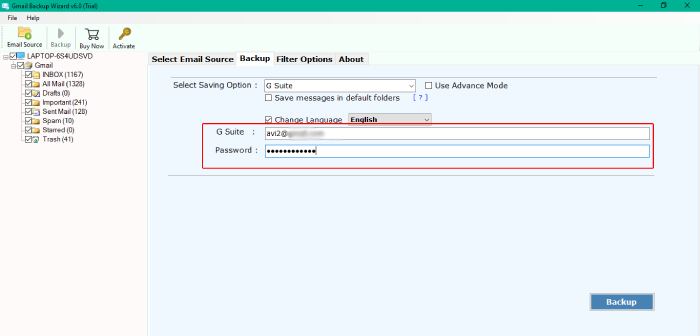 The utility also supports selective backup of items on the basis of some filters like Subject, Date, To, From, etc.
Click on the Backup button and the application will instantly initialize the Gmail to G Suite Migration. Click on the OK button after the conversion process is finished successfully.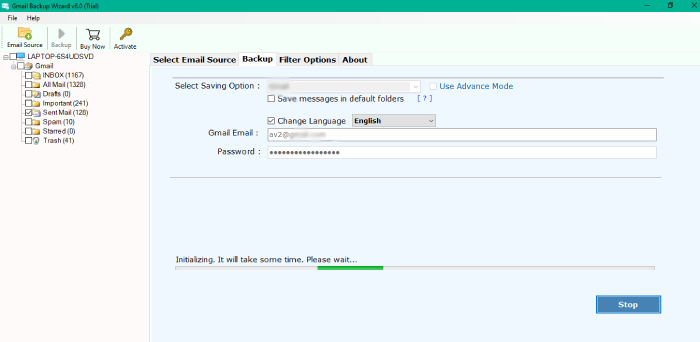 Login to your output G Suite Account to check results and access resultant items in it.
Features of Gmail to G Suite Migration Tool:
Migration of any mailbox size of your organization.
Fully supports all Google Apps & Services & Preserve all Access Controls and Permissions.
Creates Live Migration Process Report as well as Allows users to Start/Pause/Stop Migration anytime.
The utility does not require your Infrastructure, the whole process is performed Online (Cloud2Cloud).
Easy to set up and Simple to use suitable for non-technical users.
Fully Automated Application without any interruptions.
24/7 Phone & Online Support to help or assist at any time.
Migrate unlimited data to your G Suite account including all the mailbox data items.
Data Integrity will be maintained throughout the migration process, and there will not be any kind of loss of data.
The Verge
The article deals with large number of queries like How to migrate personal Gmail to a G Suite account. We had mentioned two complete solutions for the complete migration. Moreover, you can continue with any of the solutions that suit your requirements but it is better to continue with the automated approach as that will provide your better and desired results with 100% accuracy. You can also compare the solution with other solutions present on the Internet, and you can find it better.