IncrediMail Password Recovery Solution for Free
Karen Chard
~ Modified: 04-06-2022 ~ IncrediMail ~ 4 Minutes Reading
"Hi, how to recover my IncrediMail password? I am an IncrediMail user from a very long lime. But a few months ago I changed my password. After that, I forgot my IncrediMail Password & now I am not able to open the application. But recently IncrediMail announced that it going close. But I really want to access my data before it gets closed. So I want urgent help. Anyone, please help me with a solution for IncrediMail password recovery. Thanks in advance."
Recently the most searching queries in Google are related to how to recover IncrediMail Password.  It is even more than the queries related to IncrediMail migration problems. Because it is a very crucial time for IncrediMail users. After 20 March 2020, you will lose your complete IncrediMail data. Are you one of them who forgot the IncrediMail password & trying to open it? Then don't worry we will help you.
Common Questions related to IncrediMail Password Recovery

1. How to recover my IncrediMail password
2. How do I find my IncrediMail password?
3. Can I reset IncrediMail password
4. How do I change my IncrediMail password?
5. How to find my IncrediMail password?
If you are also searching for similar questions then you are in the right place. At this last moment like this, the importance of IncrediMail is not at all very less. So to solve your all issues related to IncrediMail data access & recovery of IncrediMail Password. We are going to Introduce an amazing automated solution to recover IncrediMail Password.
IncrediMail Password Recovery Tool – Free Solution
IncrediMail Password Recovery Tool is an expert choice for the users who all are looking for a solution to recover their forgotten IncrediMail Password. The software will auto-detect & display the email accounts configured within the IncrediMail application. Also, the utility provides additional information like POP Password & SMTP Password if the account is configured with respective protocols. Do you want to change or reset your IncrediMail password anymore?

!! Alert !!
The count down is started. IncrediMail is going to shutdown What happens after that? IncrediMail server & its desktop application is going to close. After March 20 you will lose your IncrediMail data forever. There is no point in complaining after your emails get disappeared. So stop thinking & take action to ensure the security of your data.
Secure IncrediMail Mailbox Data in Expert Way
After going through the above section we saw an efficient solution to recover IncrediMail password. Now you have your Password & all your important IncrediMail data. What is the next step? I know this will be the question in your mind right now. So no more worries, we have the answer for this also. After the IncrediMail password recovery process, the most important thing you need to do is, ensure the security of your IncrediMail emails.
RecoveryTools IncrediMail Migrator is the right solution for you. The only method that exists to protect your IncrediMail mailbox is either backup IncrediMail data or transfer IncrediMail email with attachments to any other similar email clients. In this situation, we can say that the IncrediMail converter is all in one solution, which helps you to do both processes using this single software. The only thing you need to do is find any reliable IncrediMail alternative or decide the format to which you need to transfer your data.
Step by Step Procedure to Protect IncrediMail Files & Folders
After the successful IncrediMail Password recovery, follow these steps to IncrediMail emails.
1. Install & open IncrediMail Migrator on your Windows system.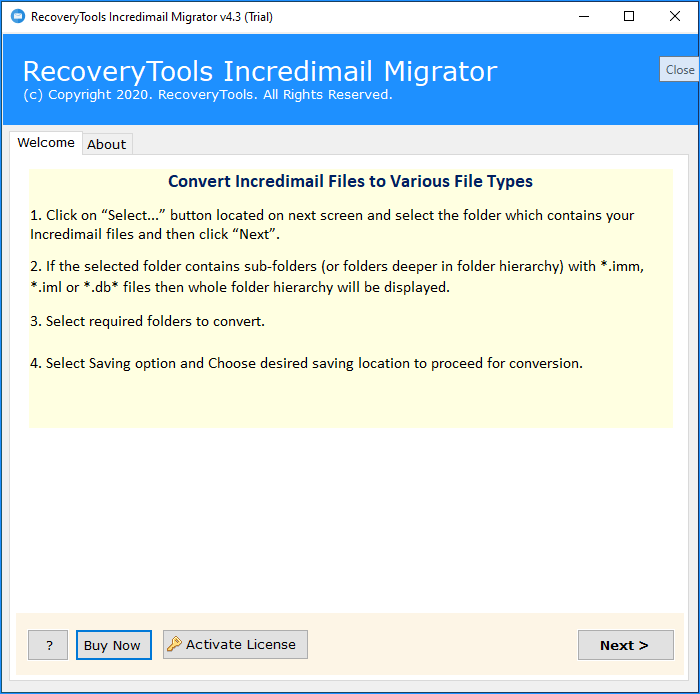 2. Auto detects or manually add IncrediMail mailbox to the tool & hit the Next.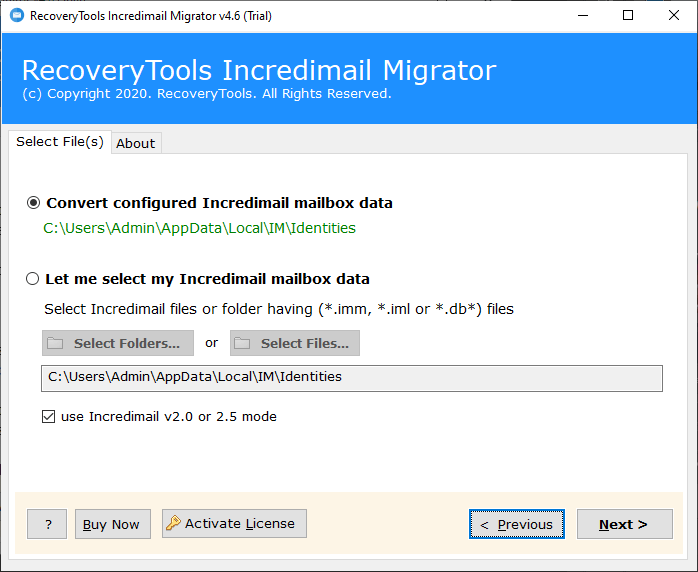 3. Then, select the required email folders from the list & click on Next button.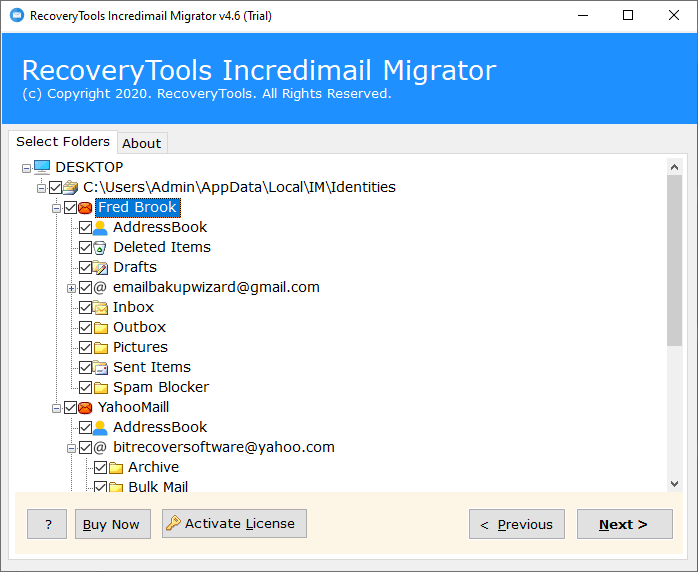 4. After that, choose the required saving option & setup the conversion options.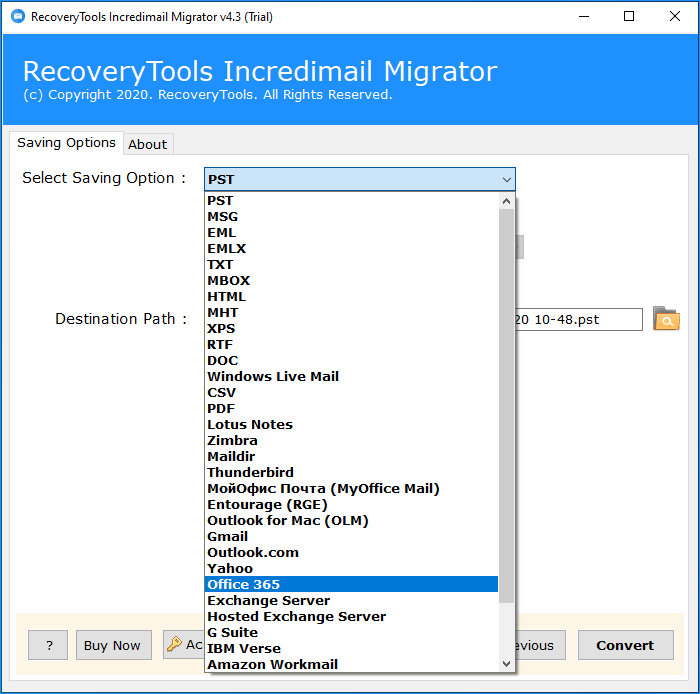 5. Finally, click the Convert button to transfer IncrediMail Mailbox data.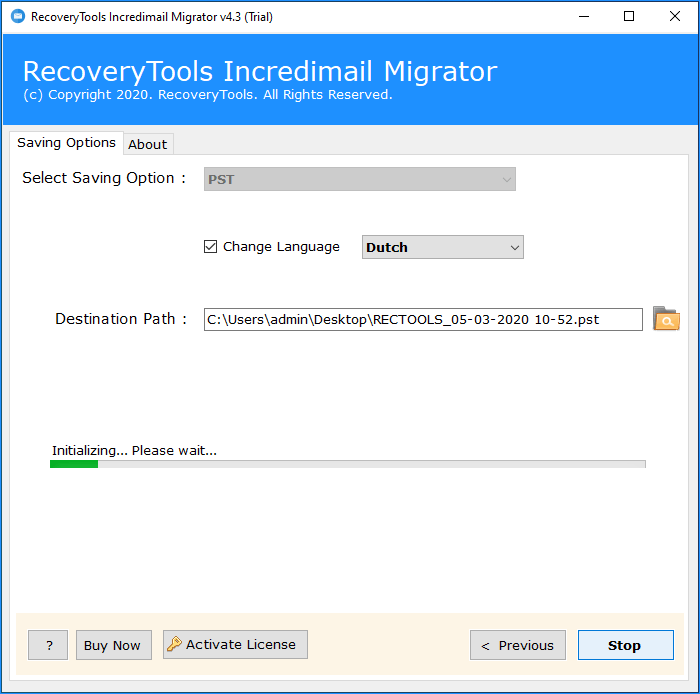 The utility provides a large variety of saving options including file formats like PST, EML, MBOX, etc & email clients like Thunderbird, MS Outlook and more. So you don't need to waste your time searching for different solutions for each. Now you have everything in one place. Get the free trial version & try the features before spending money over it.
Final Thoughts
In this blog, we explain how to recover IncrediMail password wit the help of an automated IncrediMail Password recovery free tool. It will help you to find your forgotten IncrediMail password & access your mailbox data without changing the password. Also, after going through the above write up you can find out one expert solution to protect your IncrediMail files & folders before the IncrediMail shutdown. So go through the solution & make sure to secure important data.