How to Import OLM to Apple Mail? – Two Easy Ways
Karen Chard
~ Modified: 06-06-2022 ~ How To ~ 6 Minutes Reading
Overview: Are you looking for a solution to import OLM to Apple Mail client ? If so, then read this post completely. In this article, we discuss a perfect way to import the data. There is a large number of users who want to import multiple files along with all the data items but didn't get the better results.
OLM file is an archive file created when a user export data from Outlook 2011, 2016, or 2019 for Mac. It stores emails, messages, tasks, notes, contacts in the address book, events, and reminders in Calendars, Journals, etc. Apple Mail is by default email client for macOS, iOS or watchOS, etc.
It comes free without making any subscription as well allowing various types of protocols for sending and receiving email messages like SMTP, POP3, Exchange, IMAP, etc. Therefore, a large number of users are looking for a way to import from Mac Outlook to Apple Mail client.
There are multiple reasons why users are thinking to import their data to an Apple Mail account. Furthermore, we will discuss two solutions- one is a manual solution and another one is a professional solution.
Reasons to Import OLM to Apple Mail
Moving back to Mac Mail from Outlook for Mac 2011

"After using Outlook for Mac 2011 for about three months, I'm actually considering going back to Mac Mail.

Does anyone have any guidance on how to move my current/saved e-mails from Outlook for Mac back to Mail? Outlook for Mac only offers one export option – to either PST or OLM – nothing to export to MBOX format."

– James William – New York
I have been using the mac for a long time, earlier I used Entourage as my email client, then came Outlook 2011 for Mac, and now it's Outlook 2016 for Mac. Due to some official guidelines I now need to switch over to Apple Mail. This includes transferring my database from Outlook 2016 Mac to Apple Mail.

Question
As I am completely unaware of this process, I am looking for some help in terms of what I need to do to migrate to Apple Mail. A simple and faster approach will be more preferable.

– Duke Potter – California
Manual Solution to Import OLM to Apple Mail
Follow the steps to import the data to Apple Mail:
Run Outlook on your Mac OS machine. Choose the required mailbox that you want to import.
Click on the mailbox and drag and drop it on the desktop to save them into MBOX.
Then, repeat the steps until all your mailboxes are converted into MBOX.
Then, run Apple Mail >> Select File >> Import Mailboxes.
Choose MBOX files from the system and load them.
Wait for minutes, and you can see the files imported into Apple Mail. 
Limitations of this Method:
It will consume more time as you have to repeat the drag & drop steps again and again.
Also, there may be a loss of data while importing the files.
You cannot import a selective amount of the data.
Solution By Experts – Import OLM into Apple Mail
One such application is RecoveryTools OLM Migrator Software which gives the direct option for the users to import the files. The tool is easy to use and provides a user-friendly interface that can be used by all the novice as well as the technical users. Also, it has the ability to import an unlimited number of files without any size limitations and without any kind of issue.
Moreover, this software supports multiple other formats such as OLM to PDF, OLM to MSG, OLM to PST, OLM to CSV, OLM to EML, import OLM to Gmail, import OLM to Office 365, OLM to Exchange Server, OLM to vCard, import OLM to Thunderbird, and others. While importing a large amount of data, the hierarchy of all the files and folders is maintained throughout the process.
Users need to convert OLM to MBOX first, and them import the resultant files into Apple Mail.
Just Download the mentioned OLM to Apple Mail Converter for free of cost and start the process.
Download the Solution Now:
Steps to Import OLM to Apple Mac Mail

Launch the solution on your computer.
Select the required OLM file with desired options.
Choose the required email folders from the list.
Select the MBOX in the saving options.
Get the resultant files.
From Apple Mail, import those files instantly.
How do I import OLM files to Apple Mail? Step-By-Step Guide 
Firstly, install & Run the mentioned software and load OLM Files using dual ways.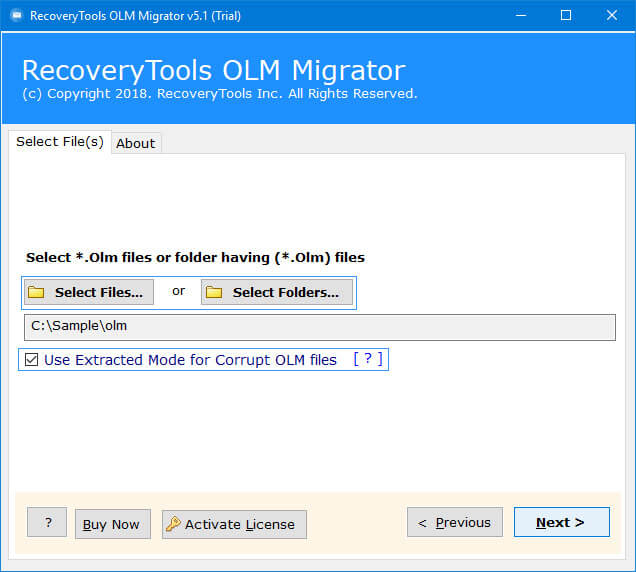 Select only the required mailbox folders that you want to import.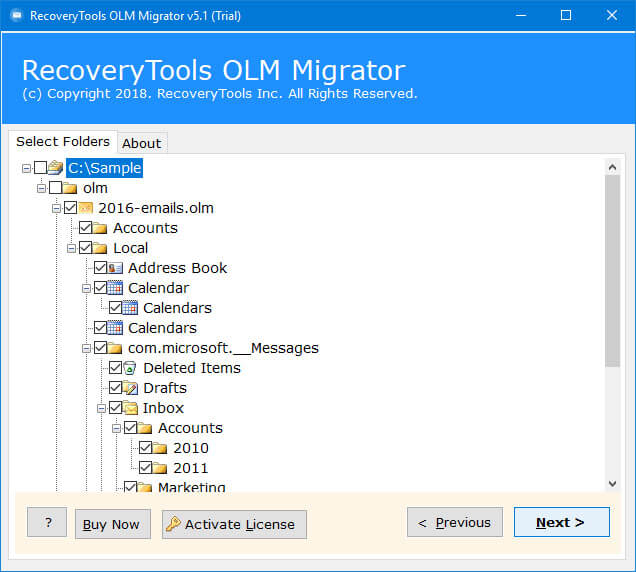 Then, choose MBOX format from the file saving option and enter the destination path where you want to store your data.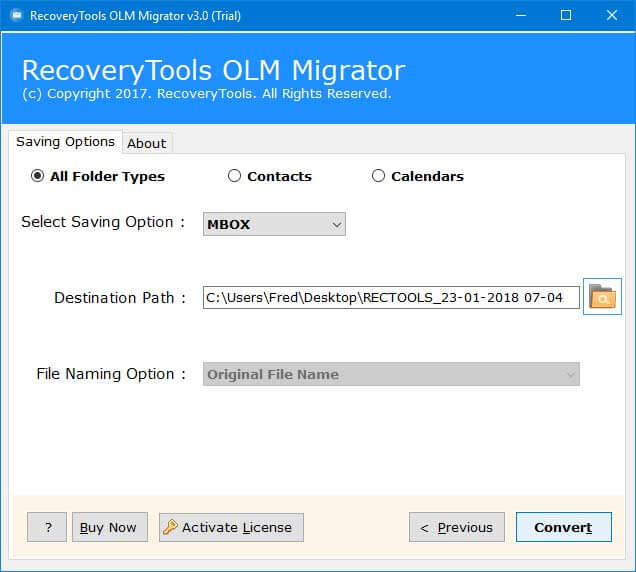 Click on the Convert button & analyze the conversion process.
After successful conversion access resultant MBOX files.
Run Apple Mail & from the File menu, click Import Mailboxes…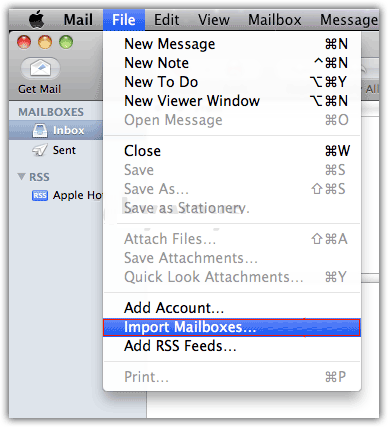 It will display options to import data. Choose Other from here.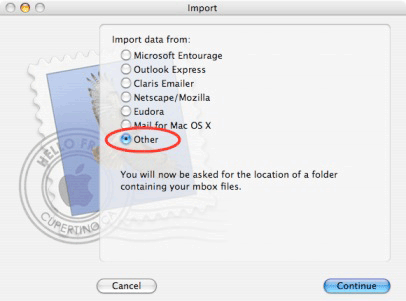 It will ask to import data from different platforms. Choose the other option.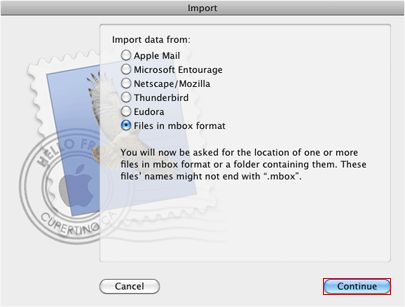 After that, you will be asked for the location of one or more files in MBOX format or a folder containing them. Select the folder having resultant files and click on Continue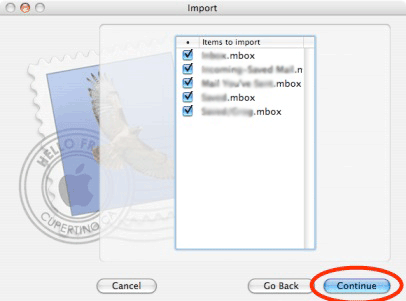 Hence, you will receive all your mailbox items into Apple Mail instantly just by following the above steps.
Benefits of using OLM to Apple Mail Converter:
The utility provides flexible GUI that can be used by all the users present on the Internet.
Maintains the hierarchy of all the files and folders and entire data structure throughout the process.
 This software allows you to convert Mac OLM emails along with including attachments in the original format.
Supports all kind of OLM files whether they are orphaned or from all the versions of Outlook for Mac.
Preserves the Data Integrity and maintains images, attachments, headers, and other meta data elements.
Advanced Filter Option to locate for some particular email from different intents.
Offers Selective Conversion of data according to the needs and requirements of the users.
Allows unlimited conversion of OLM data without any kind of file size limitation.
Also, it is compatible with all the latest versions of Windows OS such as Windows 10, 8.1, 8, 7, and all other 32-bit and 64-bit Windows OS.
Does not require any kind of extra installation throughout the conversion process. Work without the need of any kind of technical guidance.
Conclusion
In this article, we have explained the complete process to import OLM to Apple Mail client. If you want to know the procedure and learn how to import the data, then read this post and get the solution now. You can use any of the approach mentioned above but if you continue with the manual solution, then there is main limitation that sometimes drag & drop option didn't work. So, I recommend you to use the second mentioned solution and take out the results as soon as possible with 100% accuracy.