How to Import MBOX Emails to Entourage Client ?
Overview: Are you one of them who want to convert MBOX to RGE format ? Or want to know how to import MBOX to Entourage client ? If your answer is YES! Then read this write-up. Here, we will explain the complete process to import MBOX files into Entourage email client. So, learn with us.
As we all know that MBOX files are created by a large number of applications including Apple Mail, Mac Mail, Thunderbird, Spicebird, Google Takeout, etc. Because it is one of the best and oldest formats to store messages locally. It stores all email messages in a single document that is sequentially linked and separated by a "from" watchword.
On other hand, Entourage is an email client application for Mac computers. It was first launched in October 2000 as Entourage as part of the Microsoft Office 2001 suite, Office 98. But after this, Microsoft decided to stop the development of Entourage and launch Outlook for Mac 2011.
Entourage provides all the facilities such as email, calendar, address book, task list, note list, and project management. That's why many peoples like Entourage email clients. It supports RGE format to store Entourage mailbox data locally.
In case if users are looking for a way to import these mailbox items into the Entourage mail client. Then you need a professional solution. Because you need to convert MBOX to RGE format.
Why do We Need to Convert MBOX to Entourage Mail format?
"It seems that I'm unable to import MBOX files into entourage 2008. While the help file says that I can import MBOX files with the extension .mbx, I can't select it in the file explorer window. It's greyed out, thus not selectable. I tried several file extensions, but none seem to make the MBOX file selectable for import. Anyone here who can help me out?"
"Hi there, I copied all my Mail 3.1 MBOX files to DVD from my iMac (Leopard 10.5.1) computer. I then copied these files to a folder under Documents on my new MacBook Pro. I can find no way to import these files into Entourage (also 10.5.1). Messages cannot be found. How can I import these files into E2008? Any help much appreciated?"
A Professional Solution – MBOX to RGE Converter
To solve all these types of issues, you need to download RecoveryTools MBOX Migrator Utility. This application allows you to convert MBOX to RGE format in batch. The software comes with a completely secure user interface panel. You can use this application without the help of any technical guidance or user. The software is available for both Windows and Mac Computers.
Download from Here:
Download for Windows Download for Mac
Note: Both applications come for Windows and Mac editions. You can download the trial version of this application to export only few emails from MBOX to Entourage. For more, you need to purchase the software key.
Steps to Import MBOX to Entourage Email Client
Launch the software on Mac & Windows.
Select MBOX files with dual selection options.
Choose the Entourage RGE format in the list.
Set location path to save MBOX to RGE converted data.
Click on the next to import MBOX to Entourage Client.
How to Use MBOX to RGE Converter to Import MBOX to Entourage ?
Follow the given step-by-step process to import MBOX to Entourage:
Launch the software on your Windows and Mac computers.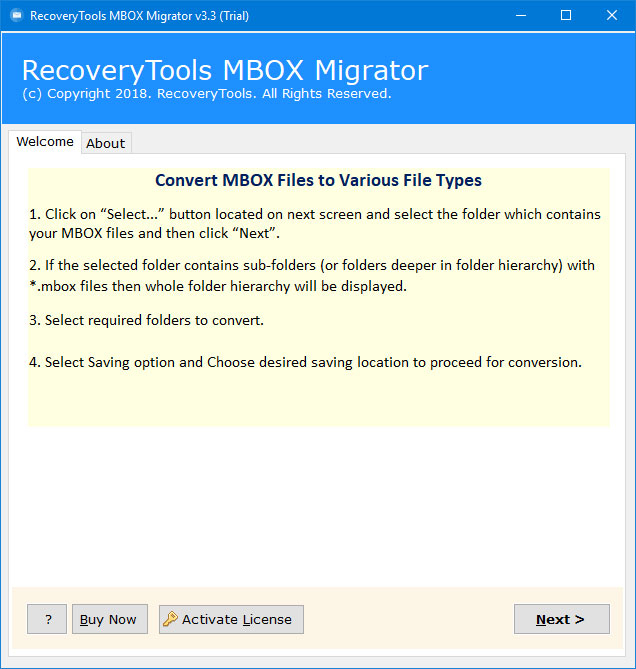 Select MBOX files with dual selection options in the user interface panel.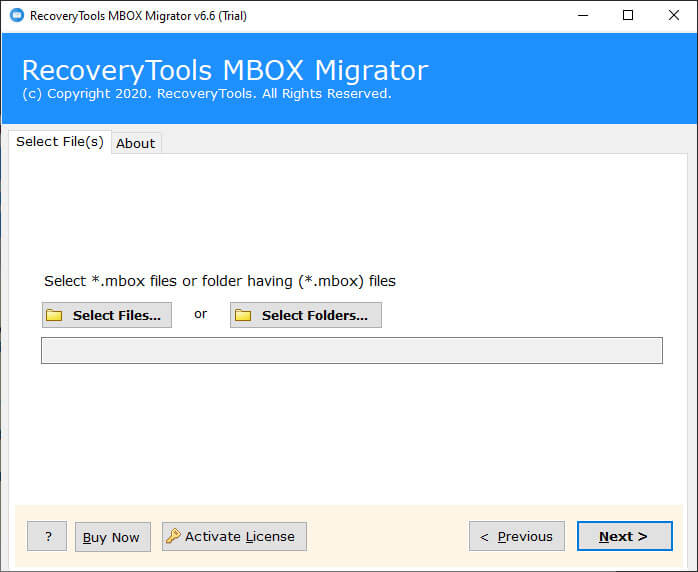 Choose the required MBOX folders from the list of selected MBOX files.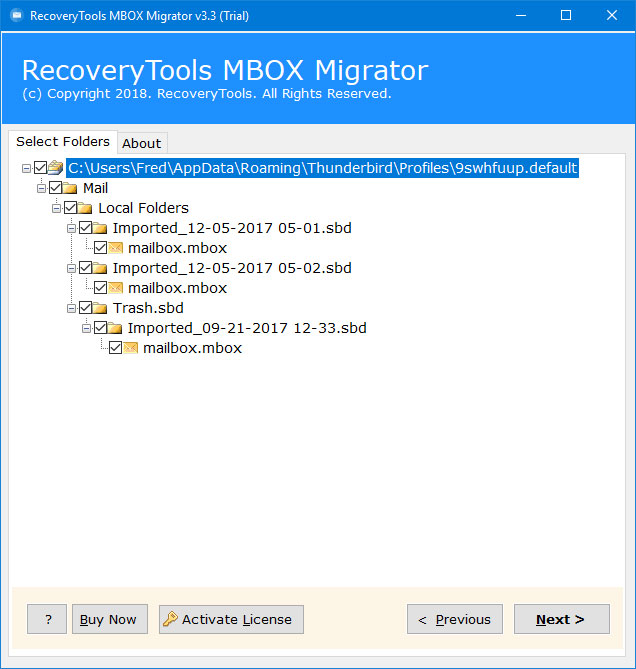 Select the Entourage RGE option in the list of file saving options.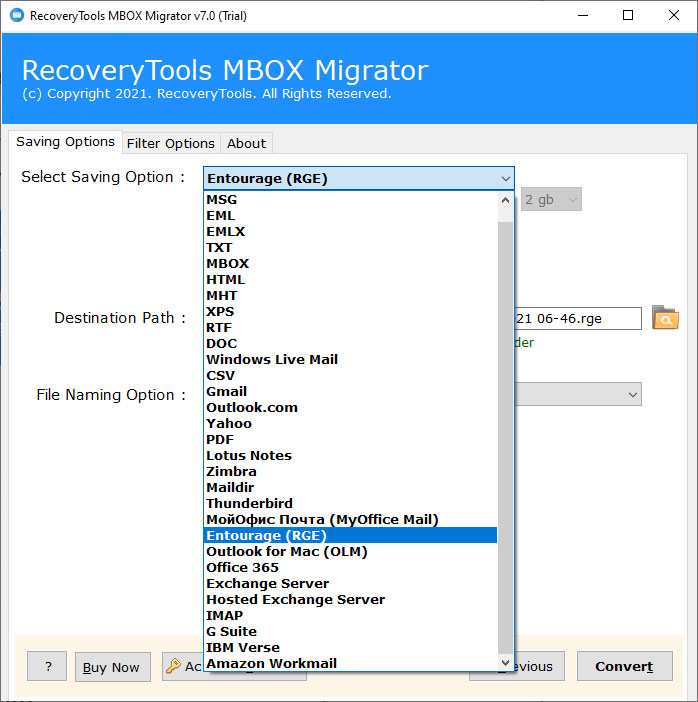 Set destination location path to save converted MBOX to RGE files.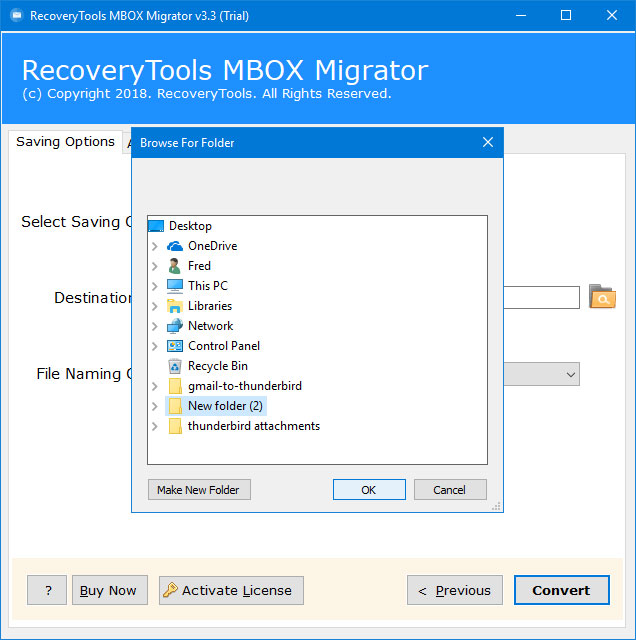 You can also choose the additional filter options for the selective migration process.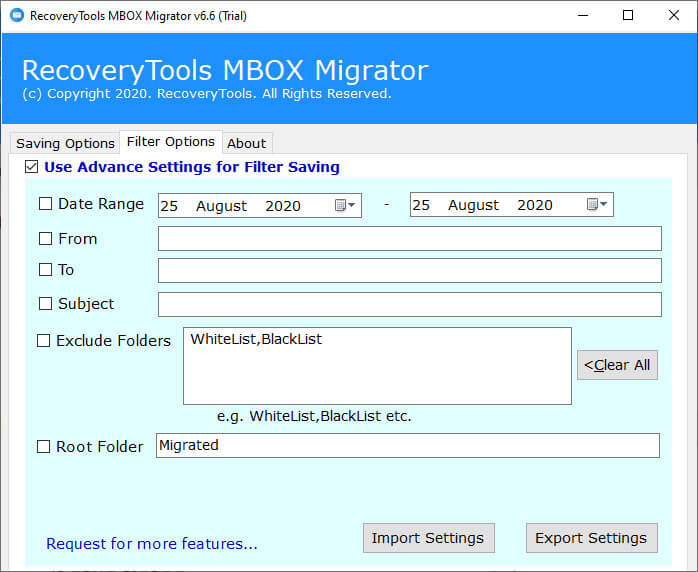 Finally, click on the next button to export MBOX to RGE format.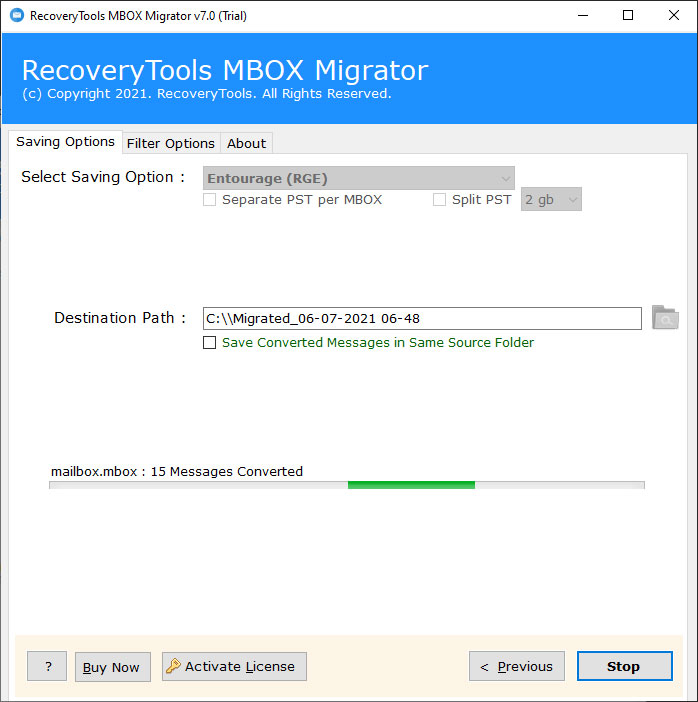 When the process is completed, go to the resultant location path.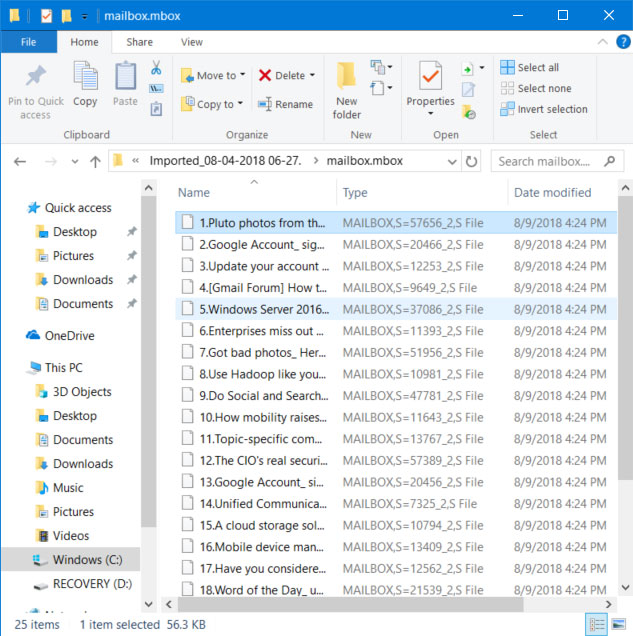 How to Import/Export MBOX to Mac Entourage?
An MBOX file is a simple text file that can be easily edited or created by a text editor. An MBOX file is responsible to contain the information of email and messages from a large number of applications. You can create an MBOX file from Entourage by Drag & drop a folder from Entourage to local storage then Entourage will create an MBOX file.
One can import MBOX files to Mac Entourage 2008 directly. There are dual methods available to do so.
Drag & Drop: A user can import the MBOX file into the Entourage panel & it all your emails will be successfully imported into an Entourage email client.
Use Standard Way: Users can import MBOX files to Entourage by following the standard method.

Run Microsoft Entourage installed in your Mac system.
Browse to File menu and then click on Import button from here.
From Import dialog box, choose Contacts or Messages from a Text file.
Browse the location from where you have saved MBOX file. Choose MBOX file format from here and then click on Open
Entourage starts importing all data from the MBOX file, click on Done button after the import process finished successfully.
Users can see the mailbox items will show up in left pane of Entourage interface.
The Verge
In this article, we discuss how to import MBOX file into Entourage 2008. All the emails from the mailbox files into the Entourage application. We discuss two methods, one is by simply drag & drop the MBOX file into Entourage or use the standard steps to import messages or contacts from text files. For more information, you can contact us via chat or email process.