How to Import MBOX Files to G Suite Account?
Karen Chard
~ Modified: 14-12-2021 ~ Google ~ 6 Minutes Reading
Overview: – Do you want to import MBOX Files in the G Suite account. But still unaware to do the same? Then, now don't worry as we have come with a reliable solution for open MBOX files in your Google Workspace account. Through the process, one can easily export MBOX to G Suite accounts.
In this technological world, everyone wants an easy technical way to resolve their issues. Recently our technical experts get a query to move MBOX files in G Suite accounts.
MBOX has a common file type used by multiple email clients and webmail accounts to store mailbox data. All the messages are stored as a single, long, text file in a string of concatenated email messages. Each message is separated by From_ Keyword.
Some of the major email clients and online platforms which support MBOX files such as Mozilla Thunderbird, Microsoft Entourage, and Qualcomm Eudora, G Suite, etc. It provides options to extract mailbox data in MBOX format. But manually no one can open MBOX files in a G Suite account directly.
How to Import MBOX to G Suite?
RecoveryTools MBOX Migrator Tool provides a direct option to do so. The utility will support the batch conversion of multiple MBOX files into a Google Workspace account.
"Download the free trial version of the solution from here. It allows you to open only the first 25 emails from the MBOX file in your G Suite account."
Download for Windows Download for Mac
Follow the given step-by-step process to Export MBOX to G Suite: –
Run MBOX to G Suite Converter on Windows.
Select MBOX with dual selection options in the interface.
Choose the required files to open in G Suite.
Pick the G Suite option in the list and enter credentials.
Click on the Next to export MBOX emails to Google Workspace account.
Why do We Need to Export MBOX file in Google Workspace?
There are a large number of users who want to export MBOX Files into Google Workspace account.
"Is there any reasonable way to use the MBOX export (or if there is any other export you can do from Sylpheed) and then import it into a G Suite account?
I have been searching high and low, and all I can find are 3rd party, "upload to X, then sync to Y" solutions, and nothing from Google itself.
" – Justin
"I want to export MBOX files to G Suite account which I received from Apple Mail email client. So kindly suggest me any powerful toolkit that will helped me to deal with the same issue effortlessaly." – Ryan Scott
Complete Process to Import MBOX file in G Suite Account
In the earlier section, we have discussed the various requirements of users about the need to convert MBOX to Google Workspace. One such application is MBOX to Gmail Wizard.
During the process of conversion, the application preserves Meta properties, key elements, as well as Internal System Folder Hierarchy of emails. Follow these simple steps to do so:
First, Install & launch the software on your Windows Machine.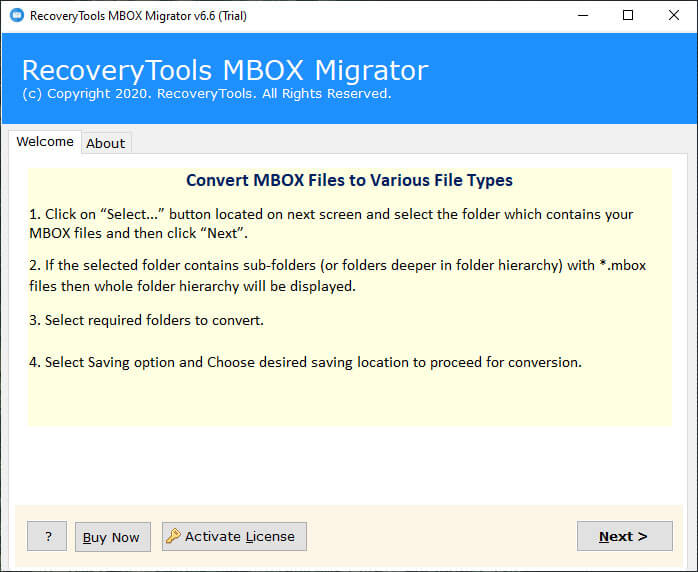 After that, the MBOX to G Suite Converter provides a dual method to load source MBOX files. Click on Select Files or Select Folders to browse the Folder containing MBOX files.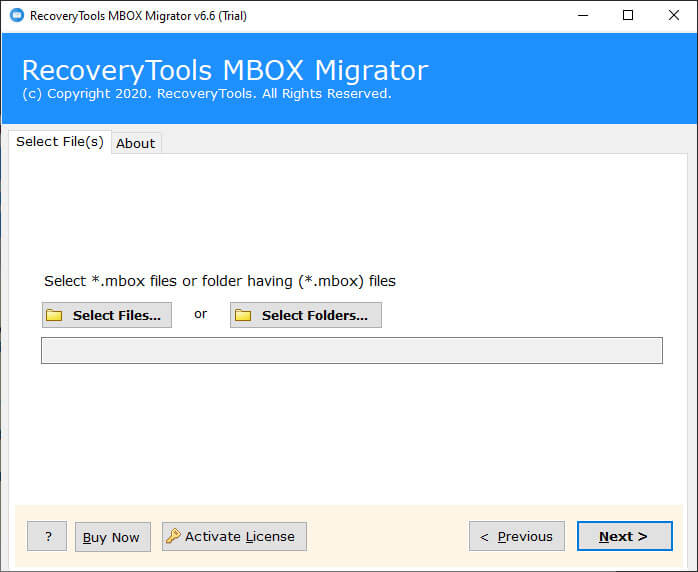 Thereafter, Check / Uncheck the mailbox items MBOX files and internal folders hierarchy.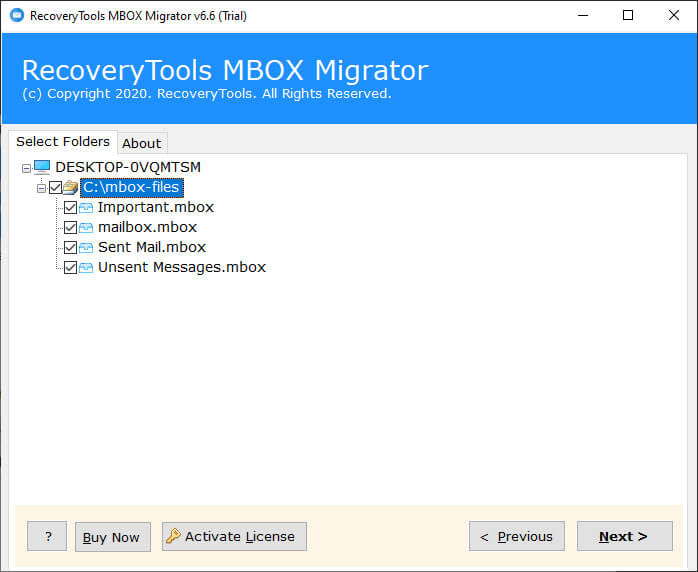 After that, choose the G Suite Saving option from the list of options.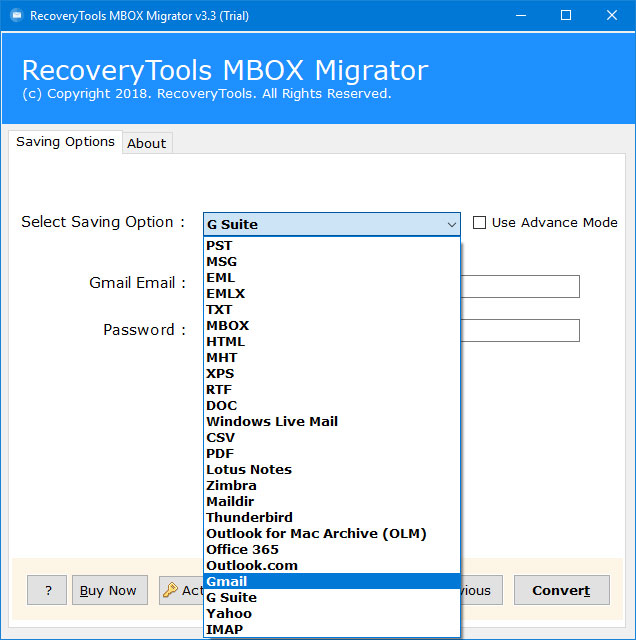 Also, you can select advance filter options for uploading the MBOX file to Google Workspace account in a selective way.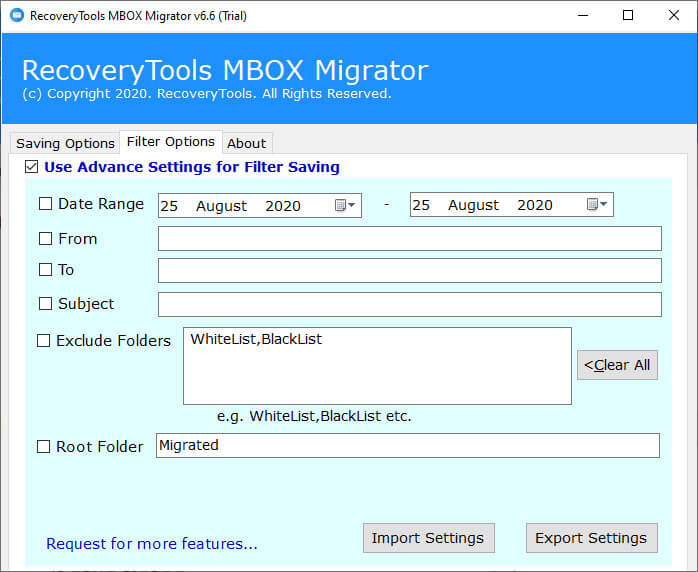 Thereafter, enter the G Suite Account login credentials to start the process.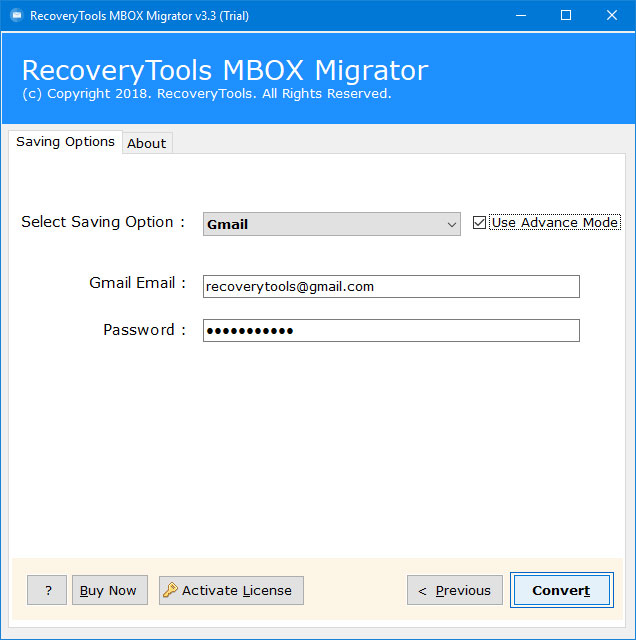 After that, click on the Convert button & it will instantly start migrating MBOX files to the G Suite database.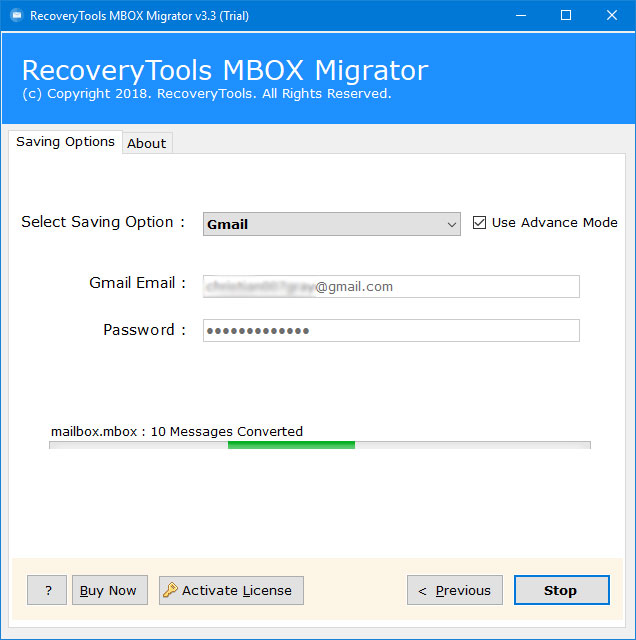 Thereafter, click on the OK button after the successful conversion process finished.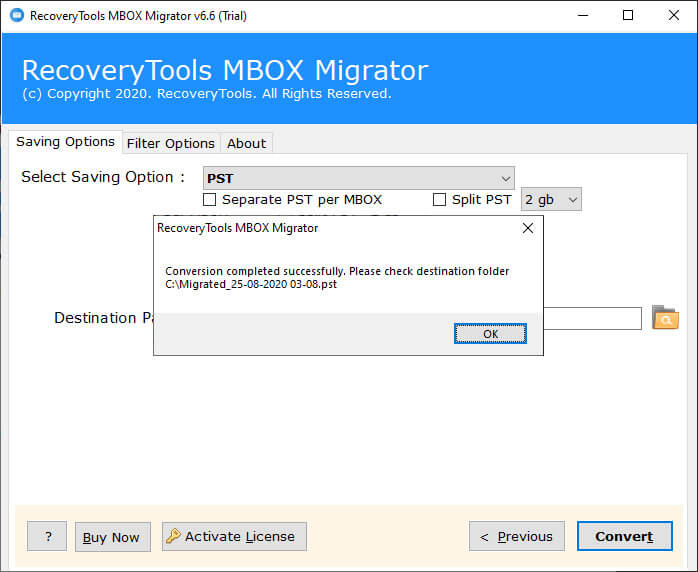 Login to your Google Workspace account in your browser to access the resultant files.
Prime Features of MBOX to G Suite Converter
MBOX to G Suite converter allows the users to easily migrate MBOX mailbox items to Google Workspace Account. The software is an easy way to export selective mailbox items to a G Suite account instantly.
There are several advantages provided with this utility software. Some of them are listed below:
Safe & Secure way to import MBOX files into G Suite account.
Batch export multiple MBOX files to Google Apps with dual methods.
Import multiple MBOX data to Google Workspace account directly without any loss.
The quick and reliable way to perform MBOX to G Suite Account.
Provides the best Graphical User Interface to import unlimited data.
The software will instantly generate a live conversion process in its panel.
Verified platform to perform migration in easy & simple steps.
Preserve Metadata properties and internal folder structure of mailbox items.
Run Swiftly on both Mac & Microsoft Windows OS devices.
The utility provides online Chat and Support for 24×7 to assist users.
Important FAQs
Can I use this application on Windows Server 2016 machine?
Yes, the software supports all editions of Microsoft Windows Server editions including Server 2016.
Does the software allow me to migrate selected MBOX emails to a Google Workspace account?
Yes, the software provides several filter options to Export only selected emails from MBOX to G Suite account.
Can I migrate MBOX to G Suite account using the same application?
Yes, the software provides both Gmail and G Suite options. So, you can easily migrate MBOX to G Suite account without any complication.
Does the software support the MAC Operating systems?
Yes, but, you need to download the Mac edition by the above Download for Mac button.
Conclusion
This article deals with various perspectives including differences between G Suite and MBOX files. We also discussed a preferred way to export MBOX to Google Workspace account instantly. This method is suitable to export multiple applications created MBOX files to G Suite.
The applications created MBOX files are Apple Mail, Thunderbird, Netscape Mail, Google Takeout, Eudora Mail, Turnpike, Berkeley Mail, Pocomail, Spicebird Mail, Entourage, Earthlink Mail, MailCopa, Chaos Intellect, etc.
Note: – If you have any further queries related to the software and its process, then contact us on live support chat or email us at an official email address.