How to Migrate Email from Gmail to Gmail Account ?
Karen Chard
~ Published: 20-06-2022 ~ How To ~ 6 Minutes Reading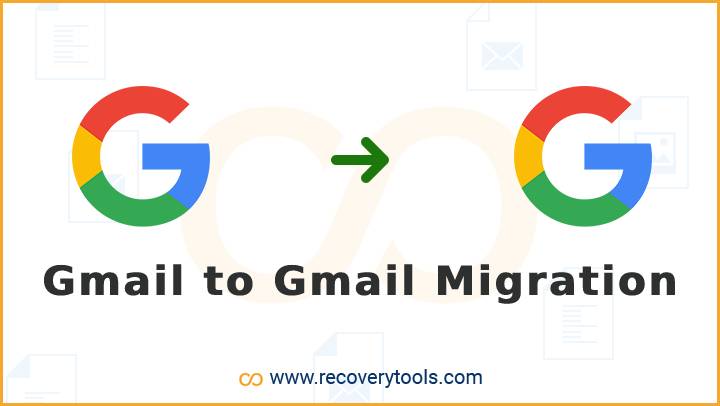 Many Gmail users want to know the process to save their email mailbox data to another Gmail account. Are you also one of those people who want to learn Gmail to Gmail migration process? If yes, then your search ends here. In this write-up, you will learn the complete path to get Gmail mail data directly into another Gmail account. So, keep reading this post to know more.
Gmail is one of the best and most versatile platforms in this modern technical era. Almost all Android and Desktop users have Gmail account for their personal and organization use to receive and send emails. It is a web-based platform that's why we can easily access our emails, notes, journals, calendars, events, contacts, documents, etc.
"Hi, In my college time, I had created a Gmail email account with a very long address. But after college, I am ashamed to put my CV with this email address. So I created another Gmail account. But a lot of important emails were stuck in my old Gmail account. So I am looking for solutions like Gmail to Gmail mail transfer. Do you know how can I transfer data from Gmail account to a new account?"
Gmail to Gmail Data Transfer process is not easier than the manual way. In the internet world, most articles explain how to forward emails from Gmail to Gmail. But this process only moves newly received emails. Many of us want to keep both Gmail email addresses alive. Or lots of users transfer everything to new account and forget the older one!
Well, the process is more straightforward than you think. But you need to follow the proper step-by-step procedure. But before that, let's talk about some common reasons.
The Common Reasons for Gmail to Gmail Migration Process
Job & Organization Change:
In case you decided to change your job or Organization. You may need to surrender your office Gmail account. Before that, you want to transfer emails from Gmail to Gmail accounts.
Lack of Feature & Service:
If you are working in a professional environment, and you want a professional platform. Then lots of clients want to move to Google Workspace or G Suite service.
Lots of unwanted emails or spam:
One of the reasons behind transferring emails from Gmail to Gmail is spam emails. There will be a lot of spamming in your existing Gmail address and hence you are planning to do Gmail to Gmail data transfer process.
Old and Unused Email Address:
As we know Gmail is a very popular email service. That's why lots of us have two and more Gmail email addresses. But many of them we no longer use because they are old and out of date. That's why before we lose them, transfer all data from Gmail to Gmail or old to new one account.
Gmail to Gmail Mail Transfer – Solution
The RecoveryTools Gmail Backup Tool is a trending application in the online market. It provides the best services to easily manipulate Gmail emails. You can use them to download emails in many document formats, email formats, email client formats, or transfer data from another account. It gives freedom to choose only required email messages from the entire list of Gmail mailbox databases. It gives Gmail to Gmail data transfer option to migrate emails from one Gmail account to another.
Download the Application on Your Machine:
Download for Windows Download for Mac
Note: It is a paid application. So, you can use the shareware version to transfer only 25 emails from Gmail to Gmail accounts. For multiple and unlimited migrations, you need to purchase the software.
How to Use Gmail to Gmail Migration Tool
Download or install this application on your computer first.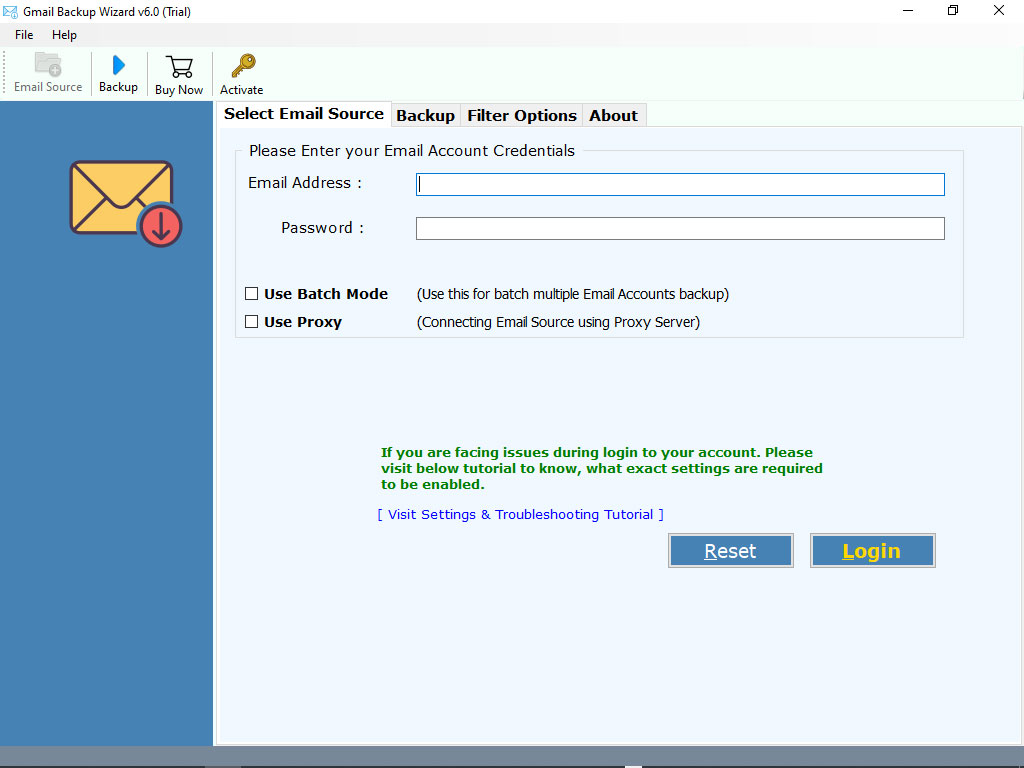 Now, you need to put your source Gmail account credentials.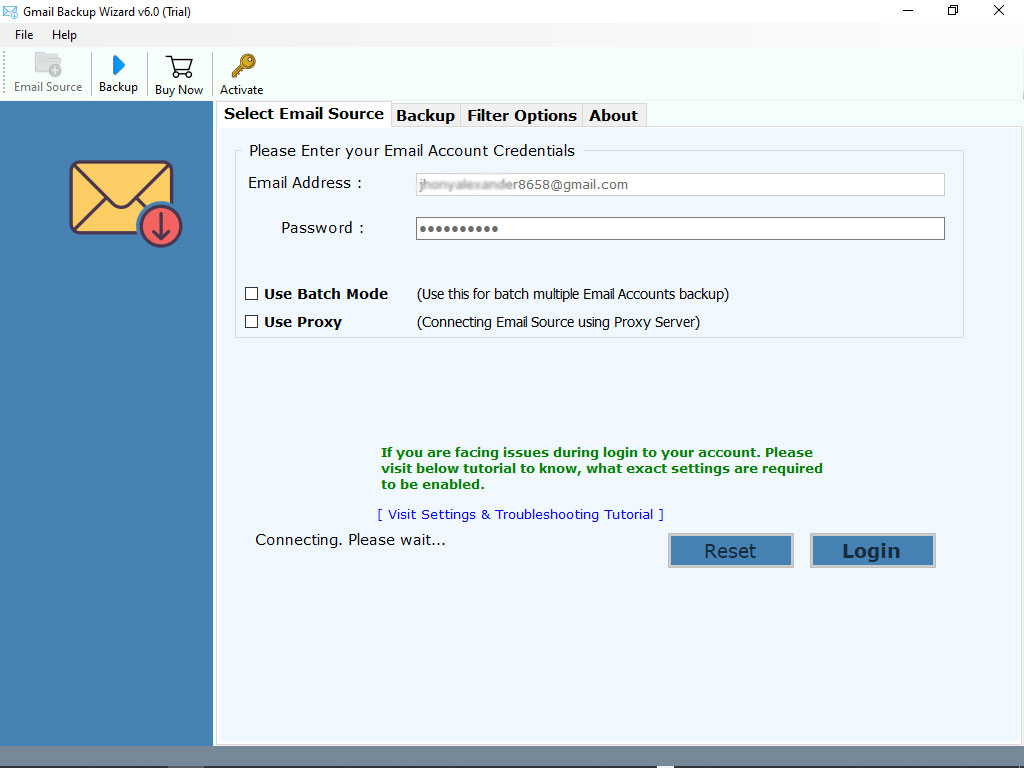 Note: If you are facing login authentication issues, then you need to create App Password. For more details, you can also contact us by email or through the live chat process.
After that, the utility shows all the email folders in the user interface panel. Here, you can select only the required email folders.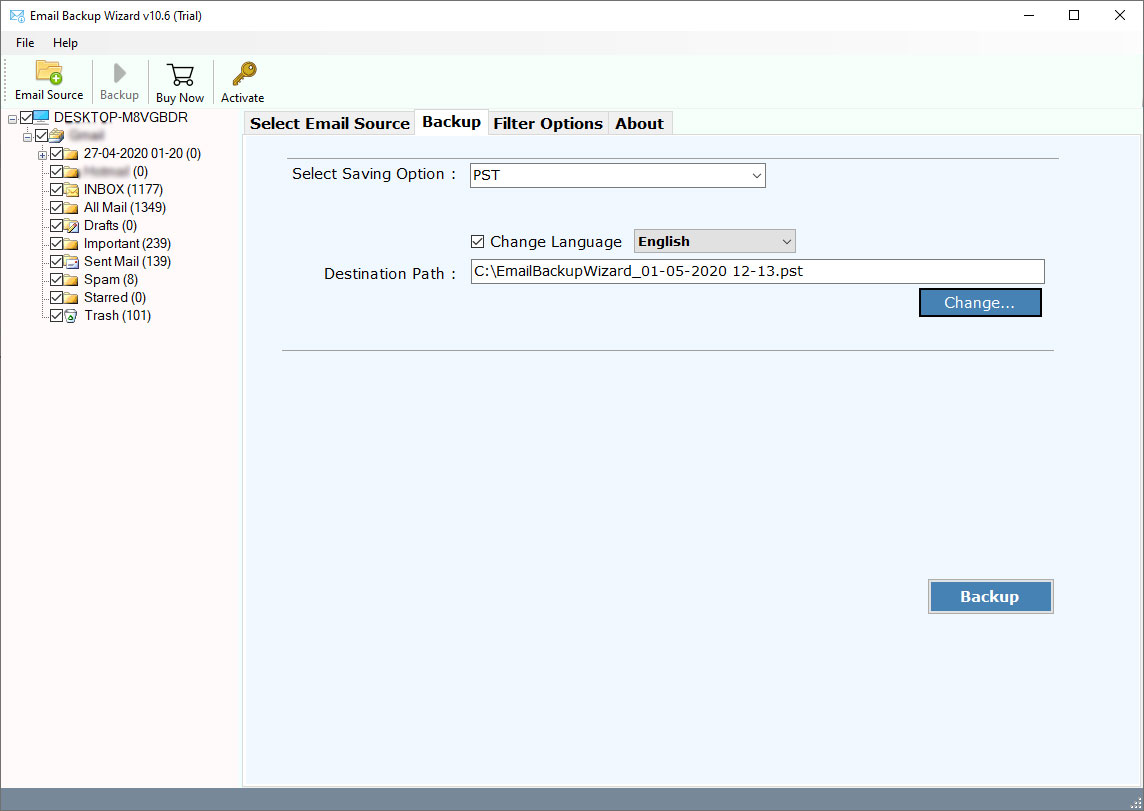 The software provided lots of Backup / Saving options. Here, you need to choose the Gmail option.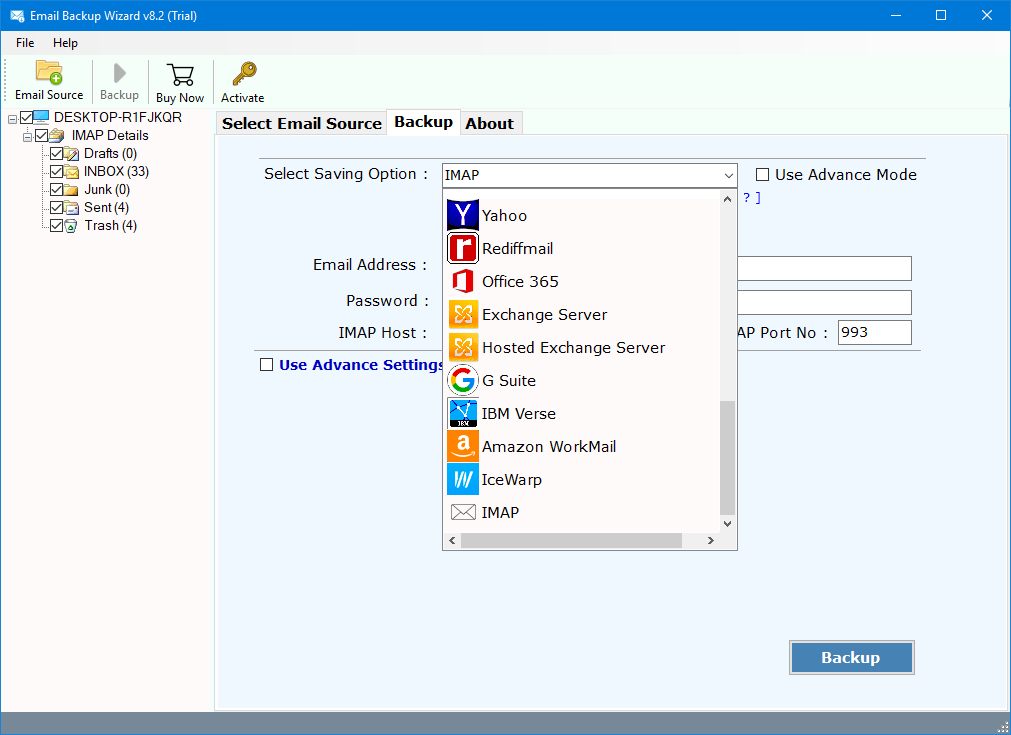 In the next section, you need to put your destination Gmail account credentials in the user interface panel.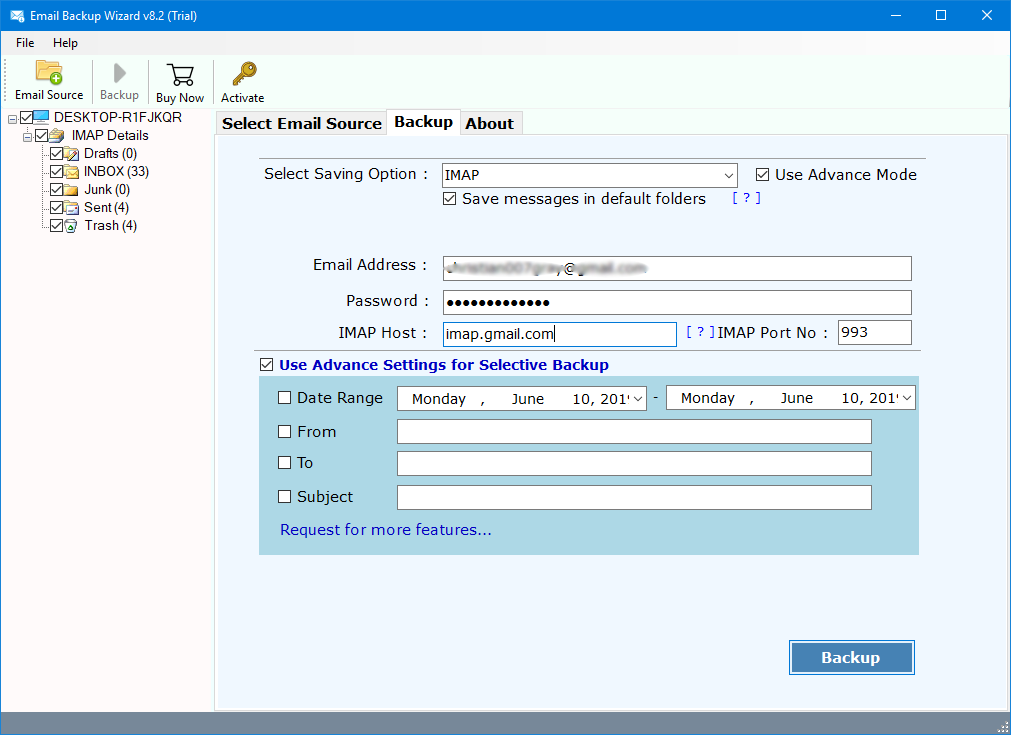 You can also use the filter options to transfer emails by Subject, Date, To, From, etc.
Now, press the next button to start the Gmail to Gmail Migration process.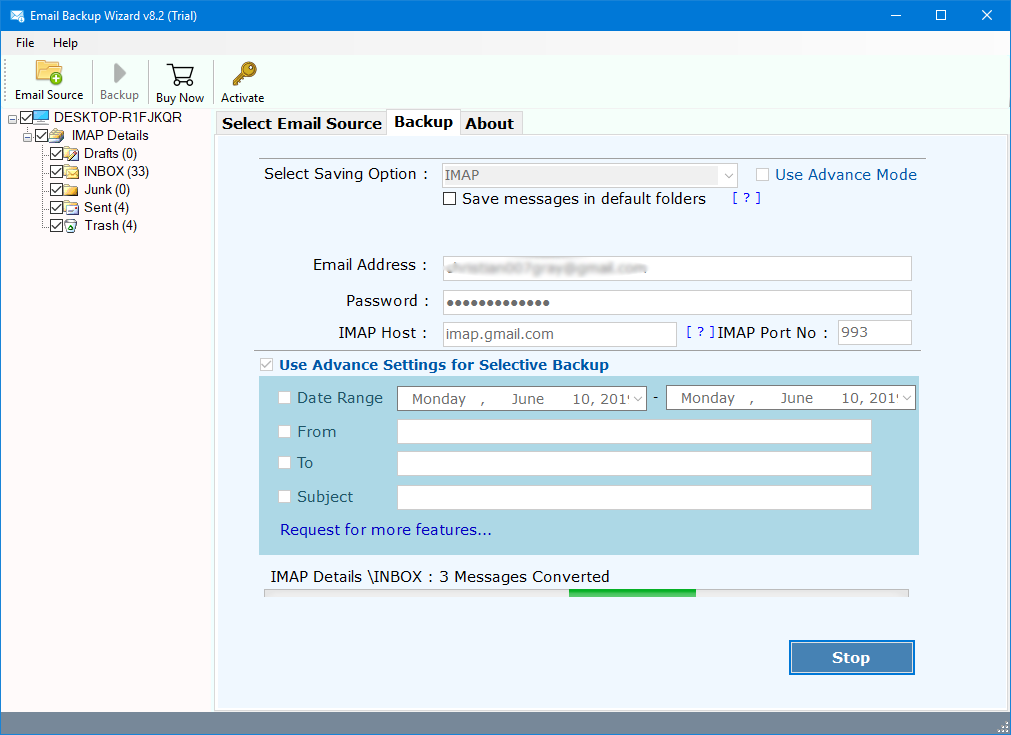 Features of Gmail to Gmail Mail Transfer Tool
Bulk Gmail to Gmail Migration:
This application was developed to solve all types of user issues related to Gmail to Gmail Mail transfer procedure. It gives a batch mode which is used for batch Gmail account data transfer to another Gmail account at once. Just provide all source Gmail account credentials and save them into a CSV file.
Selected Folder Mail Transfer:
After connecting with your Gmail account, the software starts analyzing of your Gmail mailbox items. Here, you can choose the Gmail folder which emails you want to move into another Gmail account.
The software is very rare because it gives multiple saving options which are not provided by any other application. It gives document options, file format options, email client options, IMAP options, and multiple email service options. You can also use this application to transfer emails from Gmail to other email accounts.
Selected Emails Transfer through Filter Options:
The software provides lots of filter options which are very useful to move required data from Gmail to Gmail account. You can easily use the date range filter, email address filter, subject, and many more filter options.
It is a completely independent application and there is no need for any connection with any third-party utilities. It provides a clean and hack-free platform where your credentials are 100% secure without any security leaks.
Windows & Mac Supportable:
You can easily install this Gmail to Gmail Migration tool on your Windows and Mac Computers. The software supports all editions of Mac OS X and Windows computers.
Conclusion
This how-to guide explained the process of Gmail to Gmail Mail Transfer. If you are looking for the same, then you can use this application to transfer your read or unread Gmail emails to another Gmail account directly. A huge number of clients looking for a solution on the internet to get the solution for this Gmail to Gmail Migration query. Read this post completely to know the straightforward method. Thank you for reading this post.