How to Export Yahoo Mail to PST File? Detailed Solution!
Karen Chard
~ Modified: 06-06-2022 ~ Yahoo Mail ~ 5 Minutes Reading
Overview: Are you one of those who are looking for a solution to export Yahoo mail to PST format? And want to move emails from Yahoo to Outlook account ? If yes, then read this article. Here, we will explain the complete process to export bulk number of data without facing any kind of size limitations and technical issues.
Yahoo Mail is one of the most popular email service providers in the world. Yahoo Mail is a free (ad-supported) email service that offers 1 TB of free storage space. In this cutting-edge innovation world, email plays an important role to communicate with others.
But there are many reasons why a user needs to export their email data to local computers. However, Yahoo Mail doesn't offer you to export Yahoo Mail to PST format. However, there are a lot of users searching for the same query and this query is high-on-peak nowadays. Even we had also received a query from one of our respective clients that are mentioned below:
"Our Firm is using Yahoo Mail for business communication, Email, and local messaging propose. Few employees switch their job to other places and other organizations. They need their mailboxes in PST format, but Yahoo Mail does not allow you to export emails to PST format. So, if you have any solution to move Yahoo email folders to PST format, then please help us."
Instant Solution: Export Yahoo Mail Folders to PST File
In this article, we are going to explain the process to export the data. If you are one of them who wants to complete the process in an effective manner, then first download RecoveryTools Yahoo Mail Backup Tool. In the below section, we will explain the complete process to export the entire mail folders to the PST file.
But before that, you need to download the mentioned utility that is free of cost to download. The software is available for Mac and Windows computers and you can download the right version with the below buttons. Moreover, the mentioned utility also has a feature to export the data into multiple formats. It can easily export Yahoo to iCloud and many other platforms.
Download from Here:
Download for Windows Download for Mac
Note: The demo editions of both tools allow you to export 25 emails from per Yahoo folder to PST format. For complete mailbox export, you need to purchase the licensed edition of this tool.
Steps to Export Yahoo Mail to PST File

Run the mentioned export tool on Windows.
Enter your Yahoo Mail account details in the interface.
Select email folders that you want to export.
Choose the PST option in the file saving option and set the location.
Click on the next button to transfer emails from Yahoo mail to Outlook.
How to Move Yahoo Emails to Outlook Account – With Complete Review
First, download the mentioned Export Tool on your computer. After that, install and run this utility on your Windows Computer.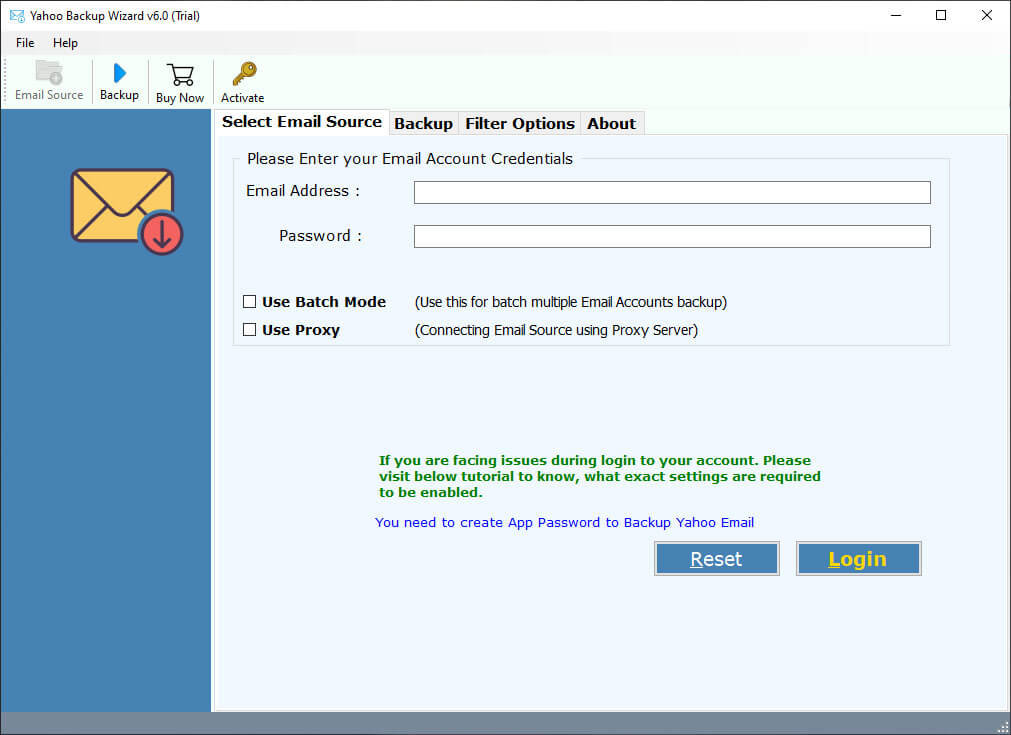 Thereafter, enter your Yahoo Mail account details in the software panel to connect with your account.
After that, select email folders from the list which you want to export.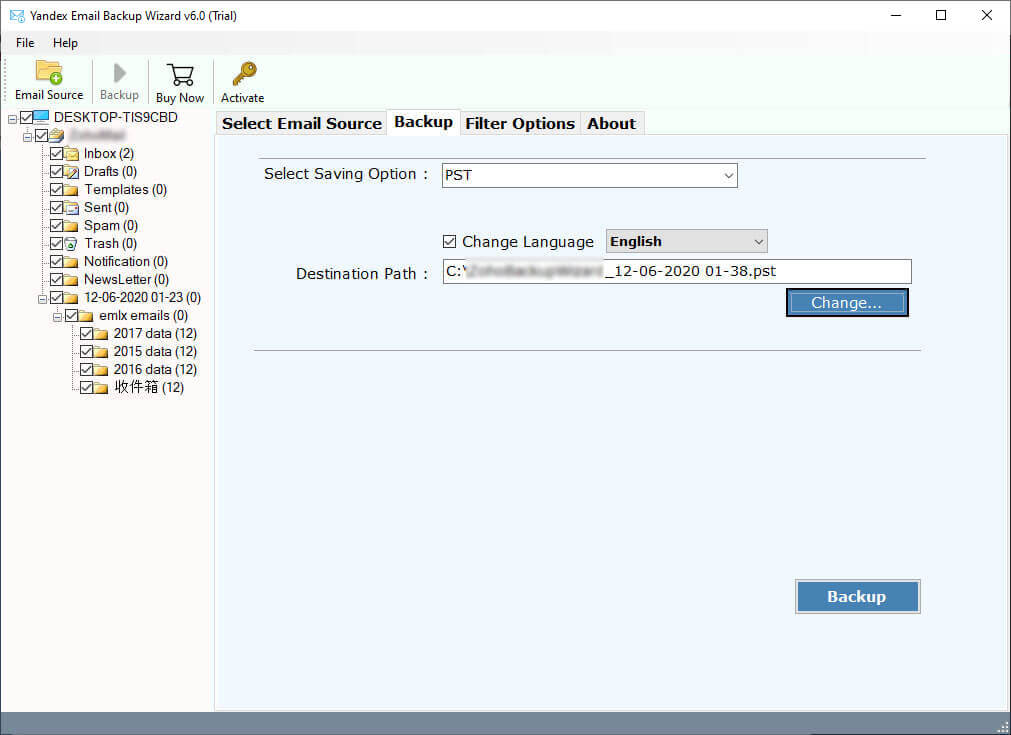 Thereafter, select the PST option in the list of file saving options.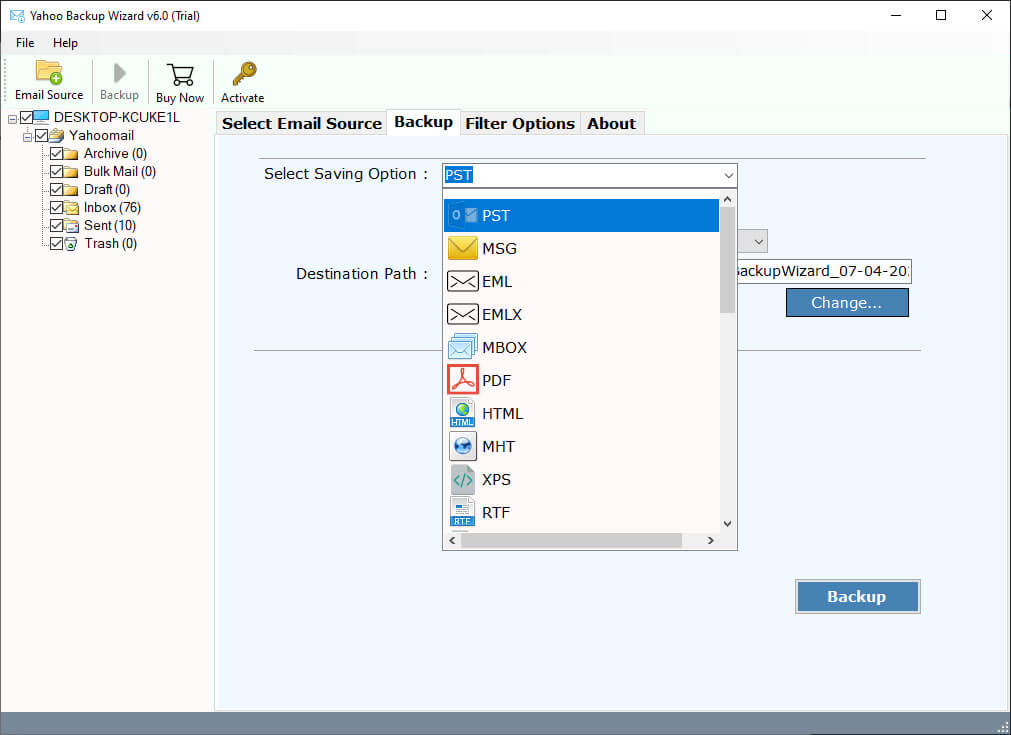 After that, choose the required destination location path to save the resultant data at the use location.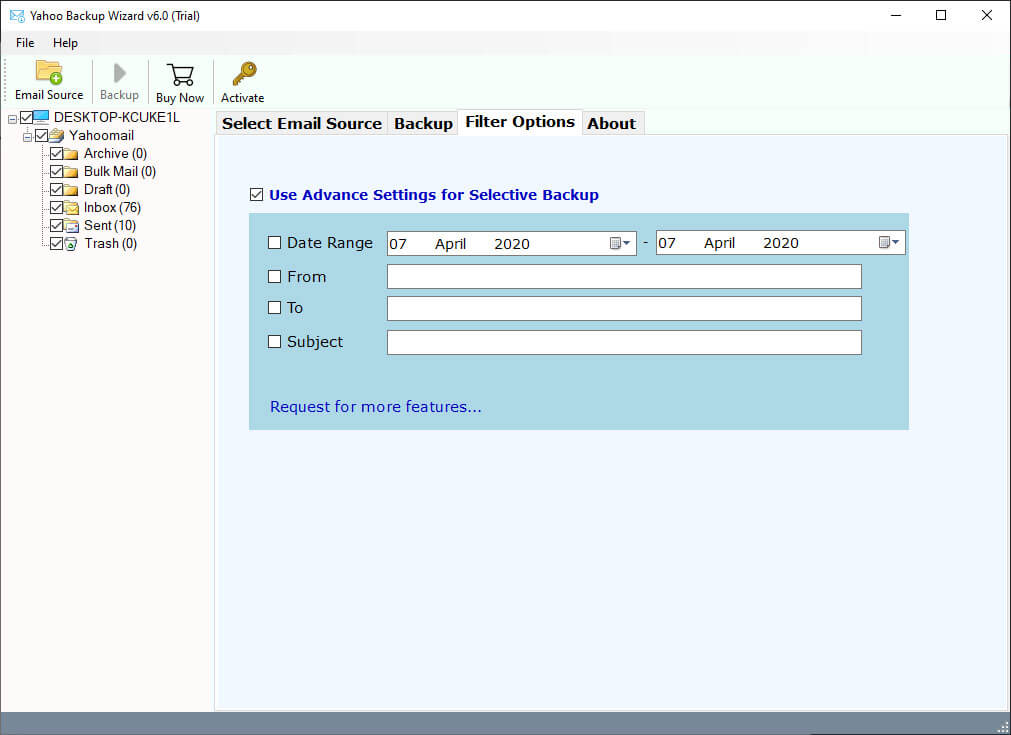 Thereafter, click on the next button to start the exporting process.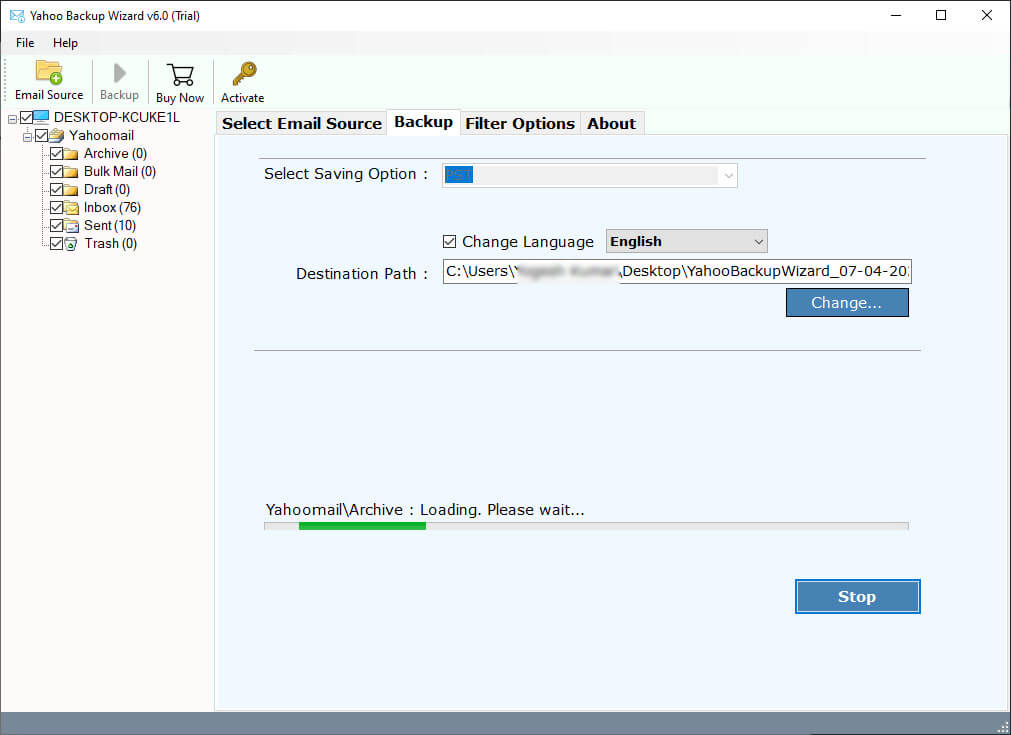 Prime Benefits & Features Of Automated Solution
Batch Email Conversion: With the help of smart wizard, the users can easily export Yahoo Mail to PST format in batch mode. In this way, you can save your time for migrating multiple emails in a single process.
No External Installation: The software is built with powerful advanced algorithms. It does not require any kind of extra installation and also do not need much technical knowledge to work upon.
Preserves Folder Structure: You can export the Yahoo mail folders without experiencing any change in the original structure of mailboxes. This in turn makes the navigation of emails much simpler.
Keeps Intact the Key Elements: The automated solution assures that it maintains the email properties throughout the processing. The key elements of Yahoo Mail like 'to', 'Cc', 'Bcc', 'From', 'hyperlinks', 'Unicode texts', 'embedded images', 'formatting' and all layout remains the same.
Faster and Accurate Results: You can export Yahoo mail to PST format in bulk without facing any kind of issues. Also, it works fastly and will provide desired results with 100% accuracy.
Data Filter Options: The most beneficial thing with this utility is that now you can manage some selective emails in one go. Yes, with the advanced filter options, you can conveniently do Yahoo Mail export to PST. It offers you data filter options like 'to', 'from', 'subject', 'email address.
Please Note: – This Yahoo mail to PST Migration Tool is completely Windows-compatible. You can download it on Windows 10, 8.1, 8, 7, etc. So, now grab this software by downloading it now to enjoy the most of its benefits. This demo version is absolutely free of cost and will let you export the first few Yahoo data items to a supported format.
Conclusion
In the above article, we have explained the possible ways to export Yahoo mail to PST format. If you are interested to export the data instantly then continue with the second-mentioned solution. However, there is no direct possible way to export the mail folders. So, we recommend you continue with this and get better results without facing any kind of restrictions.
Read Similar Blog