How to Migrate Emails from Windows Live Mail to Yahoo Mail ?
Overview: Do you have any issues related to Windows Live Mail to Yahoo Migration process ? Or do you have Windows Live Mail client email files and intend to access Live Mail emails to the Yahoo Mail account ? If so, get to know the complete procedure by using a professional way. So, let's begin the process.
Yahoo company founded in March 1995 by David Philo and Jerry Yang. Yahoo Mail is webmail developed by Yahoo Inc. It is the third-best email service used by millions of users. It gives you 1TB storage space free of cost to save your emails, folders, documents, etc.
On the other hand, Windows Live Mail 2012, also known as the Live Mail app, is a desktop-based application that allows you to easily configure your online account. The Windows Live Mail e-mail client is an updated version of Microsoft Outlook Express developed by Microsoft.
But Windows Live Mail does not allow you to migrate email from Windows Live Mail to Yahoo Mail account. Because the Windows Live Mail application is a desktop-based client. But Yahoo Mail is a webmail that can only be accessed through a web browser. That's the reason a lot of persons looking for a way to import Live Mail to Yahoo Account.
"Recently I bought another computer for my office use. On my old computer, I have installed the Windows Live Mail client for client communication. But now, I need to access Windows Live Mail emails on my new computer. For this, I chose to migrate Live Mail messages to Yahoo Mail. Does anybody realize how to move Windows Live Mail Emails to Yahoo process ?"
A Perfect Solution – Windows Live Mail to Yahoo Migration
We will be using the RecoveryTools Windows Live Mail Migrator tool to resolve these types of issues. This product gives method to easily export Windows Live Mail to Yahoo Mail account. A person must enter their Yahoo Mail account credentials and transfer the Live Mail data directly to the Yahoo account.
Download the solution with the following buttons.
Steps to Export Windows Live Mail to Yahoo Mail Account
Launch the Migration tool on Windows.
Dual options are available to choose Live Mail data.
Pick only required Windows Live Mail Folders.
Select Yahoo Mail option from the list in the interface.
Start Windows Live Mail to Yahoo Migration process.
Transfer Windows Live Mail to Yahoo Mail – Complete Process
You can download the solution by the above buttons. After complete, the installation process – launch the solution.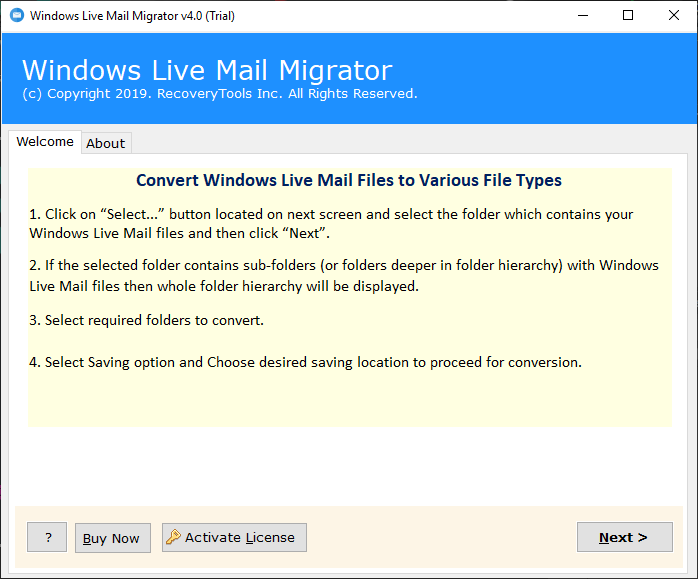 Select the dual selection option to choose Windows Live mail data. The software also provides auto-locate mode.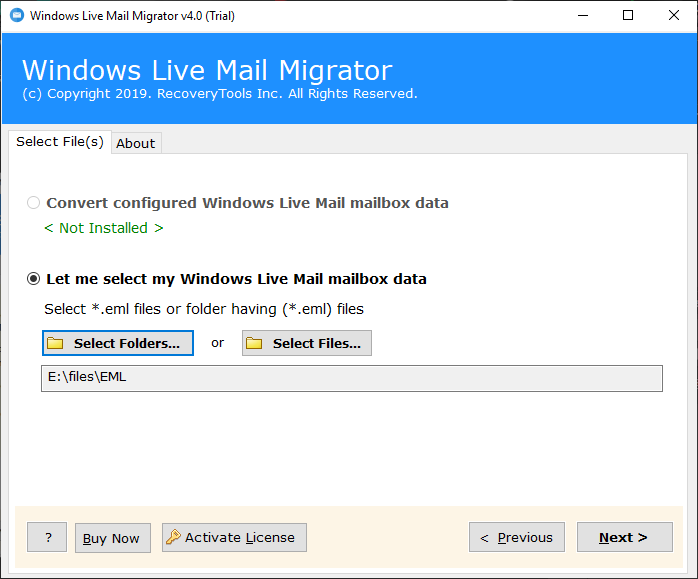 Mark only the desired Live Mail mailbox folders from the list.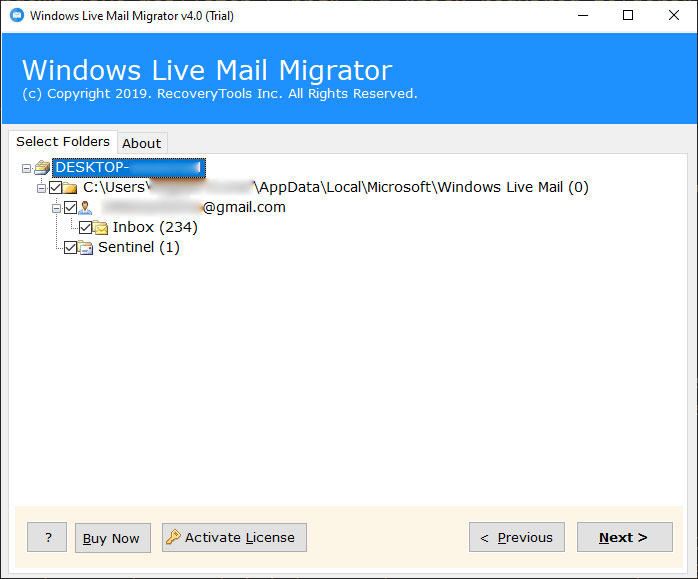 The solution gives 25+ file-saving options. Here, you need to pick the Yahoo option.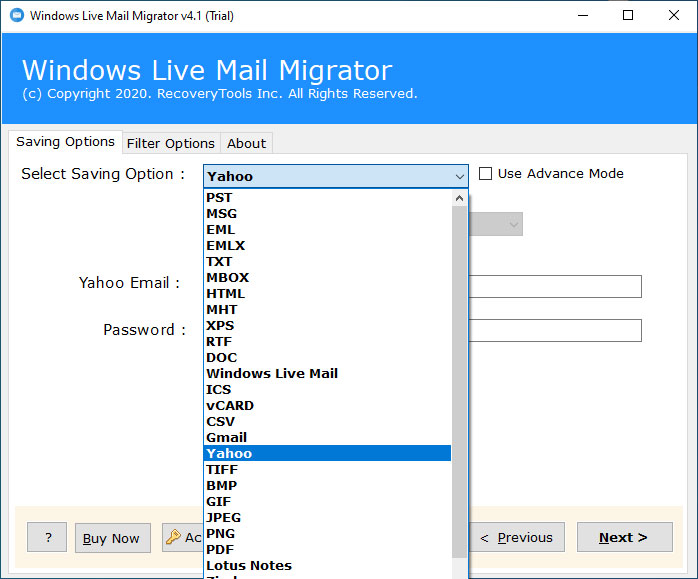 Well, the product offers many advanced filter options for the selective migration process.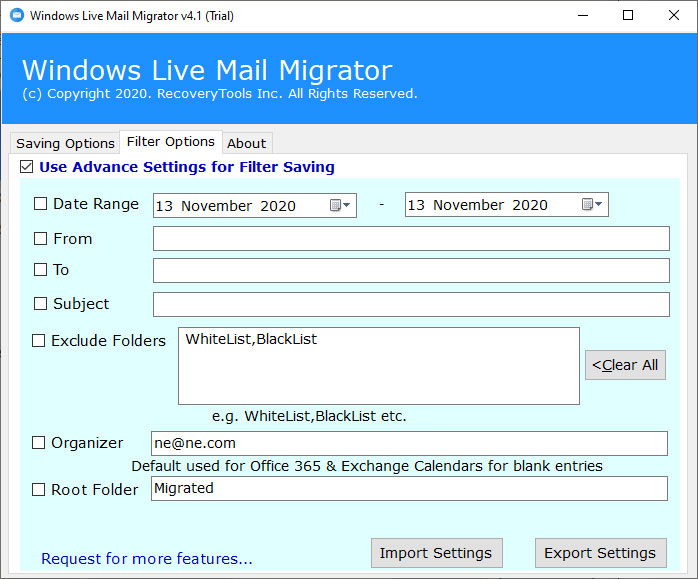 Now, enter your account details including Yahoo email id and password.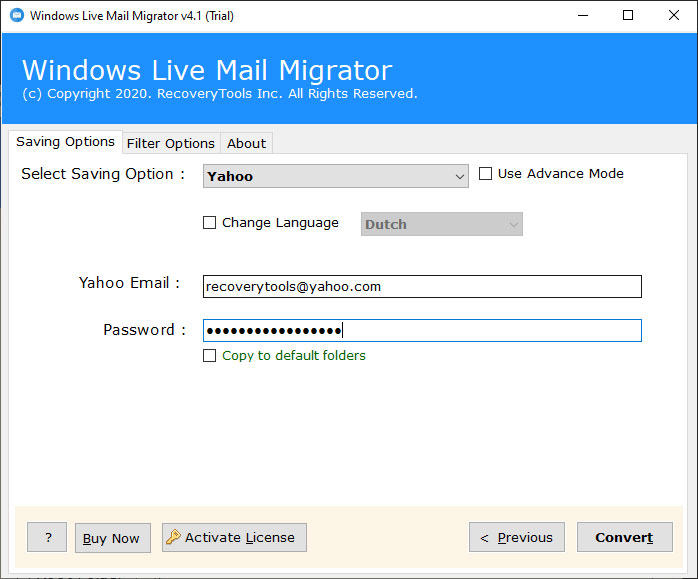 Start the procedure by clicking on the next button.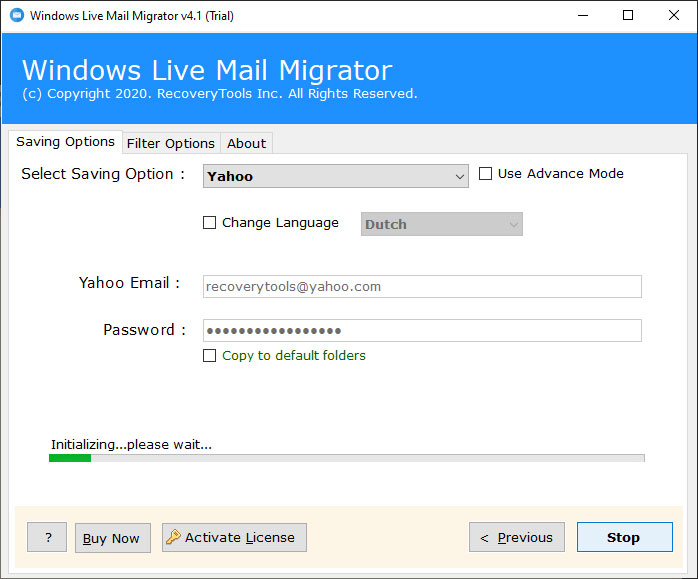 Windows Live Mail to Yahoo Migration – Benefits & Features
Auto-Detect Live Mail Mailbox:
The software has inbuilt facilities to automatically find the Windows Live Mail data. So, without facing any issues users can search the Windows Live Mail data easily.
Export Batch Profiles Data:
One of the best options of the utility is the option to select bulk Windows Live Mail mailboxes. So, without any hassle, one can easily migrate multiple Windows Live Mail Mailboxes to Yahoo account.
The filter option allows you to export emails from specific factors such as data, to, from, etc. Another feature is to export select email folders such as send folders and allow email body and attachments to be excluded.
Maintain Email Properties:
The utility keeps all the email elements & properties after complete the procedure. Hence, you will get an exact copy of your mailbox data after complete the process.
Standalone Interface Panel:
The software is a completely independent solution to convert Windows Live Mail to Yahoo Mail account.
The product can easily use by any user to export Windows Live Mail to Yahoo format. All types of users can easily use and run the utility without any guidance.
Support All Microsoft Windows:
The solution is available for all your Windows machines such as Windows 11, Windows 10, Windows 8.1, Windows 8, Windows 7, Windows Server 2019, Windows Server 2016, Windows Server 2012, etc.
Common User Queries
How to Transfer from Windows Live Mail to Yahoo ?
Follow the steps to transfer Live Mail emails to Yahoo: –
Run the utility on the Windows PC.
Dual mode to select Windows Live Mail data.
Choose Yahoo Mail option in the file saving options.
Enter your Yahoo Account credentials in the interface.
Press on the next to transfer Windows Live Mail to Yahoo.
Does the software work on Windows Server 2016 computers ?
Sure, This application is made for all Windows users including Server users. Yes, you can use this product on your Server machines. But the software is only for client application use.
I need to move only a few selected emails from different Windows Live Mail folders. Does it allow me to do this ?
Of course, it provides several filter options which used for the selective email conversion process. So, you can use it without any hassle.
Conclusion
The above write-up explains the way to move from Windows Live Mail to Yahoo account. If you need to do this task, then here we will mention the complete procedure. Download the solution and migrate Live Mail emails directly. Also, you can use it without the help of technical guidance. Learn the way of Windows Live Mail to Yahoo Migration procedure. For any kind of help, contact the technical team.