How to Export Office 365 Contacts to Microsoft Teams?
Karen Chard
~ Published: 16-08-2022 ~ Office 365 ~ 5 Minutes Reading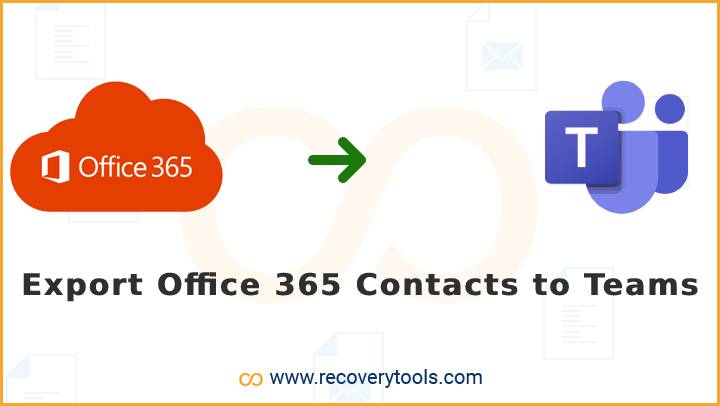 Are you one of those who are looking for a method to export Office 365 contacts to Teams? Or want to learn the process to transfer contacts from Microsoft 365 to Teams account? If so, then read this article. In this post, you will find a simple way to exchange Office 365 contacts with Teams. So, keep reading this article to know more.
Your contact address book is an essential part of your daily needs. This is where you store the addresses and information of friends, family members, colleagues, and other contacts that you have. That's why people want to preserve their contact on different platforms according to their needs.
Microsoft 365 is the best package available in the market. It is a complete package that includes everything that you would require. You can create, edit, read, and share documents, spreadsheets, presentations, and more. It's a program that has many different components in it. Office 365 also stores lots of things including contacts, emails, calendars, and much more.
Microsoft Teams is a cloud-based collaboration solution that enables individuals, groups, and organizations to collaborate easily, whether they are in the same office or scattered around the world. It includes features that allow you to quickly connect with the right people, get quick feedback from team members, shares content across multiple devices, and securely collaborate on documents, chats, and more.
Reasons to Import Office 365 Contacts to Teams
Microsoft Office 365 is a cloud-based productivity tool that offers several features for an organization's needs. Because using Microsoft 365 platform people can use Outlook 365 as their personal cloud-based solution. But if you would like to collaborate with your business partners or colleagues, you should switch to Microsoft Teams. Below, we explain the reason why people want to move contacts from Office 365 to Teams.
"Hi, I have been using Microsoft Office 365 family plan for the last 2 years. I have stored lots of information including my personal and professional contacts. Recently, I need to transfer some important contacts into my organization's Teams account. Does anyone know how can I transfer Office 365 contacts to Teams? Please explain the process."
More Helpful Articles:
How to Export Contacts from Office 365 or Microsoft 365 Account?
Firstly, you need to login and with your Office 365 account using credentials.
Now, you need to open and click on the people option in the list of menus.

In the contacts, you need to click on the manage option and press the export contacts button.

In the next step, you need to mark only the required and all contacts from the list.
Finally, click on the export button and export contacts from Office 365 account locally.

Solution: Export Office 365 Contacts to Teams Tool
Microsoft 365 offers you to export all contacts from O365 to local computer format. But Microsoft 365 allows you to export contacts in CSV format. However, Microsoft Teams is a part of the Office 365 service and you can easily share contacts in Teams on the same subscription. But what about when you need to share Office 365 contacts to another account Teams app?
RecoveryTools CSV to vCard Converter Tool allows you to easily change contact files. You can use this application to change Office 365 contacts for Teams. The solution allows you to easily use this application without any technical guidance. You can download the solution on your all Windows and Mac computers. The best part of this application provides advanced Contact management facilities.
Download the Solution Now:
Download for Windows Download for Mac
How to Transfer Office 365 Contacts to Microsoft Teams?
First of all, you need to download the solution on your computer.

It offers an option to choose any Contacts CSV file from the list.

Now, you can arrange and manage your contact fields easily.

Also, you can change or choose Encoding options.

Set destination location path to save resultant data at the user-selected location.

Now, click on the convert button to start the process to export Office 365 contacts to Teams.

When the process is finished, click on the ok button to end the procedure.
Features and Benefits of Office 365 Contacts to Teams Tool
Browse Any CSV Contact File Easily: The solution offers a browse option to select any CSV contact file easily. This option allows you to choose any resultant contact CSV file without any issues.
Contact Mapping Facilities: The solution provides multiple contact mapping facilities which allow you to easily arrange the contact fields such as name, contacts, addresses, and many more.
Resultant File Encoding Facilities: There are lots of platforms that use different encoded contact formats. That's why this application provides lots of contact file encoding options such as ASCII, UTF-32, UTF-7, UTF-8, Unicode, etc.
Select Any Resultant Location Path: You can also choose the resultant location path to save any resultant data at the user's desired location. So, you can easily access the resultant contact file for other platforms.
Single Window User Interface: There are many users who faced issues with many application programs. That's why we developed a platform where we don't require any extra technical knowledge. You can easily shelf use this application to change contact format easily.
Windows and Mac Computer: The solution supports all Microsoft Windows and Mac computers. You can easily install this application on all your latest Windows 11 and older Windows editions. The solution also supports all the latest Mac editions including Ventura editions.
Final Words
Microsoft Teams provides the easiest and most flexible way to manage your email, chat, and IM contacts. With Office 365, you can add contacts to teams, keep your personal and business information separate, and easily access and collaborate on data. But many clients don't know how they can transfer contacts from Office 365 to another Teams account. So here we are telling about the whole process. To learn more, read this article or contact the technical expert teams.