How to Convert eM Client Emails to PDF Document ?
Karen Chard
~ Modified: 16-07-2022 ~ How To ~ 5 Minutes Reading
Overview: Want to export eM Client to PDF file format? Don't know the right solution for the same? If yes, then you have landed on the right page. Read the blog to get your query resolved.
I have more than 1000 eM Client emails which I need to store in PDF format for legal reasons. I want a solution that gives the resulting PDF file with a complete mail body and separate attachments as PDF document pages too. Also, the output file naming in a format like (yyyy-mm-dd) will be highly desired. If the solution supports bulk mode too then it would be great. Please suggest to me a reliable solution to export eM Client to PDF file format.
There can be two ways to convert eM Client to PDF format. One is manual and the other is automated.
Manual Method to Export eM Client to PDF
To save eM client emails as PDF file, follow these steps-
Open the email, right-click on it and choose Print option
In the Print Preview bar, click on 'Save as PDF' tab
Browse a location to save the eM Client to PDF files
Get the resultant single PDF file on your computer.
Note: This option is only available for Windows 10 and Windows 11 users.
A Direct Way – Export eM Client to PDF Tool
This approach seems easy but it gives the facility to convert only a single eM Client email to PDF at once. It means if you have many email messages, then it will take a huge amount of time for this process to get ended.
On the other hand, by using an efficient professional solution like EML to PDF Converter, one can easily export eM Client emails to PDF format without any limitations. Also, the user can convert eM Client attachments as PDF document pages tool.
Let's see the method in detail but before all get the solution on your computer.
Download for Windows Download for Mac
How to Save eM Client Emails as PDF Document ?
First of all, open your eM Client application and go to Menu>> File>> Export.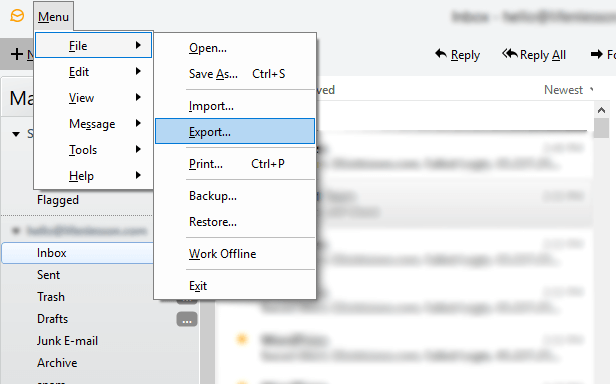 Now, choose the export option as EML and hit on the Next.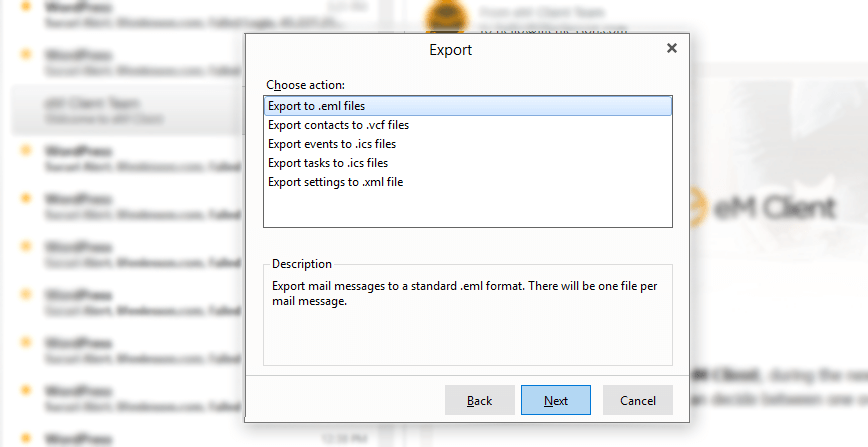 Then, select the mailboxes and tap on finished. After this, select all the email messages which you wish to export .eml file format.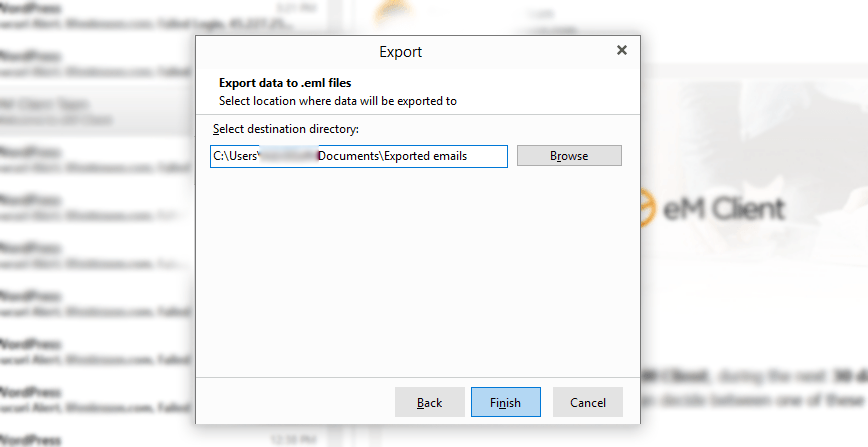 Thereafter, download and install the eM Client to PDF file converter.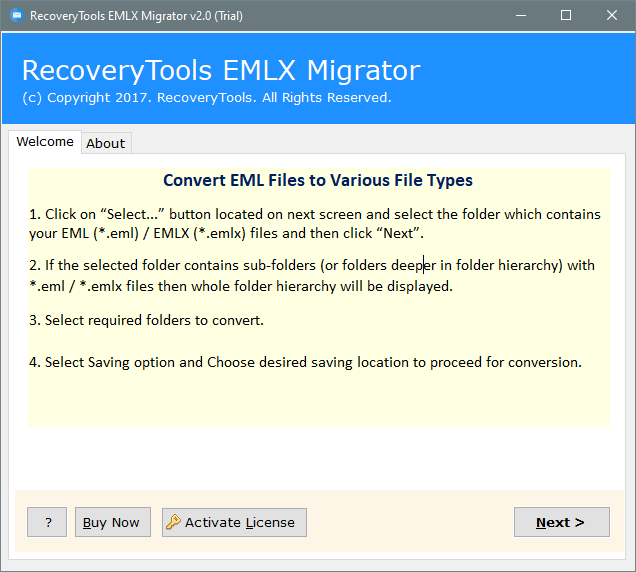 Click on the 'Select Files…' or the 'Select Folders…' option to choose the required eM Client data.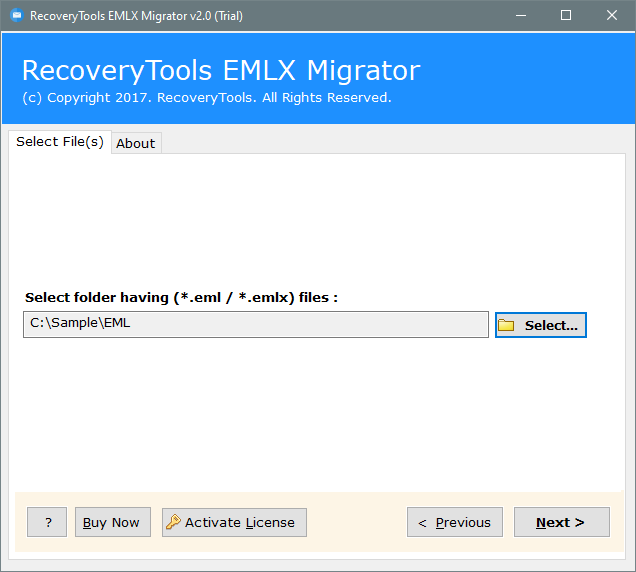 Choose the email folder from your PC. Then, enable those folders whose data you want to convert from eM Client to PDF.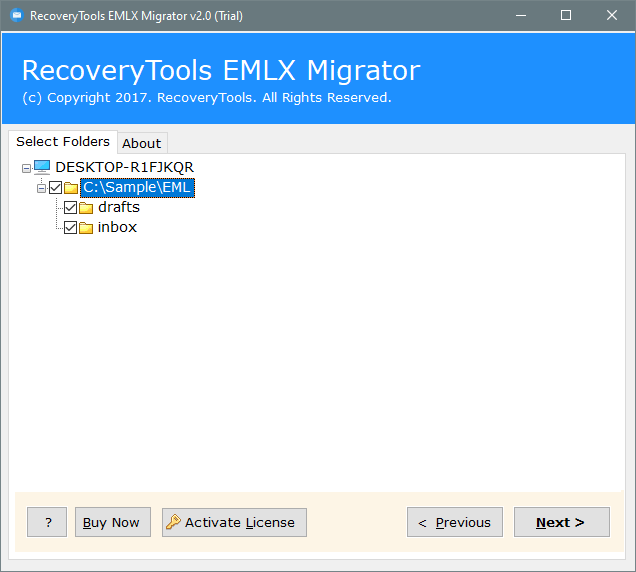 Next, pick PDF file saving option in the list of file saving options.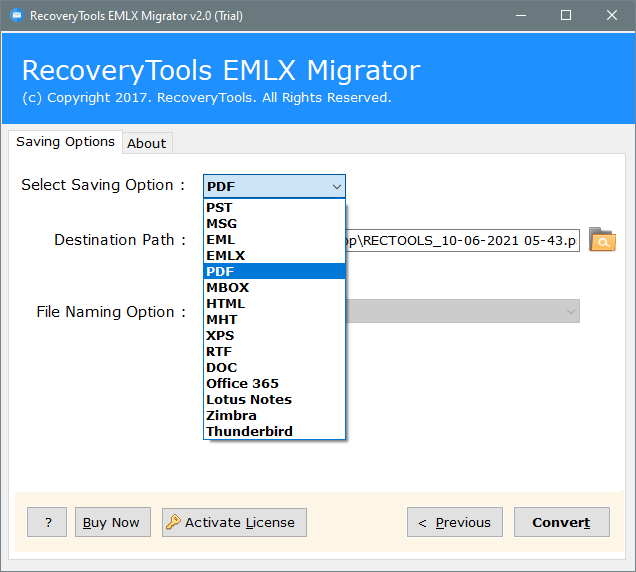 You can also choose additional options like the file naming options, resultant location.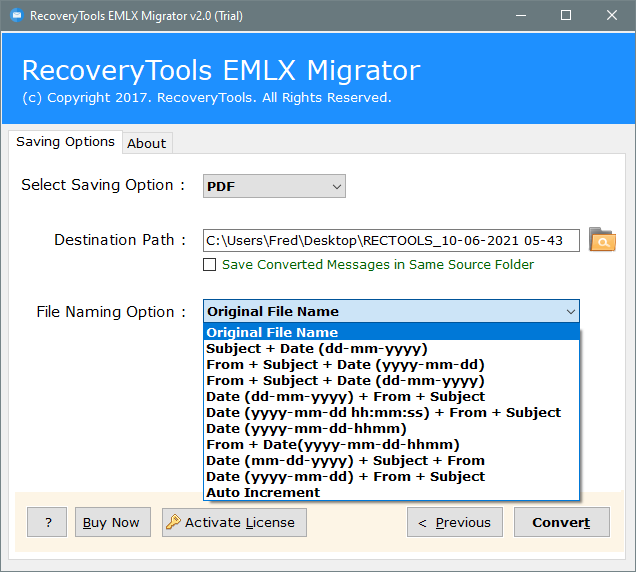 Finally, click on the Convert tab to start the process to export eM Client to PDF.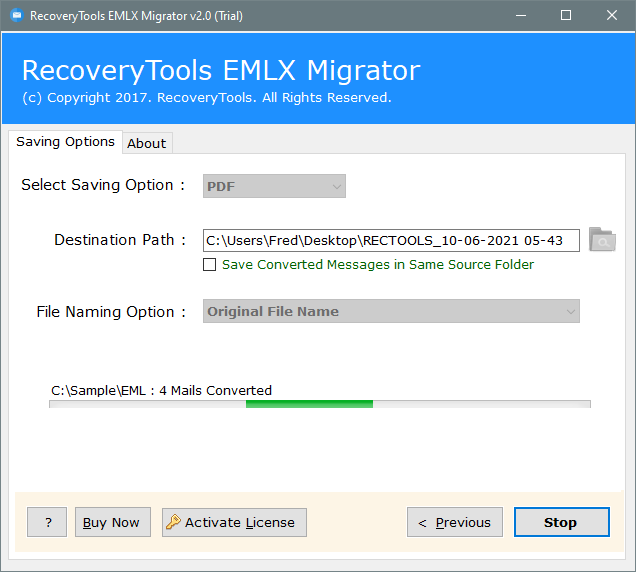 Once this conversion finishes, you will get a conversion completed message report. Tap on OK to exit the screen.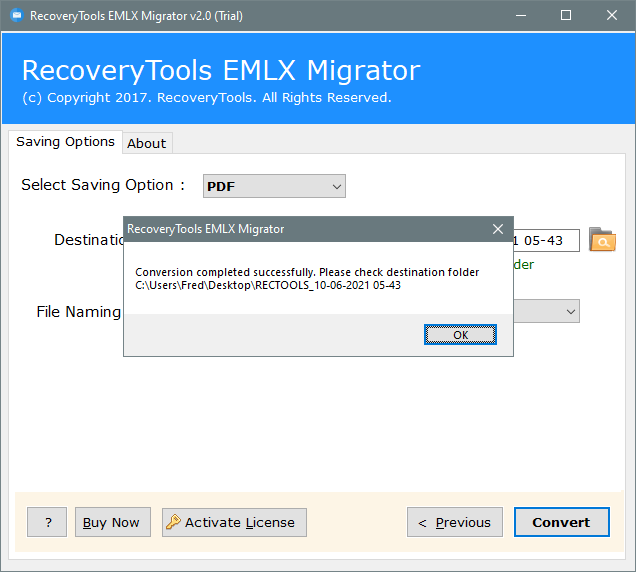 Now, move to the resultant folder for viewing the output.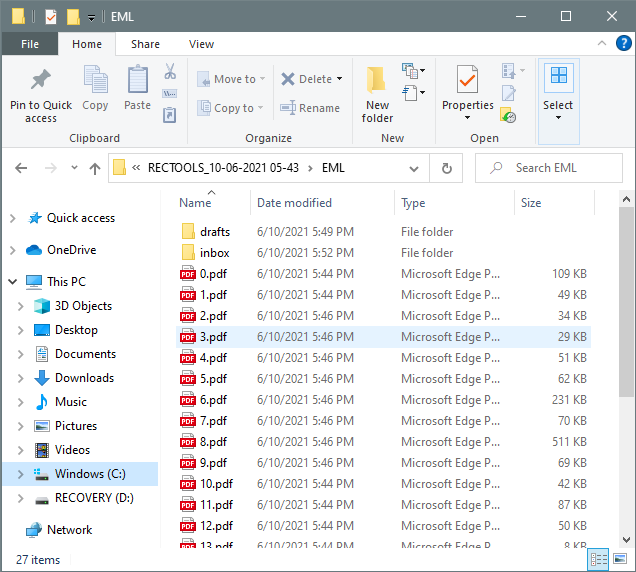 Key Benefits and Features of Software
With this software, the users can bulk migrate eM Client emails to PDF format. Thus, in a single round of processing, users can perform the unlimited conversion without any hassle.
Export eM Client attachments as PDF
Those individuals who wish to save eM Client attachments into PDF file format can do so by using the separate feature of 'convert attachments as PDF'.
Create individual PDF for each eM Client file
This software is made in such a way that it generates a separate PDF file for a particular eM Client file.
Numerous file naming options
The tool permits to save the eM Client to PDF converted files with many file naming options. These file names are a combination of Subject, Date, and From. This feature helps to arrange the output in a systematic manner.
Maintains formatting of emails
During the eM Client export to PDF process, this software will keep intact all rich-text formatting and email properties. It preserves the sender details, recipient details, subject, inline images, attachments, hyperlinks, etc.
Dual options for file selection
For selecting the eM Client files, the users can avail dual options that are file and folder mode. These two options facilitate to load of single or multiple eM Client files at once to the software panel.
The tool can easily be installed on any edition of Microsoft Windows Operating Systems. It runs on Windows 11, Windows 10, Windows 8.1, Windows 8, Windows 7, Windows XP, Windows Vista, Windows Server 2019, Windows Server 2016, Windows Server 2012, etc.
User Queries and our Experts Replies

Ques: Can I convert any other email application EML file to Portable Document Format?

Ans: Yes, you can choose any email app .eml file for conversion to PDF format. This utility is compatible with all EML email services.

Ques: I want to check the proficiency of this software. How can I do so without spending money?

Ans: Well, you can try the free demo version for evaluating the tool. It allows us to convert a few eM Client files to PDF.

Ques: Does this software creates a distinct PDF file for an eM Client EML file?

Ans: Yes, our tool creates a separate PDF for each EML file.
Conclusion
So, to conclude we can say that this process to export eM Client to PDF is very easy if you know the correct method. We have explained both the manual and automated methods. You can choose any method at your convenience however, the automated method is highly suggested for all individuals whether professionals or novices. Please let us know if you have any queries.