How to do the Conversion of PST Files to NSF? Solved!
Karen Chard
~ Published: 28-03-2022 ~ How To ~ 6 Minutes Reading
Are you seeking a way to convert PST to NSF format? If yes, then no need to go anywhere. Just continue reading this article and you can get the solution to your query. We have discussed one of the proven approaches that will give accurate and quick results.
Technology has been increasing worldwide day by day and to adapt to this technology, we need to focus on what is right and what is wrong for us. And, hence we need to find out which of the email client is better for us and provides ­­­­better security features.
And, to manage the businesses and go for better business communication, it is better to opt for a perfect Email Client such as Lotus Notes that provides better security features. There are most of the users on the Internet are using Outlook Email Client and want to move to Lotus Notes which is a difficult task.
Both Outlook and Lotus Notes are different from each other and have several advanced features and export the data in different file formats that are PST and NSF.
Therefore, here in this article, we will discuss the perfect solution to convert PST files to NSF file format. The entire solution for this has been mentioned below that will meet your needs and requirements. There are multiple queries for the same present on various tech forums platforms. And since, there is no manual solution so users are tensed to know about the automated solution that will solve their query as soon as possible.
User Query
"I am using Microsoft Outlook Application for the last 3-4 years and now since I am working on a project so, my manager told me to continue with Lotus Notes due to some reasons. He told me to convert all my data from PST to NSF format. I had tried manual solutions but they didn't work according to my needs. Is there any kind of solution that helps me to convert PST files to NSF format?"
There are not only single but unlimited queries that we cannot be able to show here. But after reading this, we must help users carry out better conversion results. Also, we will try our best to give you the best knowledge with 100% accuracy.
Why do Users prefer Lotus Notes over Outlook?
Lotus Notes possesses multiple advanced features for communication, email management, and managing other data items such as contacts, attachments, etc.
In this, the entire data will be properly stored in the Domino Server and thus there will be better data security.
It is possible to access the data in Lotus Notes as compared to Outlook.
Quick Solution to Convert PST Files to NSF format
We recommend you to take the help of Outlook PST Converter developed by RecoveryTools experts. The tool is a perfect utility that works very smoothly and possesses multiple advanced features. It can easily do the conversion of files to NSF format in bulk quantity without any kind of loss of data. Also, the software is designed in such a way that it can easily maintain the entire data items including emails, contacts, calendars, notes, journals, etc.
This PST to NSF Converter is been properly tested by developers and supports PST files from all the versions of Outlook such as Outlook 2016, 2019, 2008, and others. And, provides an advanced filter option to carry out some specific data using different data filters.
Detailed Guide to Convert Multiple Files to NSF format
Run the mentioned utility in your existing Windows OS system to start the process.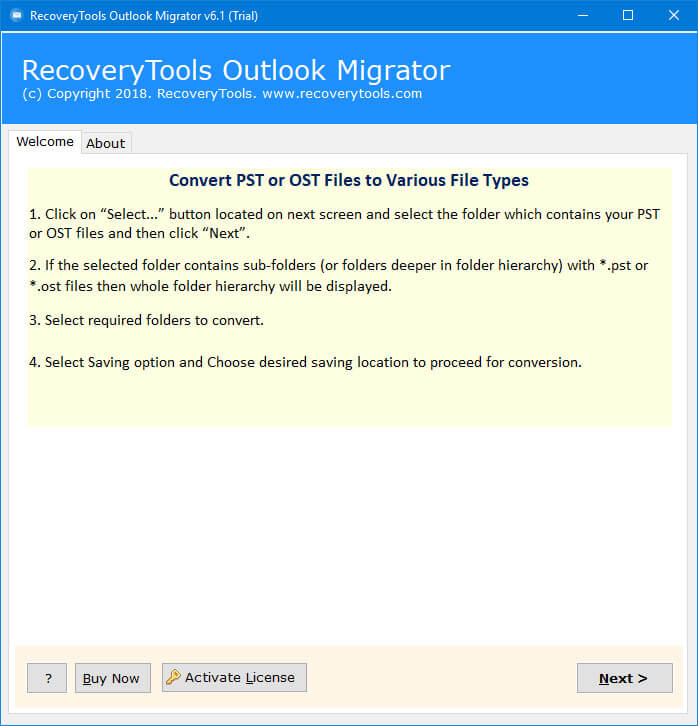 Upload the files either by configuring an Outlook account or by choosing files or folders. If you are uploading corrupted PST files then select recovery mode in that case.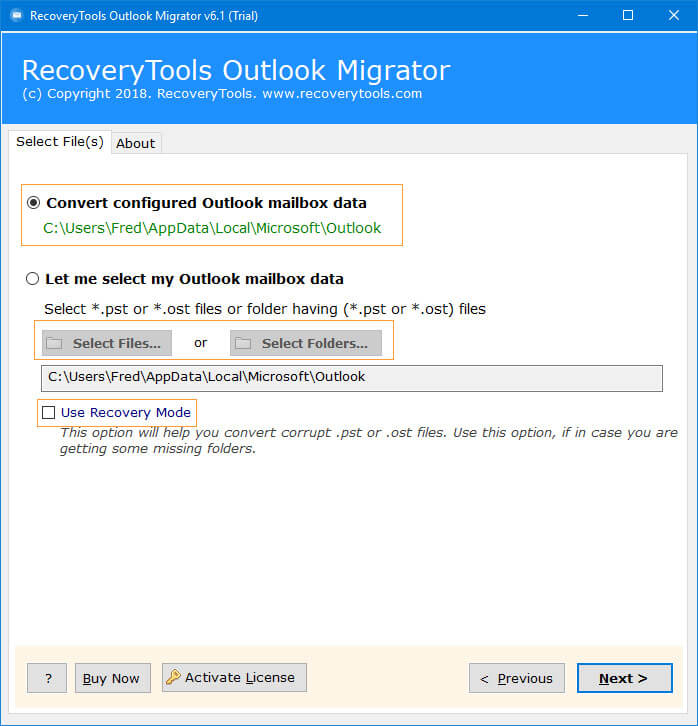 See the complete preview of all the PST files on the screen and select the needed files from them.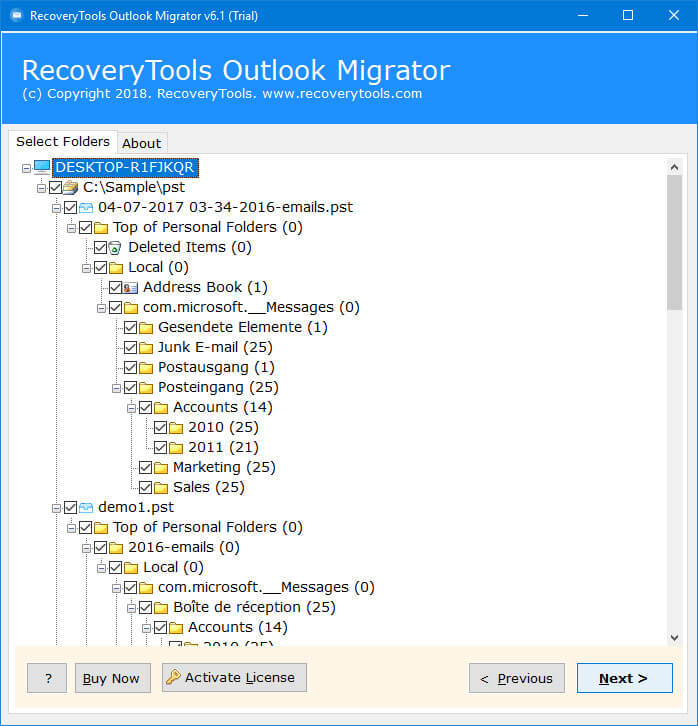 Then, choose the Lotus Notes option as the file saving option from the list.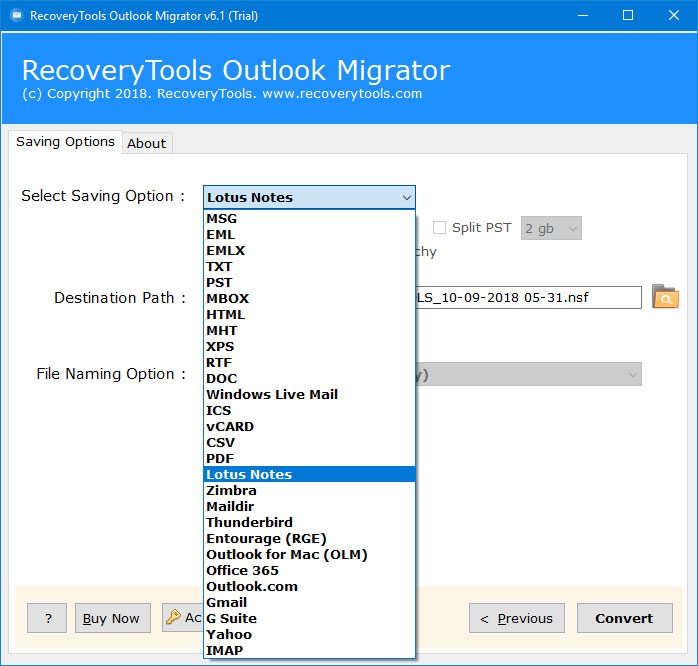 Enter the destination path and select File Naming Option from the given list. If you don't choose the file naming option, then it will automatically save the data in the desktop location.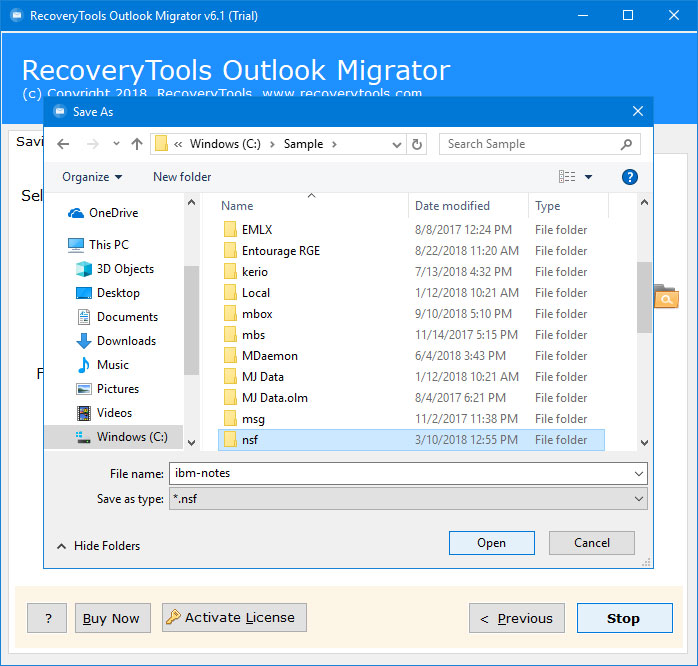 Click on convert and see the live process running on the screen. In just a few minutes, you can see the resultant prompted message on the software screen.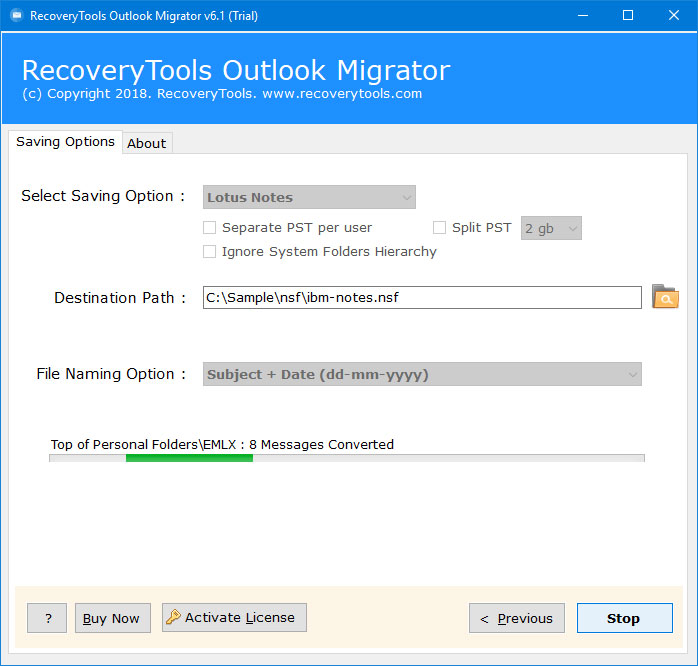 In a Trial Edition:
The PST to NSF Converter provides two versions of the software. Demo version to export 25 emails from each folder at once. Licensed version to export unlimited data along with data items within a single attempt.
Features of the PST to NSF Converter
The tool has a flexible GUI that helps to operate the software without any kind of technical guidance.
It can load PST data from the different options by choosing files or folders or by configuring the account.
Maintains the on-disk folder hierarchy and will not affect any kind of data.
Users do not need any kind of extra installation to continue with the conversion process.
It is possible to export the PST data to file formats such as PST to MBOX, PST to CSV, PST to EML, PST to vCard, PST to PDF, and multiple others.
Ability to Import PST Files to other email platforms such as Gmail, Thunderbird, Office 365, Yahoo, IMAP, and so on mentioned in the list.
The utility can easily work on all the previous as well as the latest versions of Windows OS such as Windows 11, Windows 10, Windows 8.1, and other 32-bit and 64-bit OS.
Frequently Asked Questions:
How can I export PST data to NSF?
1. Run PST to NSF Converter.
2. Upload the PST files/folders from the system.
3. Choose the needed emails.
4. Select Lotus Notes as a file-saving option.
5. Get the resultant message.
Does the Outlook installation is necessary for the PST to NSF Conversion?
No, there is no need to install Outlook for the conversion process as the utility is standalone and can perform the PST to NSF Conversion with 100% accuracy.
Do my attachment files also migrate to NSF embedded with the emails using this tool?
Yes, the tool successfully exports all the attachments along with the emails.
In Conclusion
Therefore, converting PST files to NSF in bulk is a difficult task but the utility mentioned above made the task easy for us without putting in much time and effort. Without wasting your time, just continue with the PST to NSF Conversion tool and enter the login credentials of your Lotus Notes account and transfer the data directly. Also, you can use the demo version of this utility, and once after being satisfied, continue with the Licensed version. For more information and any kind of technical queries, you can connect with our technical team.