How to Convert HEIC to PNG on Windows in Easy Steps?
Summary: In this informative article, you will learn about HEIC file format. Also, for anyone who needs to convert HEIC to PNG on Windows, will get the perfect answer here.
HEIC came from Apple's first file format, HEIF (High-Efficiency Image File Format). Moving Picture Experts Group (MPEG) made HEIC as an update to the popular JPG file format.
A HEIC file takes up less space on your hard drive, but it still keeps its high quality. MPEG says that high-quality JPG images take up about twice as much space as high-quality HEIC images. When you multiply how much space you saved by the number of pictures you took, the result is amazing. Don't you like having more space on your device for other files?
You can get a lot out of the HEIC file format, but you have to get used to the fact that most popular software and operating systems haven't yet updated to work with it. Also, some apps, devices, and websites have trouble with the format. The only thing you can do is change it.
How to Convert HEIC to PNG on Windows?
There are a variety of reasons why you may need to convert HEIC files to PNG format. Un-supportability with some operating systems was one of the key reasons we highlighted it.
So, how do you convert HEIC to PNG? Is there a workable solution?
Yes is the answer. If you look for this task online, you will find a lot of free and paid ways to do it. But, most of the free or online solutions has restrictions which we shall describe below.
We have also developed the most efficient RecoveryTools HEIC Migrator Software for customers. This application is beneficial to overcome all the constraints presented by the previous ways. With this tool, one may safely convert infinite HEIC files to PNG format on Windows without any problem. Also, the usability of this software is great. You only have to follow some basic steps and its done.
Smooth Working Steps to Convert HEIC Files into PNG
Download and install this HEIC to PNG Converter on your Windows OS.
Here, you will get the dual mode feature. Choose files or folders to load your HEIC files and click Next.
This software will load your HEIC image files on the left panel. Check them and click on Next button.
Now, from the given list of savings, choose PNG.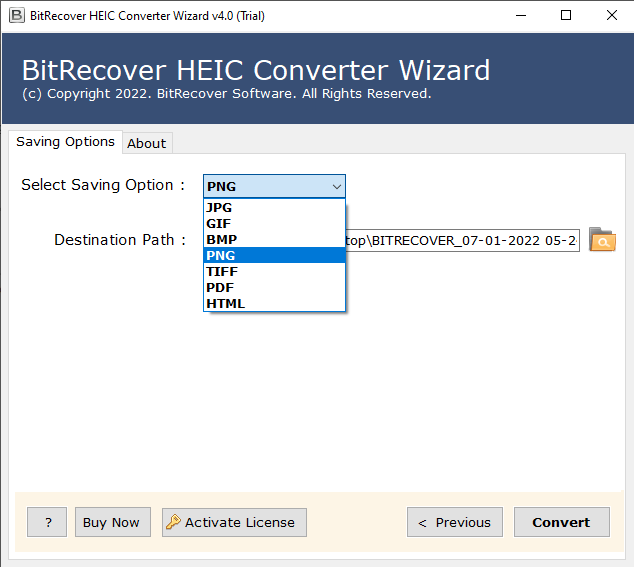 Finally, choose the destination path where you want to get output. Click Convert to begin the process.
Now, you can see, the software starts converting HEIC to PNG on Windows. This process will simply take a few moments. Please wait.
How do you feel? Isn't it too simple and helpful?
Which Limitations Does This HEIC to PNG Converter Overcome?
You can take the trial of the online solution provided. But you will realize that the solutions only allows the conversion of HEIC files one by one. Also, after converting one or two files, they will start demanding for money. So, why spending time and money in converting files one by one.
All constraints are solved by our HIEC to PNG Converter. It also has a vast number of advanced and useful features that make it the best.
Supports to batch convert numerous HEIC files to PNG format at once.
Ability to convert files or directories as per your converting requirements.
Also, features a very smooth, simple, and trustworthy interface for the ease.
The program lets to pick place where you need to acquire output.
Supports the selective conversion of your HEIC picture file format.
With this app, you can also convert HECI images into JPG, BMP and more saving options.
Make it easier for users to view HEIC files on Windows after converting PNG format.
There is no need for supportive application to export HEIC files to PNG format.
While exporting HEIC images to PNG, it maintains the properties of your files.
The above are a some features of the tool. It has many more. Just download the program and acquire all the features with perfect conversion.
Time to Conclude
We are well aware that Windows cannot open HEIC files. But we make it simple. We have developed a method to convert your HEIC files to a Windows-compatible format, such as PNG. Using this program, you may effectively convert HEIC photographs to PNG and view them on Windows.
Therefore, without further consideration Simply download the program to begin converting HEIC to PNG images. We are certain that this application will function properly for you.