How to Convert Comcast Emails to PDF Document in Batch ?
Karen Chard
~ Modified: 02-06-2022 ~ How To ~ 6 Minutes Reading
Analysis: Have you decided to export emails from Comcast to PDF format ? And you don't have any idea how to convert Comcast multiple emails to PDF format ? Don't worry, here, you will get a solution to print multiple Comcast emails to PDF documents. So, stay with us and learn the method.
In this Modern Computing Generation security is the main concept for every computer user. Most Computer users considered PDF format to store their documents and other important work. That's why here we discuss the way to export Comcast Emails to PDF document format.
Comcast webmail is a widespread email platform launched by Xfinity Group. You can use Comcast mail to store messages, to use in social networking and instant messaging, etc. It is a normal webmail service like Gmail.
A shot Note for PDF Format:
PDF is a document format also known as Portable Document Format. It was developed by Adobe Inc. PDF file represents records in electronic form on your computer, mobile, desktop, etc. The major advantage of using the PDF format is portability.
Many users are frequently finding a method to extract Comcast Emails in PDF format. Lastly, we get a problem with our old client from New York.
"Hi, I have lots of emails in my Comcast mail account which I want to export as PDF format. Therefore, I was observing for a solution to convert multiple Comcast emails to PDF document format. But unfortunately, I could not find any solution which provides me the proper way to export Comcast emails to PDF format. Does someone know that how to export Comcast emails to .pdf extension with a maintained structure?"
An Instant Solution: Comcast to PDF Conversion Tool
RecoveryTools Comcast Email Backup Tool helps you to print multiple Comcast emails to PDF format at once. This program permits you to extract emails in PDF format from multiple Comcast accounts. The best thing about Comcast to PDF Converter is can export multiple emails at once. You can use this solution on your Windows as well as Mac machines.
Download the Solution by Given Buttons:
Download for Windows Download for Mac
Note: This application is shareware. You can download the demo edition to learn the working process of this tool. Happy users can purchase software to export multiple Comcast Emails to PDF easily.
Step to Convert Comcast Emails to PDF File Document
Follow the lower steps to convert Comcast Emails to PDF format: –
Get Comcast to PDF Solution on your PC.
Put your Comcast account details or credentials.
Pick the desired Comcast mailbox folders.
Open saving options list and select PDF option.
Press the start button to convert Comcast to PDF Format.
Comcast to PDF Converter – Working Process with Screenshots
First, download the Comcast to PDF Converter with the help of the download button. Start the program and read all the instructions.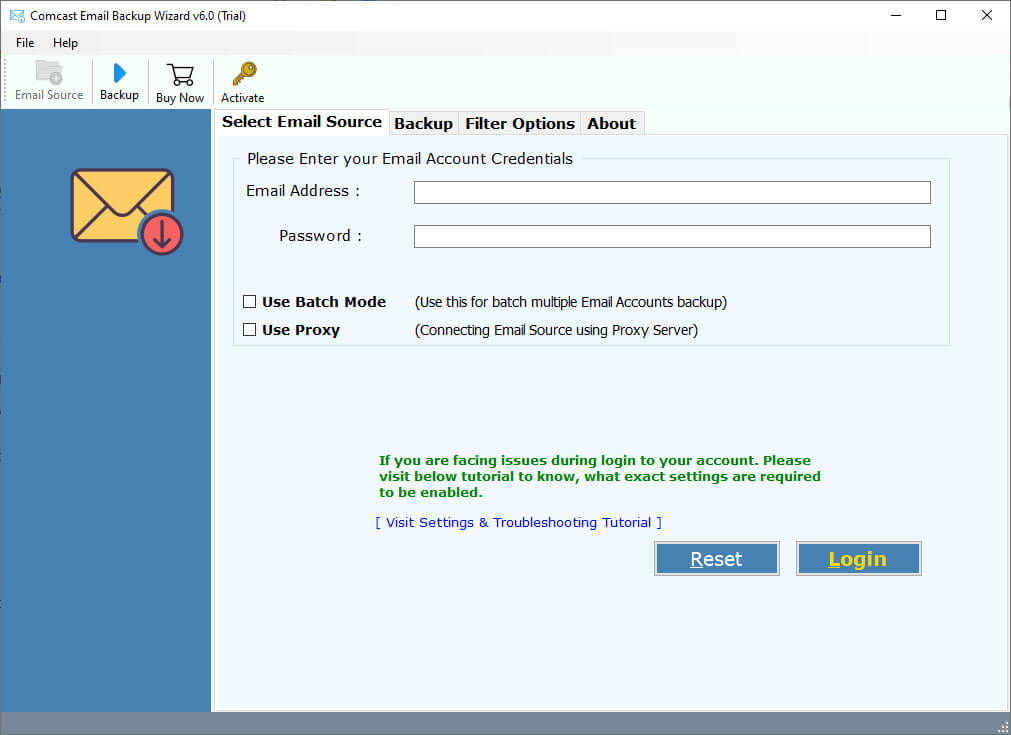 Second, put the details of your Comcast account – email address or password.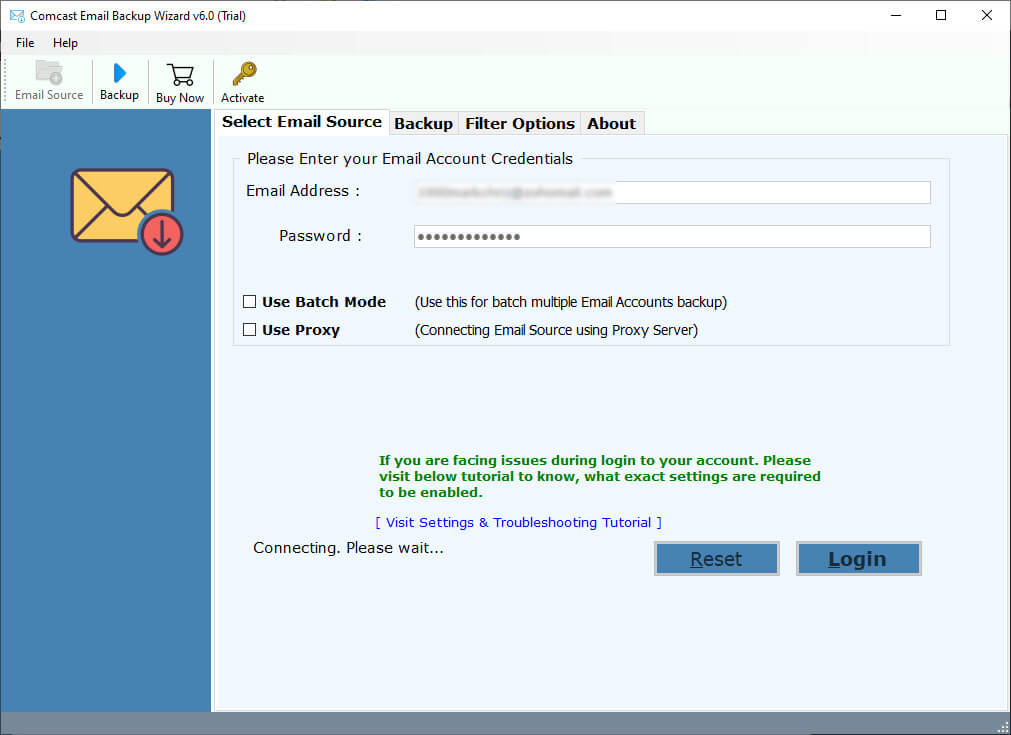 The tool offers some additional options such as Batch Option (For multiple account mailbox conversion), and Proxy Server (Connect with other locations).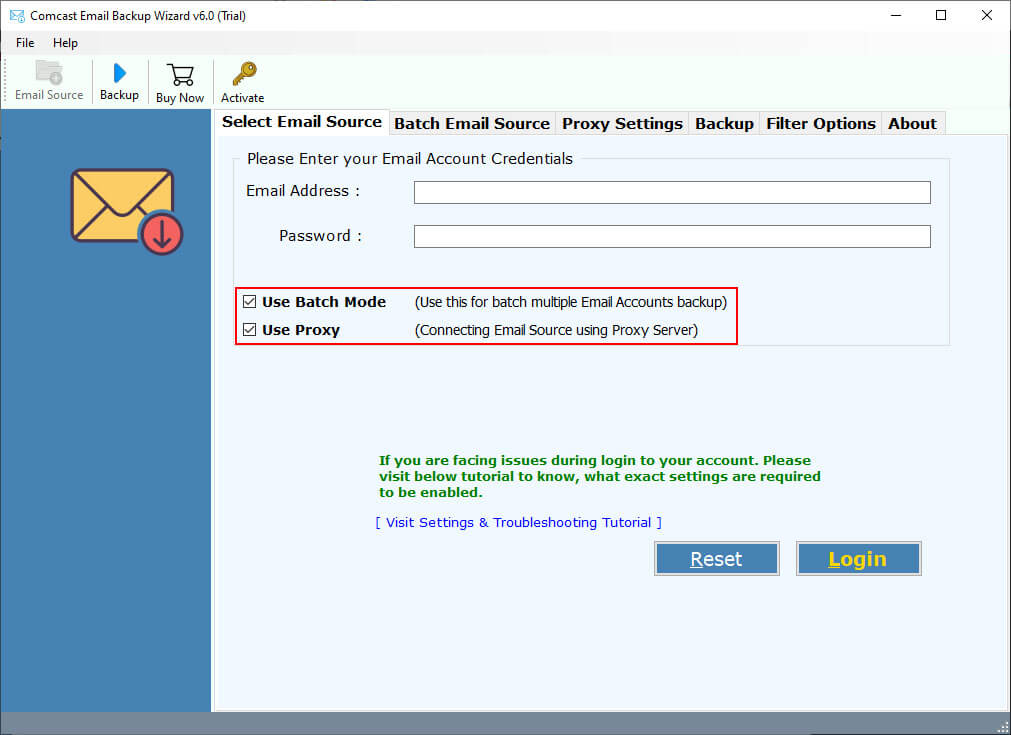 Now is the time to choose Comcast folders that you want to export as PDF file documents.
The solution gives several file saving options, select PDF option from the list.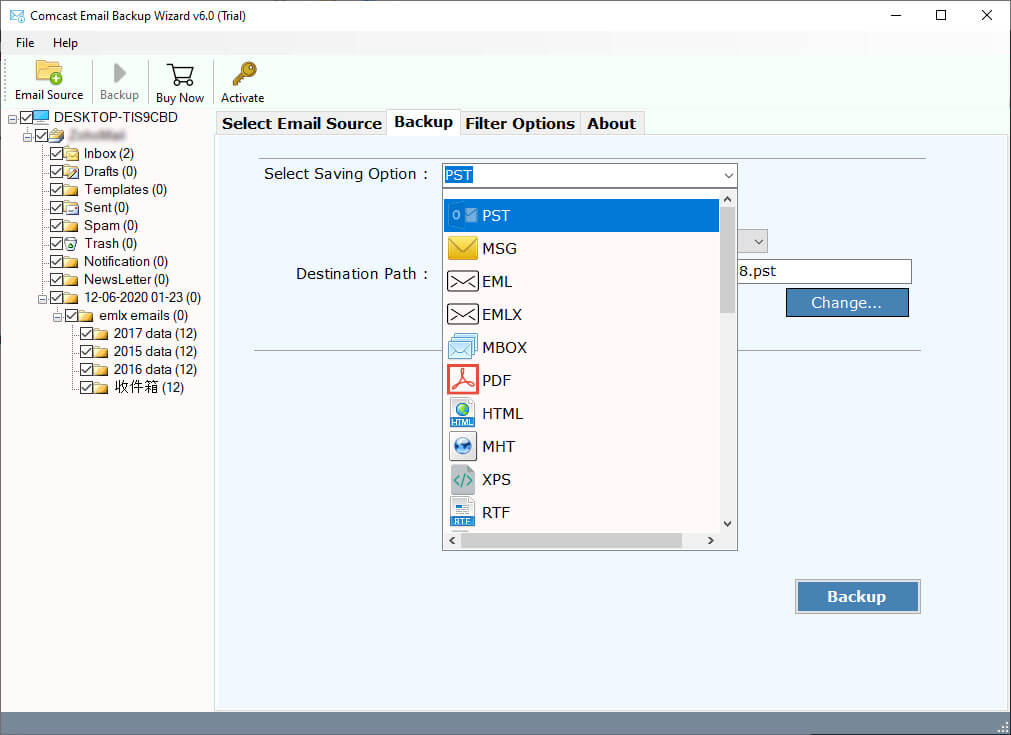 Choose the resulting location path to save converted PDF data at user wanted location.
Pick the selective filter options to export only required Comcast emails to PDF file.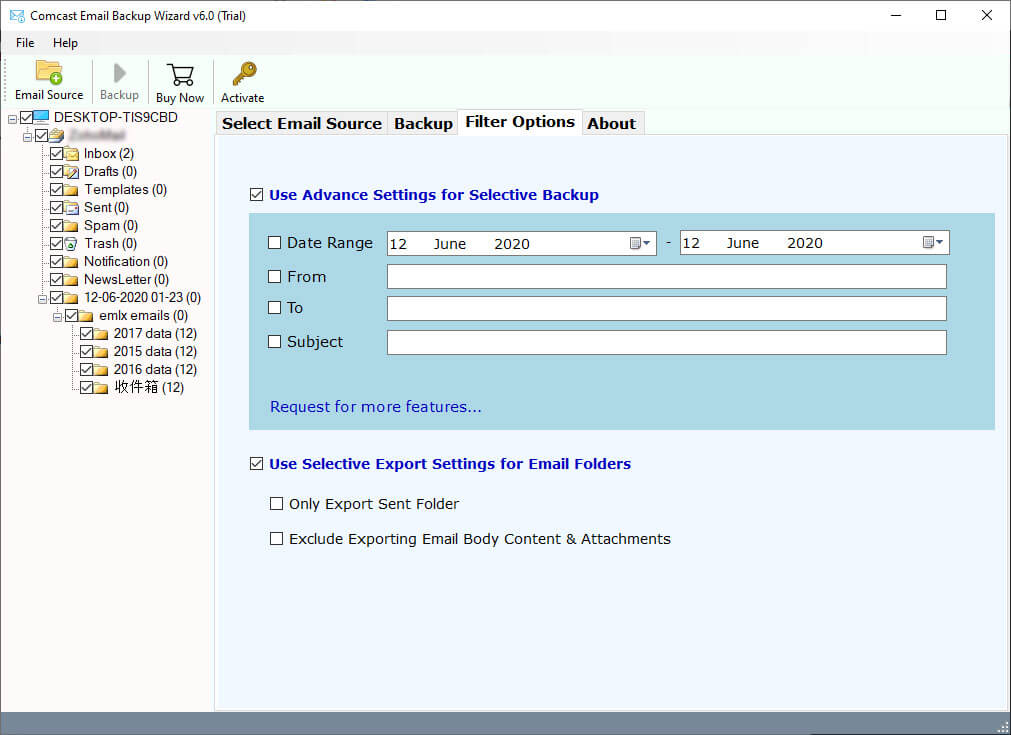 Lastly, press the backup option to start Comcast to PDF Conversion process.
Export Comcast to PDF Document Tool – Features and Benefits
It is an individual solution to convert Comcast messages to PDF format. During this procedure, no need to install any other utility or application on your current machine.
Many people think that they only convert Comcast mailbox inbox folder email. But today we explain it, the solution can be export all mailbox emails that you selected in the panel to convert in PDF format.
The Internet is not a safe world. That's why many people are concerned about the safety of this product. But now let me tell you that it is a 100% safe product. Because during the process, the solution never saves the credentials and other information inside the panel.
While the conversion procedure of Comcast messages to PDF, the tool retains original email elements. So, don't worry, you will get all the information such as email meta-text, email internet header information, and many more.
Another useful option of this application is the "Batch Option". This program permits you to export messages to PDF format from multiple Comcast accounts in a single procedure. A person needs to create a CSV (Excel file) and enter all the account details. So, upload it in the application panel to get all account details.
Are you facing connectivity issues with your Comcast account? Then you can also use the Proxy Server This option helps you to connect your Comcast account with other location proxy servers easily.
Many people come from several fields such as accounts, science, commerce, etc. Who doesn't know much information about computer systems? That's why this tool was developed with a simple GUI Panel which can easily understand by any user.
Use this application on Mac or Windows machines. It works on all the latest Windows editions like Windows 11.
User Queries Related to Comcast to PDF Conversion Tool
Does it work on My laptop which currently works with Windows 10 Pro edition ?
Yes, this program works with all versions of the Windows operating system. You can use it on your laptop which works with Windows 10 Pro edition.
Can I use this program to convert multiple Comcast emails from different accounts ?
Sure, this tool offers batch mode to connect with several email accounts at once. So, you can avail this option to convert multiple Comcast messages from several accounts in one process.
How can I print email by date ranges from Comcast mailboxes to PDF format ?
For this, you need to use date range filter options to extract email messages from Comcast to Document PDF format.
Final Words
One can easily export multiple Comcast email accounts data to PDF format in a single process. Here, in this write-up, we have discussed the method to print Comcast emails to PDF format. One can utilize the trial edition to extract few Comcast messages to PDF file. Also, the program works on your Windows and Mac machines. If you have any further questions, contact us on the live support email or chat process.
Also Read: Convert Comcast Emails into Computer