How to Backup Vivaldi Webmail Account to Local Formats ?
Karen Chard
~ Modified: 19-05-2022 ~ How To ~ 6 Minutes Reading
"I loved the Vivaldi web browser very much, that's why I have been using the Vivaldi mail service for the last few years. Vivaldi Mail looks like a web integrated email client. After long usage, I have collected many emails in my Vivaldi mail account. But just a little while ago, I needed to backup Vivaldi Mail Account locally. As I know there is no direct service available for Vivaldi Emails backup locally by Vivaldi Technologies. Does the RecoveryTools team help me in this matter ?"
– James William
Vivaldi Mail is an online email service developed by Vivaldi Technologies. It was founded in 2014 by Jon von Tetzchner and Tatsuki Tomita. The company makes Vivaldi Mail a strict-to-industry-standard privacy policy.
This means that your emails are not stuck to personal data that the parent company can sell for profit, such as Google Gmail, Yahoo, and others. For security reasons, Vivaldi does not offer mail archiving features. To backup Vivaldi email accounts, you must use the RecoveryTools IMAP Backup Tool.
This guide simplifies the entire process of backing up Vivaldi Mail account to local file formats, email clients, other webmail formats, etc. In fact, the utility gives the facilities to backup Vivaldi Email to any IMAP Server with IMAP settings.
How to Backup Vivaldi Mail Account Locally ?
We all know about the importance of email in our lives. Vivaldi Mail is one of the email services that provide facilities to send bulk emails, implement email marketing, manage mailing lists, email design, and many more.
Due to the importance of email in our lives, today no one wants to lose their important email. That is why email backup is necessary if you want to avoid losing your data.
RecoveryTools Vivaldi Backup Tool provides options to easily archive your emails from Vivaldi Email account locally or Web platforms. It allows you to download multiple Vivaldi Mail Account data at once.
To backup Vivaldi Email account, you need to download this application on your Windows Computer First.
This is a trial edition that allows you to backup the first 25 emails from per Vivaldi Mail account folders to the selected format. The working procedure of this demo edition is the same as the licensed edition.
Steps to Backup Emails from Vivaldi Mail Account to Local Computer
Step-1. First, install or launch this program on your computer.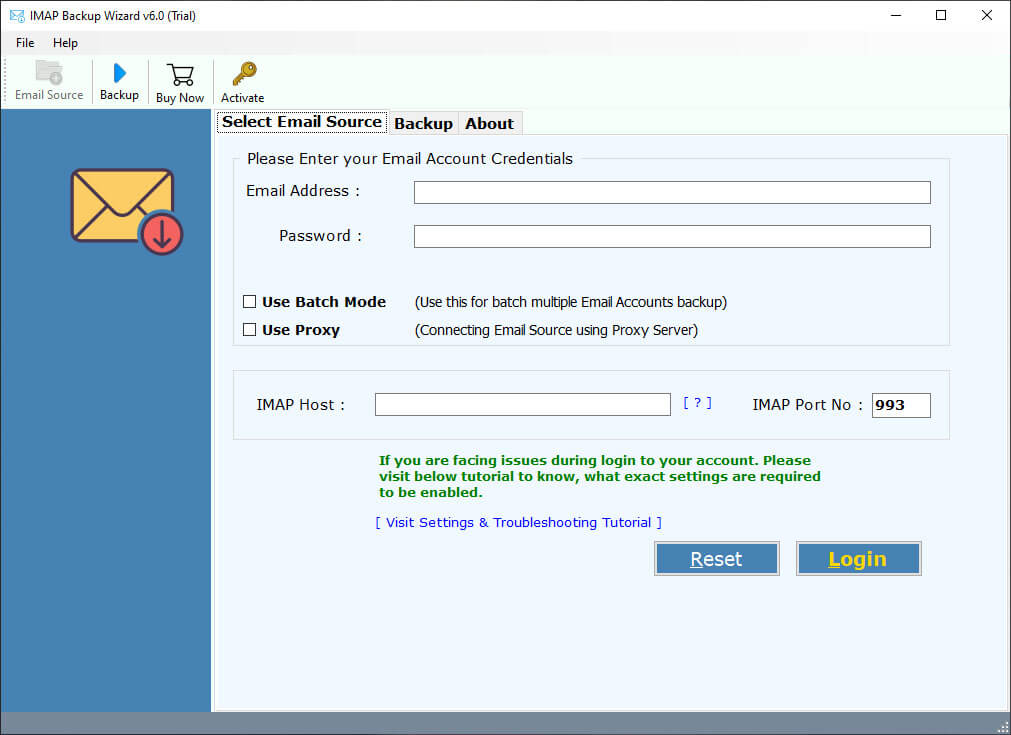 Step-2. Now, you need to enter your Vivaldi Mail account credentials with your IMAP Settings.
Vivaldi Webmail IMAP Settings
User Name: – Enter your email address.
Password: – Enter your email account password.
IMAP Server Address: – imap.vivaldi.net
Port No.: – 993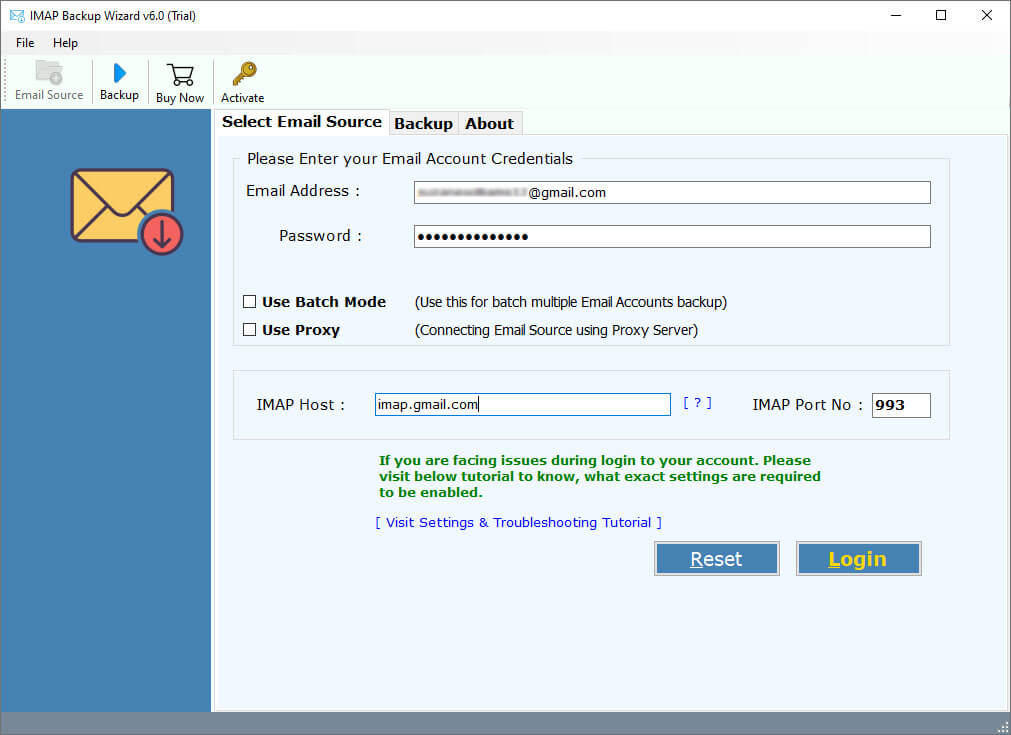 Step-3. Select the necessary Vivaldi Mail email folders which you want to backup.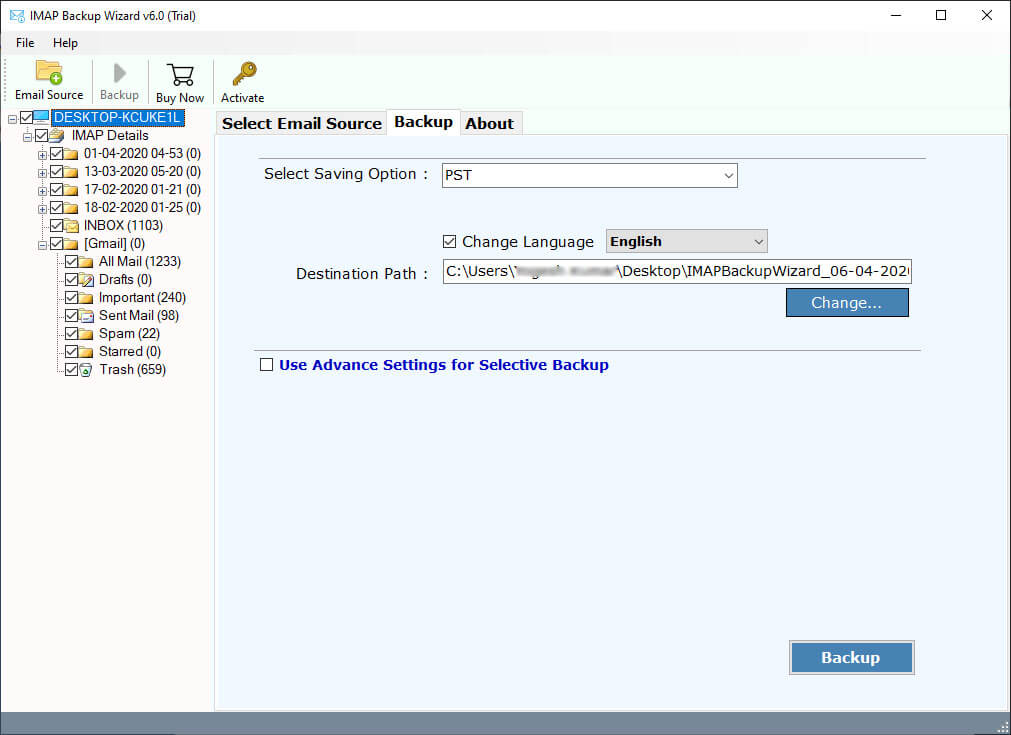 Step-4. Then, choose the required file saving option and webmail option in the list.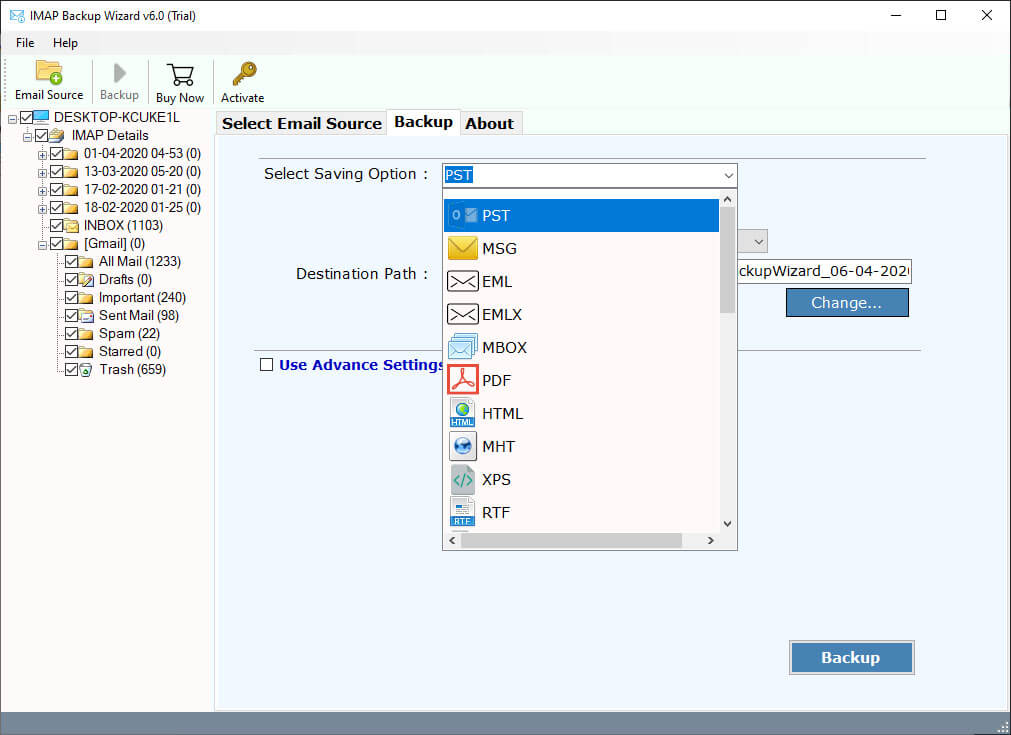 Step-5. Choose the filter option if you want selected emails from Vivaldi Mail Account.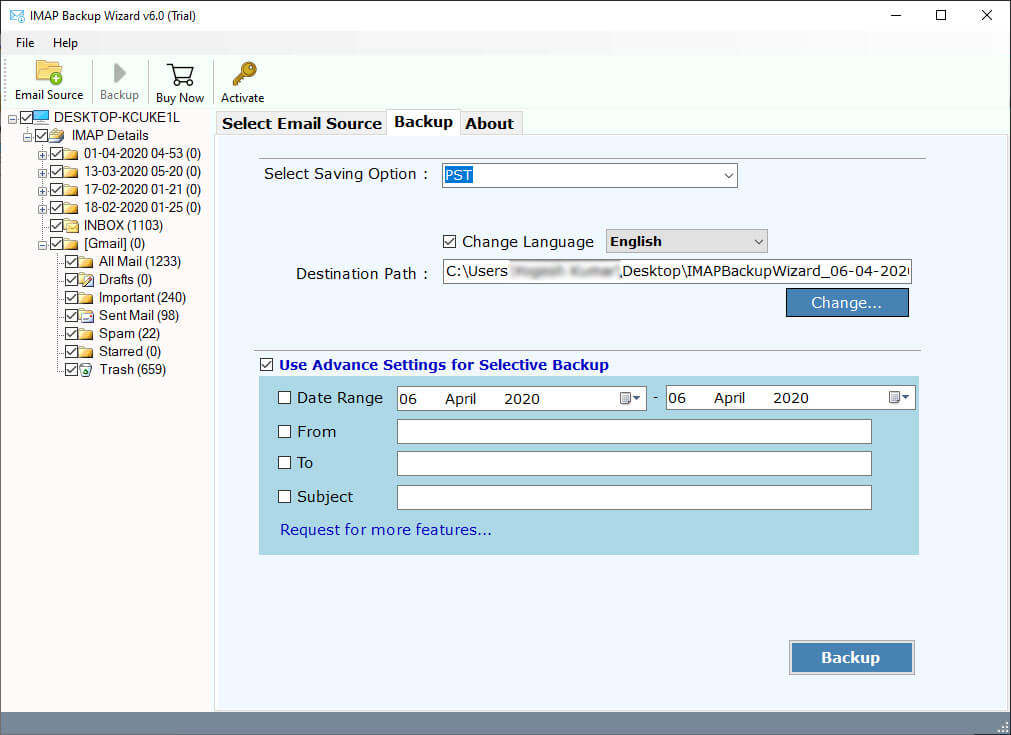 Step-6. Set the location path if you have selected file saving options. Or if you choose the webmail option, enter your email account credentials.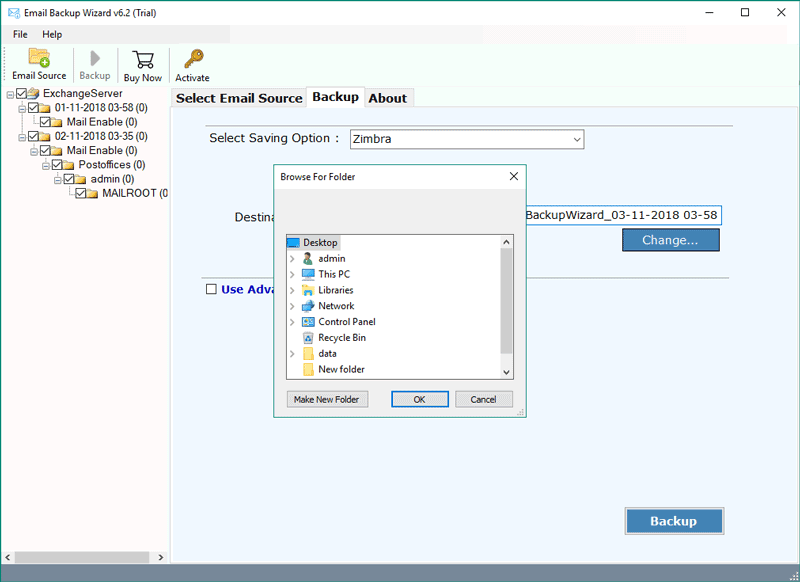 Step-7. Finally, click on the backup button to download emails from Vivaldi Email account.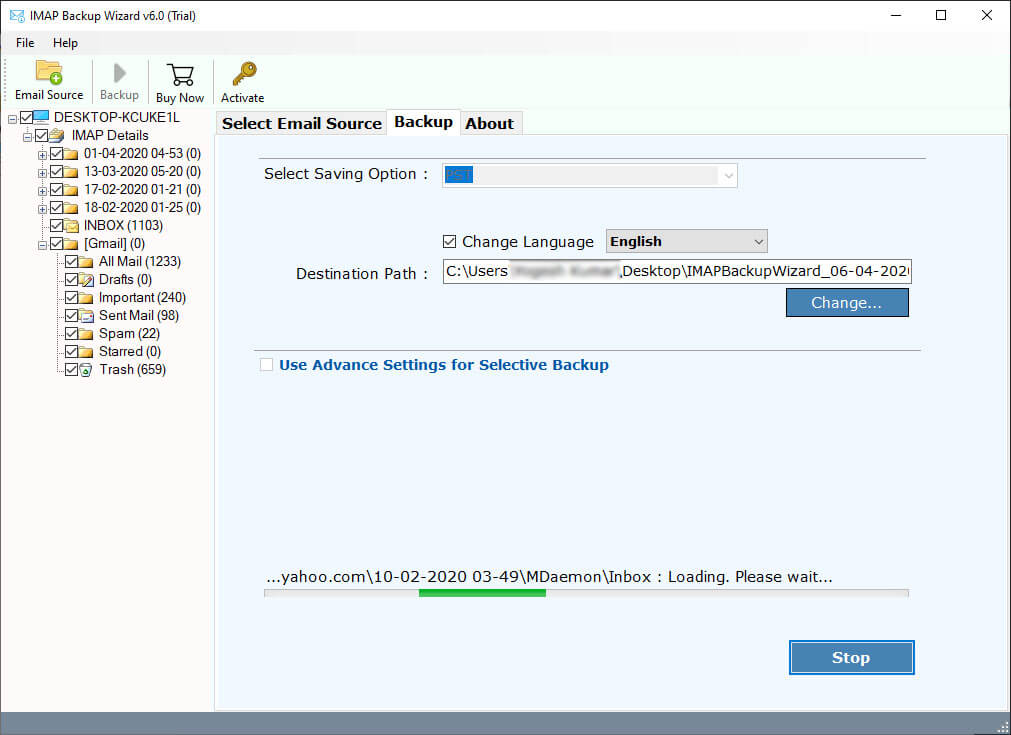 Note: – If you want to backup multiple Vivaldi email accounts, then choose batch option.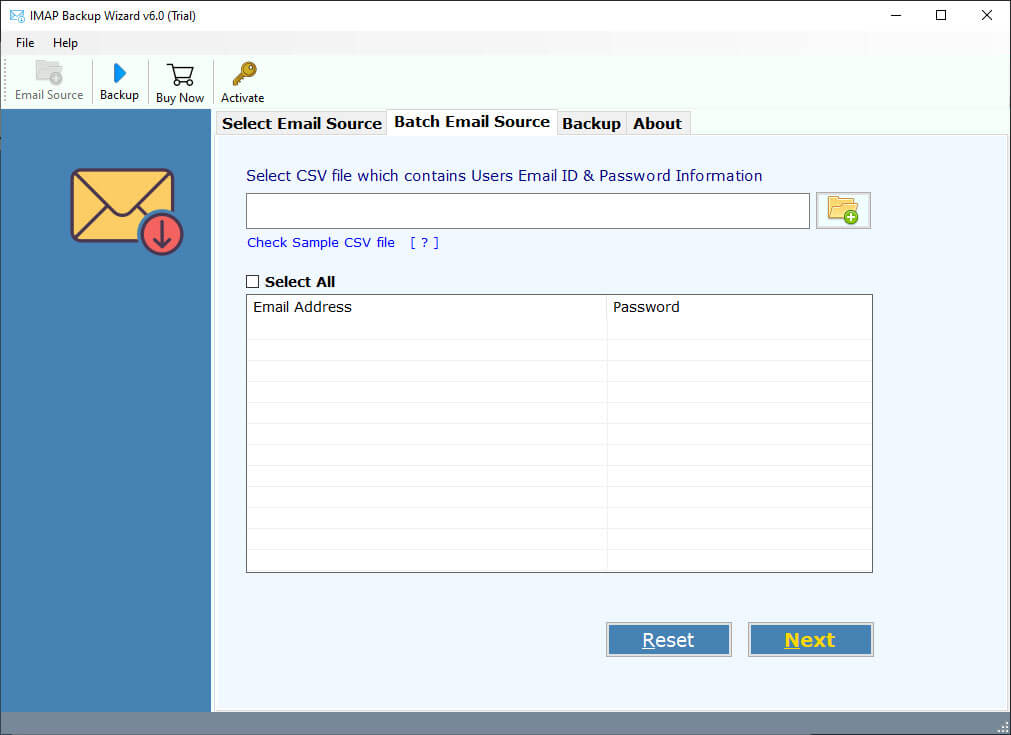 Vivaldi Email Backup – Available Saving Options
Archive Emails with File Formats: – The utility comes with several options such as PST, EML, MSG, EMLX, Zip, MBOX, CSV.
Backup on Email Clients: – Access Vivaldi mails without configuration with Outlook, Thunderbird, Windows Live Mail, Zimbra, Lotus Notes, Apple Mail, Mac Mail, etc.
Open Backed Up Emails as Document: – You can also save emails as document format in batch such as PDF, HTML, MHT, XPS, RTF, DOC.
Backup on Webmail Accounts: – You can directly backup Vivaldi emails on other webmail accounts such as Gmail, Office 365, Yahoo, G Suite, Outlook.com, Rediffmail, IBM Verse, Amazon WorkMail, IceWarp & IMAP accounts.
Advantages of Choosing This Professional Vivaldi Backup Tool
Backup Multiple Accounts in Single Process: – The program developed with all the resources that need to a professional user or home user. It gives an option to backup multiple Vivaldi Mail accounts in a single process. You just need to create a CSV file (Sample Available) contain all your email account credentials. Then mark on the batch button and upload it to the software interface.
Backup Vivaldi Emails with Filter Options: – There are many users who only want to back up their important emails from the Vivaldi account. That's why this application gives you multiple filter options that help you to download emails from Vivaldi account by date range, email address, subject, etc.
Download Original Formatting: – Email formatting is an important factor when you are backing up your mailbox from the cloud. So, the program understands all these types of requirements. That's why it keeps all your email meta properties while backing up Vivaldi mail account such as email with attachments, images, subject, hyperlink, email addresses (to, cc, bcc, from) information, email formatting, etc.
Clean and Secure Interface: – The program provides a clean and easy to use interface panel to backup Vivaldi Mail account. It never stores your account credentials in the interface. Furthermore, you do not have to worry about your private data, as it does not store your email information inside the panel.
Keep Folder Structure During Backup: – If you are backing up a Vivaldi email account, pay attention to your mailbox folder structure. Because it is one of the major factors while taking backup of Vivaldi Mail account. But don't worry now, this program understands the requirements of users. That's why it maintains all your email folder hierarchy structure.
Final Words
The RecoveryTools Vivaldi Backup tool did a great job of storing Vivaldi emails to many local formats. By using this solution, you are not only backing up Vivaldi Mail account to your local machine. But also, on cloud accounts. Yes, it gives you many webmail saving options that allow you to backup Vivaldi email to another cloud account without any problem. You can even use this application for Vivaldi to Vivaldi migration process.
If you face any problem while using this application, please contact us via live support chat or email.