Few Tips to Export Apple Mail Emails to PDF File
Karen Chard
~ Modified: 02-08-2021 ~ Apple Mail ~ 6 Minutes Reading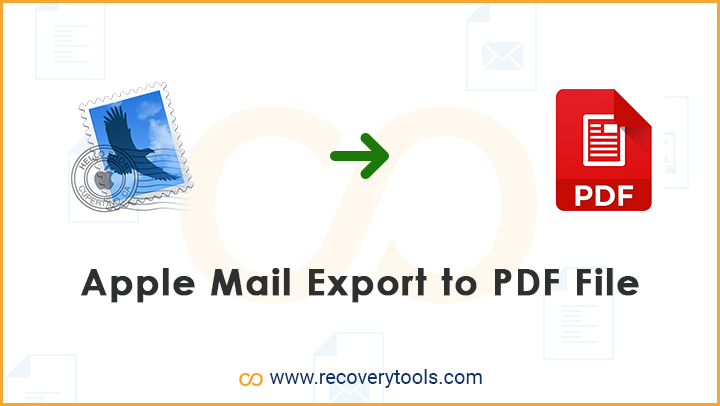 Learn how to Apple Mail Export to PDF File. This article provides the best solution for you to do so. But, the first user needs to convert EMLX to PDF files. The reason is Apple Mail saves its emails in EMLX format. It is the best solution to Print Apple Mail to Adobe PDF Documents.
Apple Mail is the standard email client for Mac or Apple iOS systems. Apple Mail can configure accounts of all major email services like Yahoo Mail, AOL Mail, Gmail, Outlook, Exchange Server, etc.
On the contrary, PDF files are one of the best ways to share or print documents without changing their original format. PDF files are portable in nature. You can open them with the PDF reader on all operating systems and devices (such as Windows, mobile devices, laptops, Android, PC, Mac).
PDF files protect the message formatting so that Apple Mail users can easily print emails as PDF files. The software creates a copy of a searchable PDF file that displays all correctly modified emails.
I use Apple Mail to manage my organization's mail and generate messages for a long period of time. Although Apple Mail exports email in the EMLX file format, it does not use mobility or portability to switch from one application to another. For simplicity, I want to use Apple Mail as a standalone medium, like a PDF file, which is more independent of the application or the operating system. With the same information in mind, we suggest that you make the perfect choice to convert EMLX to PDF file format.
The above query better explains the need for an Apple Mail to PDF Converter software.
Best Tool to Export Apple Mail Emails to PDF File
A user can easily export the Apple Mail emails to PDF files using RecoveryTools EMLX Migrator Software. This toolkit will allow the users to create a separate PDF file for each Apple Mail email. It will create searchable PDF files so that users can use this tool for forensic purposes also. This toolkit can convert EMLX files to PDF without any size limit.
Download the trial edition of this tool from the below button
Download for Windows Download for Mac
Trial Limitation: This tool has a demo limit to convert only the first 25 emails from each folder. However, if you want to export unlimited Apple Mail emails to PDF files, you need to activate the tool. Purchase a suitable license & get the activation keys via email within 15 minutes.
Quick steps to convert EMLX Files to PDF
Run the tool & load Apple Mail EMLX Files in it.
Choose all the desired Apple Mail emails from the list.
Select PDF option from saving from the list.
Setup Apple Mail to PDF conversion options.
Click on the Convert button & start the process.
Top-rated Features of Apple Mail to PDF Converter Software:
The Apple Mail to PDF Converter tool helps the users in many ways. It will allow the users to print the Apple Mail emails as PDF files. Some highlighted features of this tool are listed below:
The utility supports the batch conversion of multiple Apple Mail files to PDF format in bulk. Users can select a single file for conversion or a group of files from a folder.
This toolkit is a very easy application to convert EMLX files as PDF. A user with very little knowledge can use this software easily.
It will create searchable PDF files from Apple Mail emails. It will help the users in forensic analyzing the PDF file.
This tool is a fully standalone program to perform its work. There is no need to have Adobe Reader software for successful conversion.
The software will maintain the original email components & attributes including headers, hyperlinks, signatures, etc.
Users can open the resultant PDF file on all devices without any OS restrictions like Phones, computers, laptops, Windows, Mac, etc.
The utility will display a live conversion process directly in its panel with all details including the number of files converted & the current folder from which files are getting converted.
It will create a SavingLog file. This file includes the complete report of the conversion process like Source Path, Folder Name, Items converted, destination path, & final status of the process.
By default, the tool will save the resultant files directly at a Desktop in a folder. However, users have the choice to change the output file location or create a New Folder directly from the application panel.
This tool is compatible with the latest Microsoft Windows OS Users can run it easily on Windows 10, 8.1, 7, XP, Vista, etc.
Know Full Working of Apple Mail Export to PDF Tool
A user can easily convert Apple Mail emails to PDF files using this tool. It is a very simple program to export data. Users just need to follow these simple steps to understand the complete process.
Install the software & then run it on your latest Windows PC.
Now, you need to locate & browse the Apple Mail EMLX files. The tool will provide two options for it i.e., Select Files option or Select Folders
Browse for the location to load the EMLX file in the software panel.
Users need to select all or only the required emails/folders from the utility panel.
Now, select the PDF option from the list of 30+ file-saving options.
Setup all the options for Apple Mail Export to PDF file. You can choose options like Save converted messages in the same source folder, or apply any file naming settings.
Users can change the location of the destination path according to their needs. Just click on the folder icon & you will get an option to browse for a folder or make a new folder.
Now, click on the Next button & the process to export Apple Mail emails to PDF will instantly start. You can preview the live conversion process directly in its panel.
Check for the output PDF files directly from the destination location.
Concluding Remarks:
This article explains the complete process of how can a user Apple Mail export to a PDF file. Plenty of users are looking for a solution to convert Apple Mail emails to PDF files. Most of the time, they got these emails in EMLX format. So, use this EMLX to PDF Converter tool & you will get all your desired results.