Word Document Converter – Export Word Files to Multiple Formats
Karen Chard
~ Modified: 11-05-2022 ~ DOCX ~ 4 Minutes Reading
Hi! I am having multiple Word documents saved in my local storage. Now, for some purpose, I want to convert these files to other formats. Please suggest me a good Word document converter to accomplish this task. Also, the formatting of my documents should not get disturbed with the conversion.
Are you looking for a solution to convert Word documents ? If yes, we have given a complete stepwise procedure using an efficient Word document converter. There are a number of online Word document conversion tools available. But, there is no data security while using them. To convert Word files, you need to upload them online. This makes our data unsafe. So, it is suggested to go with the offline solutions.
Here, we have used the DOCX Migrator. It is a very simple and easy to use software solution. You can download the utility from the given button. Before we discuss more about the Word document converter, have a look at the steps for converting Word documents.

How to Convert Word Documents to Multiple Formats ?
To convert Word document to other formats, follow the given steps:
1. Firstly, install and run the Word document converter on any Windows PC.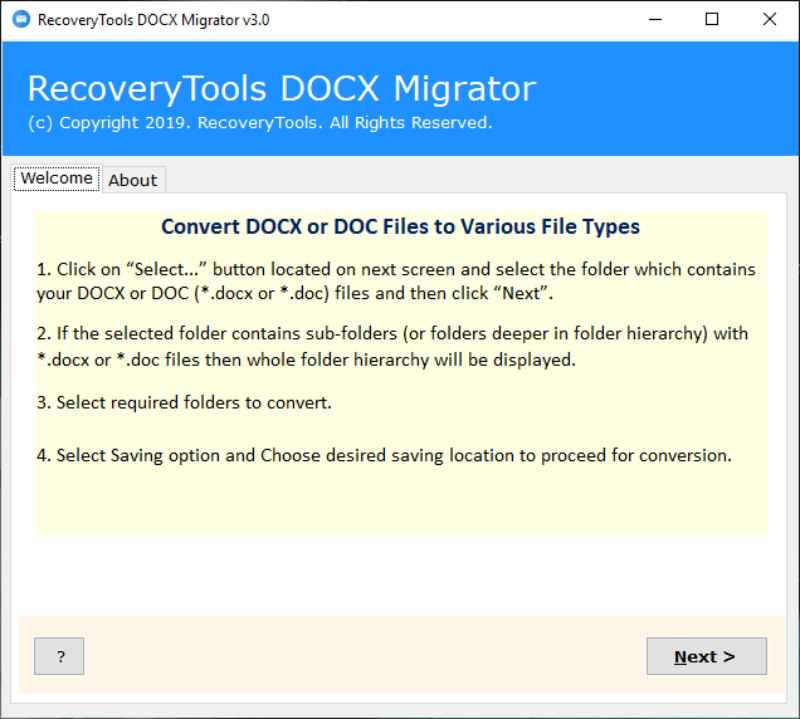 2. From Select Files or Select Folders options, add the required DOC/DOCX files.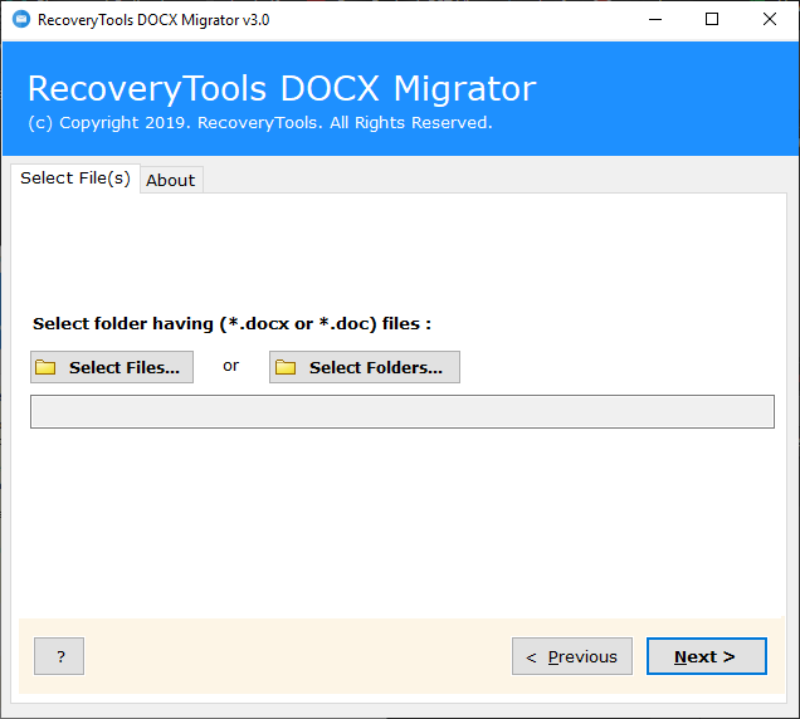 3. Choose from added Word documents for conversion. Click on Next.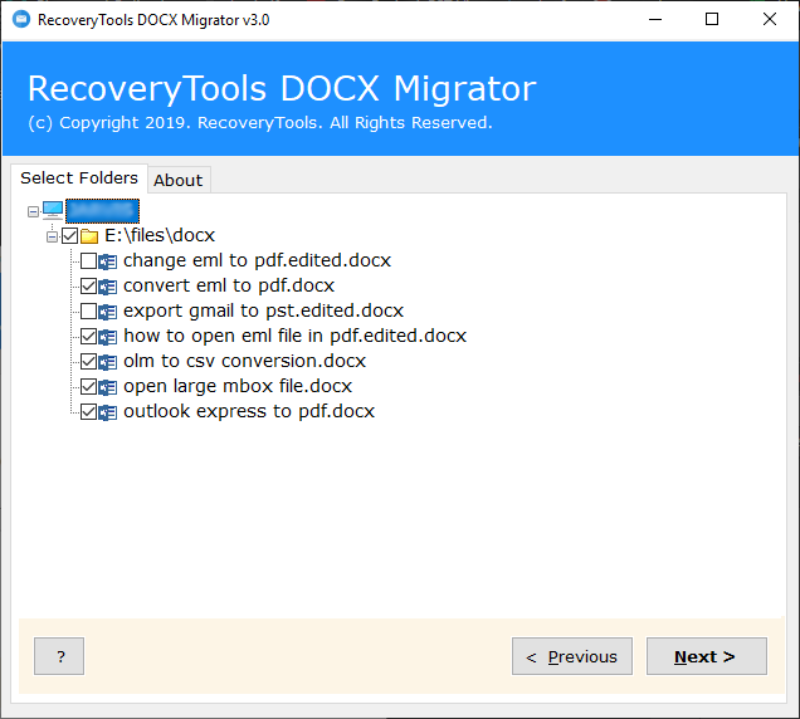 4. After that, Select Saving Option required for document conversion.
5. Select the destination path and click on Convert button.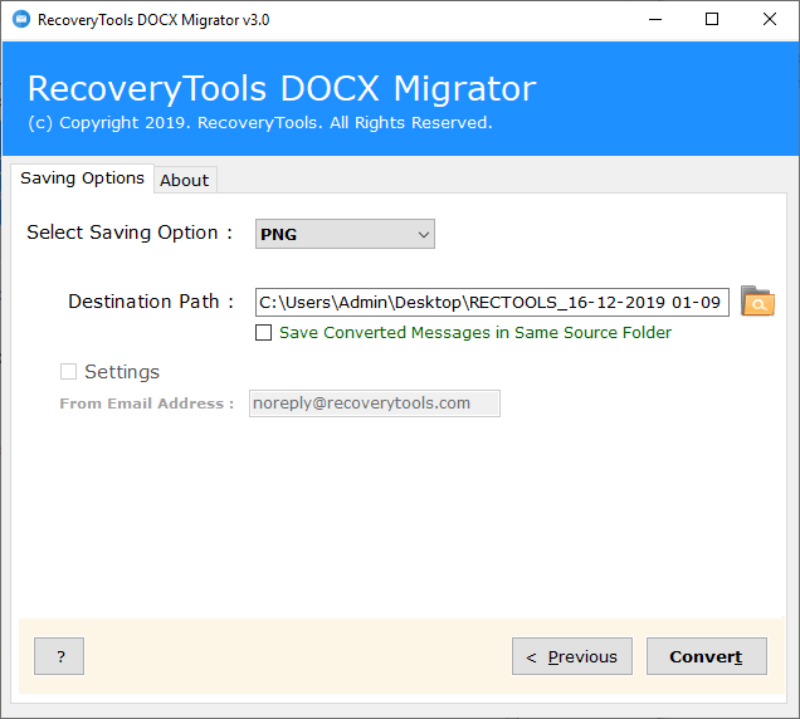 6. Soon, the conversion process will get completed.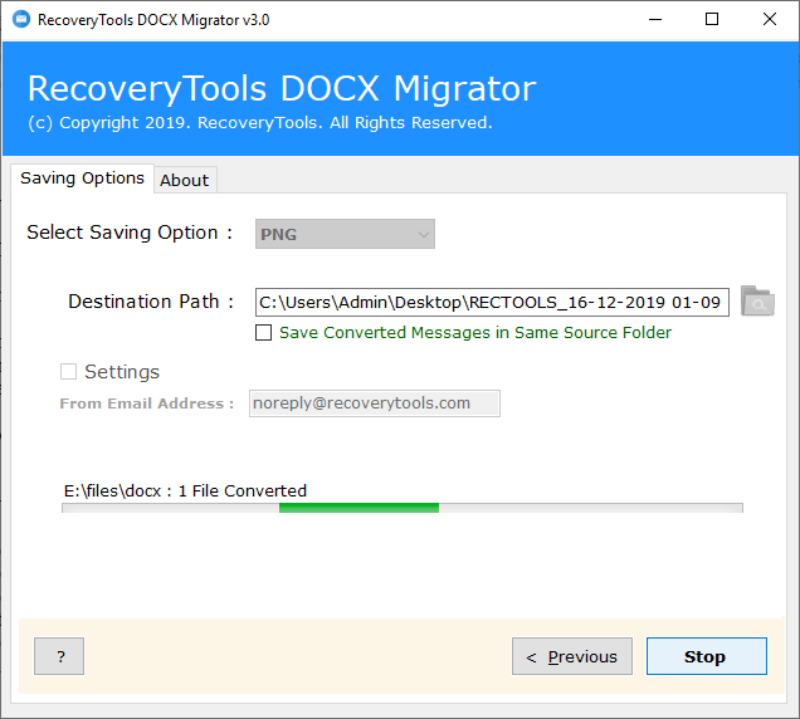 Note: The Word document converter gives a separate option to Save Converted Messages in Same Source Folder. Using this feature, you can save output files in the folder from which you added the files.
Word Document Converter – Simple Approach
The Word document file conversion software is a direct solution to convert document files to various other file formats. Using this tool, you can safely export all the data without any loss. Also, with this utility, you can export any number of files at once. Word document conversion tool has a very interactive user interface. If can be installed on all versions of the Windows Operating System. There are multiple file saving options available in this utility.
Also, there is a demo version available for this Word document converter. You can use it for understanding the software in a better way. But, this demo version is limited to convert 5 files per folder only. For bulk migration, you need to go with the licensed edition.

Word Document File Conversion Software – Features
1. The software allows to convert multiple Word documents together. There is no limitation for the number of files you wish to export.
2. Word document converter is compatible with all the Windows OS versions. So, you can use this software to export Word files on any Windows computer.
3. The utility allows to choose the destination path for saving output files. Also, you can save the output files in the same source folder.
4. With this Word file converter, there is no risk of losing the original formatting of Word documents. All the original content formatting is preserved.
5. Dual options are available to add required files or folders. Also, selective migration is also possible with this feature.
6. The tool supports to convert both DOC and DOCX files to various formats. Both type of files are supported by this Word Converter.
Summary
In the above blog, we have explained a complete solution to export Word documents using a reliable Word document converter. Using this solution you can safely convert all your Word documents without any data loss. Also, the tool has multiple features that make the conversions simple and quick.